The past few weeks have been phenomenal. I saw my sister marry the love of her life, spent a week in a tropical paradise, then another week at home in Seattle.
I also moved to a new apartment! In the midst of all of this, I was out of town for a friend's birthday and only now have had the time to actually make him a cake. The only way I could make up for this was to make an epic birthday cake.
He loves anything s'mores related, so I decided to make him a massive s'mores cake 😀 It has seven different layers: 2 brownie layers, 2 cheesecake layers, 2 chocolate chip cookie layers, and 1 graham cracker layer.
The final product seems a little intense, but it is worth it. I baked each of the layers in the order shown below.
2 and 1/4 cup all-purpose flour
1 teaspoon baking soda
1 and 1/2 teaspoons cornstarch
1/2 teaspoon salt
3/4 cup (1.5 sticks) unsalted butter, melted
3/4 cup light brown sugar, loosely packed
1/2 cup granulated sugar
1 large egg &1 egg yolk
2 teaspoons vanilla extract
2 cup chocolate chips or chocolate chunks
Mix together the wet and dry ingredients, then stir all the ingredients together until fully incorporated.
Let the dough chill overnight. The following day, spread half of the batch in each cake pan and bake at 350 for about 20 minutes, until golden on the edges.
Let the cookie layers fully cool, then transferred them to a cooling rack and made the brownies.
Brownie Layer (Adapted from King Arthur Flour Fudge Brownie recipe)
2 sticks unsalted butter
2 1/4 cups sugar
4 large eggs
1 1/4 cups Double-Dutch Dark Cocoa or Dutch-process cocoa
1 teaspoon salt
1 teaspoon baking powder
1 teaspoon instant coffee
1 tablespoon vanilla extract
1 1/2 cups All-Purpose Flour
2 cups semi sweet chocolate chips
Preheat the oven to 350°F. Grease and line two round nine inch cake pans. In addition, be sure to grease the lining as well.
In a saucepan heated to low heat, melt the butter, then add the sugar and stir until combined.
Return the mixture to the heat briefly, just until it's hot (but not bubbling). Heating this mixture a second time will continue to dissolve the sugar, which will yield a shiny top crust on the brownies.
While heating the sugar a second time, crack the 4 eggs into a bowl, and beat them with the cocoa, salt, baking powder, espresso powder, and vanilla until completely combined.
Slowly pour the hot butter/sugar mixture into the eggs, stirring until smooth. Once all the wet ingredients are combined, stir in the flour and chocolate chips, again stirring until smooth.
Pour the batter evenly between the two cake pans, and bake the brownies for about 35-40 minutes, until a cake tester inserted into the center comes out with just a few moist crumbs clinging to it.
The brownies should feel set on the edges, and the center should look very moist, but not uncooked.
Remove them from the oven and cool on a rack before assembling. While the brownies cooled, I began to make the cheesecake.
Cheesecake
1 1/4 pounds cream cheese (20 oz), room temperature
1 cup sugar
1 tsp vanilla extract
3 large eggs
1/2 cup sour cream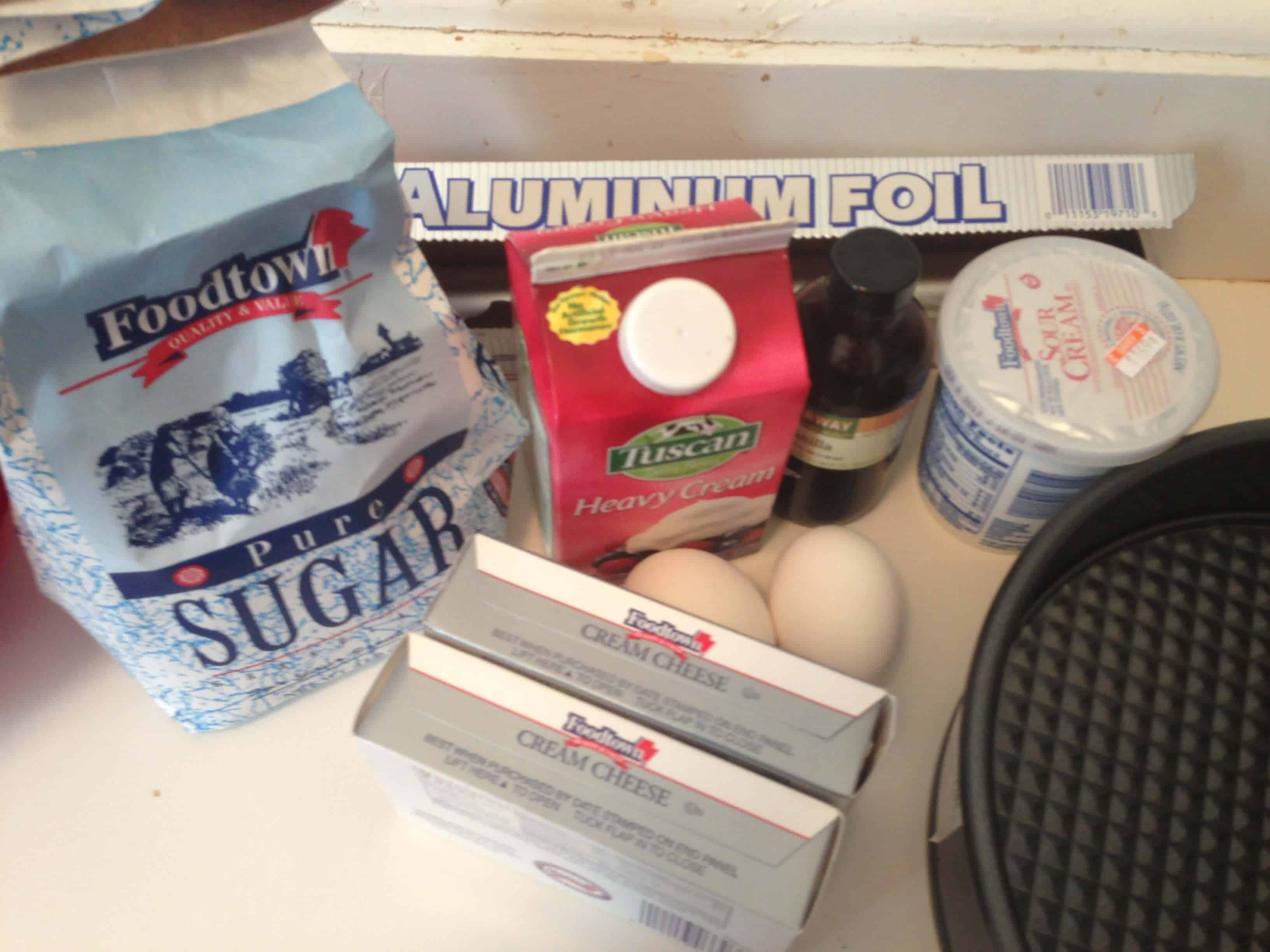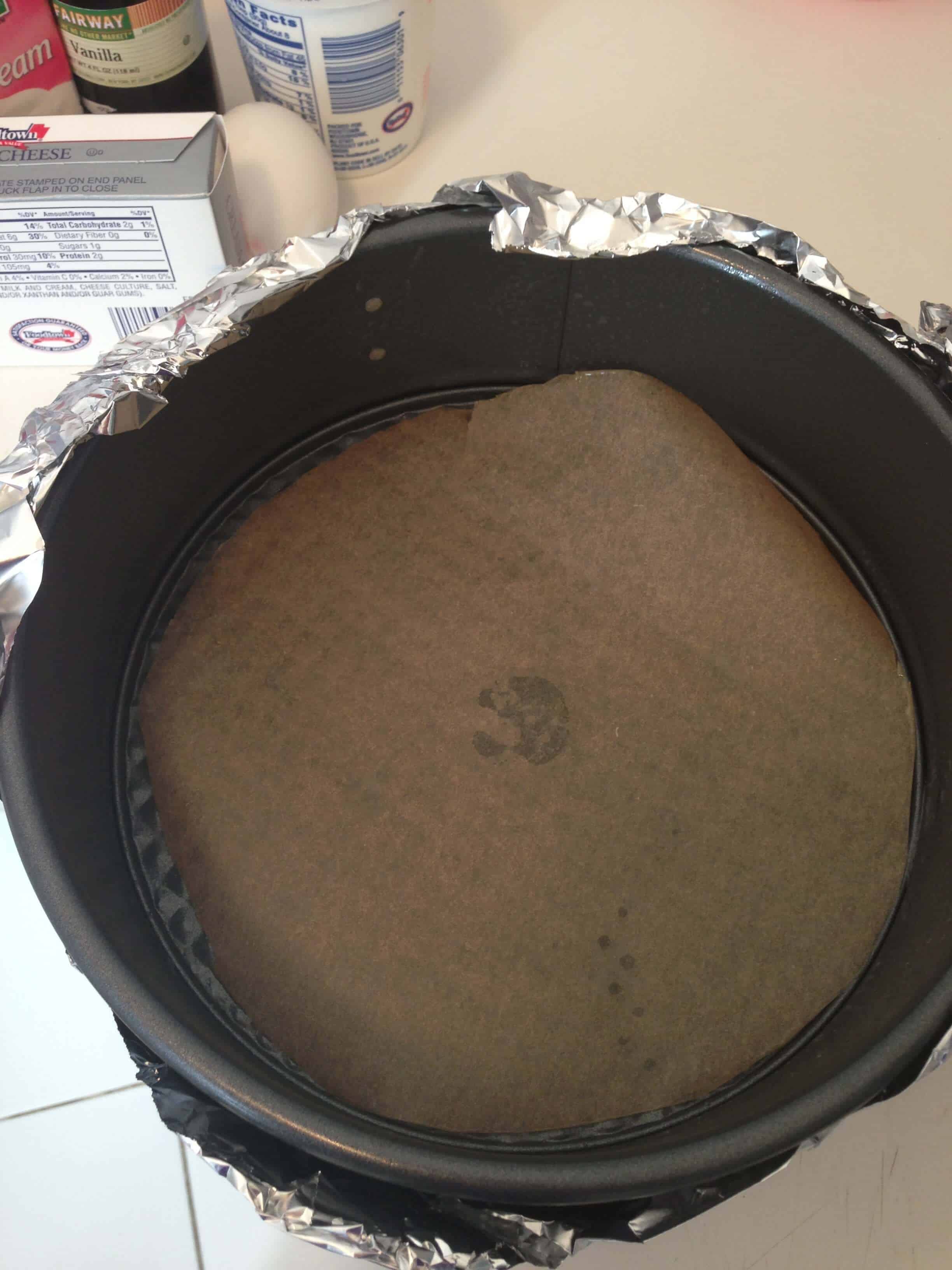 Preheat oven to 425 degrees. Using an electric mixer, beat cream cheese on medium until fluffy, scraping down side of bowl.
Gradually add in sugar, and vanilla extract. Beat in the eggs, one at a time, scraping down side of bowl after each addition. Lastly, beat in the sour cream. My batter was a bit thick, so I added in a splash of heavy cream.
Place a piece of parchment paper on the bottom of a springform pan, and spray with non stick spray. Pour half of the filling in each pan, and bake for 15 minutes.
Then turn the oven temperature down to 325 degrees and bake for an additional 20 minutes, until the cheesecake has just set, and the edges are lightly browned.
Remove the pan from oven, and let both cheesecakes cool for 20 minutes.
Run a knife around edge of the pans to loosen the cheesecake from the sides, then let it cool completely. Cover both layers and let them chill in the freezer while preparing the frosting.
Chocolate Frosting
6 ounces unsweetened chocolate, melted and cooled
4 1/2 cups confectioners' sugar
3 sticks (12 ounces) unsalted butter, at room temperature
6 tablespoons milk
1 tablespoon vanilla extract
Place all of the ingredients in a large bowl, and combine with a hand mixer until smooth.
1 tub (16 oz) marshmallow fluff
2 stick butter, room temperature
2 cup powdered sugar
2 tbsp vanilla extract
Beat together the marshmallow fluff and butter on medium speed, until the mixture is smooth and fluffy (about 2 minutes).
Reduce the speed to low, and add the powdered sugar, and vanilla. Beat for another minute, then increase the speed to medium and beat for another 3 minutes, until light and fluffy.
Assembling This Seven Layer S'Mores Cake

THE BEST PART. Make sure that all layers have properly cooled before assembly, and that you have a package of graham crackers on hand for one of the layers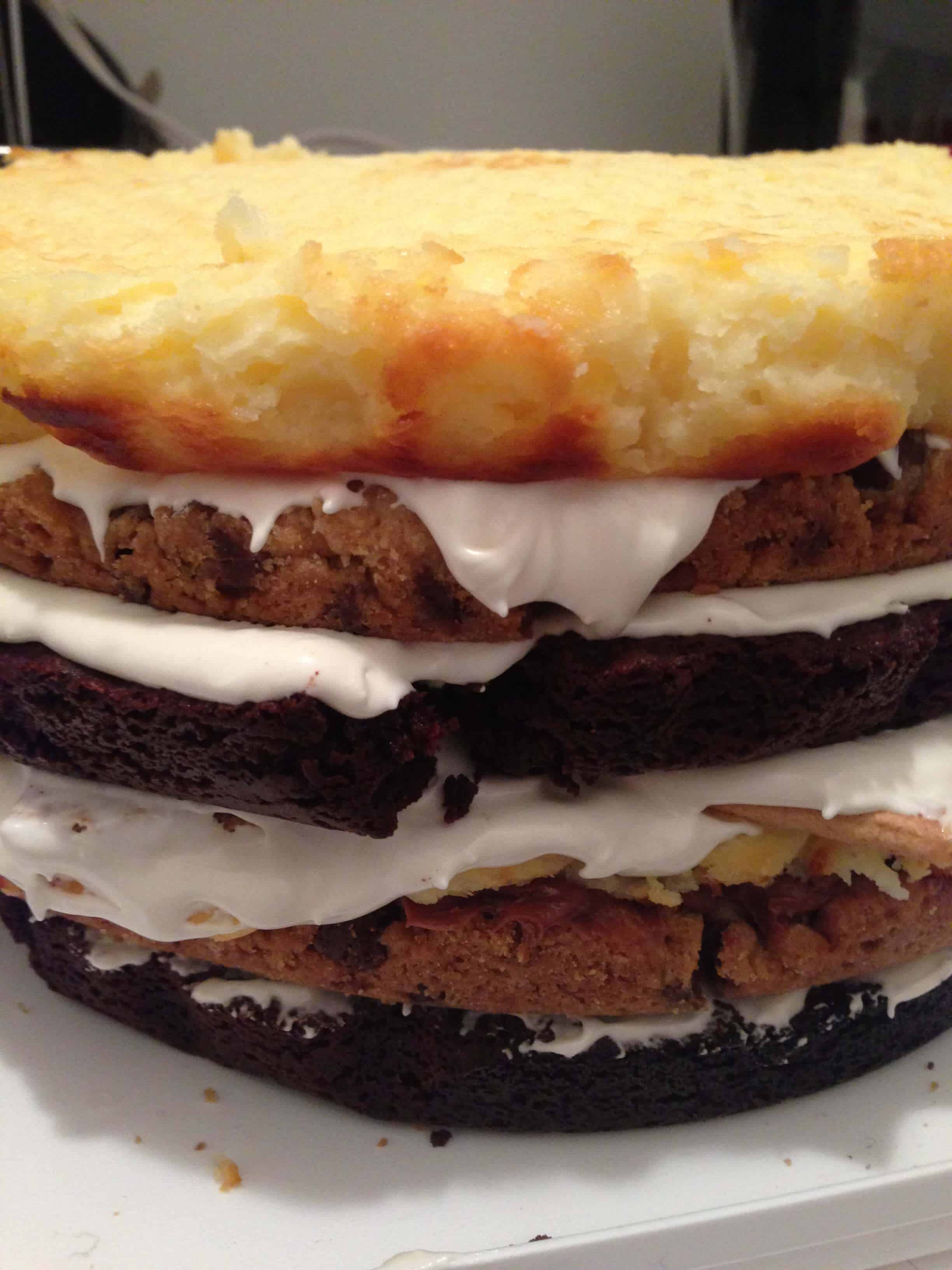 Begin by placing one layer of brownie on a cake stand. Frost the brownie with marshmallow frosting. Then place a cookie layer on top of the brownie, and frost with the marshmallow filling.
Remove cheesecake from freezer, and remove from pan, then peel off parchment paper. Place cheesecake layer on top of the marshmallow frosting, and spread a layer of chocolate frosting on cheesecake.
Layer graham crackers on top of the cheesecake. You'll have to break up the crackers to make them fit.
Spread chocolate frosting on graham crackers, then place the second layer of cheesecake on the chocolate frosting. Spread the cheesecake with marshmallow frosting.
Then place the remaining cookie on the frosting.
Spread the cookie with marshmallow frosting and put the remaining brownie on the marshmallow frosting.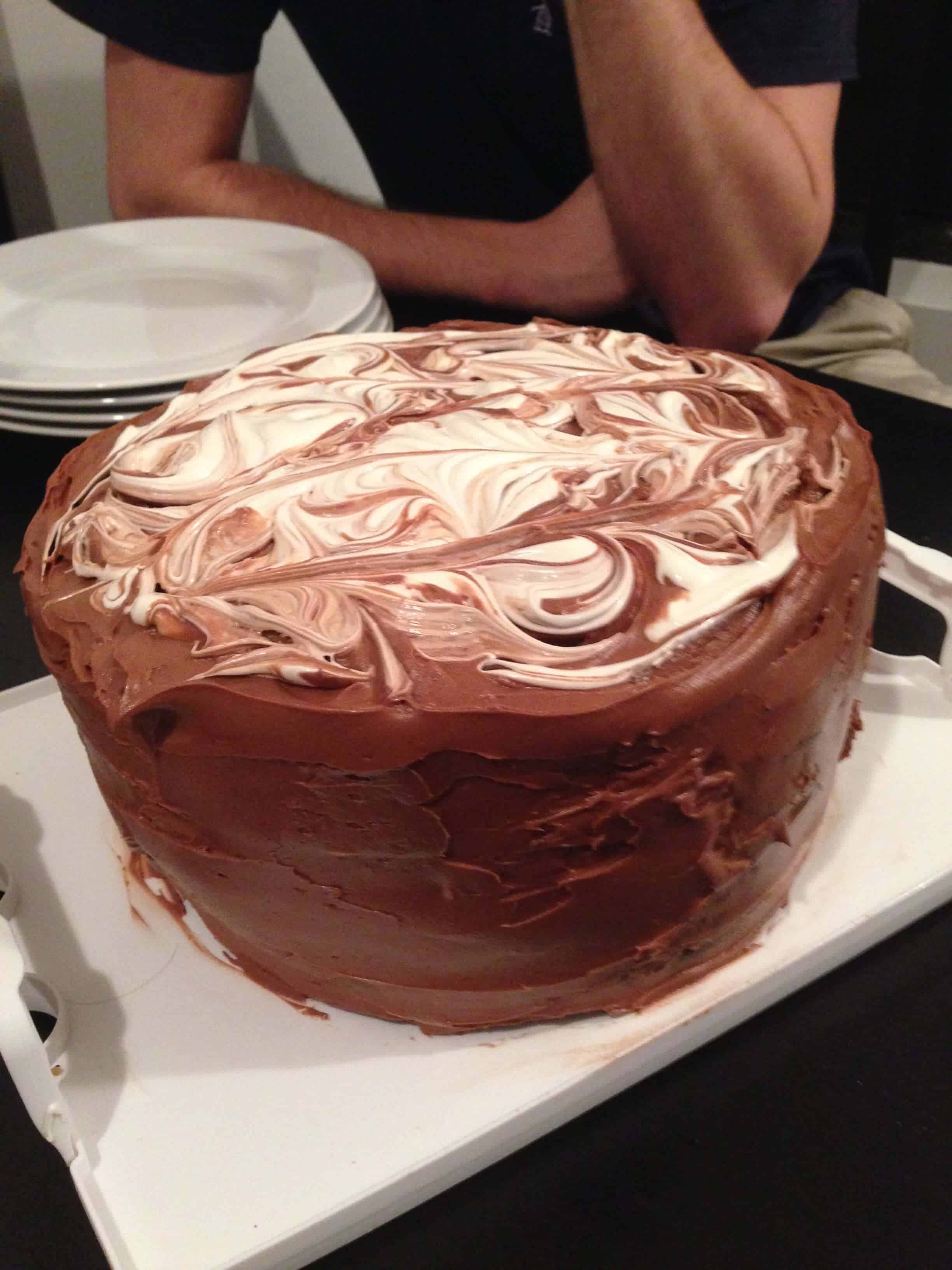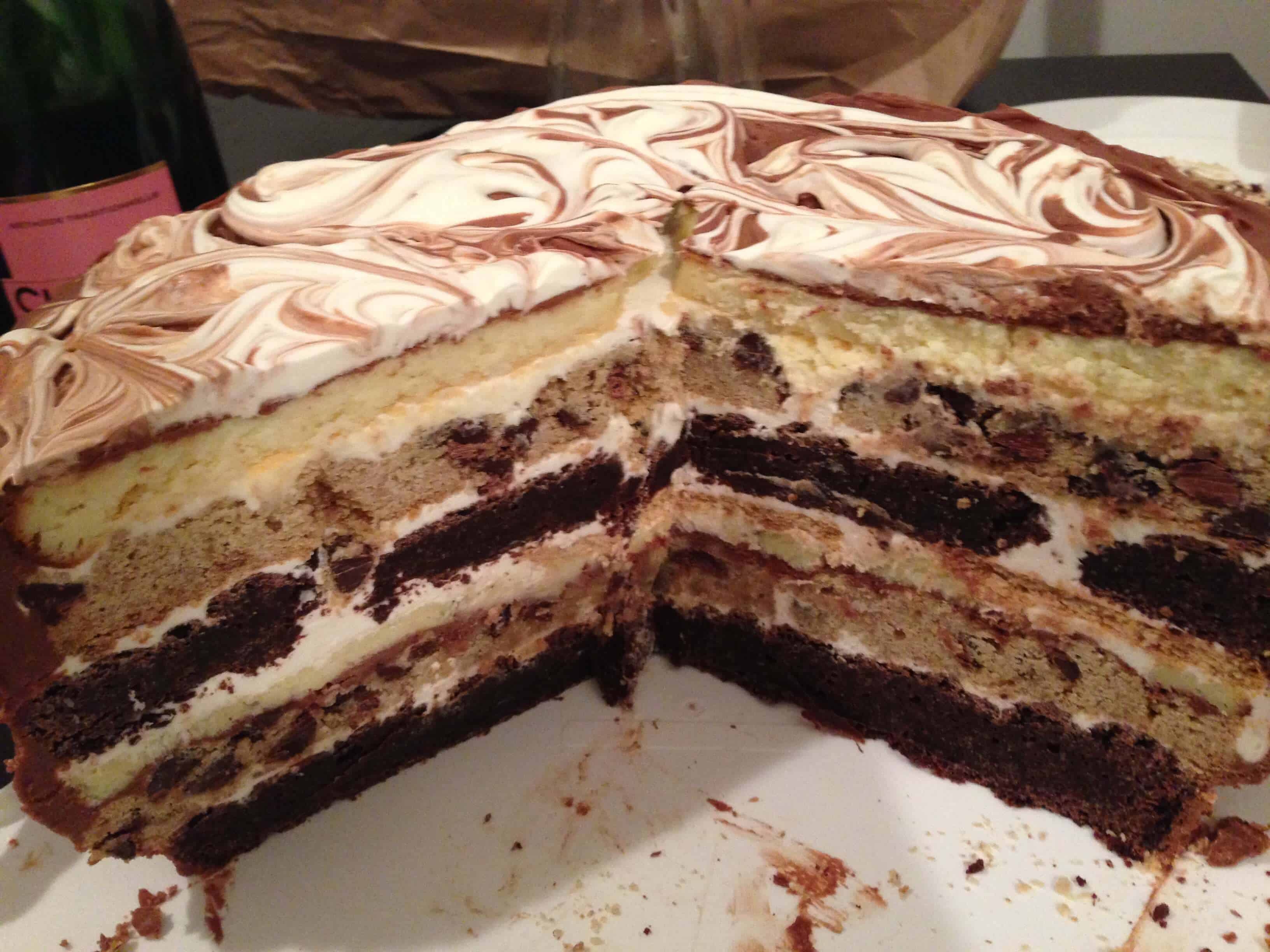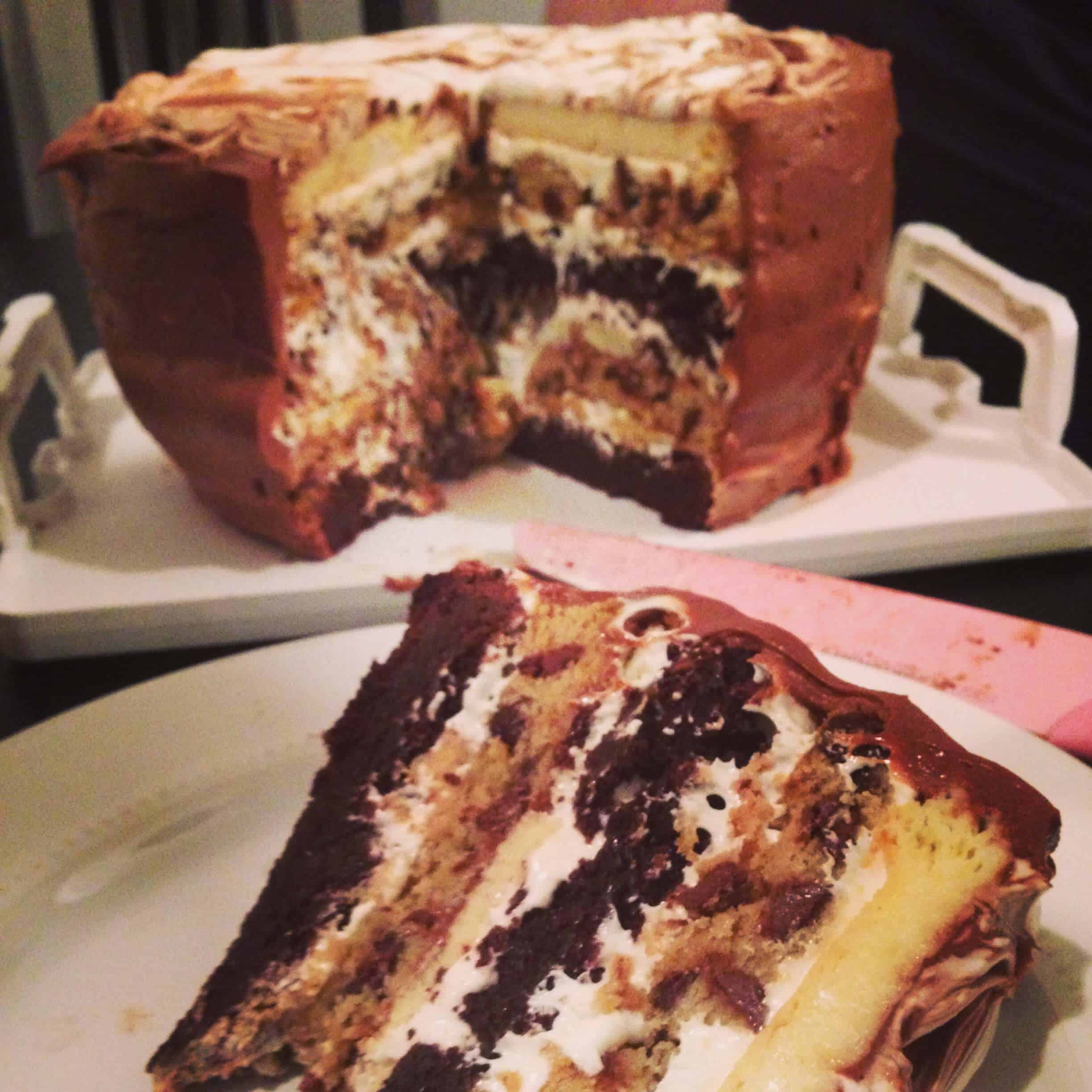 Spread the remaining chocolate fudge frosting on top of the cake and on the side, and swirl top with leftover marshmallow frosting.
Once the cake is completely assembled, refrigerate until ready to serve. This cake is incredibly rich, and could probably feed an army.
The variety of layers seems a bit crazy, but they taste wonderful together. We all loved it…and were incredibly full after 😀