A couple weeks ago I made a white chocolate raspberry cake, and the real star of the show was its raspberry cake filling!
It was deliciously sweet and tart, and the perfect consistency to fill a cake.
The cake recipe was pretty detailed, so I wanted to make a post sharing just the raspberry filling.
I also hope this will encourage people to get creative and add this filling to their favorite cake and cupcake recipes.
This filling would be incredible with my chocolate layer cake recipe, or even my matcha cake recipe. The sky's the limit!!
Giving This Raspberry Cake Filling Its Silky-Smooth Texture
I love the texture of seeds in a fresh raspberry and in raspberry jam, but I have strong feelings when it comes to the texture of raspberry filling. It really needs to be seedless.
Raspberry filling is usually made with fresh or frozen raspberries that are cooked down to help concentrate the mixture.
This thickens the mixture and enhances the flavor of the filling.
When doing this, the seeds in the mixture also become more concentrated.
If you don't strain the mixture, the texture of the seeds can be overwhelming. I think the filling is so much better without the seeds!!
The photo below shows the filling after it was strained, but before it was thickened with the cornstarch slurry.
My Advice: Use A Strainer
I hate straining things, but this is one situation where I'm willing to whip out my mesh strainer and put in the work.
This helps us get the filling to have that gorgeous consistency shown in the photo above.
The mixture is pretty thick once it's been cooked down, so you really need to push firmly with a rubber spatula to get it through the sieve.
It takes a few minutes to do, and is a bit of an arm workout.
But it is 100% worth it!! You should be left with about ½ cup of concentrated raspberry seeds, which can be composted.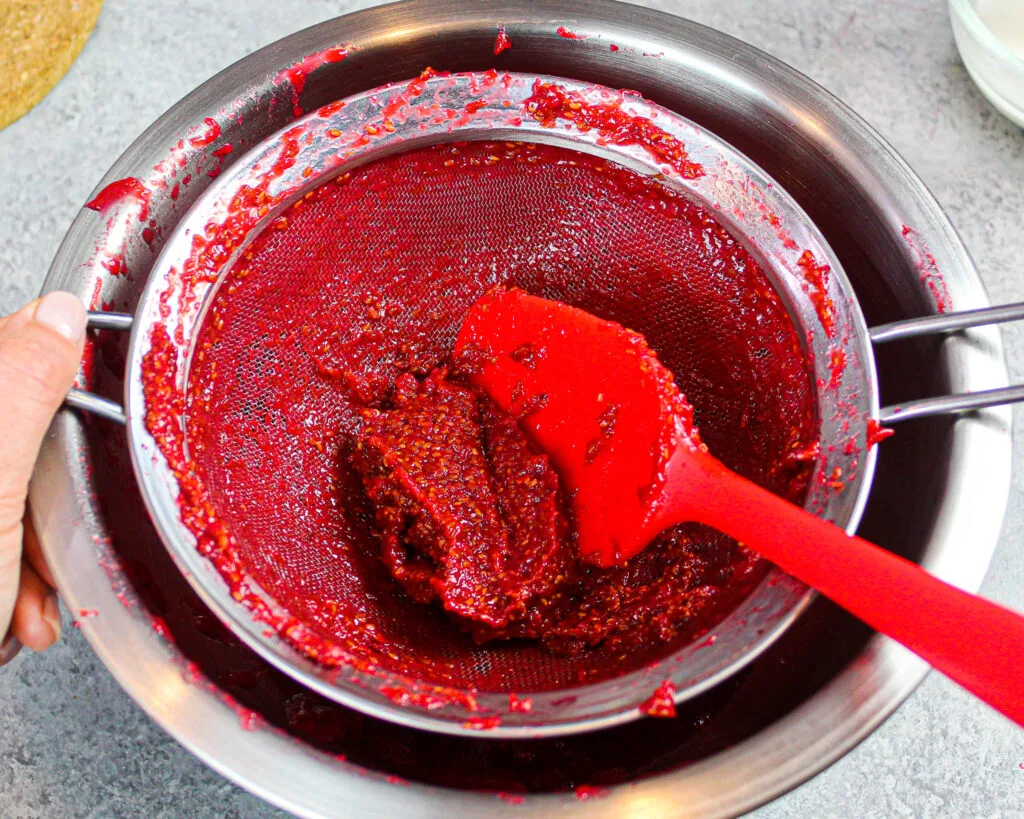 Frozen vs. Fresh Raspberries
I tested out this recipe with both fresh raspberries and frozen raspberries. Both types work great, so you can make this recipe with either!
If raspberries are in season, using fresh raspberries is a great idea! Frozen raspberries work great in the offseason, or if you can't get your hands on fresh raspberries.
Frozen raspberries are also quite a bit cheaper than fresh raspberries. For convenience I like to use frozen raspberries, because I don't have to worry about them spoiling if I don't use them immediately.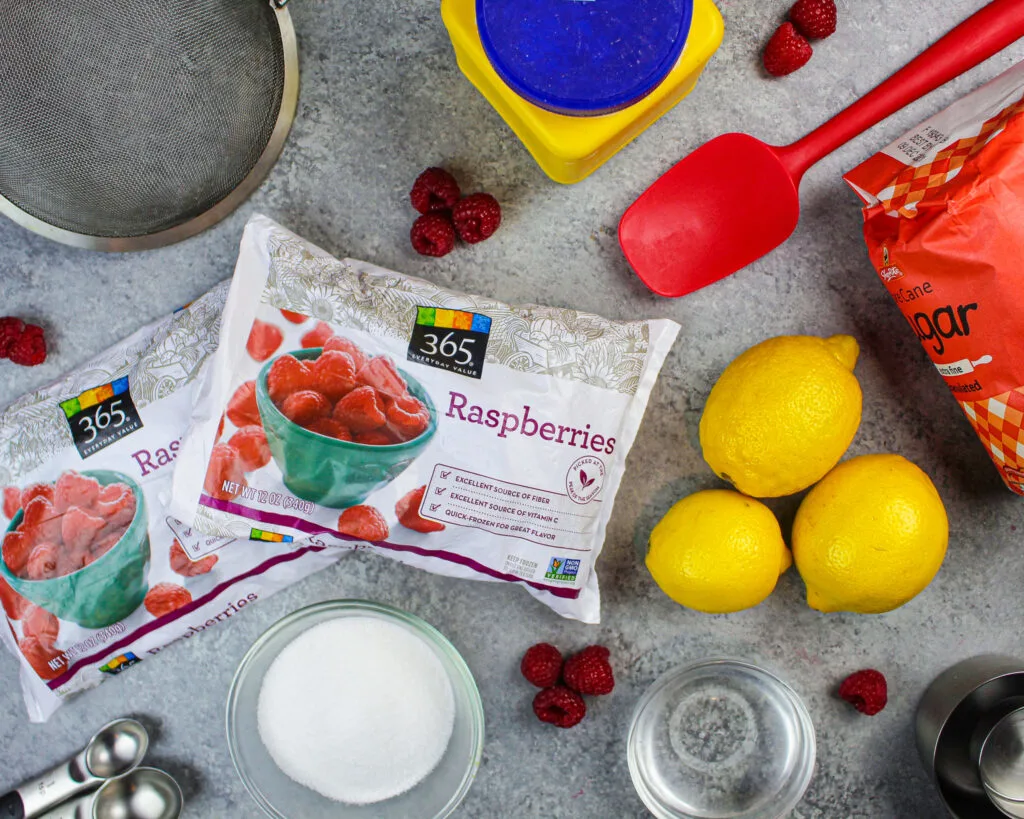 I also think that frozen raspberries are picked at peak ripeness, while some fresh raspberries are picked before they're fully ripe to make transportation easier.
Getting the Consistency Just Right For a Cake
While cooking down the raspberries does thicken the mixture, it doesn't make it quite thick enough to add to cake.
If you've ever tried to add a bunch of jam between the layers of a tall cake, you know that you need a thick filling or else your cake layers slide all over the place!
I like to call it the slip and slide, and it makes cake decorating a nightmare.
You also need a cake filling to be thick to ensure it won't ooze out the sides of your cake once it's stacked and frosted.
Even with the help of a piped ring of frosting (i.e. a frosting dam), the filling can still ooze out as the cake settles.
Trust me, I've had my share of oozing fruit-filled cakes, and nothing is worse!!
Thickening This Raspberry Cake Filling with Cornstarch
This recipe is designed to make a really thick filling once it's fully cooled.
It ends up being just about as thick as jelly. The secret to making this raspberry cake filling so thick is cornstarch!
This recipe adds a slurry (a mixture of cornstarch and water) to the partially cooked down raspberry mixture.
Using a slurry rather than adding cornstarch directly into the filling makes it so much easier to incorporate the cornstarch into the filling.
I hate making extra dishes, but you simply can't add the cornstarch straight into the raspberry mixture.
I've tried it, and you end up with tons of tiny clumps of cornstarch in your filling!!
My Secret Ingredient
Whenever I make anything with strawberries or raspberries, I love to incorporate a bit of fresh lemon juice and zest. This recipe uses both!
I think it really enhances the flavor of the fruit, and adds a bright pop of flavor.
Just be sure you use a fresh lemon! Pre-squeezed lemon juice doesn't have the same effect.
Even if you plan to add this filling to something with chocolate in it, I still recommend adding the lemon.
The lemon really just adds an accent, and isn't a dominant flavor in the filling.
Tips for Making the Best Raspberry Cake Filling:
Make the raspberry cake filling at least a day in advance to allow it to properly thicken and develop its flavor.
Be sure to use fresh lemon juice and zest to enhance the tartness of the raspberries.
Strain the raspberry mixture to remove the seeds, to give it a silky-smooth texture.
Save leftover filling to fill cupcakes, add to thumbprint cookies, or even to top ice cream!
Making this Cake Filling in Advance and Storage Tips
This raspberry cake filling can be made up to two weeks in advance if stored in an airtight container in the fridge.
This raspberry cake filling can be stored in the freezer for up to a month if stored in an airtight container.
Give the filling a stir with a rubber spatula before adding it to your cake to make it easier to spread.
Let Me Know What You Think
If you try this raspberry cake filling recipe, I'd love to hear what you think! Please leave a rating below.
Other Recipes You Might Like: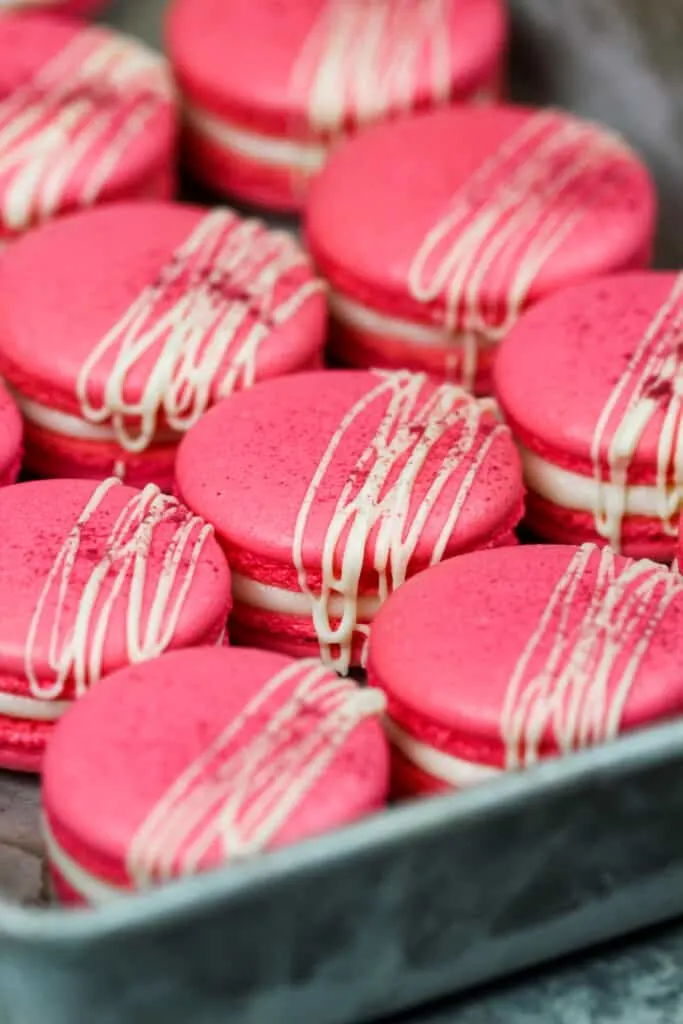 Yield: 1.5 cups
Raspberry Cake Filling
This raspberry cake filling is the perfect consistency and is packed with that delicious tart raspberry flavor! It's sure to elevate any dessert!! It's great inside of cakes, cupcakes, and even cookies.
Ingredients
Raspberry Cake Filling
4 cups of fresh or frozen raspberries (500g)
3/4 cup granulated sugar (150g)
1 Tbsp lemon juice (12g)
2 tsp fresh lemon zest (5g)
1/4 cup + 3 Tbsp water, divided (105g) - first part added to raspberry mixture, second part used to make the cornstarch slurry
3 Tbsp cup cornstarch (22g)
Equipment Needed
Instructions
Raspberry Cake Filling
If possible, make the raspberry filling in advance! The extra time will allow the filling to thicken and develop its flavor.
Place 4 cups frozen or fresh raspberries, 3/4 cup granulated sugar, 1 Tbsp lemon juice and 2 tsp lemon zest, and 1/4 cup of water in a saucepan and heat over medium high heat.
Stir the mixture until it begins to boil.
Lower the heat to medium-low, and allow the filling to simmer for 10-15 minutes.
Turn off heat and remove the pot from the stove. Pour the filling into a metal strainer suspended over a medium sized bowl, and push through using a rubber spatula. Use a decent amount of pressure to really get all the liquid through the sieve. You should be left with about 1/2 cup of seedy pulp.
In a separate small bowl, make a slurry by combining the remaining 3 Tbsp of water with 3 Tbsp cornstarch. Stir until the cornstarch has fully dissolved into the water.
Add this cornstarch mixture into the strained raspberry filling, and stir until it is incorporated.
Rinse out your pot and pour the filling back into it (you don't want any residual seeds getting into the filling).
Heat at a medium high heat, and be sure to stir constantly during this stage to prevent the filling from burning.
Cook until the mixture begins to boil, then reduce the heat to medium low.
Continue to stir, and cook for a few additional minutes.
Turn off heat and pour the raspberry filling into a separate bowl to cool. Cover with plastic wrap and place in the fridge for at least 1 hour, or preferably overnight.
Notes
This recipe makes about 1.5 cups of raspberry cake filling, which is enough to fill an 8-inch layer cake.
Making This Cake Filling in Advance and Storage Tips
This raspberry cake filling can be made up to two weeks in advance if stored in an airtight container in the fridge
A frosted cake filled with this raspberry cake filling can last in the fridge for up to a week, or in the freezer for up to a month. The buttercream locks in all the moisture, keeping the cake fresh and delicious!
Nutrition Information
Yield
1.5
Serving Size
1
Amount Per Serving
Calories

1667
Total Fat

7g
Saturated Fat

0g
Trans Fat

0g
Unsaturated Fat

1g
Cholesterol

3mg
Sodium

609mg
Carbohydrates

401g
Fiber

55g
Sugar

191g
Protein

12g