Rainbow cookies are the inspiration for this week's cake recipe. In fact, this rainbow cookie cake is pretty much just one massive rainbow cookie!!
They're definitely a regional treat, but people are crazy about them here on the East coast. You see them stacked high in every Italian bakery in New York.
What Is A Rainbow Cookie?
I didn't know these existed until I moved to the East coast, but now I'm making up for lost time.
Funny story about rainbow cookies…they're actually (already) a cake!! Technically, the colorful layers that make up these bite-sized treats are thin layers of almond sponge cake!
They're flavored with almond paste, and usually have apricot and/or raspberry jam between the layers.
The finishing touch is a chocolate coating, which sometimes has a fun, wiggly pattern. They're then cut into tiny square, which is why people often refer to them as cookies.
Incorporating These Flavors Into This Rainbow Cookie Cake
It's a little less exciting to say "I turned this rainbow cookie into a layer cake," when I just shared that they're basically already mini cakes.
Nonetheless, you can think of this Rainbow Cookie Cake as a massive rainbow cookie. It's large, in charge, and ready to make all your rainbow cookie dreams come true.
My rainbow cookie cake is made with fluffy almond cake layers, and is filled with an almond buttercream. I added a thin layer of raspberry between the layers too, to stay true to the flavors of the cookies.
I usually love to add lots of fillings to my cakes, but you have to be careful when adding a thin filling like jam. If you add too much, it can cause your layers to slide, or ooze out the sizes of the cake when you try to frost it.
Using 1/4 cup of jam on top of each cake layer is the perfect amount. It adds that fruity pop of flavor, without making it impossible to stack and decorate this cake.
I personally am not fan of apricot jam, but if you prefer it to raspberry you're welcome to swap it.
Decorating This Cake
I really did want this cake to look just like a rainbow cookie. It seemed fitting to cover the cake in its own chocolate "coating."
I used a bit of heavy cream and some milk chocolate to make a delicious milk chocolate ganache.
Using an icing comb on the ganache let me create some fun lines, to make the outside of this cake a bit more exciting. It really makes the cake look and taste like a rainbow cookie.
I used some of the leftover ganache to place some rainbow cookies around the base of the cake too. Each rainbow cookie was cut into thin slices, then cut into tiny little rainbow cookie hearts with a cookie cutter.
One thing to note – this ganache sets pretty firmly. I recommend heating up your knife with some hot water (and drying it off) before cutting into the cake. This will help you get a clean cut, giving you perfect cake slices.
Let Me Know What You Think!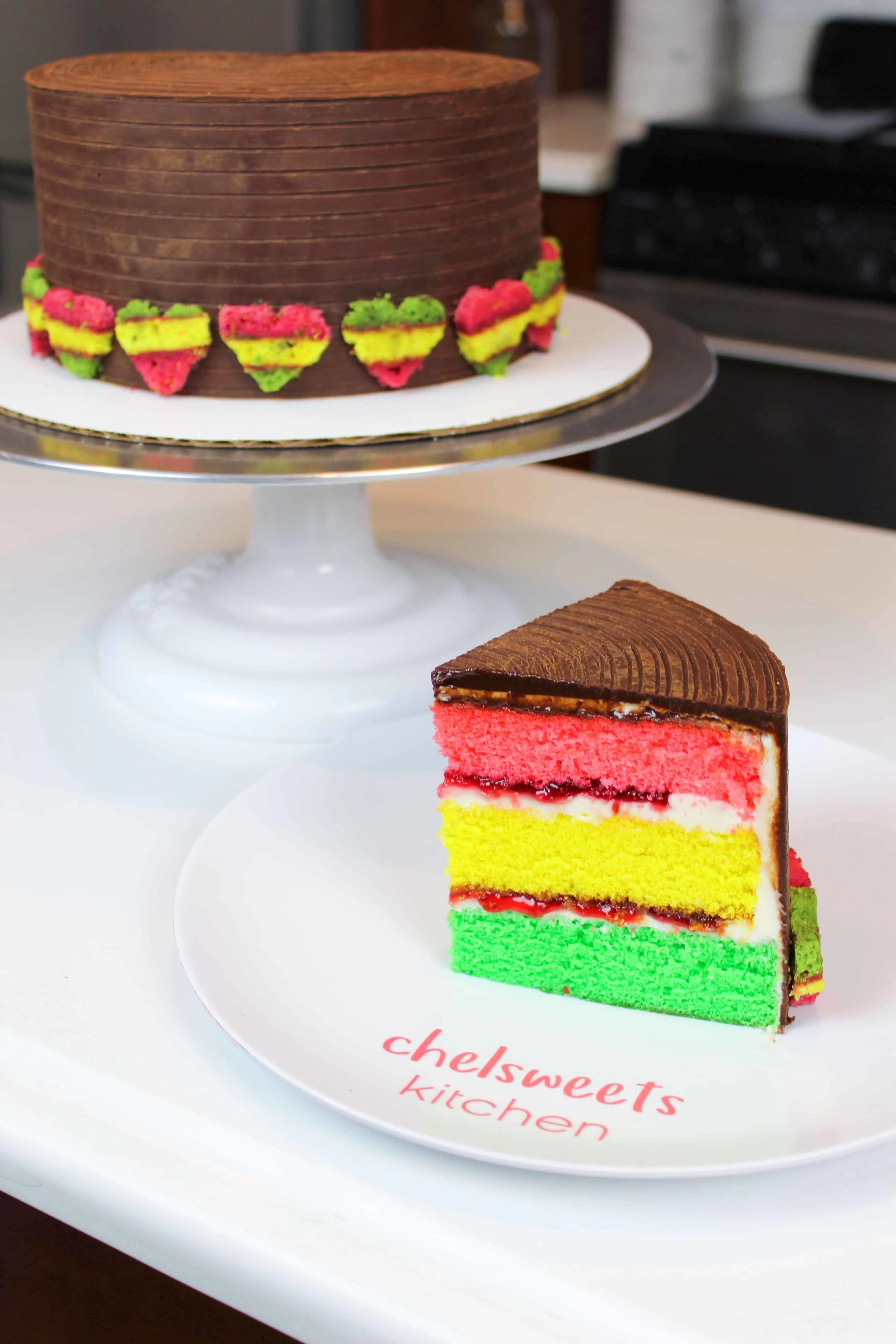 If you try this rainbow cookie cake, please tag me @chelsweets and use the #chelsweets so I can see your beautiful creations!!
Also leave a comment below and/or a rating to let me know your thoughts.
Other Recipes You Might Like:
Yield: 16
Italian Rainbow Cookie Cake
This rainbow cookie cake is inspired by the traditional Italian rainbow cookie! It's made with almond cake layers, a raspberry filling, and is covered in a rich chocolate ganache.
Additional Time
20 minutes
Total Time
1 hour
5 minutes
Ingredients
Italian Rainbow Cookie Cake
2 cups + 2 Tbsp all-purpose flour (276 grams)
2 cups granulated sugar (400 grams)
1 1/2 tsp baking powder (6 grams)
1/2 tsp salt (3 grams)
2/3 cup unsalted butter, room temperature (150 grams) - 1 and 1/3 sticks
1 tsp. almond extract (4 grams)
4 eggs (224 grams)
1 cup whole milk, room temperature (245 grams)
1 Tbsp vegetable oil (14 grams)
green, yellow, and pink gel food coloring
Almond Buttercream Frosting
1 cup unsalted butter, room temperature (226 grams)
3 1/2 cups powdered sugar (454 grams) - or a 1 lb bag
1/4 tsp salt (2 grams)
1 Tbsp heavy cream (or whipping cream) (15 grams)
1 tsp almond extract (4 grams)
Milk Chocolate Ganache
1 bag of milk chocolate chips (340 grams)
1/2 cup heavy cream (113 grams)
Additional Decorations and Fillings
1/2 cup raspberry jam
Italian rainbow cookies (I got mine from whole foods)
Frosting comb
Instructions
Almond Cake Layers:
Preheat oven to 350°F. Line three 6 inch pans with parchment rounds, and grease with non-stick cooking spray.
Mix together all dry ingredients (flour, baking powder, sugar, and salt) in a stand mixer with a paddle until fully combined.
Mix chunks of room-temperature butter slowly into the dry mix, on a low speed. Continue to mix until no large chunks of butter remain, and the mixture becomes crumbly.
Mix in the eggs, two at a time.
Add the milk, and mix on a low speed until just incorporated.
Add in almond extract and oil, and mix at a low speed until fully incorporated. Scrape down the sides of the bowl with a spatula, then beat on medium speed for about 30 seconds.
Divide the batter evenly between three bowls. Add one color gel food coloring into each bowl, to make yellow, pink, and green batter. Mix until the batter is evenly colored.
Pour the batter into the prepared cake pans.
Bake for 32-35 minutes, or until a toothpick comes out clean. Allow the pans to cool for 10 minutes, then run an offset spatula around perimeter of the pan to separate the cake from the pan.
Place cake layers into the freezer for 30 minutes, to accelerate the cooling process. Once the layers are fully cooled, carefully flip the pans and remove the layers.
Use a serrated knife to level the tops of the layers.
Almond Buttercream Frosting:
While the cake layers bake and cool, make the almond buttercream frosting.
Beat the butter on a medium speed for 30 seconds with a paddle attachment, until smooth. Slowly add in the powdered sugar, 1 cup at a time. Alternate with small splashes of cream.
Once fully mixed, add in the almond extract and salt, and beat on low until the ingredients are fully incorporated, and the desired consistency is reached.
If the frosting is too thick, add in additional cream (1 teaspoon at a time). If the frosting is too thin, add in more powdered sugar (quarter of a cup at a time).
Cover with plastic wrap and set aside.
Milk Chocolate Ganache
Place chocolate into a medium sized bowl.
Heat the heavy cream in a pot at a medium high heat, until it just begins to bubble.
Pour over the chocolate, and allow the mixture to sit for 2 minutes.
Slowly stir with a rubber spatula, until the mixture is smooth.
Once the ingredients are fully incorporated, place plastic wrap over the top of the ganache, and set aside. Allow the ganache to cool for 4-6 hours, or overnight at room temperature.
To Assemble The Cake:
Stack and frost cake layers on a greaseproof cake board, using a dab of frosting to help stick the first cake layer to the board. Use the
Add an even layer of almond buttercream between each cake layer, and spread 1/4 cup raspberry jam on top of the buttercream.
Cover the cake in a thin coat of frosting. Smooth using a bench scraper, then chill the cake in the fridge (20 minutes) or freezer (5 minutes) until the frosting is firm to the touch.
Cover the chilled cake with the ganache, and smooth using a frosting comb to create a texture.
Decorate the base of the cake with Italian rainbow cookies.
Notes
Once the layers have fully cooled, I sometimes like to trim the caramelized bits from the sides of the layers using a serrated knife.
These cake layers can be made in advance!! Learn more about how far in advance they can be made, and how to properly wrap them in my post on how to make cake layers ahead of time.
Nutrition Information
Yield
16
Serving Size
1
Amount Per Serving
Calories

549
Total Fat

29g
Saturated Fat

17g
Trans Fat

0g
Unsaturated Fat

10g
Cholesterol

111mg
Sodium

207mg
Carbohydrates

71g
Fiber

1g
Sugar

66g
Protein

4g