Snickers are one of my favorite candy bars. It was only a matter of time before I made snickers cupcakes!!
The catalyst for me finally making these happened over the holidays. I can always rely on my mom to have a decently stocked candy cupboard at home.
Sure enough, when I arrived home for Christmas I was happy to find a giant bag of peanut butter snickers.
Of course, my first thought after seeing them was a peanut butter snickers cupcake 😛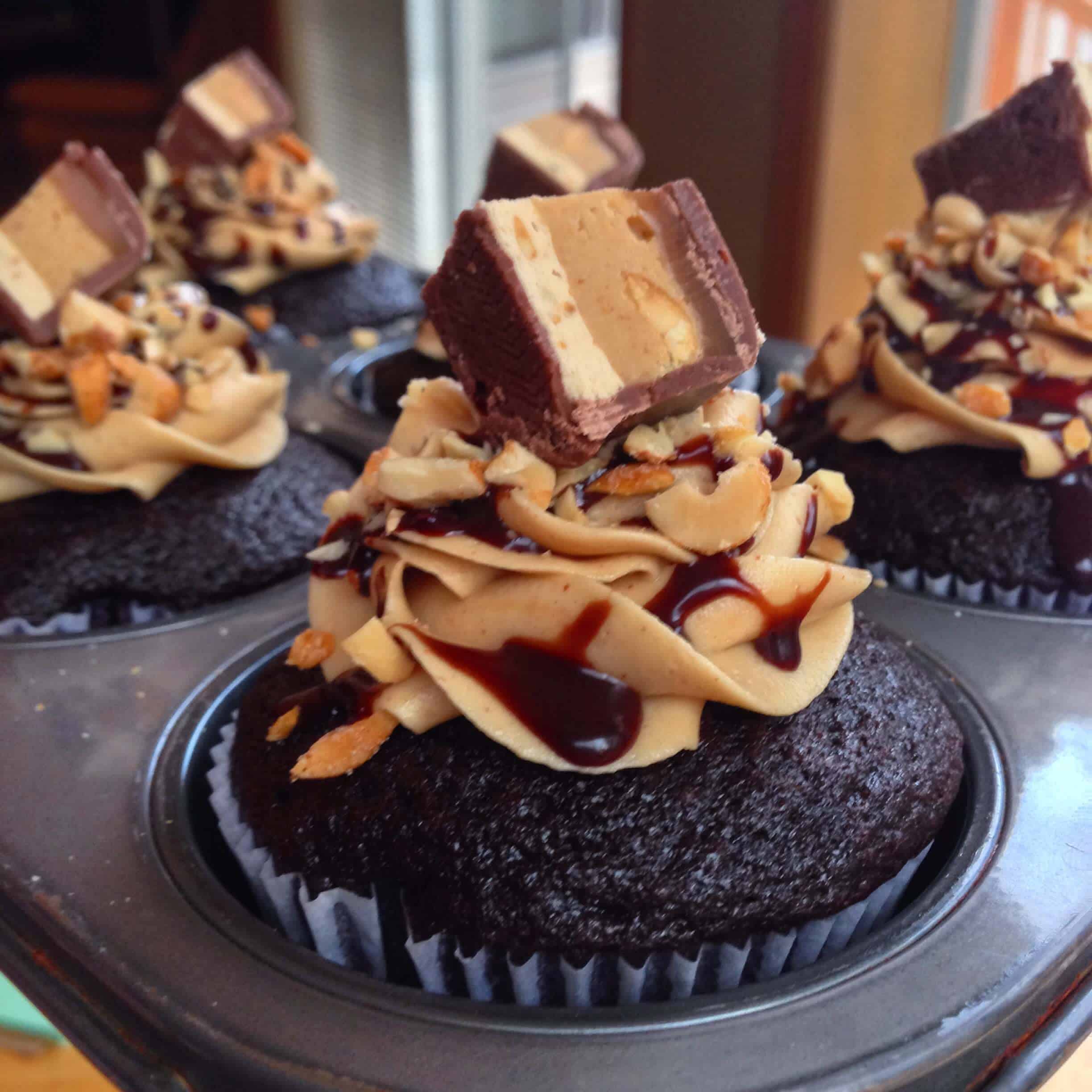 Since initially making these, I've used this recipe to make cupcakes inspired by every variety of snickers! I've modified the recipe to focus on the classic snickers bar, which I think is a fan favorite.
These cupcakes are made with the most delicious chocolate cupcake recipe. It's amazing because it can be made in one bowl, and is so easy to make!
This chocolate cupcake recipe also uses black cocoa, which really elevates the flavor, and makes these cupcakes packed with chocolate flavor.
They're topped with a peanut butter frosting, which by itself is hard to resist. And as soon as it's on these cupcakes?? Irresistible!!
This is one of those recipes that you need to take somewhere, get them out of your kitchen. If you leave them on your counter, they'll be gone before you know it.
I chose to add both a caramel and chocolate drizzle to these snickers cupcakes, to take them to the next level!!
I like to use a squirt bottle to easily drizzle these, but you can also use a spoon!
Both of these were made from scratch (it's a lot easier than you'd think, I promise!!), but you're more than welcome to use store bought if you're short on time.
In this video I also used some chocolate ganache to fill these cupcakes, but it makes the cupcakes incredibly indulgent 😛
It's totally up to you, but peanut butter or caramel would also taste delicious as a filling in these cupcakes
Share Your Creations With Me!
Nothing makes me happier than when I get emails or DMs with photos of your baking. Please don't hesitate to reach out to me with your triumphs, or questions <3
If you try this snickers cupcake recipe, please let me know what you think of it. You can also tag me on social media @chelsweets, and use #chelsweets.
Yield: 12
Snickers Cupcakes
Looking for an amazing snickers cupcake recipe? I've got you covered! This recipe can be made in one bowl, is frosted with a delicious peanut buttercream, and topped with caramel and crushed peanuts. What more could you ask for?
Additional Time
15 minutes
Ingredients
Chocolate Cupcake Batter
1/3 cup chocolate chips - milk or dark (57 grams)
1/3 cup black cocoa powder (32 grams)
3/4 cup hot water (177 grams)
1 1/2 tsp instant espresso or coffee (3 grams)
3/4 cup all-purpose flour (98 grams)
3/4 cup granulated sugar (150 grams)
1/2 teaspoon salt (2 grams)
1/2 teaspoon baking soda (3 grams)
1/3 cup vegetable oil (73 grams)
2 eggs, room temperature (114 grams)
2 teaspoons white vinegar (9 grams)
1 teaspoon vanilla extract (4 grams)
Peanut Butter Buttercream Frosting
1/2 cup (or 1 stick) unsalted butter, room temperature (113 grams)
1/2 cup creamy peanut butter (120 grams)
3 1/2 cups powdered sugar (454 grams) - or a 1 lb bag
1/4 tsp salt (2 grams)
1/4 cup heavy cream (60 grams)
1 tsp vanilla extract (4 grams)
Additional Decorations
Crushed peanuts
Sliced Snickers
Instructions
Chocolate Cupcake Recipe:
Begin by preheating the oven to 350°F. Place cupcake liners in baking pans.
Add 3/4 cup of (VERY) hot water into a large bowl. Mix in 1 1/2 tsp of coffee or espresso powder, and stir lightly until dissolved.
Carefully pour in 1/3 cup chocolate chips and 1/3 cup of sifted black cocoa powder. Let this sit for 2 minutes to melt the chocolate, then stir until smooth.
Pour the dry ingredients (3/4 cup flour, 3/4 cup sugar, 1/2 tsp baking soda and 1/2 tsp salt) into chocolate espresso mixture, and stir until just combined. Scrape the sides and bottom of the bowl as needed with a spatula.
Mix in the eggs one at a time.
Then add 1/3 cup vegetable oil, 2 tsp vinegar, and 1 tsp vanilla, and mix until the batter is smooth - it will be thin!
Fill cupcake liners 3/4 full, and bake for about 18 minutes, or until a toothpick comes out clean (or with minimal crumbs).
Allow cupcakes to cool in pans for 10 minutes, then remove and place in the freezer for 15 minutes (to accelerate the cooling process).
Peanut Butter Buttercream:
Beat the butter and peanut butter on a medium speed for 30 seconds with a paddle attachment, until smooth.
Slowly add in the powdered sugar, 1 cup at a time. Alternate with small splashes of cream.
Once fully mixed, add in the salt and vanilla.
Beat on low until the ingredients are fully incorporated, and the desired consistency is reached.
If the frosting is too thick, add an extra Tbsp of heavy cream. If it's too thin, add in another 1/2 cup of powdered sugar.
Stir by hand with a rubber spatula to get the frosting SUPER smooth.
Place in a piping bag fitted with a Wilton 1M tip, and pipe a large swirl on top of each cupcake.
Cupcake Decoration:
Once the cupcakes are fully cooled, pipe a large swirl on peanut butter frosting on top of each cupcake using a Wilton 1M frosting tip.
Top each cupcake with a caramel and chocolate ganache drizzle, crushed peanuts, and a piece of a snickers bar.
Notes
If you want to fill the cupcake or add a chocolate drizzle like I did, I recommend using my chocolate ganache recipe! I filled the cupcakes with my ganache when it was just barely lukewarm (so it was thicker), and then heated it up to allow me to drizzle it over the cupcakes
If you want to make mini chocolate cupcakes, this recipe can be baked in mini muffin tins! It makes about 40 mini cupcakes, and they only need to bake for 9-10 minutes.
Another fun way to dress up these chocolate cupcakes is with some chocolate sprinkles! Sometimes that's all you need.
Nutrition Information
Yield
12
Serving Size
1
Amount Per Serving
Calories

442
Total Fat

18g
Saturated Fat

5g
Trans Fat

0g
Unsaturated Fat

11g
Cholesterol

40mg
Sodium

282mg
Carbohydrates

67g
Fiber

2g
Sugar

55g
Protein

6g