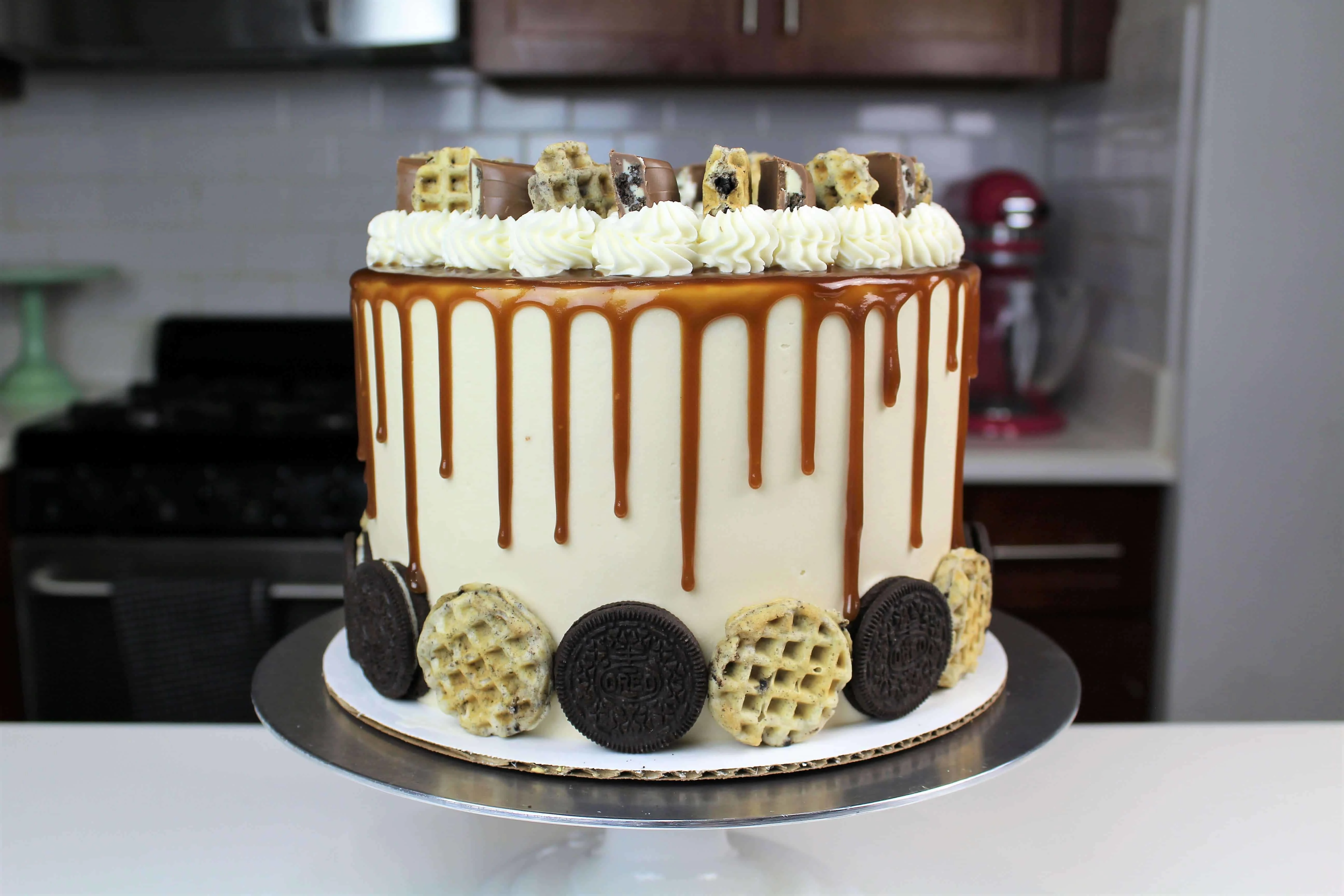 As part of Oreo's flavor creation campaign, I made an Oreo waffle Cake! I used my go-to vanilla layer cake recipe, and added crushed Oreos and a touch of maple extract!
I frosted the cake with a maple buttercream, and drizzled some maple caramel between the layers. It's any waffle enthusiast's dream, plus Oreos!!
Oreo Waffle Cake Batter:
3 1/4 cup flour
3 cups granulated sugar
2 1/2 tsp baking powder
1 tsp salt
1 cup unsalted butter (2 sticks), room temperature
1 tsp maple extract
1 cup eggs white, room temperature (I use egg whites from the carton to avoid wasting egg yolks)
1 1/2 cups buttermilk, room temperature
1/8 cup vegetable oil
1 cup finely chopped oreos
Maple Buttercream:
5 sticks butter
10 cups powdered sugar
1 1/2 tsp. maple extract
2 Tbsp. heavy cream
1/2 tsp. salt
Maple Caramel Recipe:
1 cup granulated sugar
6 tbsp unsalted butter, room temperature
1/2 cup heavy cream, room temperature
1/4 tsp salt
1 1/2 tsp maple extract
Additional Decorations:
Miniature waffles
milka oreo chocolate bars
1 cup crushed oreos (to place between layers and for decoration)
1 sleeve regular oreos
Instructions:
Maple Oreo Cake Layers
Preheat oven to 350°F. Grease and line four 8" round pans.
Begin by preparing the maple cake batter.
Mix together all dry ingredients (flour, baking powder, sugar, and salt) in a stand mixer with a paddle until fully combined.
Mix chunks of room-temperature butter slowly into the dry mix, on a low speed.
Continue to mix until no large chunks of butter remain, and the mixture becomes crumbly.
Pour in egg whites, and mix on low until just incorporated.
Mix in the buttermilk in two installments, on a low speed.
Add in maple extract and oil, and mix at a low speed until fully incorporated.
Scrape down the sides of the bowl with a spatula, then beat on medium high for about 30 seconds. Fold in crushed oreos using a spatula.
Divide evenly between the prepared cake pans.
Bake for 35 minutes, or until a skewer comes out clean.
Allow to cool for 10 minutes, then run an offset spatula around perimeter of the pan to separate the cake from the pan.
Place cake layers on a rack to finish cooling.
Maple Buttercream
While the cakes bake and cool, prepare the maple buttercream frosting (click here for tutorial).
Whip the butter until it is light and creamy, then slowly add the powdered sugar.
Alternate installments of powdered sugar with heavy cream, and continue mixing until the frosting has reached desired consistency. A
dd salt, and maple extract, and vanilla, and continue mixing on medium-low until fully incorporated.
Next, prepare the maple caramel (click here for a tutorial)!
Turn stove onto medium heat, and place a pot over element.
Pour in sugar. Using a heat proof stirring utensil (I use an old-fashioned wooden spoon), stir until sugar begins to melt into a clear liquid.
Continue to stir, until clumps of sugar begin to form.
Slowly the color of the sugar clump will deepen from white to amber.
Keep stirring until all the clump of sugar have dissolved, and then turn off the heat.
Mix in butter slowly, then stir in cream, maple extract, and salt.
Place in fridge to cool for 20 minutes, then pour into desired container.
I put mine in a squirt bottle (for drizzling)!
For the cake assembly, I also made miniature waffles to decorate the cake.
I used pre-made waffle mix, as this cake already has enough components from scratch!! I also added 1/2 cup of crushed oreos.
You could also cut out premade waffles using a circle cutter to make miniature waffles!
Stack and frost the cake layers, adding a few spoonfuls of crushed Oreos and a drizzle of maple caramel between each layer.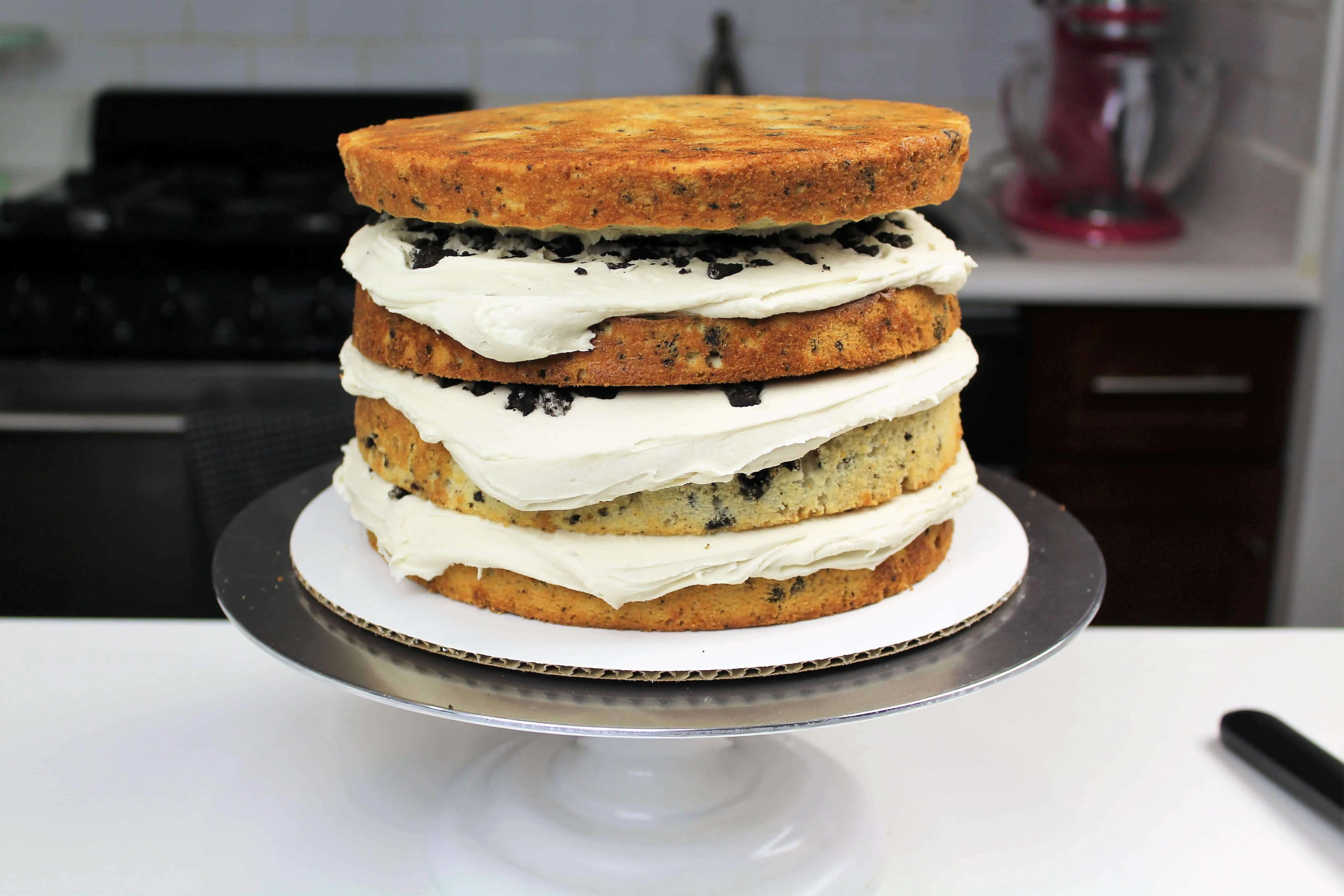 Once stacked, apply a thin crumb coat.
Chill cake in the freezer for 5 minutes.
Once the crumb coat is firm to the touch, apply a thick, second layer of frosting.
Smooth with a bench scraper.
Alternate adding full Oreo cookies and waffles to the base of the cake.
Chill cake again for 5 minutes in the freezer.
Add warm drizzle of maple caramel around the sides of cake using a squirt bottle or spoon, then pipe swirls around the top of the cake using a Wilton 4B tip.
I topped my swirls with bits of Milka oreo chocolate bar and tiny circle waffle cutouts, but it's optional!!