Today we're combining two of my favorite things, coffee and chocolate!! These mocha cupcakes are truly packed with coffee flavor.
They're made with a chocolate espresso cupcake base, an espresso chocolate ganache filling and an espresso buttercream frosting.
What more could you want in a mocha cupcake, right?!
The Chocolate Espresso Cupcake Base
This cupcake recipe is based on my classic chocolate cupcake recipe. The original recipe uses a hint of instant coffee, but I upped the ante to include 1 Tbsp of instant coffee or espresso powder.
I prefer using instant espresso powder because I think it gives the cupcakes a stronger coffee flavor. However, instant coffee will get the job done too.
My biggest tip when making these mocha cupcakes is to be sure not to overmix the batter! Overmixed batter can lead to dense, chewy cupcakes.
By mixing the batter just until the ingredients are combined you are guaranteed tender, soft cupcakes.
The Espresso Ganache Filling
Now onto my favorite part of these cupcakes, the filling!! The espresso ganache in this recipe is on double duty. It's used to fill the cupcakes and garnish them.
Ganache is made by heating heavy cream and mixing it with chocolate. Despite its fancy sounding name it is incredibly easy to make.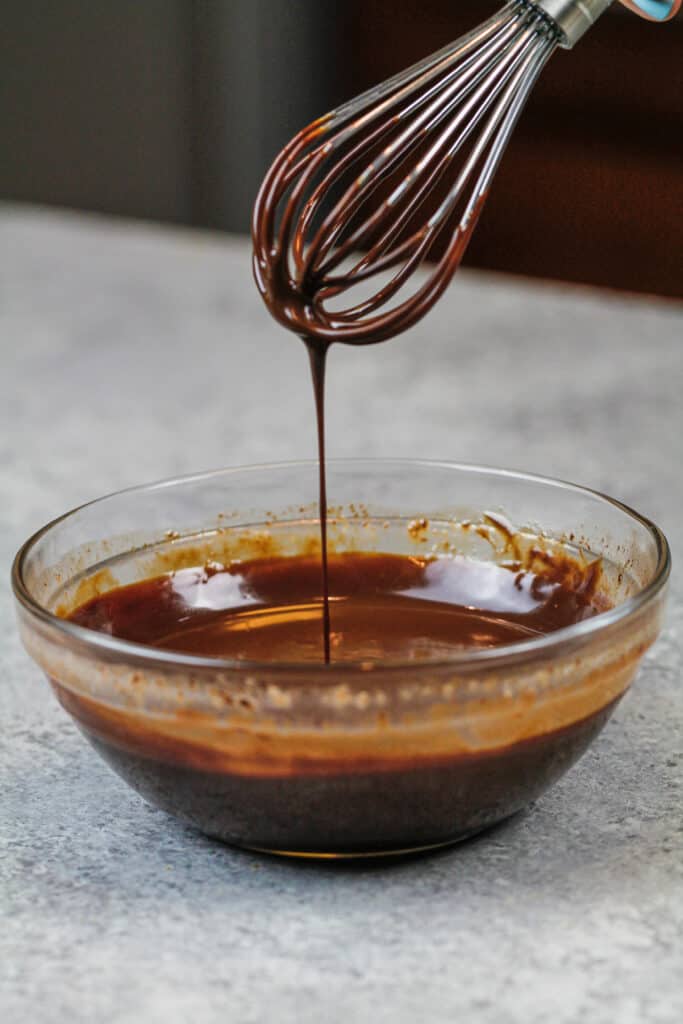 Once the mixture cools to room temperature the ganache is thicker and makes the perfect filling. It's decadent and has a smooth consistency almost like fudge!
After the cupcakes are frosted we heat the ganache up a bit to allow us to drizzle it over the frosting. This gives the cupcakes a beautiful finished look without requiring any extra work!
The Espresso Buttercream
Since we already have loads of chocolate in the cupcakes, filling and garnish I figured we should highlight the coffee flavor in the buttercream frosting.
The key to incorporating a strong flavor is to mix your instant espresso or coffee with your vanilla extract. This dissolves the instant espresso and helps it evenly flavor your frosting.
If you try to add instant coffee or espresso straight into the frosting it won't dissolve and you'll end up with little chunks of coffee in your frosting. The fat from the butter prevents it from properly dissolving.
If you have an espresso machine you can also add in 1 Tbsp of cooled espresso in place of the instant espresso and heavy cream. Just be sure that it's cooled so that it doesn't melt the frosting!
Substitutions and Swaps – Chocolate Cupcakes
These mocha cupcakes use quite a few ingredients and I know you might not have all of them on hand. Or if you have food allergies or restrictions, I've got you covered.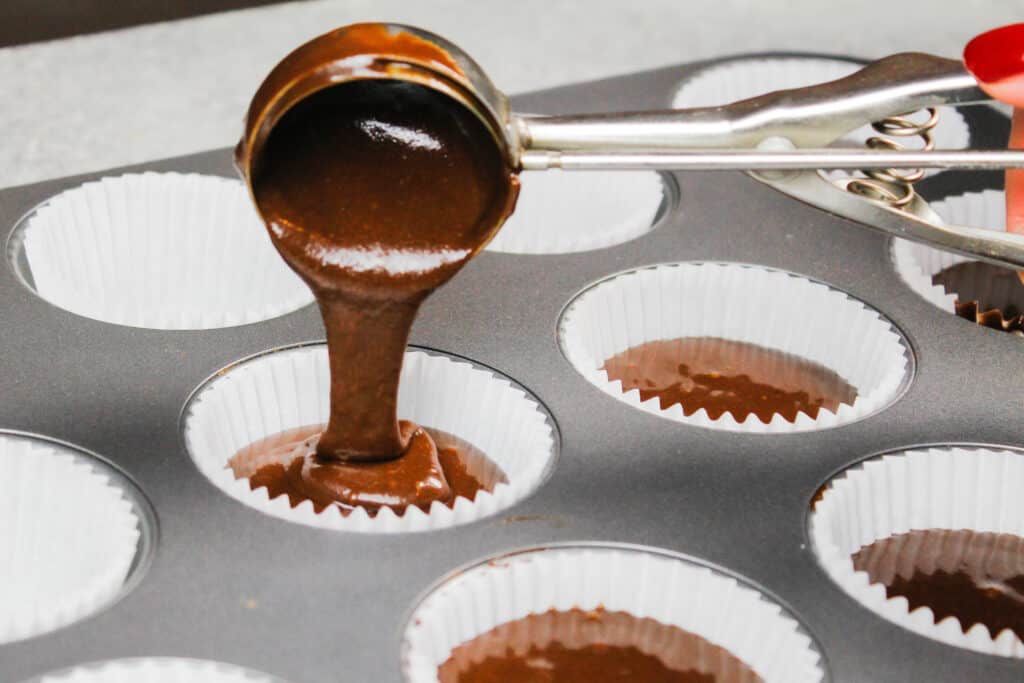 Below are some swaps and substitutions that you can make:
Chocolate Chips – You can use milk, dark or semi-sweet chocolate to make these chocolate cupcakes! Just be sure it's a good quality chocolate so it will melt down smoothly.
Whole Milk – You can also use full fat yogurt, sour cream, buttermilk, or an alternative yogurt or milk (almond, soy, oat) if you're dairy free.
Instant Espresso or Coffee – You can also use 3/4 cup of strong brewed coffee in place of the whole milk and instant espresso to make the cupcake batter.
All Purpose Flour – This recipe turns out best with AP flour, but you can use a gluten free flour blend or cake flour if that's all you have on hand.
Granulated Sugar – I do not recommend reducing the amount of sugar or changing the type of sugar as it will change the texture of these cupcakes.
Vegetable Oil – You can use any flavorless oil in this recipe. Canola or sunflower oil would work great!
Eggs – If you have an egg allergy you can use 2 flaxseed eggs or 1/2 cup of unsweetened applesauce instead.
Vinegar – This recipe needs a bit of vinegar because it uses baking soda as a leavening agent. The vinegar activates the baking soda and helps the cupcakes rise. You can use white or apple cider vinegar.
Substitutions and Swaps – Espresso Buttercream Frosting
Unsalted Butter – If you only have salted butter on hand you can use it in place of the unsalted butter. Just be sure to omit the salt that this frosting recipe calls for. You can also use vegan butter in its place!
Heavy Cream – Whole milk or alternative milk (soy, almond, oat) will work fine in this frosting recipe if that's what you have on hand.
Vanilla Extract – Other extracts can also be used in place of the vanilla extract. Feel free to use coconut extract, hazelnut extract, or even almond extract.
Instant Espresso or Coffee – You can also use 1 Tbsp of strong, cooled espresso in place of the instant espresso or coffee & heavy cream in this frosting recipe.
Tips for Making The Best Mocha Cupcakes:
Be sure to properly measure your flour (spoon into the cup measure then level) or use a kitchen scale to measure your dry ingredients.
Ingredients at room temp mix together better so be sure you set out any cold ingredients ahead of time.
Mix your cupcake batter just until the ingredients are incorporated. This will ensure your cupcakes are tender and fluffy.
One batch of batter can be also be used to make one 8×8 inch mocha sheet cake. Bake it at 325F for 33-38 minutes.
Make these mocha cupcakes vegan or dairy free! Use your favorite type of dairy free milk to replace the milk and heavy cream and use vegan butter sticks in place of the butter.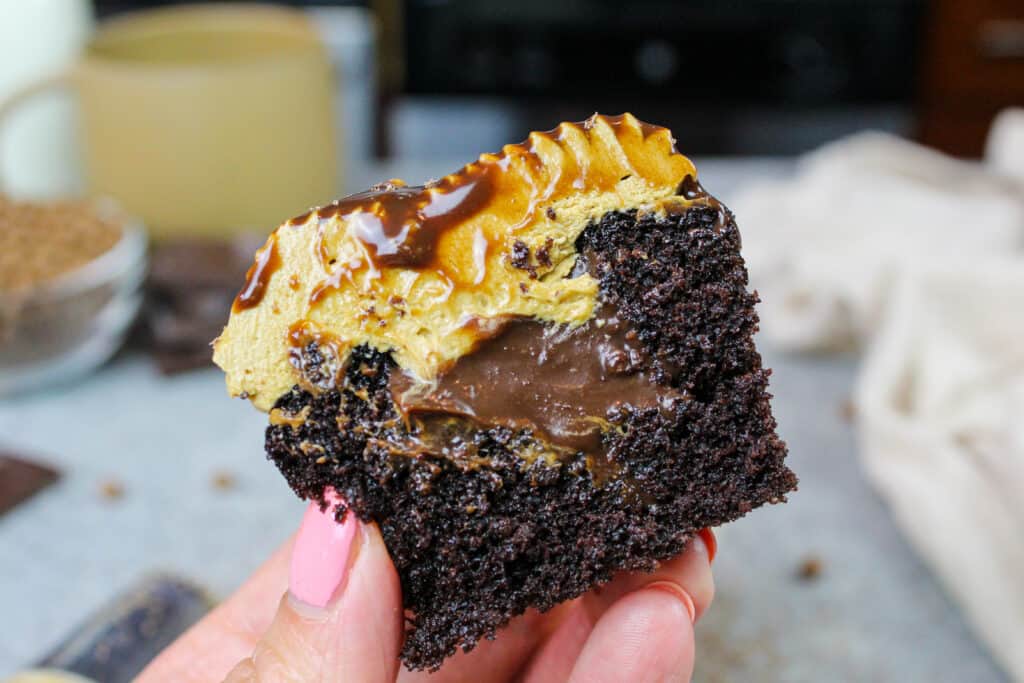 Let Me Know What You Think!
If you make these mocha cupcakes, I'd love to hear what think of them! Please leave a rating and let me know your thoughts by sharing a comment.
Also please tag me @chelsweets! Use the #chelsweets so that I can see your amazing creations on social media.
Other Recipes You Might Like:
These mocha cupcakes are moist, decadent and packed with coffee flavor. They come together in a flash are will be gone before you know it!
Additional Time
45 minutes
Total Time
1 hour
13 minutes
Ingredients
Mocha Cupcakes
3/4 cup whole milk (180 grams)
1/3 cup milk or dark chocolate chips, melted (57 grams)
1 Tbsp instant espresso or coffee (6 grams)
3/4 cup all purpose flour (98 grams)
3/4 cup granulated sugar (150 grams)
1/3 cup unsweetened cocoa powder (33 grams)
1/2 tsp baking soda (3 grams)
1/2 tsp salt (2 grams)
2 large eggs, room temperature (114 grams)
1/3 cup vegetable oil (70 grams)
1 tsp white vinegar (4 grams)
1 tsp vanilla extract (4 grams)
Espresso Buttercream Frosting
1/2 cup (1 stick) unsalted butter, room temperature (113 grams)
1 tsp vanilla extract (4 grams)
2 tsp instant espresso or coffee (4 grams)
1/4 tsp salt (1 grams)
1 1/2 cup powdered sugar (190 grams)
1 Tbsp heavy cream (15 grams)
Espresso Ganache Filling & Drizzle
1/2 cup dark chocolate (85 grams)
1/3 cup heavy cream (77 grams)
2 tsp instant espresso or coffee (4 grams)
Optional Decorations
12 chocolate covered espresso beans
1 small chocolate bar to make chocolate shavings
Instructions
Mocha Cupcake Recipe
Begin by preheating oven to 350°F (175°C). Place 12 cupcake liners in cupcake pan.
Add 3/4 cup milk, 1/3 cup chocolate chips and 1 Tbsp instant espresso powder into a heat proof bowl. Heat in the microwave at power level 8 for 1 minute or over a double boiler until the chocolate has melted.
Whisk together until the ingredients have combined, making sure all the chocolate is melted. The mixture might look a bit separated but it will come together once you add in the dry ingredients.
Sift 3/4 cup all purpose flour, 3/4 cup granulated sugar, 1/3 cup cocoa powder, 1/2 tsp baking soda and 1/2 tsp salt into chocolate espresso mixture and stir until combined.
Scrape the sides and bottom of the bowl as needed with a spatula.
Add 2 large eggs, 1/3 cup vegetable oil, 1 tsp vinegar and 1 tsp vanilla. Mix just until the batter is smooth.
Fill cupcake liners 3/4 full and bake for about 18-19 minutes or until a toothpick comes out with a few moist crumbs.
Allow the cupcakes to cool for 10 minutes in the pan before moving them to a cooling rack to finish cooling.
Espresso Buttercream
While the cupcakes cool make the chocolate buttercream. Beat 1/2 cup of unsalted butter on a medium speed for 30 seconds with a paddle attachment until smooth.
In a small container mix together 1 tsp vanilla extract and 2 tsp of instant espresso until the instant espresso is fully dissolved.
Add the vanilla espresso mixture and 1/4 tsp of salt into the butter. Mix on a low speed until combined.
Slowly add in 1 1/2 cups of powdered sugar, 1/2 cup at a time. Scrape the sides and bottom of the bowl as need with a rubber spatula. The frosting should be quite thick at this point.
Mix in 1 Tbsp heavy cream on a low speed to thin out the frosting.
Beat on low until the ingredients are fully incorporated and the desired consistency is reached.
If the frosting is too thick, add an extra Tbsp of heavy cream. If it's too thin, add in another 1/4 cup of powdered sugar. To know if your frosting is the right consistency, check out my post on buttercream consistency.
Stir by hand with a rubber spatula to get the frosting SUPER smooth. Place into a large piping bag fit with an Ateco 869 or large french piping tip.
Espresso Ganache Filling & Drizzle
Place 1/2 cup dark chocolate chips in a heatproof bowl and set aside.
Stir together 1/3 cup of heavy cream and 2 tsp of instant espresso in a heatproof bowl. Heat in the microwave for 45 seconds to 1 minute, until it's gently bubbling.
If you don't have a microwave or prefer to use the stove top, you can heat the espresso cream over a medium heat in a pan until it begins to simmer. Remove from heat.
Carefully pour the espresso cream over the chocolate chips, making sure they are fully covered with cream. Allow mixture to sit for 1-2 minutes.
Slowly stir the mixture until the cream and chocolate are fully combined and ganache is silky smooth.
Set aside to cool for about 20 minutes (or place in fridge for about 10 minutes) until the mixture has thickened and is scoopable.

Decorating These Mocha Cupcakes
Use a small knife or 1 inch circle cutter to remove the center from each cooled cupcake.
Fill each cupcake with a small spoonful of espresso ganache.
Pipe a swirl on top of each cupcake with the espresso buttercream using an Ateco 869 or large french piping tip. Chill the cupcakes in the fridge for 10 minutes or the freezer for 5 minutes to help the frosting firm up.
While the cupcakes chill heat up the remaining ganache in 10 second intervals until it is thinner and fluid enough to be drizzled.
Remove the cupcakes from the fridge or freezer and drizzle them with the warm ganache.
If desired, top with a chocolate covered espresso bean and some chocolate shavings and enjoy!
Notes
This recipe can also be used to make mini mocha cupcakes! It makes about 40 mini cupcakes, which only need to bake for 9-10 minutes.
These mocha cupcake can be made in advance! If stored unfrosted in an airtight container, they can last for:
1 day at room temperature
Up to a week in the fridge
Up to 3 months in the freezer
If you have extra buttercream leftover it can be stored in the fridge in an airtight container or piping bag for up to 3 weeks.
Leftover ganache can be kept in an airtight container in the fridge for up to 3 week.
Nutrition Information
Yield
12
Serving Size
1
Amount Per Serving
Calories

321
Total Fat

15g
Saturated Fat

6g
Trans Fat

0g
Unsaturated Fat

8g
Cholesterol

44mg
Sodium

231mg
Carbohydrates

43g
Fiber

2g
Sugar

33g
Protein

4g