Cosmopolitan asked me to make a margarita trifle cake, I could not have been more excited.
If you follow me on instagram and watch my instastories, you know that I love to unwind on the weekends with a good frozen marg.
To make this margarita trifle even more festive, I assembled the trifle in a giant cocktail glass. Before the comments start, yes, I know this is not the type of a glass a traditional margarita is served in.
But you know what? For the life of me I couldn't find a giant margarita glass! I pinky promise I looked everywhere. I would love nothing more than a massive margarita glass!!
Luckily I was able to find this massive cocktail glass. It got the job done, and I think still conveys the whole "caketail" message.
This cake is made with crumbed lime cake layers, doused in a generous splash of a triple sec and tequila simple syrup.
It's also frosted with layers of lime buttercream, which is made using my classic buttercream recipe as a base. The full video can be seen here.
All About The Details: Sugared Rim
The salt rim of a margarita is so iconic, this cake just wouldn't be complete without it.
However, no one wants that much salt with their cake! When I was preparing to make this trifle, I chose to use some granulated sugar instead.
It really takes the whole look of the trifle to the next level.
Creating a sugar rim is quite easy! All you have to do is run a lime slice or a paper towel soaked in some of the triple sec simple syrup around the perimeter of your glass bowl or container.
Then dip the rim of the container onto a plate of granulated sugar.
Crumbling Up The Cake Layers
This trifle is made with two cake layers. I know it seems strange to crumble up perfectly good cake layers, but I swear its worth it!
You could also cut the layers into small cubes like a traditional trifle, but I found it easiest to fill the glass using the crumbled bits of cake.
My main tip when doing this is to make sure your cake layers are fully cooled. I recommend starting in the center of the cake layer, and working your way to the sides.
I did not include the sides of the cake. They brown due to caramelization, and I thought this would take away from the colorful cake layers.
Assembling This Margarita Trifle
Once you make it to this point, it's all fun and games. As you add in the bits of cake, you may want to use your hands to press them down.
This will help create an even, uniform layer of cake. It will also allow you to fit more cake into the trifle.
I was quite generous with my drizzle the simple syrup over the cake pieces, and I didn't regret it one bit. While the cake and buttercream a packed with lime flavor, it's the simple syrup that really makes this cake taste like a margarita.
So don't be shy when you are adding it to this trifle. You'll thank me later!!!
Top with green sprinkles, a straw and a lime to really give this cake a festive finish!
Then it's time to dive in. Happy hour just got a whole lot sweeter 😛 It would also be fun to make miniature version of these in individual sized containers for a party!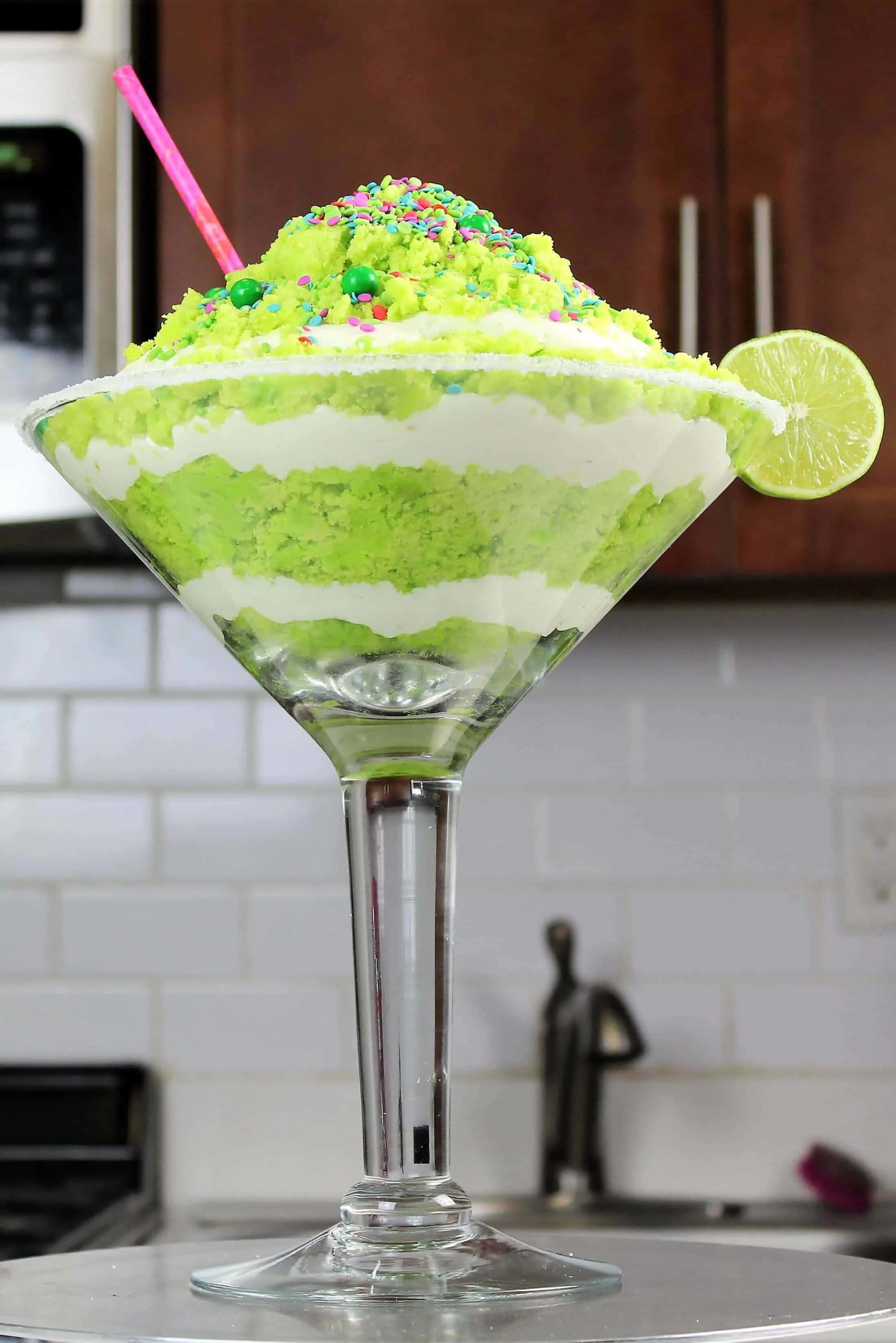 Yield: 8
Margarita Trifle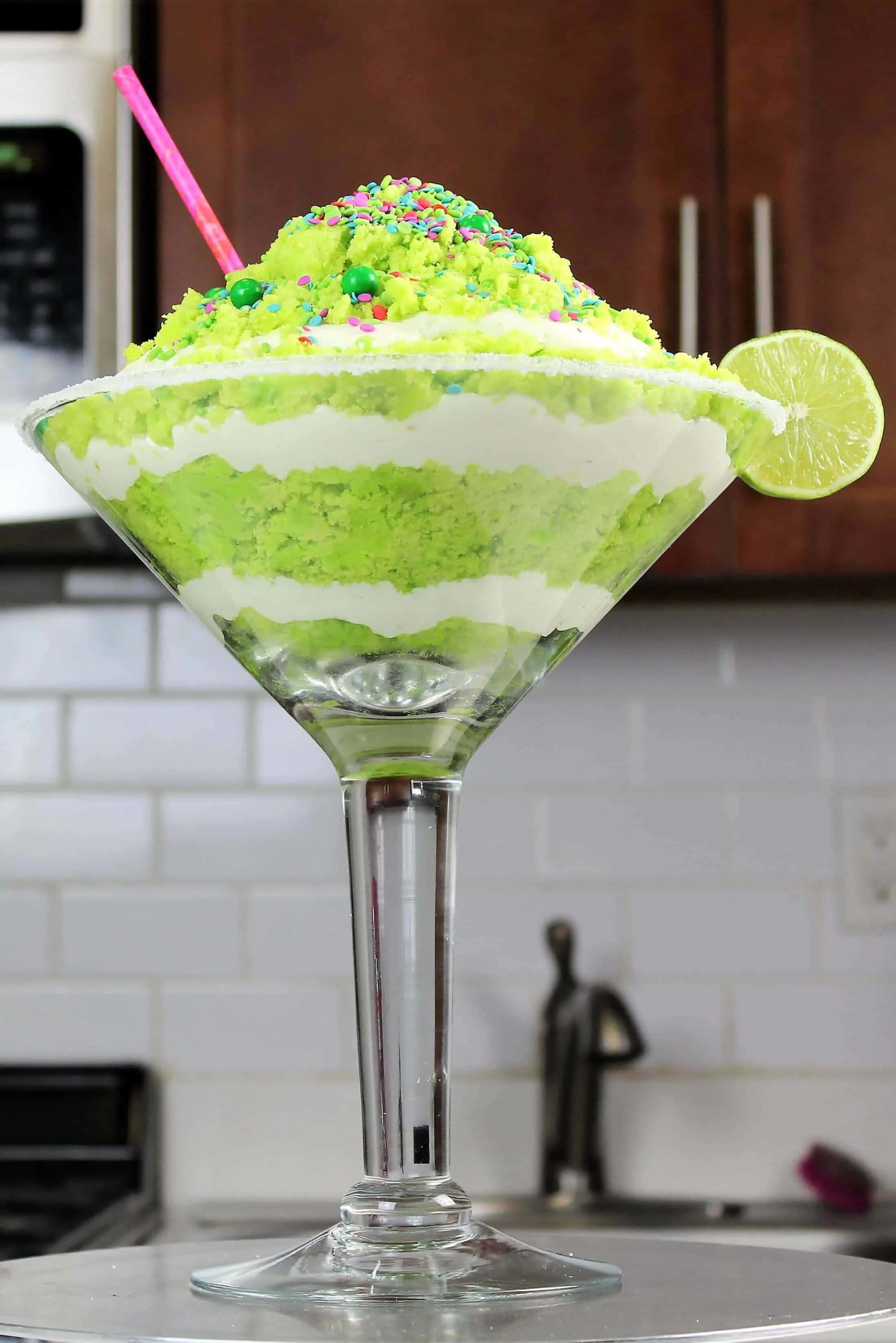 This margarita trifle is the perfect way to celebrate! Whether it's cinco de mayo or you just love frozen margs, this boozy trifle is sure to liven up any party!!
Additional Time
20 minutes
Total Time
1 hour
5 minutes
Ingredients
Lime Cake
1 cup all-purpose flour (130 grams)
1 cup granulated sugar (200 grams)
1 tsp baking powder (4 grams)
1/4 tsp salt (1 grams)
1/4 cup unsalted butter, melted (56 grams) - 1/2 stick
1/4 cup vegetable or canola oil (56 grams)
1 egg (56 grams)
1/2 cup buttermilk or whole milk, room temperature (115 grams)
1 tsp. vanilla extract (4 grams)
zest of 1 small lime
1 Tbsp fresh lime juice (12 grams)
lime green gel food coloring
Lime Buttercream Frosting
3/4 cup unsalted butter, room temperature (169 grams)
3 cups powdered sugar (375 grams)
1 Tbsp + 1 tsp heavy cream (or whipping cream) (20 grams)
2 tsp vanilla extract or vanilla bean paste (8 grams)
1/4 tsp salt (1 grams)
zest of 2 small limes
1 Tbsp fresh lime juice (12 grams)
Tequila Triple Sec Simple Syrup
2/3 cup sugar (133 grams)
1/2 cup water (120 grams)
2 Tbsp tequila (30 grams)
2 Tbsp Triple Sec (30 grams)
Additional Decorations
Colorful sprinkles
Lime wedge
Straw
Instructions
Lime Cake Layers:
Preheat oven to 350°F. Line one 8 inch pan with parchment rounds and grease with non-stick cooking spray.
Mix together all dry ingredients (flour, baking powder, sugar, and salt) in a stand mixer with a paddle until fully combined.
Mix chunks of room-temperature butter slowly into the dry mix, on a low speed. Continue to mix until no large chunks of butter remain, and the mixture becomes crumbly.
Pour in egg whites, and mix on low until just incorporated. Mix in the buttermilk in two installments, on a low speed.
Add in vanilla, lime juice, lime zest and oil and mix at a low speed until fully incorporated. Scrape down the sides of the bowl with a spatula, then beat on medium speed for about 30 seconds.
Add in the green gel food coloring. Mix the coloring in by hand, scraping the sides and bottom of the bowl. Mix until the batter is evenly colored.
Pour the batter into the prepared cake pan.
Bake for 30-33 minutes, or until a toothpick comes out with a few moist crumbs. Allow the pans to cool for 10 minutes, then run an offset spatula around perimeter of the pan to separate the cake from the pan.
Place cake layers into the freezer for 30 minutes, to accelerate the cooling process.Once the layers are fully cooled, carefully flip the pans and remove the layers.
Use a serrated knife to level the tops of the layers, and then frost as desired.
Lime Buttercream Frosting:
While the cake layers bake and cool, make the vanilla buttercream frosting.
Beat the butter on a medium speed for 30 seconds with a paddle attachment, until smooth. Slowly add in the powdered sugar on a low speed. Half way through add in the heavy cream to make the frosting easier to mix.
Once fully mixed, add in the vanilla, lime juice, lime zest, and salt, and beat on low until the ingredients are fully incorporated, and the desired consistency is reached.
If the frosting is too thick, add in additional cream (1 teaspoon at a time). If the frosting is too thin, add in more powdered sugar (quarter of a cup at a time).
Place in a large piping bag, and cut a 1 inch opening.
Triple Sec Simple Syrup:
Place the sugar and water in a heat proof pan, and heat on a medium high heat until boiling.
Reduce the heat to allow the mixture to simmer until all the sugar is dissolved (2-3 minutes).
Add in the tequila and triple sec, and remove from heat.
Allow the mixture to cool, then place in a squirt bottle.
To Assemble The Cake:
Use some of the simple syrup and a paper towel to coat the top rim of your glass container.
Pour some granulated sugar onto a large plate and dip to edge of your glass bowl onto it, to create a sugared rim
Crumble the fully cooled cake layer into a large bowl using a fork.
Add a 1 inch layer of cake crumbs into a large glass bowl or container, and drizzle with a generous amount of the tequila triple sec simple syrup.
Pipe an even layer of buttercream on top of the cake.
Repeat until the glass container is filled to the top.
Add colorful sprinkles to the decorate the top.
Garnish with a lime slice and a straw.
Notes
Make your cake layers in advance and freeze them: It breaks the process up and make it more approachable.
Make your frosting ahead of time too, or save any leftover frosting! It can be stored in an airtight container in the fridge for up to a month, or in the freezer for up to 3 months. Be sure to give it a good stir once it thaws to get the consistency nice and smooth again.
Nutrition Information
Yield
8
Serving Size
1
Amount Per Serving
Calories

671
Total Fat

27g
Saturated Fat

15g
Trans Fat

0g
Unsaturated Fat

10g
Cholesterol

89mg
Sodium

265mg
Carbohydrates

104g
Fiber

2g
Sugar

87g
Protein

5g