I am helping out with a fundraiser for ARK, a local group who helps raise funds to allow Filipino children to continue their education. The group wanted the food of the evening to highlight the Filipino culture, so I figured halo halo cupcakes would be perfect!
Halo Halo is a traditional Filipino dessert that can be made with a million different things, including a variety of savory and sweet ingredients.
These include boiled kidney beans, garbanzos, sugar palm fruit, coconut sport, caramelized plantains, jackfruit, gulaman, tapioca, and pounded crushed young rice.
Most of these ingredients (fruits, beans, and other sweets) are first placed inside the tall glass, topped with shaved ice, and then sprinkled with sugar, and either (or a combination of) leche flan, purple yam (ube), ice cream, and/or evaporated milk.
I obviously couldn't fit all of these ingredients into one cupcake, but I did my best to capture the essence of Halo Halo.
Serving: 15 cupcakes
Prep Time: 1 hour
Bake Time: 12-14 minutes
Cupcake Base:
1 1/4 cup flour
3/4 cup sugar
1/2 cup buttermilk
1/2 cup canola oil
1 tsp. salt
1 1/4 tsp. baking soda
1/2 tsp baking powder
1 1/2 tsp. vanilla
2 eggs, room temperature
Coconut Curd:
1/2 cup unsalted butter, room temperature
1 cup Sugar
3/4 cup coconut milk
2 whole Eggs
2 Egg Whites
1 tsp. pure vanilla extract
1/2 tsp salt
Ube Frosting:
1/2 cup unsalted butter, room temperature
2 cup powdered sugar
1/2 tsp. vanilla
1/2 tsp salt
1 tsp. ube extract
1/8 tsp. purple gel food coloring
Cupcake Toppings:
1 mango, cubed
2 kiwis, cubed
1/2 cup toasted coconut
1/2 cup toasted rice cereal
15 banana chips
Preheat the oven to 350°F and line a cupcake pan with cupcake liners. In a medium bowl, whisk together 1¼ cups flour, baking powder, baking soda and salt. Set aside. Using an electric mixer, quickly beat together the 2 eggs on medium speed.
Add sugar, and continue to beat on medium speed (about 30 seconds). Add vanilla and oil, and beat on medium speed. Reduce mixer speed to low, and slowly add about half of the flour mixture. Add half of the buttermilk, then the rest of the flour mix, followed by the rest of the milk.
Beat until just combined and smooth, scraping down the sides of the mixing bowl. The batter should be thin. Pour batter into a lined muffin pan filling the cups about ½ full.
Bake for 12 -14 minutes. Let them cool in the pan for a couple minutes, then place on a wire rack to finish cooling.
As the cupcakes bake, prepare the coconut curd. With a hand mixer, beat together butter and sugar until light and fluffy. Beat in each egg one at a time, allowing them to mix completely before beating in another egg. Beat in coconut milk, until incorporated.
Over medium heat, in a double boiler, stir the mixture. Add in vanilla, and stir mixture frequently until the mixture begins to thicken (about 10 minutes). Pour into bowl and let cool in fridge. If you have any left overs, place them in an air tight container, and use within a week.
For the frosting, beat the butter until it is fluffy, then slowly incorporate the powdered sugar, 1/2 cup at a time. Add in ube extract, purple food coloring, vanilla, and salt, and continue to mix until all ingredients are fully incorporated. Add cream as needed, until the appropriate consistency is reached.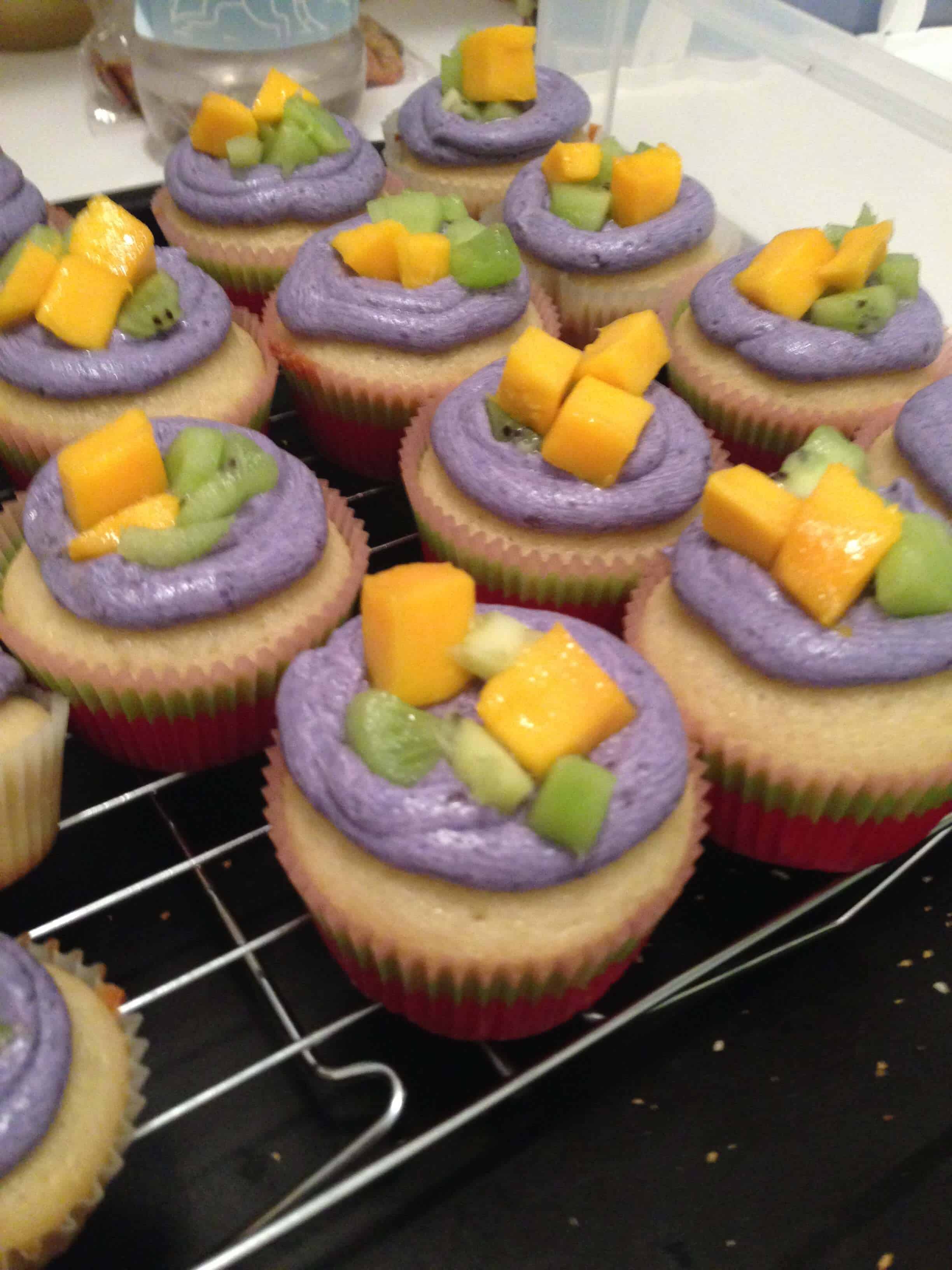 Fill with the coconut curd. Pipe on the ube frosting with a large, round tip, creating a sort of a frosting bowl.
Top the cupcake with chopped, fresh mango, kiwi, jack fruit, and a banana chip. Sprinkle with toasted, shredded coconut, and brown toasted rice cereal.
I think that the cupcake has a great tropical vibe, and I like the contrast between the smooth coconut curd and fresh fruit, and the crunch of the rice cereal and toasted coconut.