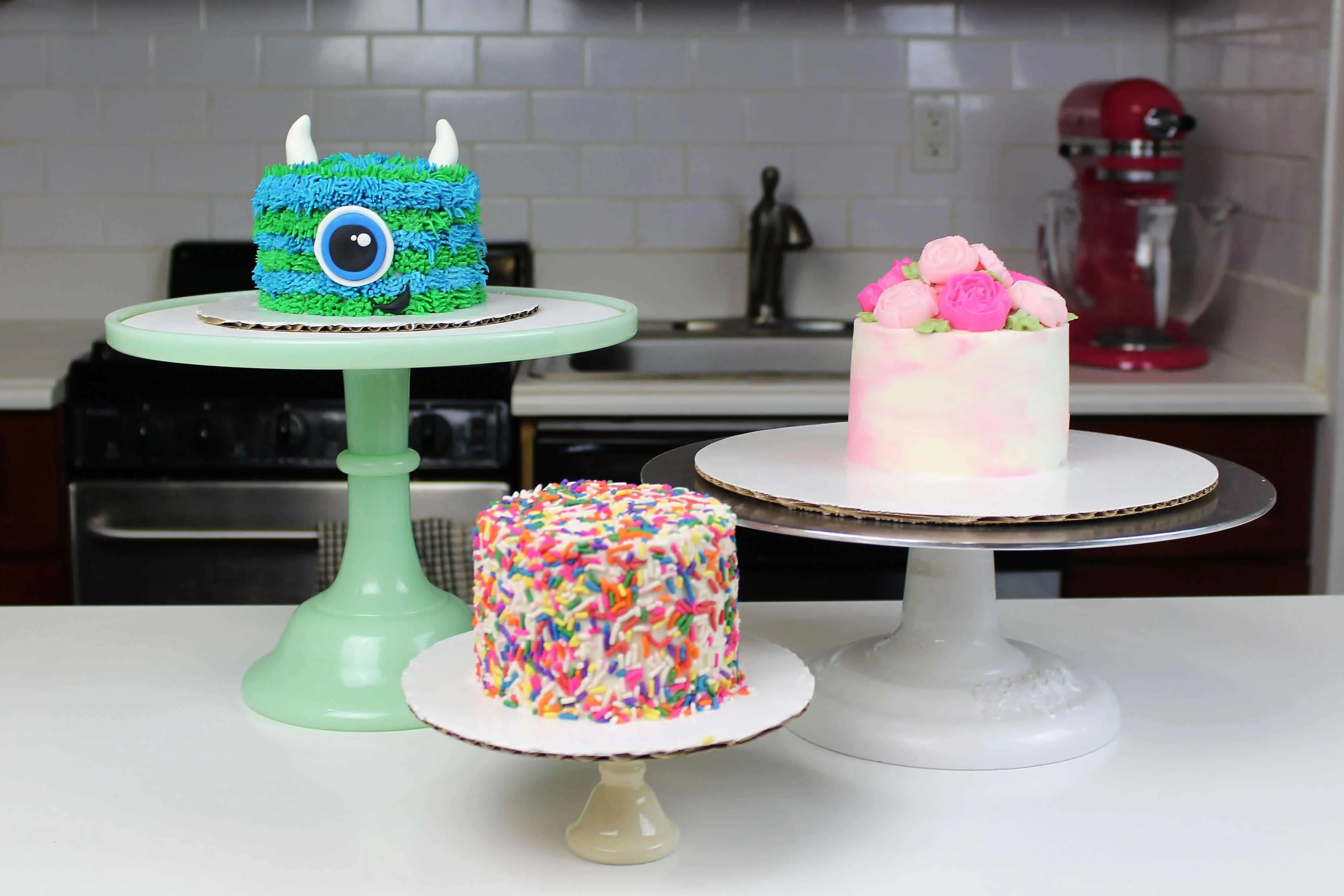 Smash cakes seem to be a rite of passage for many of today's children, and I wanted to share a few easy ways to decorate them! These smash cakes are inspired by Baked by Melissa's (Melissa Ben-Ishay) new cake book! It includes a banana smash cake with a straight peanut butter filling, which she used to celebrate her daughter's first birthday. This helps keep the sugar levels low in the cake…or at least lower than a normal cake! If you're interested in ordering her book, you can click here.
I was able to make 3 smash cakes out of one batch of a banana cake recipe, which I baked in two half sheet pan! I built each smash cake using 4 inch circle cut outs. Each cake was built with three layers (total of 12 cut outs). You could definitely make larger cut outs if desired, or bake the layers in cake pans as opposed to doing cut outs.
I made three different designs; one was covered covered in sprinkles (easiest), one was decorated with buttercream flowers (more difficult), and another was decorated like a monster (moderate difficulty). Below is a full video tutorial showing how each smash cake is decorated:
The tools and recipes you need to make these cakes can be found below:
Recipes:
1 batch of your favorite banana cake (this is mine)
1 cup of your favorite frosting (here's mine)
1 small jar of your favorite smooth peanut butter (I used Skippy's)
Sprinkle Smash Cake Decoration:
one jar of rainbow jimmies
Pink Flower Smash Cake Decoration:
pink food coloring (I use americolor gel food coloring)
green food coloring
frosting piping bags (or ziploc bags)
Wilton 1M tip (open star)
Wilton 103 tip (petal tip) – optional
Blue and Green Monster Smash Cake Decoration:
blue food coloring (I use americolor gel food coloring)
green food coloring
frosting piping bags (or ziploc bags)
grass frosting tip (wilton 233)
black and white fondant
Once the cake batter is baked and cooled, cut out circles of desired size.
Stack the layers, applying an even layer of peanut butter between each layer. Chill cake in freeze for roughly 10 minutes. This will make them much easier to frost.
Once chilled, apply a thin layer of frosting (crumb coat) using an offset spatula or butter knife. Be sure to cover the entire cake, so that all the crumbs from the cake layers will be locked in place. Chill the cake in the fridge or freezer until the frosting is firm to the touch (5-15 minutes), then add a second, thicker layer of frosting. Smooth using an offset spatula, and a bench scraper.
For the sprinkle version, take a handful of sprinkles, and very gently press them into the frosting. You want to press just firmly enough to stick them into the frosting, but not hard enough to cause an indentation in the smooth frosting.
To make the pink flower version, color 5/6 of the left over frosting pink, and color 1/6 of it green. Add dabs of pink frosting around the cake, and smooth around the cake to create a watercolor effect. Place some pink frosting into a piping bag with a wilton 1M tip, and pipe buttercream rosettes on top of the cake. If you have a wilton 103 or 104 tip, pipe roses onto parchment squares, and freeze until they're firm to the touch (as seen here). Gently peel them off the parchment paper, and place on top of the cake. Add small dabs of green frosting between the flowers, to look like leaves.
To make the monster-inspired cake, divide the remaining frosting evenly between two bowls, and color blue and green. Place colored frosting into two separate bags with a grass tip. Starting at the base of the cake, pipe horizontal stripes of blue and green around the cake, until it is fully covered. Make fondant horns and eyes (could also use an oreo cookie for the eye, and macadamia nuts or almonds for the horns), and gently press into buttercream.
And then it's time to place the smash cake in front of your adorable baby and see what happens!! Most kids get pretty into it, and tend to make a mess! Be sure to have a camera ready to capture the moment 🙂