The DoubleTree Hotel just shared its signature chocolate chip cookie recipe, and I was dying to try it! However, the original recipe makes 26 cookies and I only wanted a dozen. I halved the original recipe to create this small batch version of these DoubleTree chocolate chip cookies.
More than 30 million of these cookies are consumed every year, and I was so excited to see what all the hype is about.
Substitutions and Swaps
While I love this recipe just the way it is, I know some of you might not have all of these ingredients on hand!
Below are some swaps and substitutions that can be made in this recipe.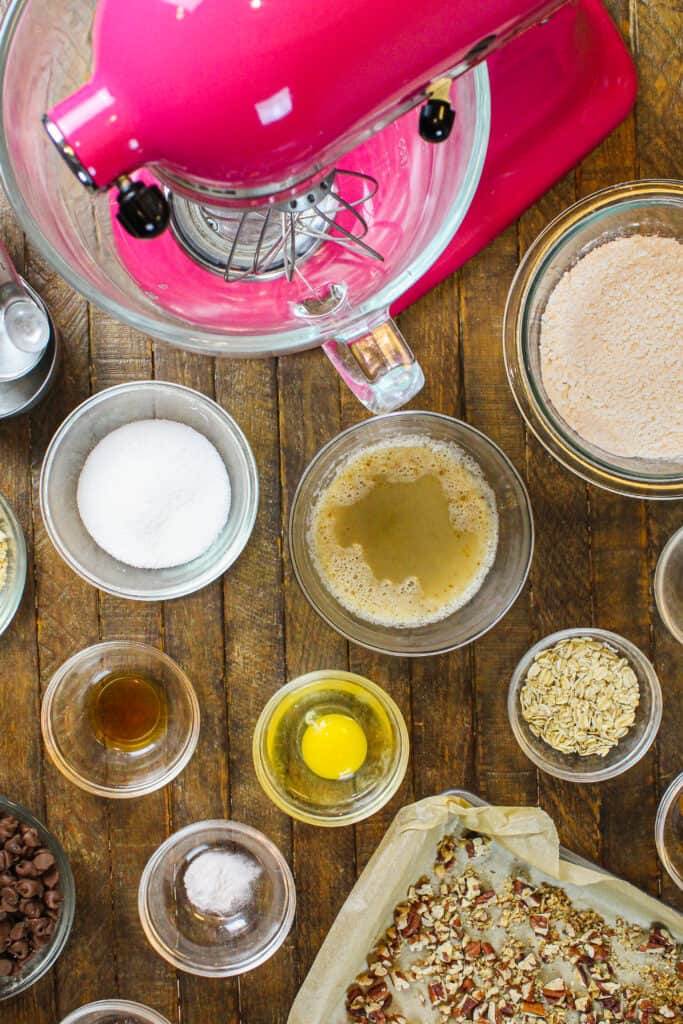 Unsalted Butter – If you only have salted butter on hand you can use it in place of the unsalted butter in this recipe. Just be sure to omit the salt that this recipe calls for. You can also use vegan butter in its place. Or if you feel really fancy you can use browned butter!
Granulated sugar / Brown Sugar – This recipe uses equal parts granulated sugar and brown sugar. If you only have one type of sugar on hand, you can use it in place of the other. But the mixture of brown and granulated sugar gives these cookies a hint of caramel, soft centers, and golden brown edges.
Lemon Juice – This ingredient might seem a bit odd, but it's necessary because this recipe uses baking soda as the leavening agent! This means it needs some type of acid to activate it. It's only a tiny bit so it won't really affect the flavor. If you don't have any lemons on hand, limes will work too (that's what I used).
1 Large Egg – This cookie recipe uses 1 large egg! You can use a flaxseed egg in its place to make eggless or vegan variations of this chocolate chip cookie recipe. If you don't have any eggs, you also can replace it with 1/4 cup of vegetable or canola oil. This will cause the cookies to spread more, but they should still taste great.
All Purpose Flour – I haven't tested this recipe out with gluten free flour, but it should work as long as you use a good blend like King Arthur's GF flour. Just be sure to mix the dough a bit longer, to help give it structure.
Rolled Oats – While I'm not the biggest fan of oats in cookies, this small amount of oats gives these cookies a really wonderful texture! They blend into the cookie once it's baked, so you can barely tell they're there. If you don't have rolled oats on hands, you can also use quick oats in their place or omit them if you don't have any oats in your pantry.
Chocolate – The original DoubleTree chocolate chip cookie recipe calls for semi-sweet chocolate chips, but I prefer milk or dark in mine! You can use either chocolate chips or chunks, and I suggest using whatever type is your favorite!
Walnuts – Another signature ingredient in this beloved cookie recipe is walnuts! While I think these cookies do taste best with walnuts, chopped pecans or peanuts would taste great in this recipe too! Use whatever you have on hand, or omit the nuts if you have a nut allergy.
Tips for Making the Best Chocolate Chip Cookies:
Turn your oven on before you start making the cookie dough, so the oven will be preheated once your dough is ready. This recipe has no chill time, and the dough comes together quickly
Please note, these cookies bake at 300 F!! Be sure to set your oven to the right temperature. I went into autopilot when making my last batch and almost set my oven to 350 F on accident
Be sure to properly measure your flour (spoon into the cup measure and then level) or use a kitchen scale to measure your dry ingredients
Toast your chopped nuts in the oven for 5-10 minutes at 350 F to make these cookies even more delicious
Ingredients at room temp mix together better! So be sure you set out any cold ingredients ahead of time
Use a cookie scoop to make sure your cookies are uniformly sized
Be sure to space your cookies about 1-2 inches apart before baking them! They spread a bit as they bake.
Press extra chunks of chocolate and nuts on top the cookies once they're baked. You can also garnish them with sea salt to make them look just as incredible as they taste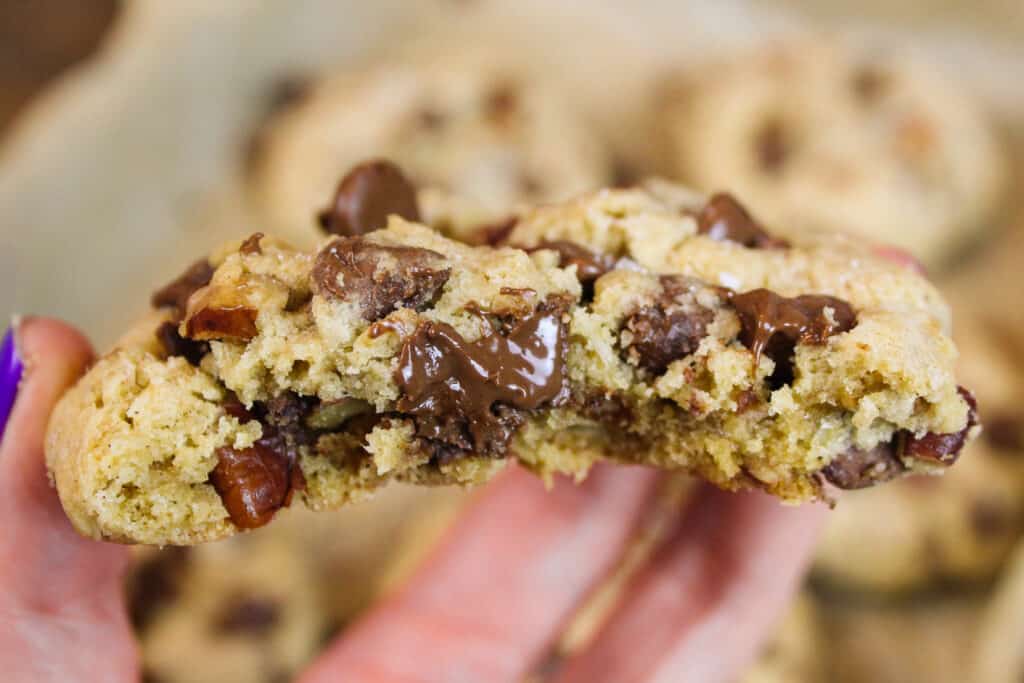 Let Me Know What You Think!
If you try this recipe for copycat doubletree chocolate chip cookies, I'd love to hear what think of it! Please leave a rating, and let me know your thoughts by sharing a comment.
Other Recipes You Might Like:
Yield: 12
Small Batch Doubletree Hotel Chocolate Chip Cookies
These copycat Doubletree cookies are just as delicious as you remember! They're chewy, soft, and irresistable!
Ingredients
Small Batch Copycat Doubletree Hotel Cookies
1/2 cup unsalted butter or browned butter, room temperature (113 grams)
1/3 cup + 1 Tbsp granulated sugar (81 grams)
1/3 cup + 1 Tbsp light brown sugar (81 grams)
1 large egg, room temperature (56 grams)
2/3 tsp vanilla extract (2 grams)
1/4 tsp freshly squeezed lemon juice (1 gram)
1 cup + 2 Tbsp all-purpose flour (146 grams)
1/4 cup rolled oats (22 grams)
1/2 tsp baking soda (3 grams)
1/2 tsp salt (3 grams)
1/2 tsp of ground cinnamon (1 gram)
1 1/3 cups semi-sweet, milk, or dark chocolate chips (233 grams)
3/4 cup chopped walnuts (94 grams)
Instructions
Preheat oven to 300 degrees F/150 degree C, and line two cookie sheets with parchment paper, aluminum foil or a silicone mat.
Cream together the unsalted butter, granulated sugar and light brown sugar in the bowl of a stand mixer or with a hand mixer on medium speed for about 2 minutes. The mixture should become lighter in color!
Add the egg, vanilla extract and lemon juice, and mix on low speed for 30 seconds until incorporated.
Then mix on a medium speed for an additional 2 minutes, to incorporate more air into the dough. Scrape the sides and bottom of the bowl as needed.
Add the all-purpose flour, rolled oats, baking soda, salt and cinnamon, and mix on a low speed until just combined. Be sure not to overmix the dough!!
Use a rubber spatula to fold in the chocolate chips and chopped walnuts.
Scoop and roll out 12 equal sized cookie dough balls.
Place the cookie dough balls on the prepared baking sheets, about 2 inches apart.
Bake for 20-22 minutes. These cookies don't always brown a ton, so don't be afraid to take them out of the oven before they're totally golden brown. They will continue to bake on the cookie sheet once they're removed from the oven.
Remove from oven and let the cookies cool on baking sheet for about 10 minutes before transferring them to a wire rack to cool.
Notes
You can freeze leftover or extra cookie dough! When you're ready to bake them, there's no need to thaw the dough. Preheat oven to 300°F and place frozen cookies on parchment paper-lined baking sheet about 2 inches apart.
Nutrition Information
Yield
12
Serving Size
1
Amount Per Serving
Calories

184
Total Fat

16g
Saturated Fat

7g
Trans Fat

0g
Unsaturated Fat

8g
Cholesterol

41mg
Sodium

179mg
Carbohydrates

9g
Fiber

1g
Sugar

4g
Protein

3g