I had so much fun sharing my Nutella banana nut muffins last week, I wanted to share another muffin recipe. I mean, who can say no to freshly baked chocolate chip muffins? And the best part is that this recipe is for small batch chocolate chip muffins.
In this recipe, small batch means that this recipe makes 6 muffins. I love small batch recipes, but if you want to make a full dozen you can always double this recipe.
What is a Muffin?
This might sound like a silly question, but I make loads of cupcakes and cakes. What ratio of ingredients makes this a muffin?
Muffins fall into the quick bread category because they don't use yeast to rise. They bake up thanks to leavening agents like baking soda or baking powder.
Traditionally they're also baked in a muffin pan! Some recipes bake them in liners, others have you grease the pan and bake them right in each little muffin cup.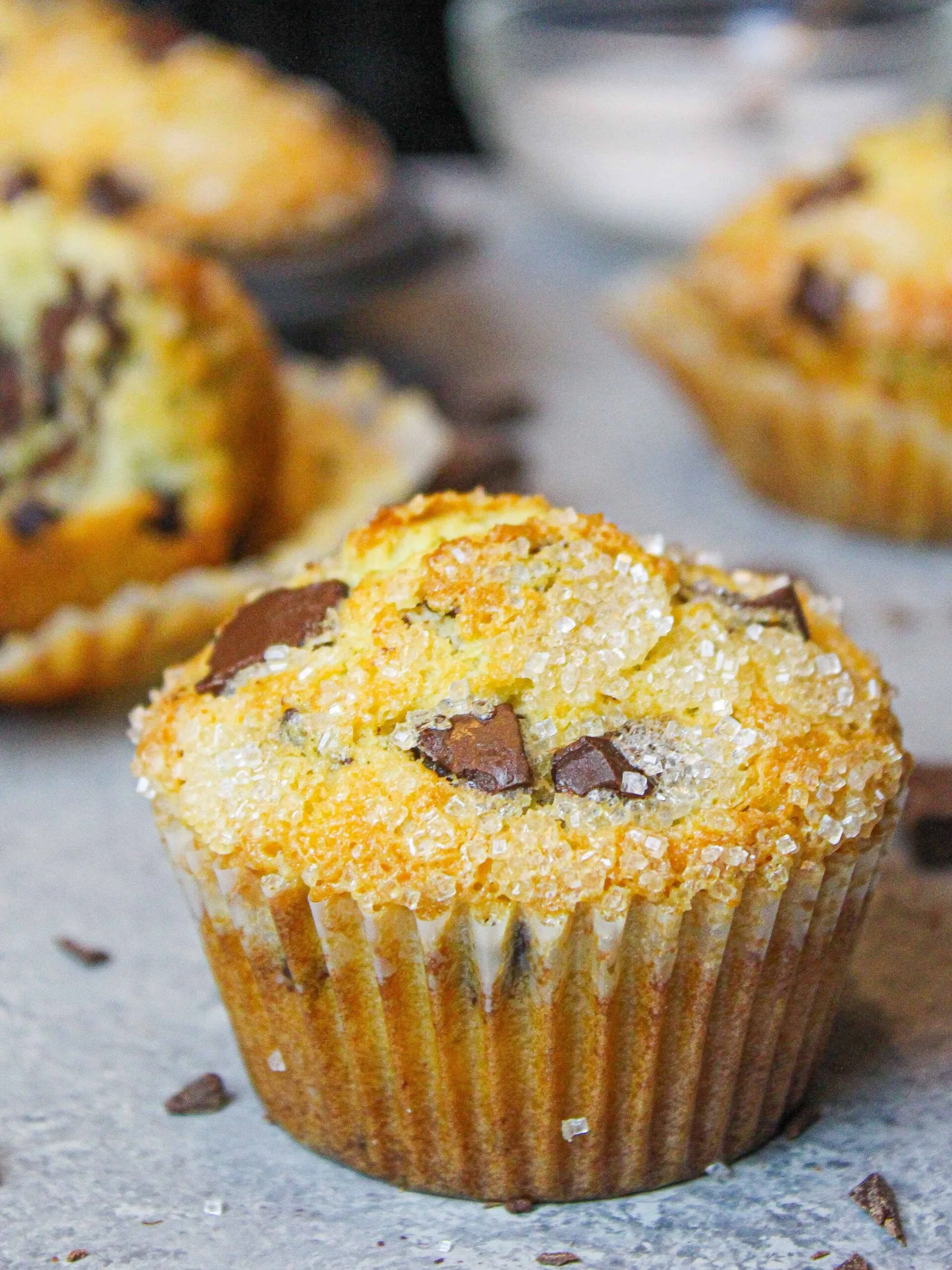 I prefer making them in muffin liners, because it makes for an easier clean up.
But if you don't have liners on hand, you can grease your muffin tin and bake these muffins right in the pan.
The traditional ratio for a quick bread or muffin recipe is 2 parts flour, 2 parts liquid, 1 part egg, 1 part butter.
This recipe is similar to that, but uses a few extra ingredients to give these muffins a tender, fluffy and light texture.
What is the Muffin Method??
Another trademark of a muffin recipe is the way in which the batter is mixed.
The muffin method mixes together the dry ingredients in one bowl, and the wet ingredients in a separate bowl.
The dry ingredients are then folded into the wet and mixed until the batter just comes together.
In fact, you should still be able to see a few chunks, and the batter shouldn't be perfectly smooth. If it is, you have over-mixed the batter!!
Do your best to avoid over mixing your muffin batter, as it can lead to dense, tough muffins.
Getting This Recipe Just Right
When working on this recipe, I began with the basic ratio of a muffin. But I wasn't happy with the texture.
When I eat a muffin, I want it to be just as moist and tender as the giant Costco muffins I grew up eating. Yes, that is the benchmark I hold all muffins to!!
I absolutely love Costco muffins. I used to eat one every morning with a giant glass of milk before school.
I'd heat them in the microwave for a few seconds to warm them up, then savor each bite. They were heaven.
Those muffins always left a bit of oil on my fingers and I think they used more oil and/or butter than a classic quick bread recipe. I also remember them tasting sweeter.
Several batches of muffins later, I finally was happy with this chocolate chip muffin recipe.
I played around with the baking temperature, bake time, different amounts of baking powder, butter vs. oil, adding in sour cream, and milk vs buttermilk.
After taste testing each batch, I think it's safe to say I've had my fill of muffins for the next few months 😛
In the end, I found I liked the texture of these chocolate chip muffins best with a little extra baking powder, buttermilk, a bit of sour cream, and all oil.
Chocolate Chip Muffin Substitutions & Swaps
While I love this recipe just the way it is, I know some people have different preferences!
Or you might not have all of these ingredients on hand! If you find yourself in either of these situations, below I share the purpose of each ingredient along with swaps and variations that can be made.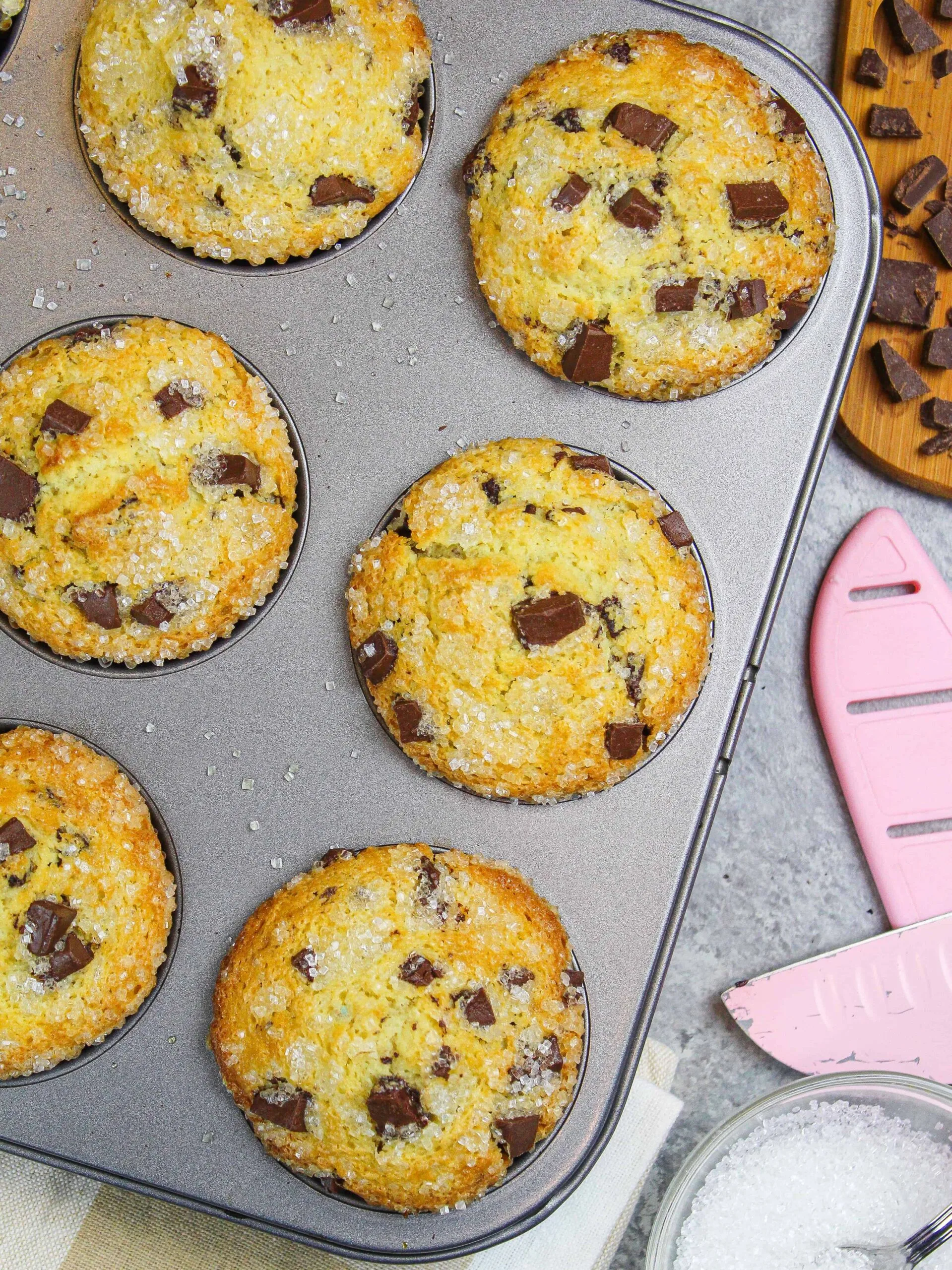 All Purpose Flour
I prefer these muffins with good ol' all purpose flour. However, you can use a gluten free flour blend in place of the AP flour in this recipe (cup for cup).
Just be sure to stir the batter really well to help give it structure. It needs extra help since it doesn't have any gluten.
Also let the batter sit for 30 minutes before baking the muffins (helps the flour absorb moisture from the batter)
Granulated Sugar
A little bit of sugar gives these muffins the perfect touch of sweetness, and helps create that tender texture.
You don't need a ton because the chocolate is also sweet, but I wouldn't recommend reducing the amount of sugar in this recipe or it will negatively affect the texture.
Baking Powder
My leavening agent of choice in these muffins is baking powder!
It's less potent than baking soda, and gives them the perfect rise to create light, fluffy muffins.
Buttermilk or Whole Milk
These muffins can be made with whole milk or buttermilk. I've tested the recipe with both and they taste great either way.
Buttermilk gives the muffins a bit of a tang and adds a touch more moisture. If you're used to baking with and eating baked goods with buttermilk, I recommend using it!
If you're not used to the tang of buttermilk, I recommend using whole milk! It makes fluffy, light muffins that taste exactly how a classic muffin would taste.
You can also use alternative dairy milk (almond, soy, oat, etc.) in this recipe if you are lactose intolerant or dairy free.
Sour Cream
Adding in a bit of sour cream makes these muffins more moist. They bake up a bit dry without it!
If you don't have sour cream on hand, you can also use full fat yogurt or additional milk or buttermilk in its place.
Use dairy free yogurt to replace the sour cream in this recipe if you want to make dairy free chocolate chip muffins.
Vegetable Oil
I tested this recipe with all oil, all butter, and a mix of the two.
While I usually am a fan of baking with butter, I really feel like muffin recipes taste best with oil! Oil gives these muffins a lighter texture.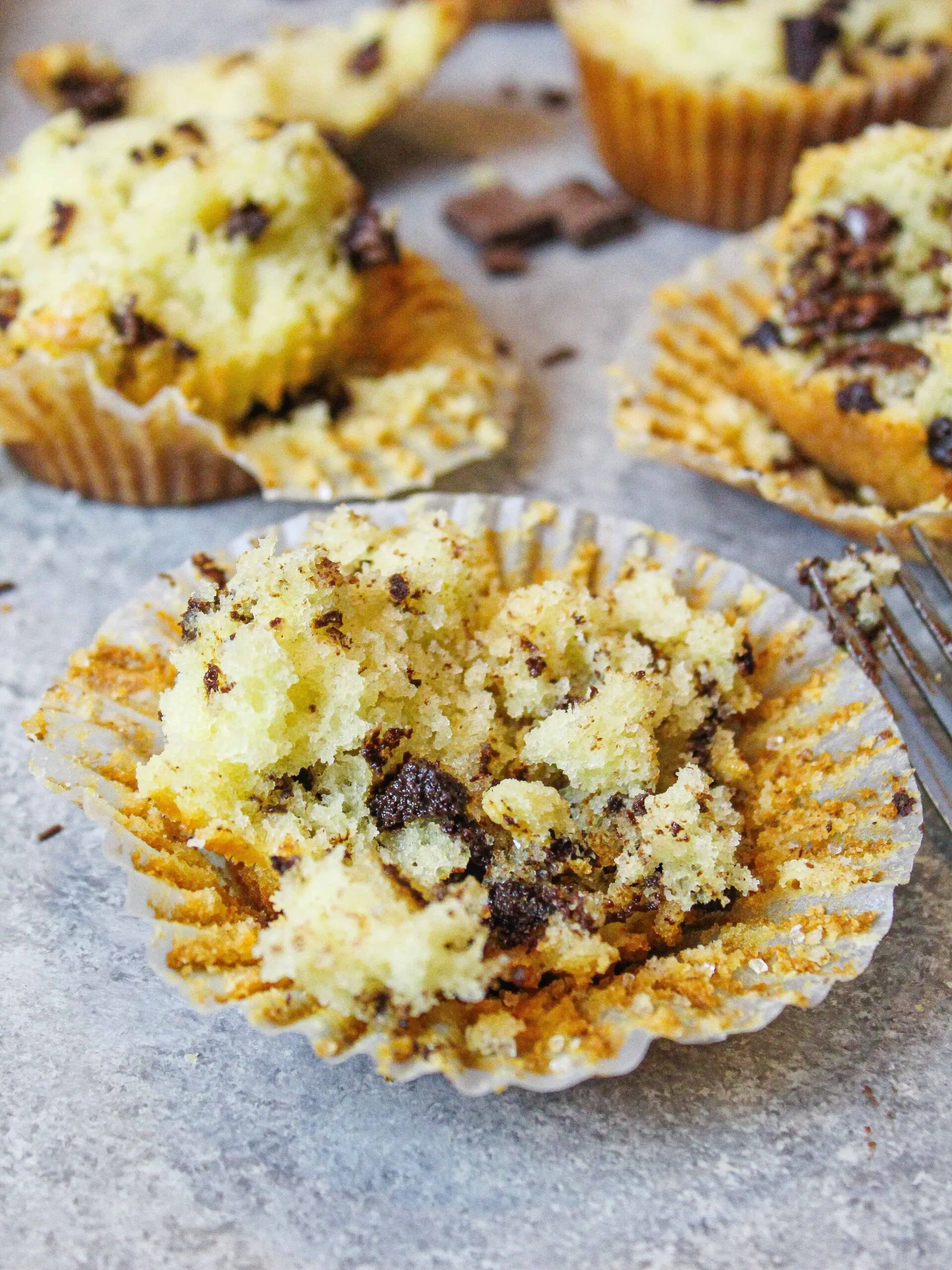 You can use any flavorless oil in this recipe, canola, vegetable, sunflower oil, etc.
You also can use butter to replace part or all of the oil if that's what you have on hand, or if you just prefer your muffins with it.
1 Large Egg
The egg helps give this recipe structure, and brings the batter together.
If you don't have any eggs on hand or want to make egg free chocolate chip muffins, don't worry!
Use 1/4 cup of unsweetened applesauce in place of the egg and add an additional 1/4 tsp of baking powder.
Chocolate Chips
This part is up to you! I like these best with chopped up milk chocolate chunks, but you can use milk, dark, or even white chocolate! Chocolate chips or chunks both work great.
Coarse Sugar or Sanding Sugar
Adding extra sugar to the top of these muffins is also optional, but it gives them the most irresistible crunchy top!!
I am a huge fan of muffin tops, and have been known to rip them right off my muffins. They're my favorite part of a muffin, and I think they're best with that sprinkle of sanding sugar.
It also gives them a gorgeous, sparkly look once they're baked.
Tips for Making the Best Small Batch of Chocolate Chip Muffins
Don't over-mix your batter! Mix until the flour has just been incorporated; there should still be some small chunks in the batter, and it shouldn't be all the way smooth.
Ingredients at room temp mix together better, so be sure you set out any cold ingredients ahead of time.
Use a cookie scoop to easily fill your muffin liners.
Sprinkle additional granulated sugar or coarse/sanding sugar on top of your muffins to give them a perfectly crunchy muffin top.
One batch of batter can be used to make about 18 mini chocolate chip muffins. Bake in a preheated 425 F oven for 3 minutes, then decrease the temperature to 350 F and bake for 8-10 minutes.
To make gluten free muffins, swap in your favorite gluten free flour blend for the AP flour this recipe calls for. Be sure to over-mix your batter and let it sit for at least 30 minutes before baking for best results.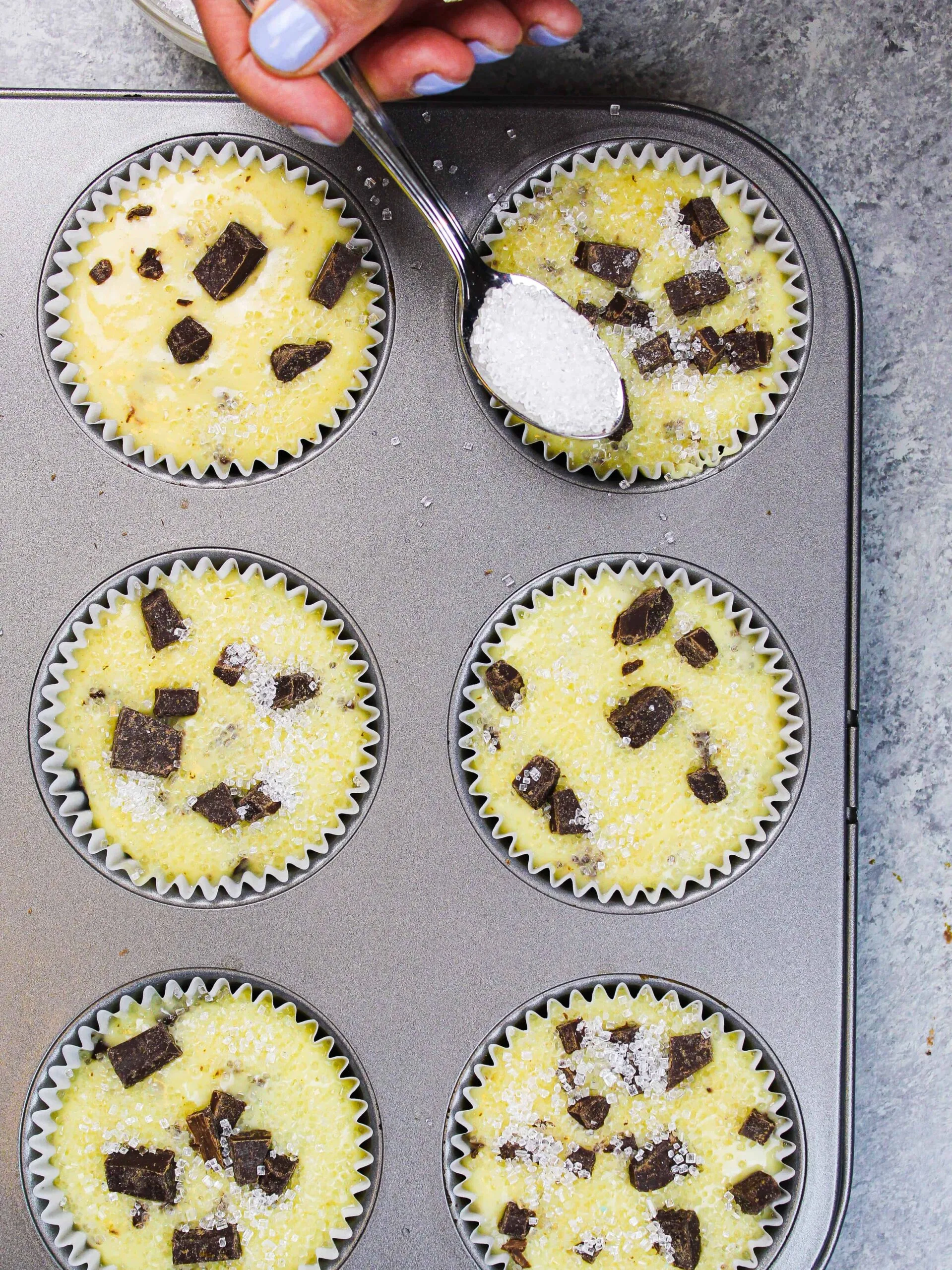 Making These Small Batch Chocolate Chip Muffins in Advance & Storage Tips
Make your muffins in advance! If stored in an airtight container, they can last for 2 days at room temperature or up to a week in the fridge.
Let Me Know What You Think!
If you try this recipe for small batch chocolate chip muffins or any variation of it, I'd love to hear what you think of it! Please leave a rating and comment below.
Other Recipes You Might Like:
Yield: 6
Small Batch Chocolate Chip Muffins
These chocolate chip muffins are tender, moist, and packed with chocolate! They're super easy to make and will be gone in a flash!
Ingredients
Small Batch Chocolate Chip Muffins
1 cup all-purpose flour (125g)
1/3 cup granulated sugar (66g)
1 3/4 tsp baking powder (7g)
1/4 tsp salt (1g)
1/3 cup whole milk or buttermilk, room temperature (75g)
2 Tbsp sour cream (32g)
6 Tbsp vegetable oil (80g)
1 large egg, room temperature (56g)
1 tsp vanilla (4g)
2/3 cup chopped chocolate or chocolate chips, tossed with 1 tsp of flour (110g)
2 Tbsp coarse sugar, optional
Instructions
Preheat the oven to 425°F / 218°C and line a muffin pan with 6 paper liners. Set aside.
In a medium-sized bowl whisk together the all-purpose flour, granulated sugar, baking powder, and salt.
In a separate bowl whisk together the buttermilk, sour cream, oil, egg and vanilla extract until combined.
Fold the dry ingredients into the wet ingredients with a rubber spatula, and mix until just combined (DO NOT OVER-MIX YOUR BATTER!). Your batter should not be all the way smooth, and it's ok if there are still some small chunks in it.
Gently mix the flour-tossed bits of chocolate into the batter until they're evenly distributed.
Divide the muffin batter evenly between the 6 muffin cups, filling them to the top of the liner.
If desired, add a sprinkle of coarse sugar and a few extra pieces of chocolate on the top of each muffin.
Bake the muffins for 6 minutes at 425°F/ 218°C to give the muffins a nice rise and a domed, golden brown top, then (keeping the muffins in the oven) reduce the oven temperature to 350°F / 175°C. Continue to bake for an additional 22-25 minutes.
Let the muffins sit in the pan for 10 minutes to cool, then move them to a wire rack to finish cooling.
Notes
Making these Chocolate Chip Muffins in Advance:
These muffins can last at room temperature for 2 days, or in the fridge in an airtight container for up to a week. Store in an airtight container to keep them fresh.
You can also freeze these muffins for up to 3 months. Let them thaw overnight in the fridge, then bring to room temperature or warm up in the microwave.
Doubling this Small Batch Recipe:
This small batch chocolate chip muffin recipe makes 6 muffins. To make a dozen chocolate chip muffins, double the ingredients and fill 12 muffin liners. Bake as instructed above.
Making Mini Chocolate Chip Muffins:
One batch of batter can be used to make about 18 mini chocolate chip muffins.
Fill a lined muffin pan with batter and bake in a preheated 425°F/ 218°C oven for 3 minutes, then decrease the temperature to 350°F / 175°C and bake for 12-14 minutes.
Nutrition Information
Yield
6
Serving Size
1
Amount Per Serving
Calories

455
Total Fat

24g
Saturated Fat

7g
Trans Fat

0g
Unsaturated Fat

15g
Cholesterol

42mg
Sodium

372mg
Carbohydrates

52g
Fiber

2g
Sugar

34g
Protein

8g