Chewy chocolate chip cookies….such simple perfection. I can honestly say I have NEVER heard someone say they don't like chocolate chip cookies. Which is exactly why I chose to make this recipe.
There was a pretty big group of us going skydiving, and I wanted to pick a treat that I knew everyone would like (and wasn't allergic to….Robert!) So I gathered my ingredients and began.
Chewy Chocolate Chip Cookie Ingredients:
2 and 1/4 cup all-purpose flour
1 teaspoon baking soda
1 and 1/2 teaspoons cornstarch
1/2 teaspoon salt
3/4 cup (1.5 sticks) unsalted butter, melted
3/4 cup light brown sugar, loosely packed
1/2 cup granulated sugar
1 large egg &1 egg yolk
2 teaspoons vanilla extract
1 cup chocolate chips or chocolate chunks
Now before I get into the process, I want to highlight the KEY aspects of baking a chewy cookie. The secret ingredient is a bit of cornstarch! It works wonders.
Having your eggs at room temperature also is important, but the MOST important part of the process to ensure a chewy cookie is to CHILL YOUR DOUGH.
I mean really chill it. Your dough can sit in the fridge for anywhere from 2 hours to 3 days. This aspect is so important because the cooler your dough is, the less it will spread. And the less it spreads, the chewier it will be 😀
How To Make These Chewy Chocolate Chip Cookies
I started by getting my dry ingredients together. I tossed the flour, baking soda, cornstarch and salt in a large bowl, and set it aside.
Next I whisked the melted butter, brown sugar, and white sugar together until no brown sugar lumps remained. Then I whisked in the egg, egg yolk, and vanilla.
I poured the wet ingredients into the dry ingredients and mixed them together with a rubber spatula. The dough was very soft, but was that was fine because it still needed to be chilled!
So I folded in my chocolate chunks (I chopped up a Hershey's Dark Chocolate Bar) and chilled my dough for an hour.
The recipe says to chill for at LEAST two hours, and I have to admit the cookies did spread more than I wanted. I recommend following this advice.
After chilling the dough, I took it out of the refrigerator and allowed it to slightly soften at room temperature for 10 minutes.
I then preheated my oven to 325 degrees, and got my silicone mats ready for my cookies! I rolled the dough into balls, using about 2 Tablespoons of dough.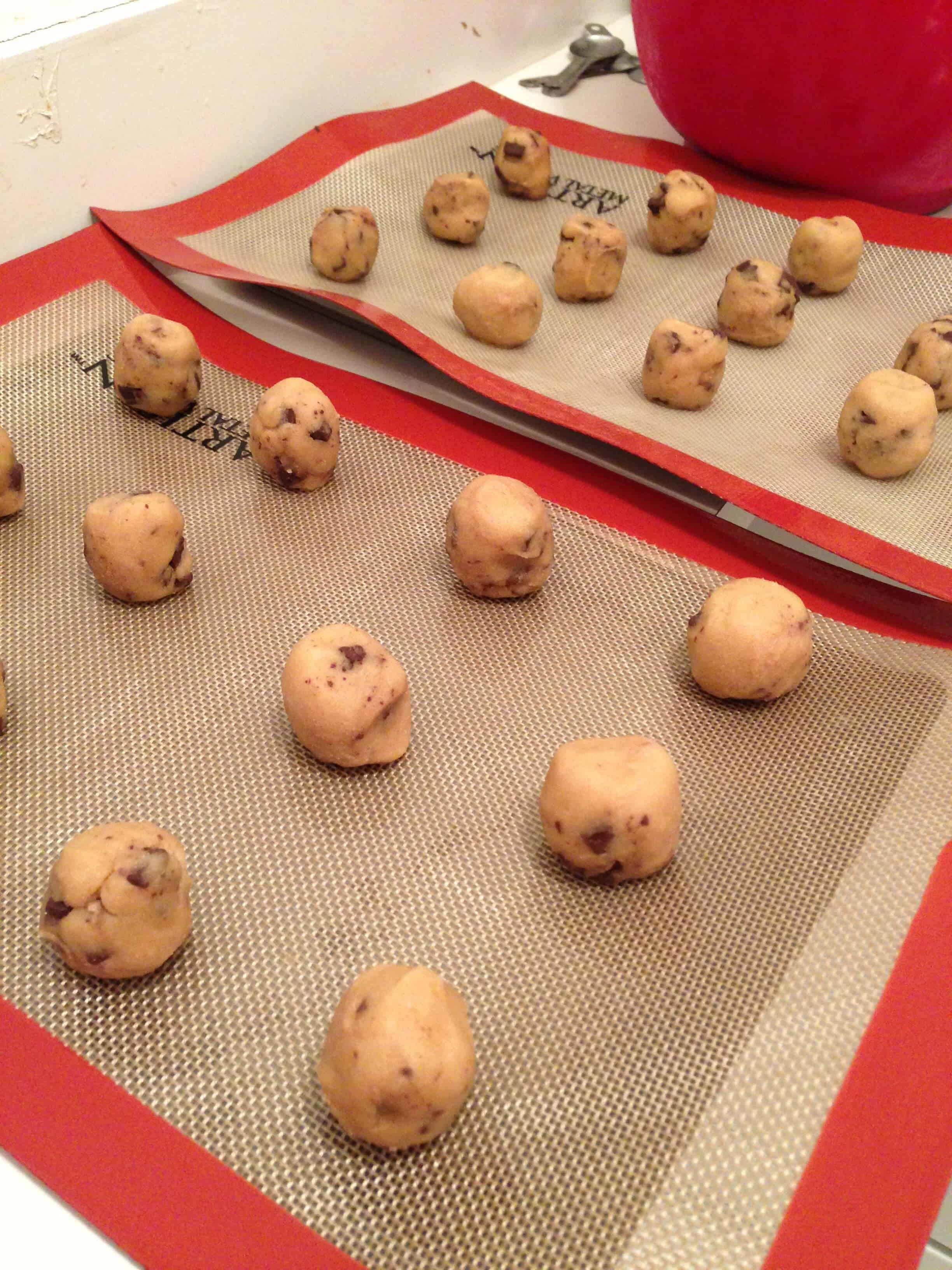 The dough was a bit crumbly, but the warmth of my hands let me form proper balls. Following the recipe's advice, I rolled the cookie dough balls to be taller rather than wide, to ensure the cookies baked up to be thick.
I put 12 balls of dough onto each cookie sheet. I didn't do this, but next time I would press a few more chocolate chips/chunks on top of the dough balls for looks.
The last step was to let the cookies bake for 11-12 minutes. Even if the cookies look a bit underdone, it's ok!
They will continue to cook on the cookie sheet, and firm up as they cool. I let them cool on the cookie sheet for 10 minutes before I removed them to a wire rack to cool completely.
I was SO satisfied with the texture and taste of these chewy chocolate chip cookies! Everyone that went skydiving seemed to like them too, they were all gone by the time we had jumped.