Sharing this apple cider donut cake just before Fall ends! Last month a coworker of mine visited an apple orchard in upstate New York and brought back the most delicious apple cider donuts!!!
My natural reaction was to make a cake inspired by those cinnamon-sugar covered bundles of joy.
This cake is made with spiced apple cake layers, a spiced cinnamon buttercream, and is topped with baked apple cider donuts!
Apple Cider Donuts
To create these baked donuts, I used Sally's Baked Apple Cider Donut Recipe!
Her recipes are always so delicious, and this recipe didn't disappoint!!
However, if you have access to great apple cider donuts, you could always buy them to simplify the process.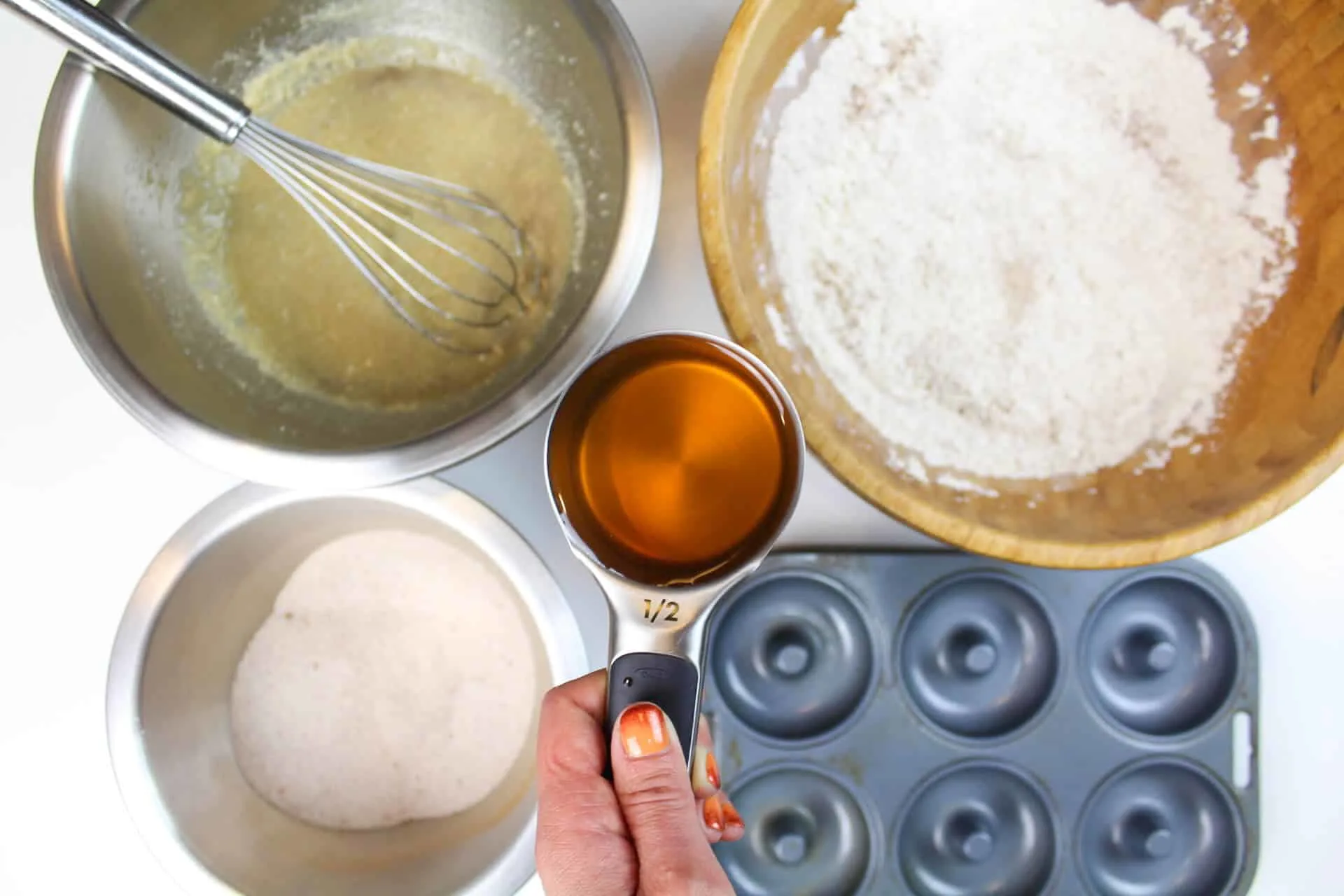 I started by making the baked apple cider donuts.
Following Sally's tip, I reduced 1 1/2 cups of apple cider down into 1/2 cup of liquid, to really concentrate the flavor. I then prepared the batter as instructed, and poured it into a large piping bag.
I heavily greased my donut pans and my silicone sphere molds, and baked the donuts for 12-14 minutes (my pans are on the larger side, so my donuts required a few extra minutes in the oven).
Once baked, I dipped the donuts into melted butter, and tossed them in cinnamon sugar.
I placed them in an airtight container, and set them aside while I worked on the cake!
The Spiced Apple Cake Layers
This cake is made with apple spice cake layers! The base recipe is my vanilla layer cake recipe, but I added a few extra ingredients to make this cake taste just like Fall.
I added in an apple cider reduction (a nod to Sally's tip from above), and a bunch of spices! Ground cinnamon, cardamom, and ginger give this recipe such a warm and inviting flavor.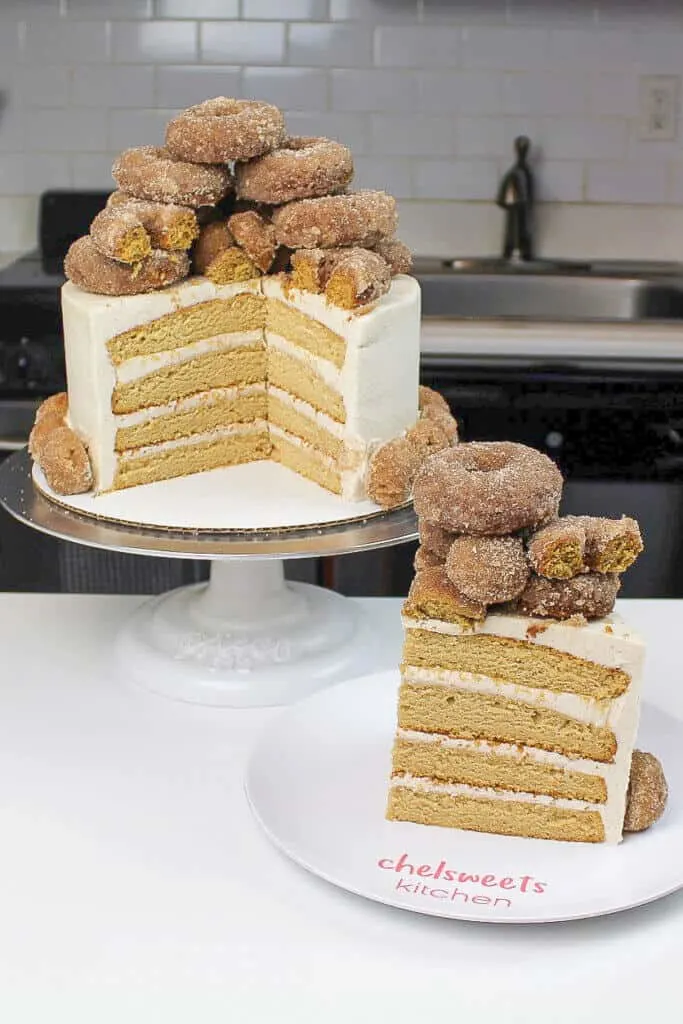 The cake is also super moist from the buttermilk used in this recipe! I love that the texture of the cake mirrors the delicious texture of the donuts that it's decorated with.
Decorating This Apple Cider Donut Cake
I am a big fan of matching the decoration of a cake to its flavor, so it should be no surprise that this cake is piled high with apple cider donuts!!
The base of the cake is lined with apple cider donut holes. I had to add a bit of buttercream onto each donut to help them stay in place.
Next, I stacked the apple cider donuts on top of the cake, creating a donut pyramid! This might seem a bit precarious, but adding extra buttercream helps stabilize them.
Piping buttercream on the bottom of each donut helps them stay in place when the cake is cut into.
This cake simply screams Fall and tastes just as delicious as the amazing apple cider donuts that it's inspired by 🙂
Tips for Making This Apple Cider Donut Cake:
Mix the cake batter just until the ingredients are incorporated. This will ensure the cake layers are tender and fluffy.
Take the time to make the apple cider reduction – it's totally worth it!
Be sure your spices are still good! If your spices are old or have been in your cabinet for too long, they can lose their potency and taste.
Add frosting between your donuts as you stack them on top of the cake, to help keep them in place.
Let Me Know What You Think!
If you try this apple cider donut cake, I'd love to hear what you think of it!
Please leave a rating, and let me know your thoughts by sharing a comment.
Yield: 24
Apple Cider Donut Cake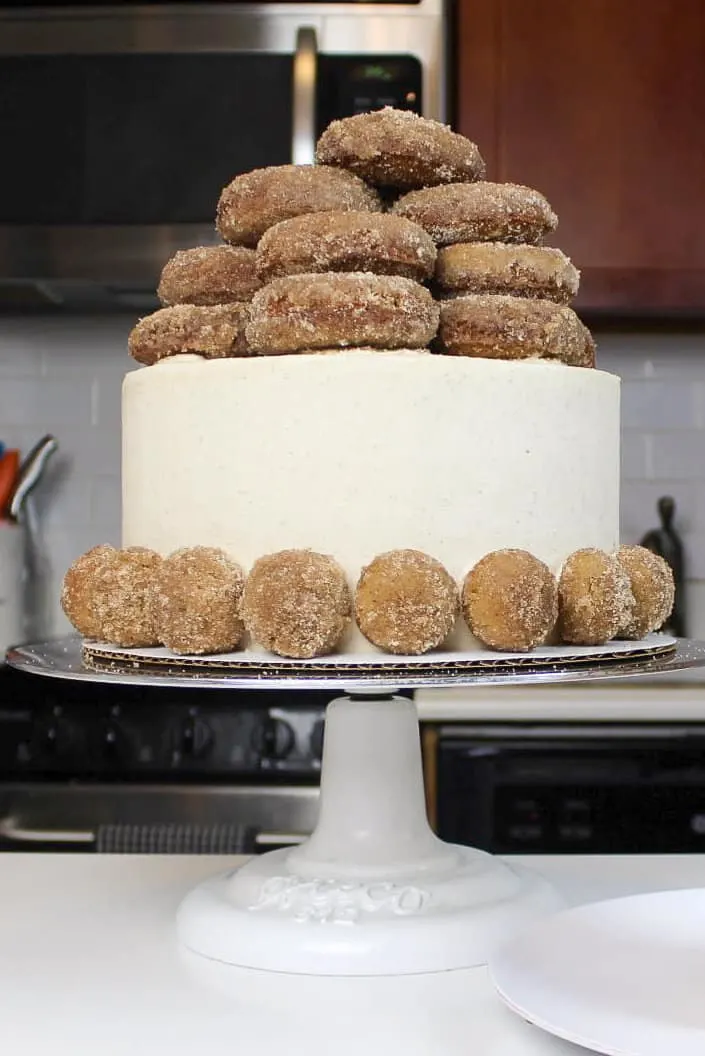 This apple cider donut cake insanely moist and flavorful! It's made with spiced apple cider cake layers, cinnamon frosting, and topped with piles of donuts!
Additional Time
20 minutes
Total Time
1 hour
10 minutes
Ingredients
Spiced Apple Cider Cake:
3 cups all-purpose flour (390 grams)
3 cups granulated sugar (600 grams)
1 Tbsp ground cinnamon (12 grams)
1 1/2 tsp ground cardamom (6 grams)
1 1/2 tsp ground ginger (6 grams)
1 tsp. table salt (6 grams)
2 1/2 tsp. baking powder (10 grams)
1 cup (2 sticks) unsalted butter, room temperature (226 grams)
1 cup egg whites (about 7 egg whites, or 5 whole eggs), room temperature (235 grams)
1 cup buttermilk, room temperature (228 grams)
1/2 cup apple cider concentrate (1 1/2 cups of apple cider reduced on medium heat until it renders 1/2 cup of apple cider concentrate) (115 grams)
1 Tbsp vegetable oil (14 grams)
2 tsp vanilla extract (6 grams)
Spiced Cinnamon Buttercream Frosting
2 cup (4 sticks) unsalted butter, room temperature (452 grams)
7 cups powdered sugar (907 grams) - or a 2 lb. bag
1/2 tsp salt (3 grams)
1/4 cup heavy cream (or heavy whipping cream), room temperature (58 grams)
1 Tbsp cinnamon (12 grams)
1 tsp ground cardamom (4 grams)
1 tsp ground ginger (4 grams)
1 Tbsp vanilla extract (9 grams)
Additional Decorations
Instructions
Vanilla Cake Layers:
Preheat oven to 350°F. Line four 8-inch round pans with parchment rounds, and grease with non-stick cooking spray.
Mix together all dry ingredients (flour, baking powder, sugar, cinnamon, cardamom, ginger, and salt) in a stand mixer with a paddle attachment until fully combined.
Mix chunks of room-temperature butter slowly into the dry mix, on a low speed. Continue to mix until no large chunks of butter remain, and the mixture becomes crumbly.
Pour in egg whites, and mix on low until just incorporated. Mix in the buttermilk in two installments, on a low speed.
Add in apple cider concentrate, vanilla and oil, and mix at a low speed until fully incorporated. Scrape down the sides of the bowl with a spatula, then beat on low speed for about 15 seconds (the key is to mix until the ingredients are JUST incorporated, so that the batter isn't over mixed).
Divide batter evenly between the prepared cake pans (about 450 grams per pan).
Bake for 34-35 minutes, or until a toothpick comes out clean. Allow the pans to cool for 10 minutes, then run an offset spatula around perimeter of the pan to separate the cake from the pan.
Place cake layers into the freezer for 45 minutes, to accelerate the cooling process. Once the layers are fully cooled, carefully flip the pans and remove the layers from the pans.
Use a serrated knife to level the tops of the layers, and then frost as desired.
Spiced Cinnamon Buttercream Frosting:
While the cake layers bake and cool, make the vanilla buttercream frosting.
Beat the butter on a medium speed for 30 seconds with a paddle attachment, until smooth. Slowly add in the powdered sugar, 1 cup at a time. Alternate with small splashes of cream.
Once fully mixed, add in the cinnamon, cardamom, ground ginger, vanilla and salt, and beat on low until the ingredients are fully incorporated, and the desired consistency is reached.
If the frosting is too thick, add in additional cream (1 TBSP at a time). If the frosting is too thin, add in more powdered sugar (quarter of a cup at a time).
If you plan to color the buttercream, add in the gel food coloring once the frosting is fully made, and beat on low until it reaches the desired color
To Assemble The Cake:
Stack and frost cake layers on a greaseproof cake board, using a dab of frosting to help stick the first cake layer to the board.
Add an even layer of buttercream between each cake layer.
Apply a thin coat of frosting around the cake, to fully cover the cake layers. Smooth using a bench scraper, then chill the cake in the fridge (20 minutes) or freezer (5 minutes) until the frosting is firm to the touch.
Add a second, thicker layer of frosting to the cake, and smooth using a bench scraper.
Top with your favorite apple cider donuts!
Notes
One batch of cake batter makes about 1800 grams, so when I'm making a cake with four layer, I add 450 grams of batter into each pan.
Once the layers have fully cooled, I sometimes like to trim the caramelized bits from the sides of the layers using a serrated knife.
These cake layers can be made in advance!! Learn more about how far in advance they can be made, and how to properly wrap them in my post on how to make cake layers ahead of time.
Since this frosting will be used to decorate a cake, it is important to mix the buttercream on the lowest speed at the end of the process for a couple minutes, to get out any extra air that might have be incorporated during the mixing process.
You can also stir the frosting in a bowl with a rubber spatula, pushing it from side to side, to get rid of any air bubbles.This will make it easier to get super smooth sides on your cake!
The frosting recipe above is 1.5 batches of my American buttercream, which is the amount I usually make for 7 or 8 inch cakes. This makes enough buttercream to add a generous amount between the cake layers, and to have leftover buttercream for any special decorations. If you have extra buttercream you don't use, it can be stored in an airtight container for up to a month in the fridge.
Nutrition Information
Yield
24
Serving Size
1
Amount Per Serving
Calories

355
Total Fat

4g
Saturated Fat

2g
Trans Fat

0g
Unsaturated Fat

2g
Cholesterol

8mg
Sodium

255mg
Carbohydrates

78g
Fiber

1g
Sugar

64g
Protein

3g