I've shared a ton of different cakes over the years, but all of them use dairy! This is the only recipe I've ever I've ever shared that is vegan! No eggs, no butter, no buttermilk!!
It uses vegetable oil in place of the butter, and almond milk in place of the buttermilk.
I really love this recipe because it's straight forward, doesn't include any scary ingredients, and most importantly, it tastes great!
I chose to flavor this with almond extract, but you could also try maple, lemon, or coconut.
Vegan Almond Cake Batter:
1 1/2 cups all-purpose flour

1 cup granulated sugar

1 teaspoon baking soda

1/2 teaspoon salt

1/2 cup vegetable oil
1 teaspoon vanilla extract
1 teaspoon almond extract
1 tablespoon distilled white vinegar
1 cup unsweetened, vanilla almond milk (room temperature)
optional – vegan food coloring
Vegan Almond Buttercream:
1 1/2 cups vegetable shortening
6 cups powdered sugar
1 Tbsp almond extract
1 teaspoon vanilla
1/3 cup unsweetened, vanilla almond milk (room temperature)
Preheat oven to 350°F. Prepare three 6-inch cake pans by lining them with parchment paper and greasing the bottom and sides of the pan.
Begin by making the vegan almond cake layers.
Whisk together flour, sugar, baking soda, and salt.
Add vegetable oil, almond milk, and extracts; whisk until no lumps are left, and batter is smooth.
Stir in the vinegar, and  pour 1/3 of the batter into each pan.
Bake about 30 minutes, until cake begins to pull away from sides and/or toothpick inserted in the center pulls out clean.
Let these cool for ten to fifteen minutes in the pan, then finish cooling the layers on a wire rack.
While the cakes cool, prepare the vegan almond frosting.
Beat the shortening on a low speed for 1 minute using a paddle attachment, until smooth.
Slowly mix in the powdered sugar on a low speed in three installments, and alternate with splashes of almond milk.
Mix in the vanilla and almond extract, and beat for another 2 minutes until smooth. If desired, color with vegan food coloring.
To assembly the cake, frost the top of each layer with an even layer of the frosting, and stack layers on top of each other.
Apply a thin crumb coat of frosting, and place the cake in the fridge for about 10 minutes.
Once the frosting has firmed up, cover the cake with the remaining frosting.
I used a large French tip to pipe a boarder around the top edge of the cake, and covered the top with sprinkles.
There are a lot of great vegan sprinkle brands out there, but I chose to use a vegan blend made by Fancy Sprinkles!
I really love that this cake looks and tastes so much like a normal cake!
The texture is a bit different than my normal cakes that are made with butter, but the layers almost reminds me of a moist olive oil cake!
The almond flavor is present in both the layers and the frosting.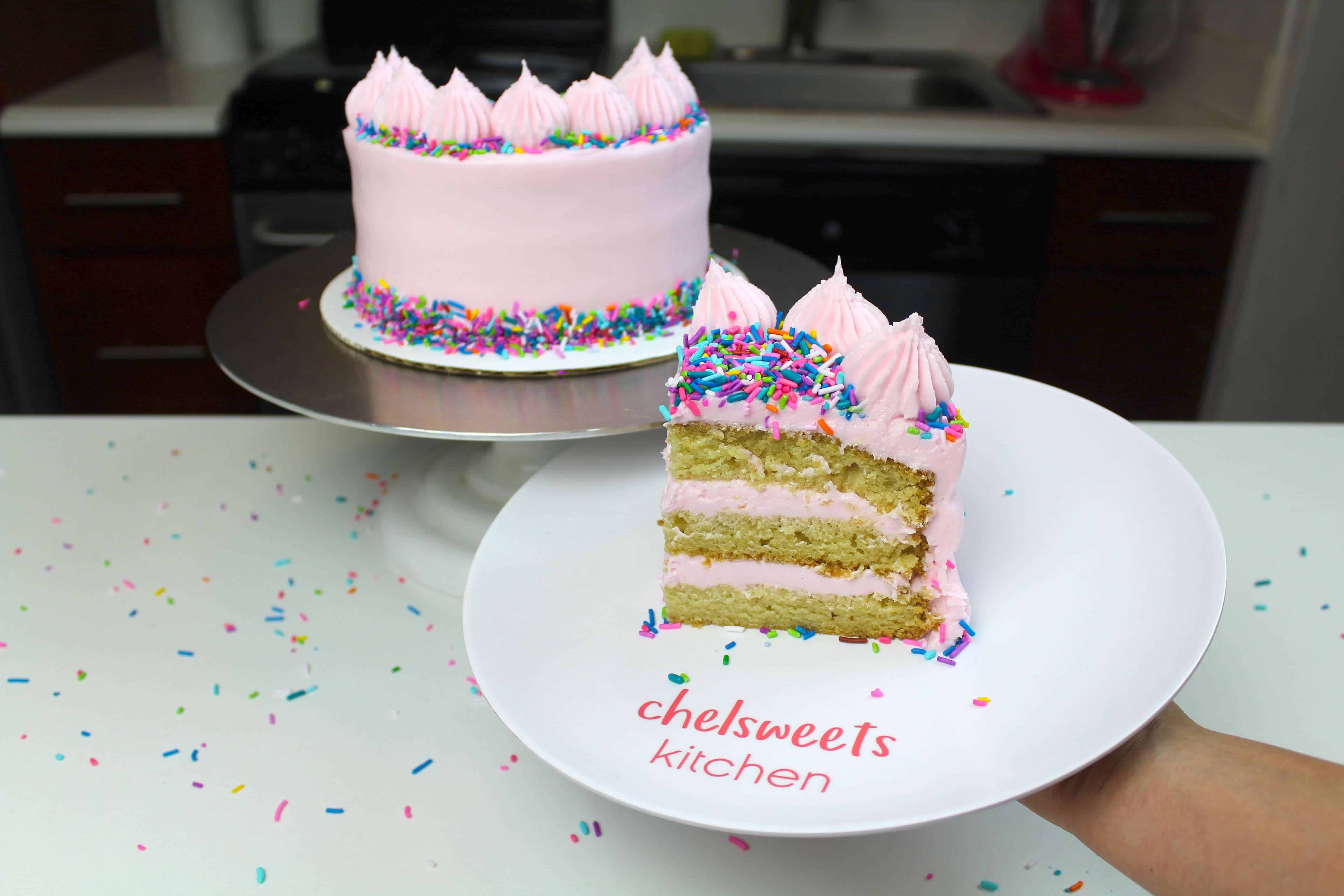 I did find the the vegan frosting was bit more difficult to smooth than regular buttercream, but that's to be expected since it's made with shortening. Shortening doesn't firm up the same way butter does when chilled.
Overall, I was extremely pleased with this vegan almond cake recipe. It's so approachable and delicious!!