I have always been obsessed with soft skin, but I used to put all my money and energy into lotions and creams. After trying an amazing body scrub from Lush, I realized that a sugar scrub can be just as effective!! That's what inspired me to make this coffee body scrub.
It smells incredible and is such a wonderful way to jazz up a morning shower.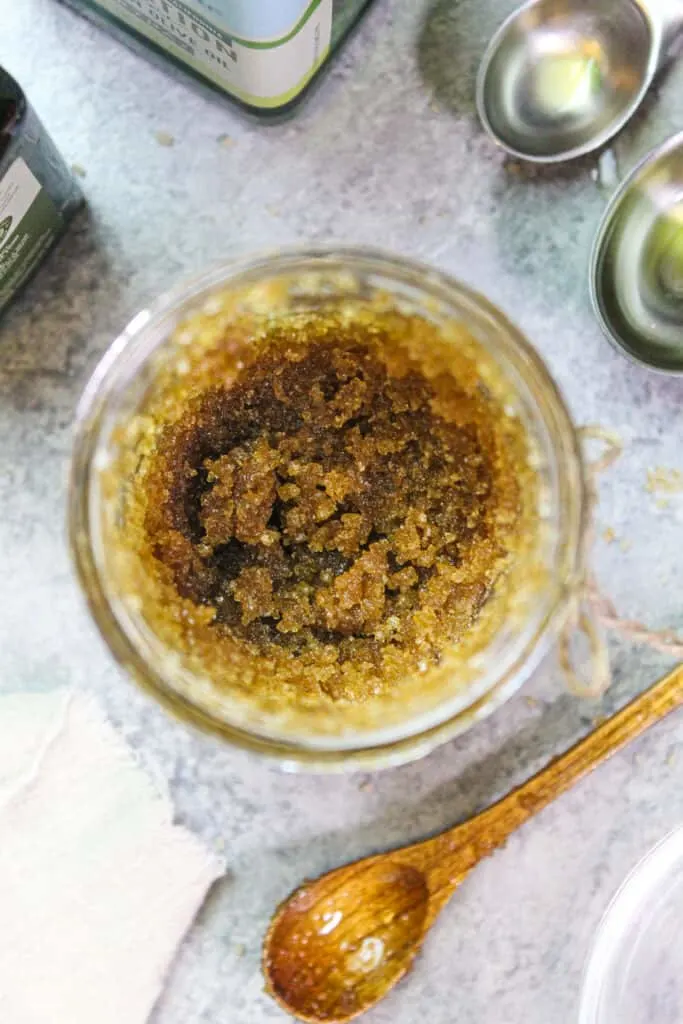 This body scrub uses a few of my favorite baking ingredients, brown sugar, coffee and vanilla extract. All of these ingredients truly make this body scrub feel like a treat.
While this brown sugar body scrub is edible, I don't suggest eating it. It's really meant to be just a treat for your skin 😛
What Are The Benefits of Using a Coffee Body Scrub?
Using a coffee body scrub does a lot of great things for your skin. It exfoliates your skin by removing dead skin cells, which leaves your skin feelings super soft.
This coffee scrub also remove dirt and excess oil from your skin and help stimulate circulation.
While this body scrub does get rid of dirt and dead skin cells, it doesn't strip your skin of its natural oils the way some body wash or soaps can.
The olive oil and vitamin E help hydrate your skin and leave it feeling moisturized and supple.
What Type of Sugar Should You Use In This Coffee Scrub?
When making a coffee body scrub, most people use brown, pure cane, and/or turbinado sugar. Each sugar has different characteristics and some people prefer specific types of sugar based on their skin needs.
I enjoy using brown sugar because I have somewhat sensitive skin and it pairs well with the slightly larger and more abrasive coffee granules.
It's is the least abrasive of these three sugars because its sugar granules are smaller. This allows you to exfoliate with it up to 4 times a week.
Brown sugar also adds an amazing aroma to any body scrub. However, you can adjust the ratio and type of sugar you use as you see fit.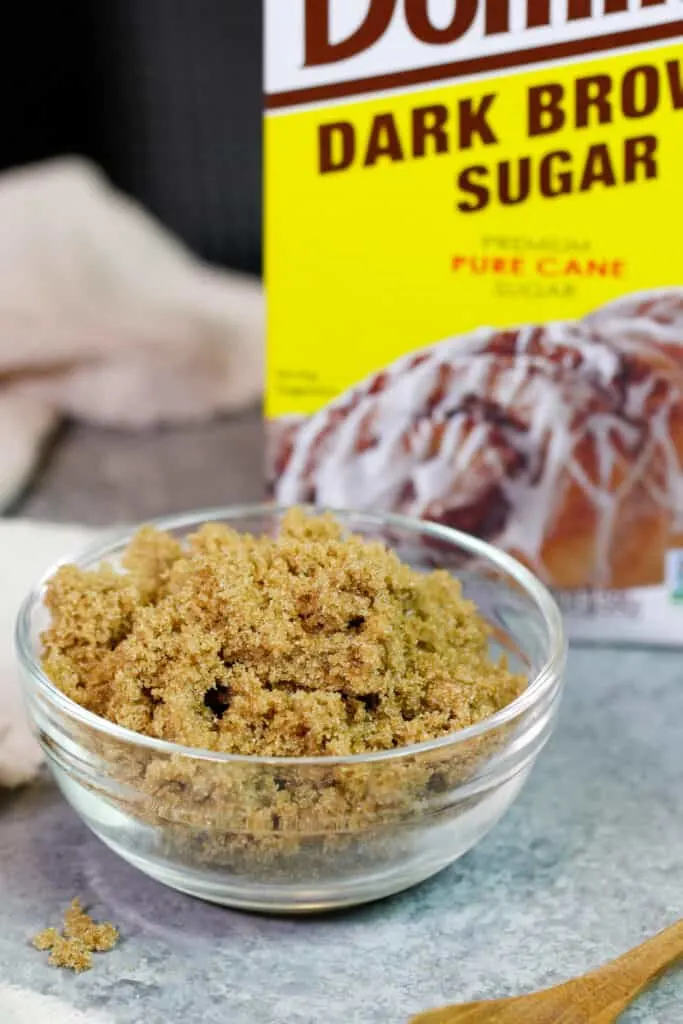 Pure cane sugar or unrefined white sugar is slightly more abrasive than brown sugar, but usually works well for all types of skin.
Turbinado or raw sugar has the largest sugar granules and does the best job exfoliating. It also is the least processed of these types of sugar so it contains more essential minerals.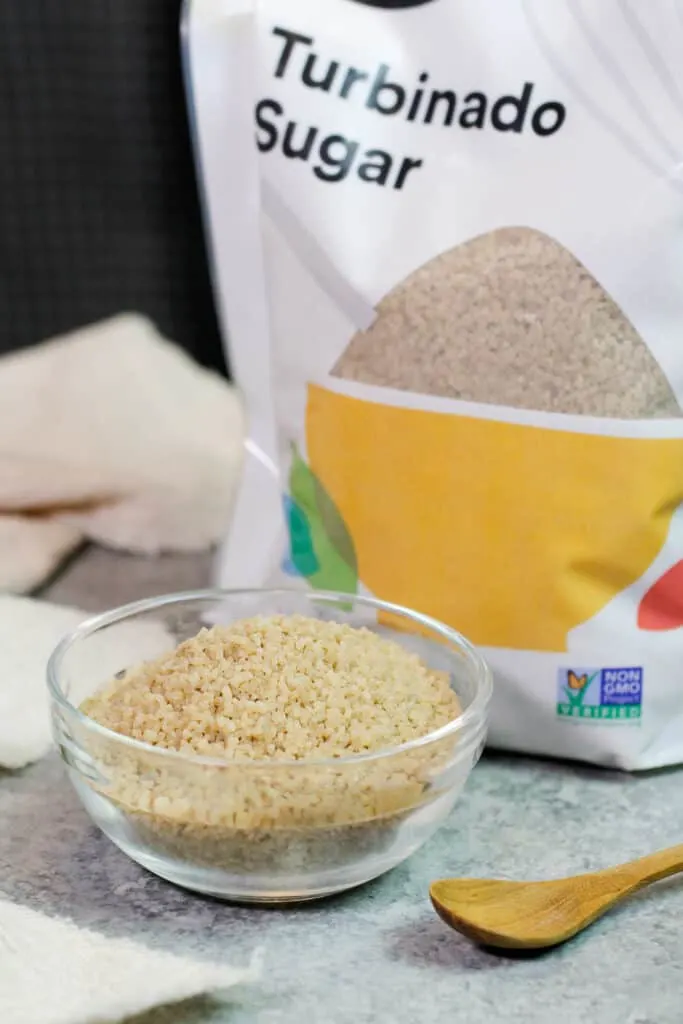 However, because it's more abrasive it should be used slightly less frequently (2 times a week) to avoid skin irritation.
What Type of Oil Should You Use In A Body Scrub?
Similar to sugar, there are a lot of different oils you can use to make this coffee body scrub.
I personally am a big fan of olive oil because I always have some on hand and it does such a wonderful job hydrating my skin.
However, other popular oils used in sugar body scrubs include apricot oil, avocado oil, coconut oil, hazelnut oil, hemp seed oil, sesame oil and sweet almond oil.
Each oil has different benefits for your skin, but all of them will leave your skin feeling softer and smoother.
You can also mix and match the oils you use, so feel free to use whatever type(s) of oil works best for your skin.
How Should I Use This Coffee Body Scrub?
You can use this coffee sugar scrub in the shower or during a bath. I recommend using it at the end of your shower or bath, when your skin is easier to exfoliate.
Take about a tablespoon of the body scrub in your fingers and rub it in a circular motion on your skin. Gently wash the sugar scrub off off your body then enjoy your silky smooth skin!
How Should I Store This Coffee Sugar Body Scrub?
I love storing this sugar scrub in a sealable glass container like a mason jar. Any container with a lid should work well though!
This brown sugar scrub stays good for up to a month, but I find that I usually run out of a batch after about 3 weeks. I like to exfoliate with it 3-4 times a week, and use heaping tablespoon each time that I do.
Let Me Know What You Think!
If you try this coffee body scrub, I'd love to hear what think of it! Please leave a rating and let me know your thoughts by sharing a comment.
Other Posts You Might Like:
Yield: 1 cup
Coffee Body Scrub
This coffee body scrub smells like heaven is so easy to make! It's an amazing natural exfoliator that makes your skin baby soft.
Ingredients
Coffee Body Scrub
1/2 cup dark or light brown sugar (100 grams)
1/2 ground coffee (40 grams)
1 tsp vanilla extract (4 grams)
Instructions
Place 1/2 cup brown sugar and 1/2 cup ground coffee in a small glass container and gradually mix in 3 Tbsp olive oil.
Stir in 1 tsp of vanilla extract. The consistency should have a sandy texture.
Seal the container with a lid and use at the end of a shower or bath. Take about a Tbsp of body scrub in your fingers and rub it in a circular motion on your body.
Rinse the scrub off fully then enjoy your silky smooth skin!
Notes
This coffee scrub stays good for about 1 month. I recommend using it a few times a week for best results.
You can also add in a fews of vitamin E oil and/or your favorite essential oil.
Nutrition Information
Yield
1
Serving Size
1
Amount Per Serving
Calories

1064
Total Fat

41g
Saturated Fat

6g
Trans Fat

0g
Unsaturated Fat

34g
Cholesterol

0mg
Sodium

52mg
Carbohydrates

180g
Fiber

0g
Sugar

178g
Protein

0g