For the next birthday at my office, I had a request to make a snickers ice cream cake. Naturally, I was elated.
The only thing better than a regular birthday cake is an ice cream birthday cake!! So I began scouring the web for a recipe that didn't require an ice cream machine…because of course I wanted to use homemade ice cream despite the fact that I don't have an ice cream machine.
Yes, I know I'm silly. Regardless, I knew I had a winning recipe when I came across this one. It makes the ice cream layer without a machine, is simple, and uses loads of snickers.
I deviated from the original recipe which recommended using box brownie mix and decided to make the brownies from scratch, but it's totally your call! To make it my way, you will need:
For the brownie layers:
1 cup sugar
1/4 tsp. salt
1/4 tsp baking powder
1 tsp vanilla
2 eggs
1/2 cup canola oil
1/2 cup flour
1/3 cup cocoa
For the ice cream layer:
1/4 cup milk
8 oz cream cheese, softened
1/2 cup sugar
1 1/2 cups peanut butter
8 oz Cool Whip, thawed
For the topping/filling:
1 20 oz bottle chocolate sundae syrup
1 20 oz bottle caramel sundae syrup
1 11.5 oz bag mini snickers, chopped, divided into three groups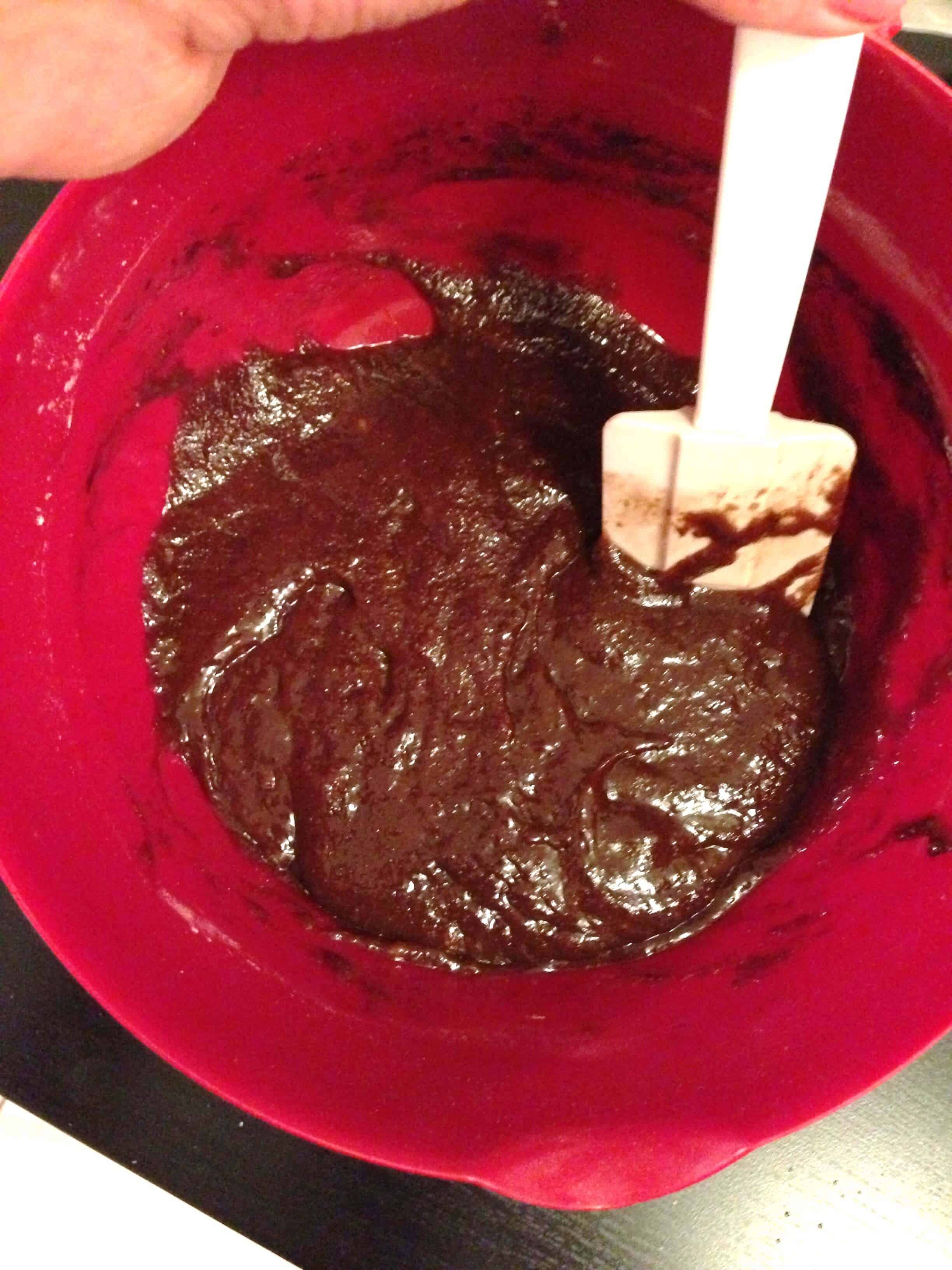 I began by greasing two 8-inch pans (springform pans would work best, but I don't have any so I just used 9 inch cake pans) and lined the bottoms with parchment paper to allow for easy removal.
I mixed together all the brownie ingredients in a large bowl and poured half the batter into each pan.
They baked for about about 12 minutes and then I let them cool for 10 minutes before placing them on a wire rack.
As the brownies were cooling, I made the ice cream layer.
I combined the milk, cream cheese, sugar and peanut butter together, and mixed them together with my hand mixer.
Once all the ingredients were completely combined. I then folded in the cool whip.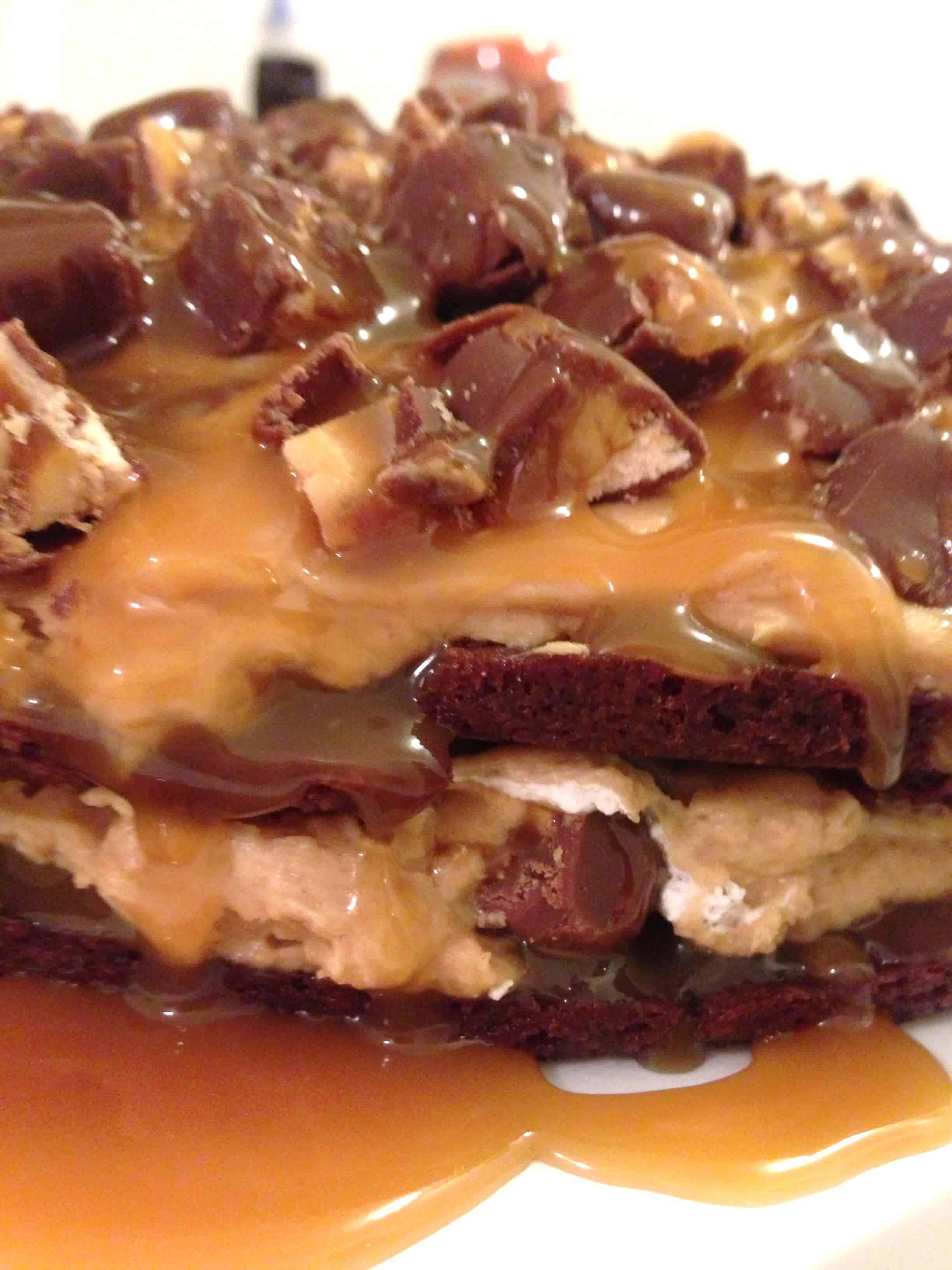 For the assembly of the cake, I placed one of the brownie layers in the middle of my cake tray and spread 1/3 of the snickers evenly over the top.
I drizzled 1/2 cup of the caramel sauce and 1/2 cup of the chocolate sauce over the brownie. I topped this with half of the peanut butter ice cream, and let this first level freeze for about 15 minutes.
Then I placed the second brownie layer on top of the ice cream, and again cover the brownie with the second group of chopped snickers, 1/2 cup caramel sauce, and 1/2 cup chocolate sauce.
I topped this with the remaining peanut butter ice cream, and topped with the remaining snickers, caramel sauce, and chocolate sauce, allowing it to drizzle down the sides.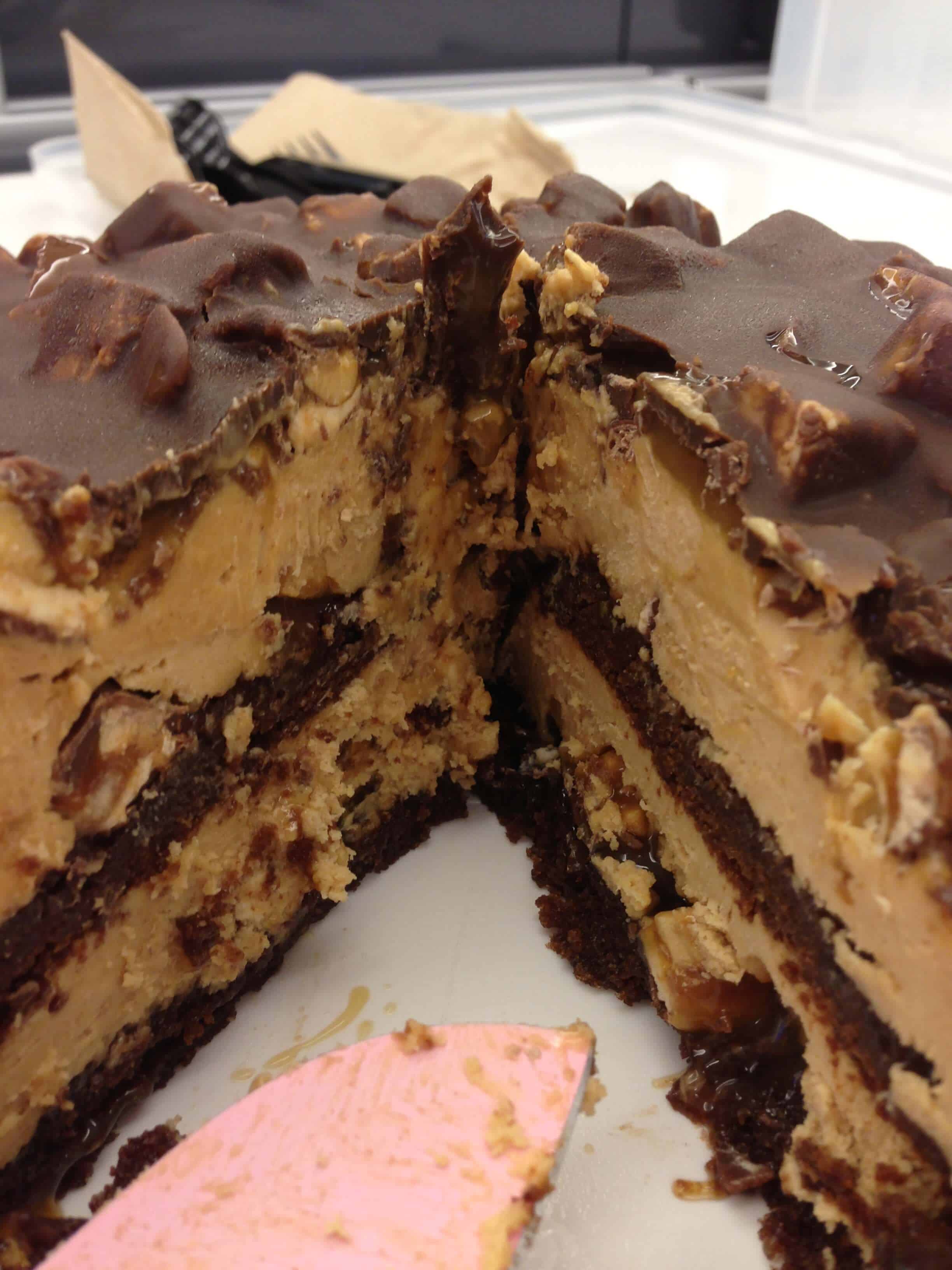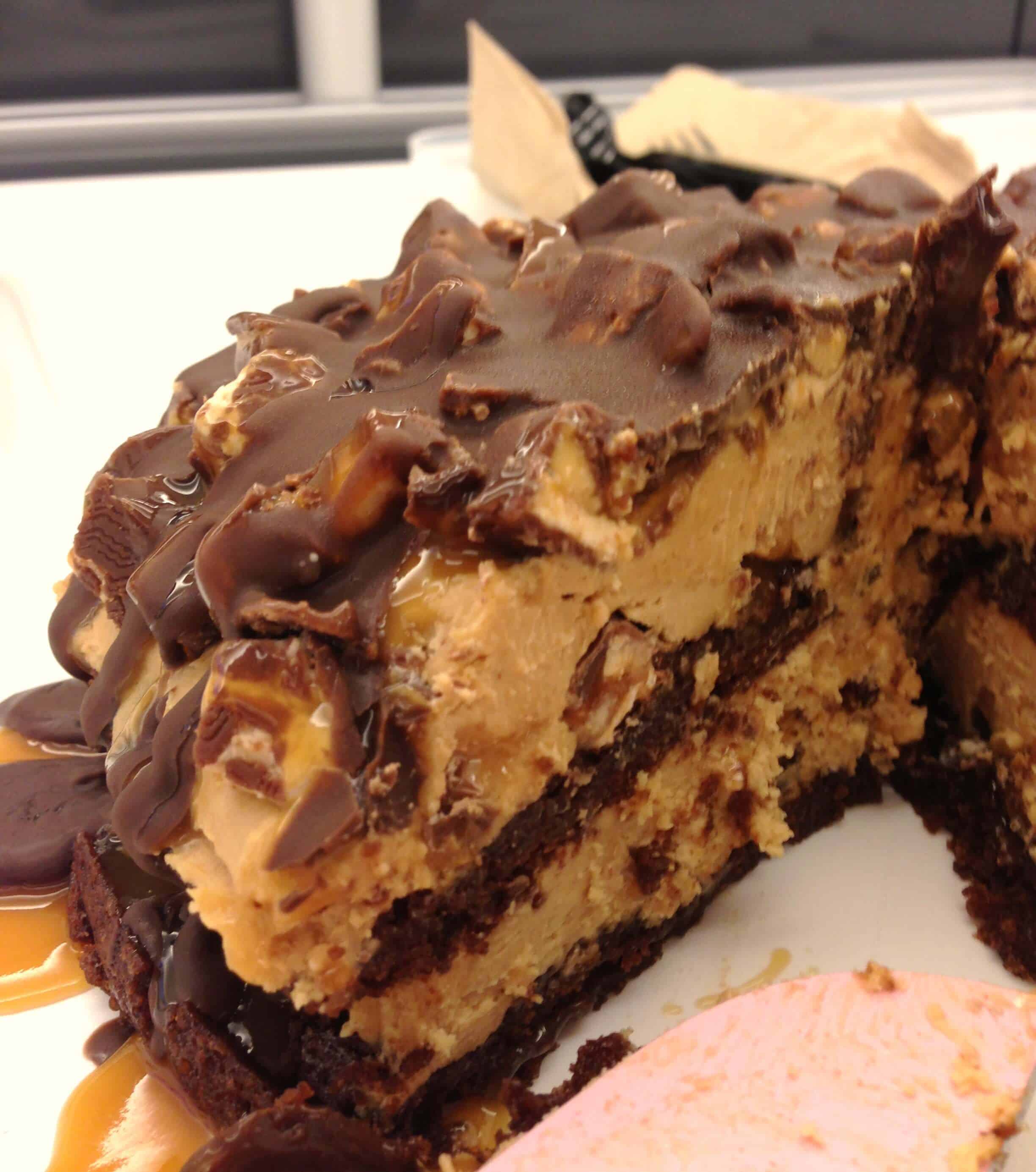 I then let this completely freeze, and brought it into work. It turned out wonderfully! The consistency of the ice cream layer was perfect, and the frozen snickers added a great textural component.
If I were to make it again, I would definitely use springform pans, and try to make the cake taller (rather than wider) to enhance the aesthetic effect. I am looking forward to testing out more ice cream cake recipes this summer 😀