All of a sudden summer has slipped away and Fall has arrived! It's finally sweater weather- time to get cozy, watch the leaves changes, and of course… bake up a storm!
To me, October means one thing and one thing only… PUMPKIN! Here are 8 of my favorite Fall pumpkin recipes. From cakes and cookies to cinnamon rolls and macarons, pumpkin really does taste good in everything!
Spooky season gets cute with this absolutely adorable ghost cake! It's made with tender pumpkin cake layers and fluffy buttercream frosting.
This pumpkin ghost cake is just as delicious as it is cute, making it number one is my fall pumpkin recipe round up.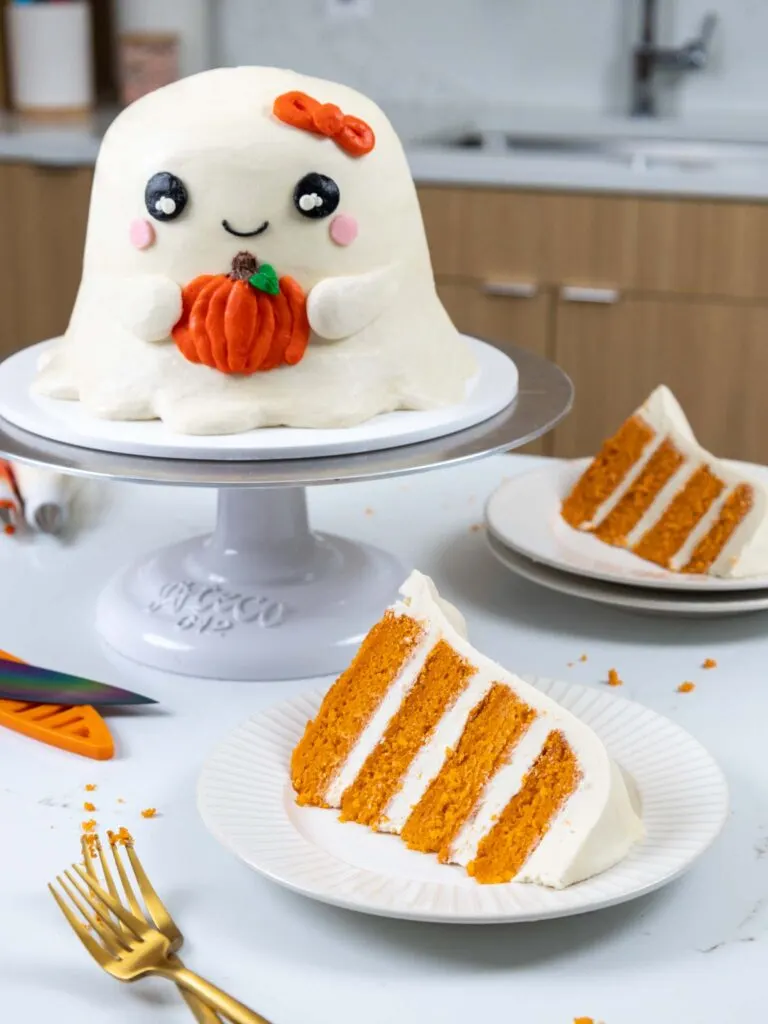 Fall is filled with so many wonderful things- hot apple cider, pumpkin picking, and of course PSL season! These cupcakes are modeled off the signature Pumpkin Spice Latte!
With a pumpkin spice caramel drizzle on top these are decadent and a crucial part of this pumpkin recipe round up.
These pumpkin cheesecake cookies bake up so soft and fluffy and have a delicious cheesecake filling!
Dust them in a bit of cinnamon sugar and they're completely irresistible!
This Fall recipe pairs my classic pumpkin layer cake with my tangy cream cheese frosting! Truly a match made in pumpkin spice paradise.
I decided that this cake was the perfect excuse for me to whip out my cake paintbrushes and paint on a colorful fall pumpkin patch!
These pumpkin pie cinnamon rolls are the perfect way to start a cozy fall day.
These rolls are made from scratch and bake up soft, fluffy and are packed with warm spices and pumpkin flavor!
I wanted to make some fall-inspired macarons and these pumpkin macarons are perfect for the occasion!
They're made with French macaron shells and filled with a combination of pumpkin pie filling and spiced buttercream. It's a delicious combination!
These pumpkin rice krispie treats are full of our favorite Fall flavors and are topped with a delicious drizzle of cream cheese frosting!
Making rice krispie treats is as easy and you remember, and these are truly some of the best rice krispies I've ever had. Even my husband who "isn't a dessert person" was going back for seconds… that's how you know this recipe is a keeper!
These pumpkin spice overnight oats are the perfect Fall breakfast! They come together in a few minutes and a great way to start the day.
Let Me Know What You Think!
If you try any of the recipes from this fantastic pumpkin recipe round up, I'd love to hear what you think!