Jessica never ceases to amaze me with her Instagram success, and unique cake orders 😛 Her account, cheatdayeats, has really blown up this year! To celebrate hitting 30k followers, she asked me to bake her a very special cake. She wanted a cake with a fudgy brownie layer, a browned butter cookie layer, a Nutella buttercream filling, and a melting ice cream cone decoration made of ganache. This allowed me to combine three of my favorite recipes, and to go wild decorating. The recipes below allow you to make a four layer cake (2 cookie layers, and 2 brownie layers), and can feed 12-15 (very hungry) people.
Browned Butter Cookie Dough
2 sticks (1 cup) unsalted butter
2 1/4 cup all-purpose flour
1 1/4 teaspoons baking soda
1 1/4 cup packed dark brown sugar
1/4 cup granulated sugar
1 large egg plus 1 egg yolk
1 1/2 teaspoons vanilla extract
2 tablespoon plain greek yogurt
1 cup milk chocolate chips
1/2 cup dark chocolate chips
Preheat oven to 350 degree Fahrenheit. Begin by browning the butter. Melt butter in a saucepan over medium heat, until it begins to foam. Make sure you whisk consistently during this process. After a couple of minutes, the butter will begin to brown on the bottom of the saucepan; continue to whisk and remove from heat as soon as the butter begins to brown and give off a nutty aroma. Immediately transfer the butter to a bowl to prevent burning, and let it cool.
With an electric mixer, mix the butter and sugars. Beat in the egg, yolk, vanilla, and yogurt until combined. Add the flour, baking soda, and salt, and beat on low-speed just until combined. Gently fold in all of the chocolate chips.
Line and grease two seven inch pans, and spread half of the dough evenly into each pan. Bake for 20-25 minutes, until the edges just begin to brown. Always err on the side on underdone, as the cookie will continue to cook and set in the pan as it cools. Let the cookies cool for about 10 minutes before removing from pan. Place them on a wire rack to allow them to fully cool.
As the cookie cake layers bake/cool, begin to make the brownie batter. If you want to take a short cut, you can always use boxed brownie mix. However, this brownie recipe is amazing (and fudgy, and chocolatey, and the best thing ever), so I highly encourage you try it 😛
Fudgy Brownie Batter
1/2 cup unsalted butter
8 ounces coarsely chopped quality semi-sweet chocolate
3/4 cup granulated sugar
1/4 cup packed light brown sugar
3 large eggs, room temperature
1 teaspoon vanilla extract
1/2 cup + 2 Tablespoons all-purpose flour
2 Tablespoons unsweetened cocoa powder
1/2 teaspoon salt
1 cup semi-sweet chocolate chips
Melt the butter and chopped chocolate in a medium saucepan on medium heat, stirring constantly (about 5 minutes). Remove pan from the heat, pour into a large mixing bowl, and allow to slightly cool for 10 minutes. Line and grease two seven inch cake pans, and set aside. Whisk the granulated and brown sugar into the cooled chocolate/butter mixture. Add the eggs, one at a time, whisking until each egg is fully incorporated. Whisk in the vanilla, and gently stir in the flour, cocoa powder, and salt. Once combined, fold in the chocolate chips. Pour batter evenly between prepared pans, and bake for 25-30 minutes, or until a tooth pick inserted into the center comes out clean (disregard melted chocolate from chocolate chips).
Allow both cookie and brownie layers to cool fully. While these cool, prepare the frosting.
Nutella Buttercream:
1 1/2 cup unsalted butter, at room temperature
1/2 cup Nutella
7 cups powdered sugar
1/2 tsp salt
1 tsp. vanilla
1/4 cup heavy cream
1 waffle cone (decoration)
sprinkles (decoration)
white or regular chocolate chips (decoration)
Beat the butter on medium-high speed for 5 minutes. Add the Nutella and beat until combined. Reduce the speed to medium-low and slowly add the vanilla and heavy cream. Add powdered sugar, a little at a time, until it has all been incorporated. Increase the speed to medium-high and beat for an additional two to three minutes, until light and fluffy. Once you've made the buttercream, you can move onto the last aspect of this cake, the chocolate ganache! We've saved the best for last.
Chocolate Ganache:
1 cup heavy cream
1 cup chocolate chips
Place the chocolate chips in a heat proof bowl, and pour the cream into a sauce pan. Heat to high, and wait for the cream to reach a boil (keep a close eye on it, this happens very suddenly!). Pour over the chocolate chips, and let sit for two minutes. After this, stir until the mixture is fully incorporate. Place in the fridge for about 15 minutes to allow the mixture to cool to room temperature.
Once the cakes are fully cooled, assemble the cake. place a small dab of frosting onto the surface you will be using to serve the cake, to secure the cake. I always use cardboard cake centers, but this can be done on a cake stand or plate as well. Place down a layer of brownie, and frost the top with buttercream. Place a cookie layer on top of this, and frost the top of the layer again. Repeat with remaining two layers, and then apply a thin crumb coat of frosting to the entire exterior of the cake.
Place in the fridge or freezer for 10 minutes to allow the frosting to set. Remove from fridge/freezer, and apply a thick coat of frosting using the remaining buttercream. Smooth, and place in the freezer again.
While the second layer of frosting cools, pour the room temperature ganache into a squirt bottle of some sort (I use a cheap $1 diner-esque clear ketchup bottle from Walmart). Take the cake out of the freezer, and place the ice cream cone upside down in the center of the cake. Squirt ganache over the frosting "ice cream scoop", and allow it run down, until the entire scoop is covered. Then squirt ganache over the entire top of the cake, leaving about an inch of frosting uncovered. Spread the ganache evenly with a smooth utensil (knife, frosting spatula, etc.), and work it out to the edges of the cake, so that the entire top of the cake is covered. Next, gently drop ganache down the edges of the cake. Start slowly, as you can always make bigger drops as you go, but you can't take back an epic stream of ganache (trust me, I've learned the hard way).
The finishing touch is sprinkling the ice cream cone with sprinkles of your choice, and adding some chocolate chips to the base of the cake. I made a smaller version of this cake for Jessica by halving the above recipe, as seen below.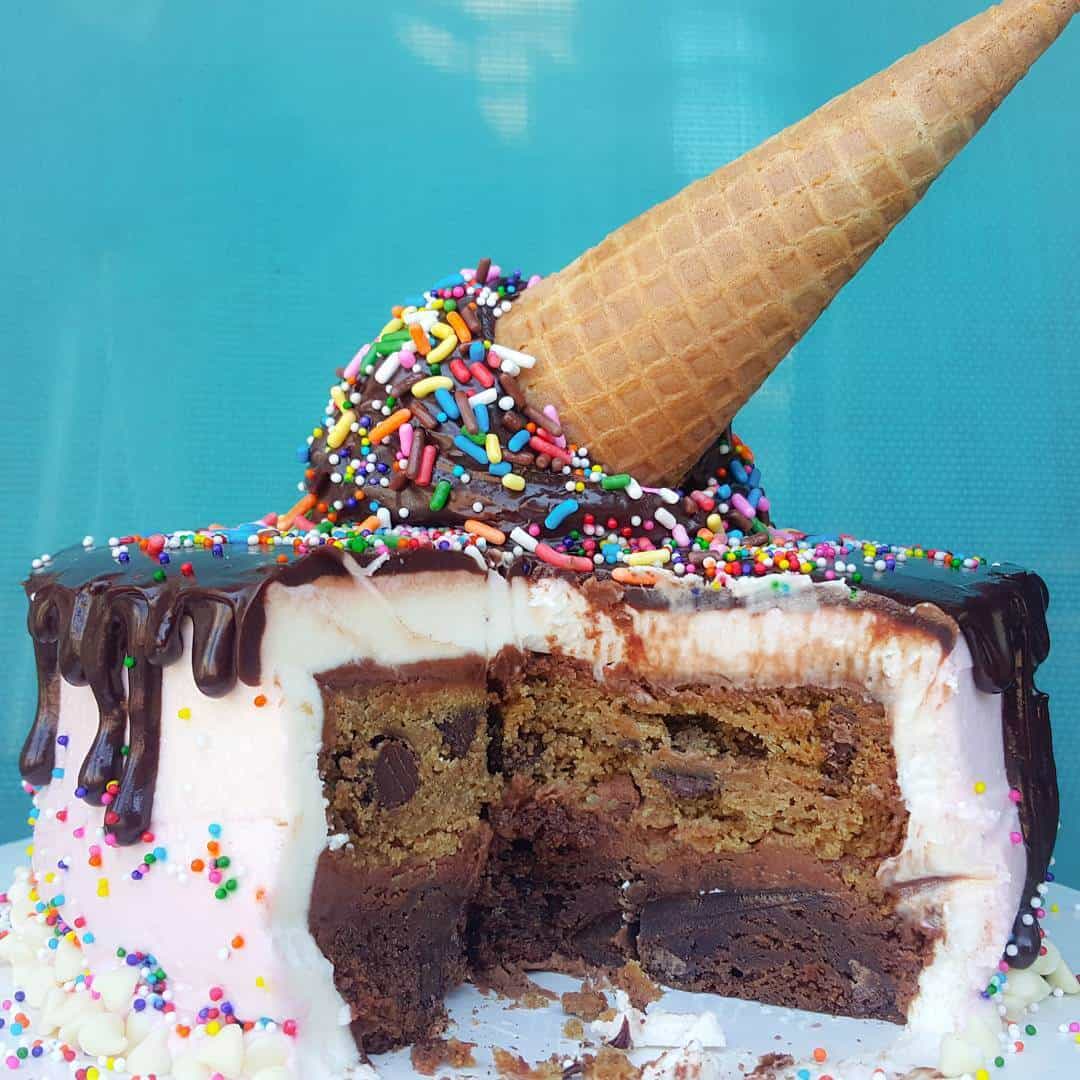 This cake is quite involved, has about a million steps, and takes several hours to make…but I can promise, your efforts will be well rewarded 🙂