Chances are you have someone special in your life that loves to bake. However, if you don't spend a lot of time in the kitchen yourself it can be hard to come up with great ideas for gifts for bakers.
This can also be challenging because people can vary a lot in what they like to bake, their experience/skill level, and what kitchen gadgets they already have.
I've already shared my go-to baking tools, but sometimes you want a gift to be a bit more exciting than a bench scraper. Below is a list of funny and useful baking tools that I think any baker would love!! It's the ultimate list of gifts for bakers.
Whether you're trying to get a gift fo a baker who has everything or you want to support a budding hobby, this list will have just what you're looking for.
I share the price and where you can get each item. I hope that you find a special something for that special someone 🙂 Happy holidays!!
Funny Gifts for Bakers
Price: $30.00
Get it on: Etsy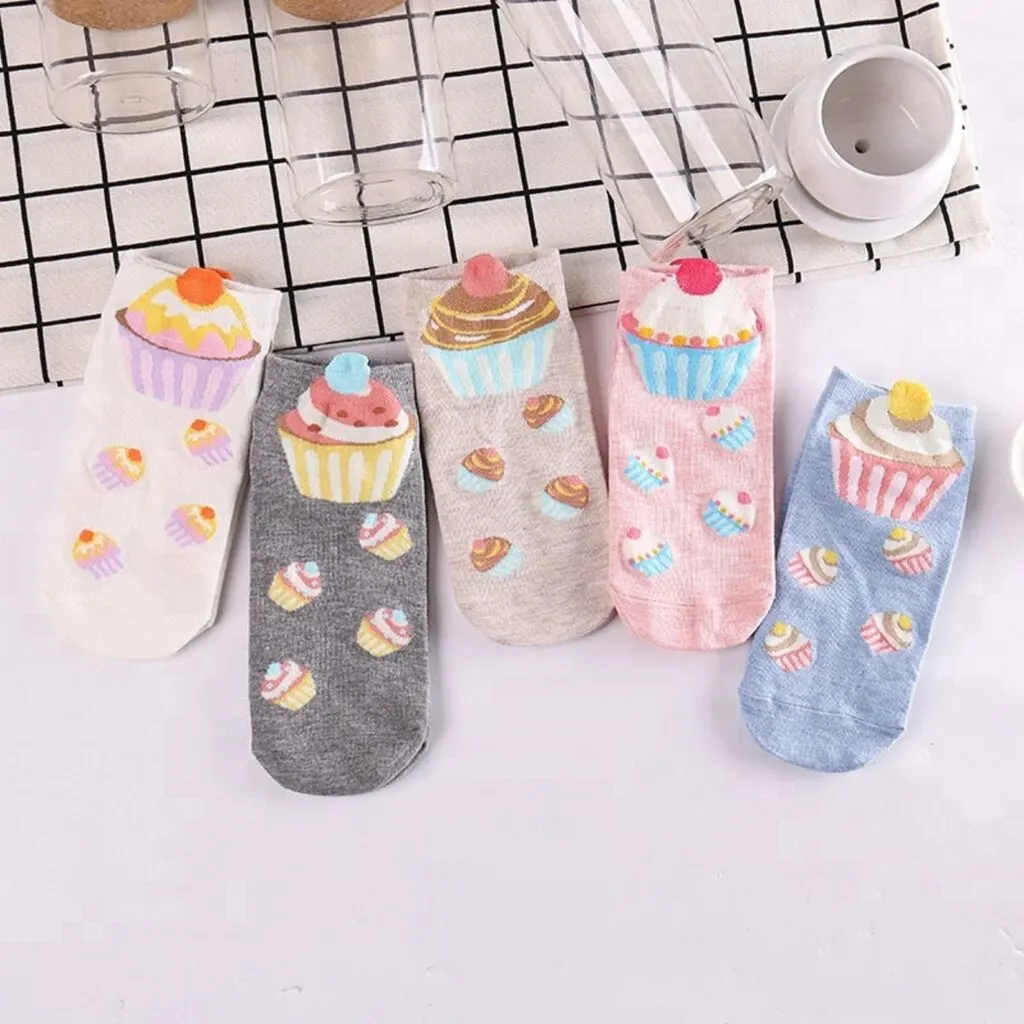 Keep your favorite baker nice and toasty with these adorable baking socks. Just looking at them makes me smile, I can't imagine how fun it would be to wear them!
Price: $9.69
Get it on: Etsy
A lot of bakers love baking because it is such a stress reliever! If you know someone like this, this shirt would be the perfect gift for them.
Price: $24.95
Get it on: Etsy
This apron is both funny and handy!! It has a detailed conversion chart printed upside down to make it easy to reference for anyone wearing it.
Price: $17.04
Get it on: Etsy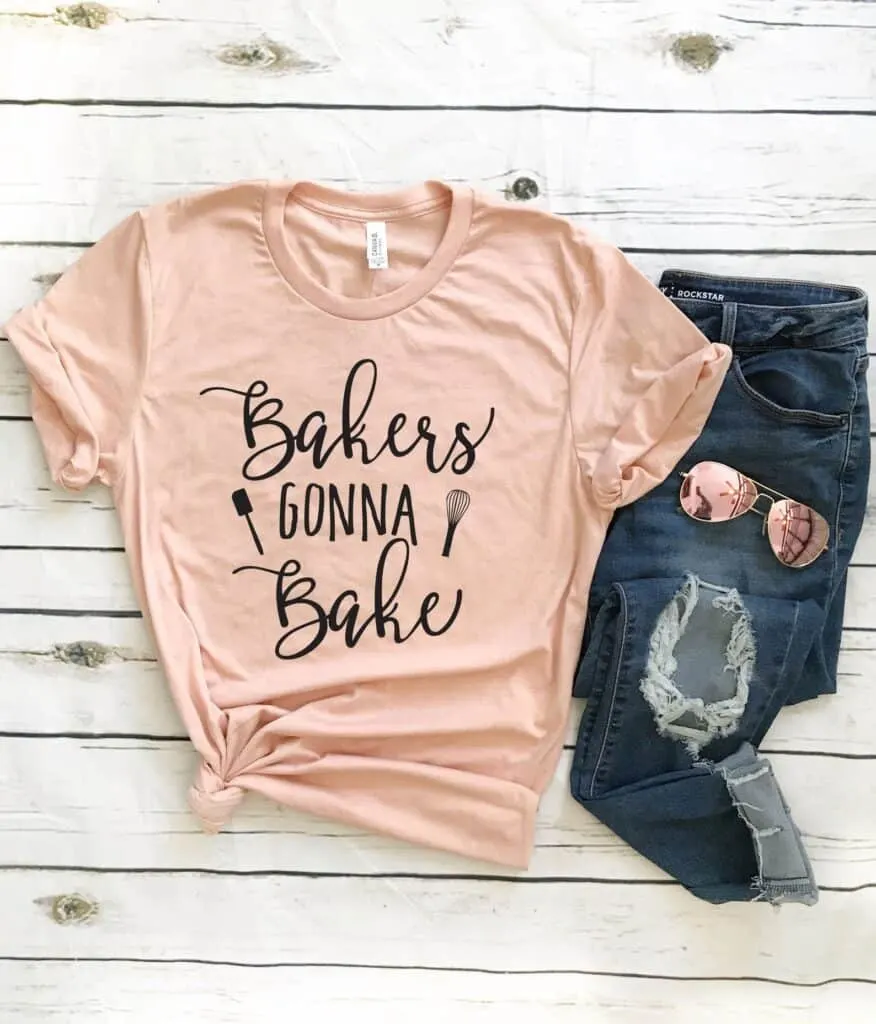 Be twins with me!! I have this shirt in green and wear it at least once a week. The shirt runs pretty true to size and is guaranteed to put a baker in a good mood if worn.
Price: $17.99
Get it on: Etsy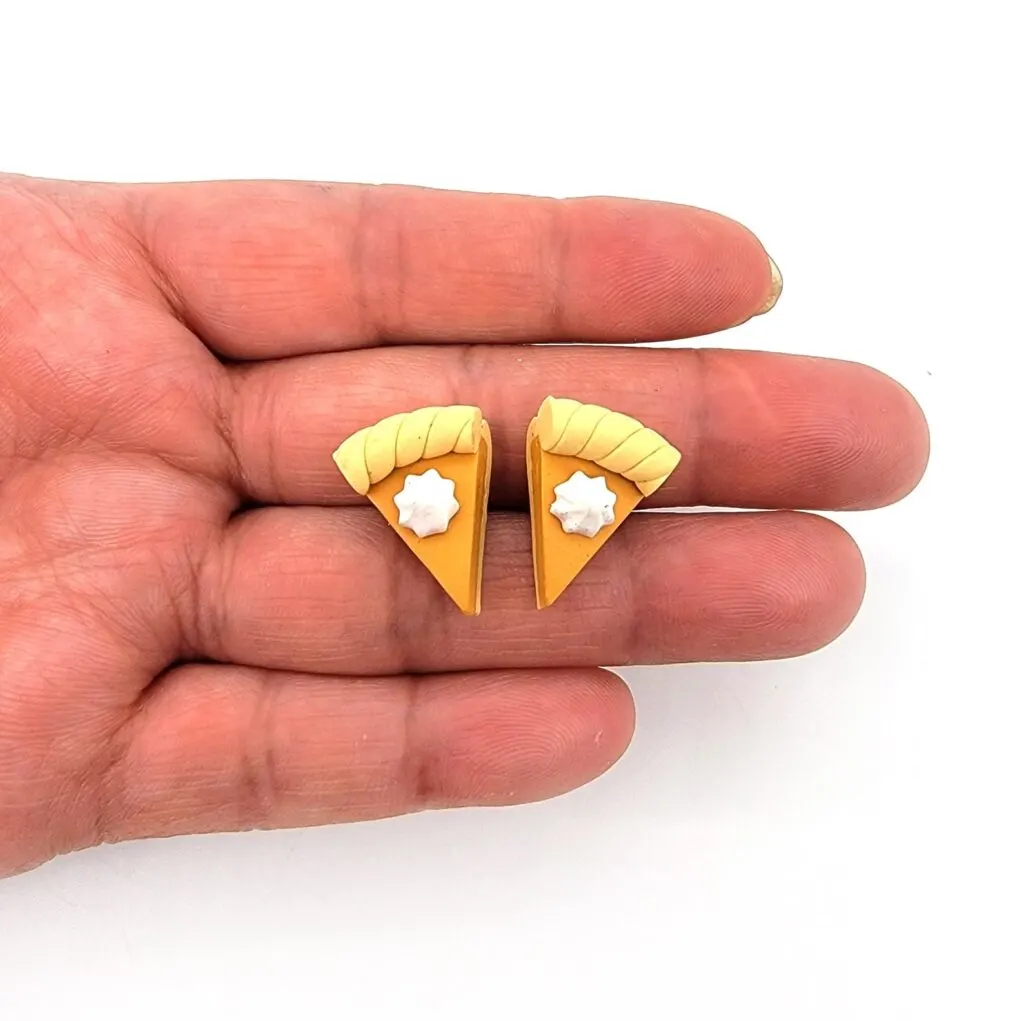 Nothing says I really love baking like little pumpkin pie earrings, am I right!?
These are some of my favorite dessert related earrings, but if you search cake or cupcake earrings on Etsy you'll find everything from adorable rainbow cake slice earrings to macaron necklaces.
Price: $20.99
Get it on: Amazon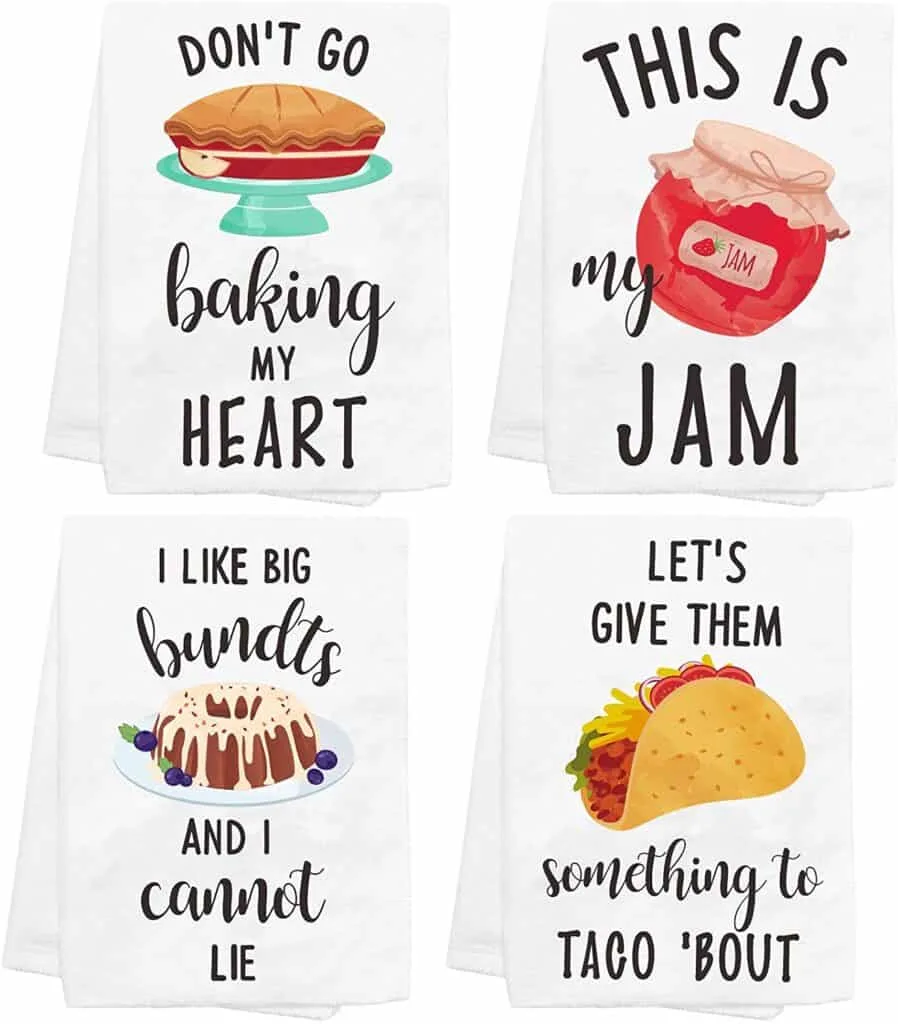 Brighten up your kitchen with these adorable hand towels! They'll put a smile on your face every time you go to dry your hands or a dish.
Price: $16.87
Get it on: Amazon
These little silicone muffin top pans are sure to get a good laugh from anyone you serve them too! Muffins bake up wonderfully in them and they're easy to clean and reuse.
Price: $17.00
Get it on: Amazon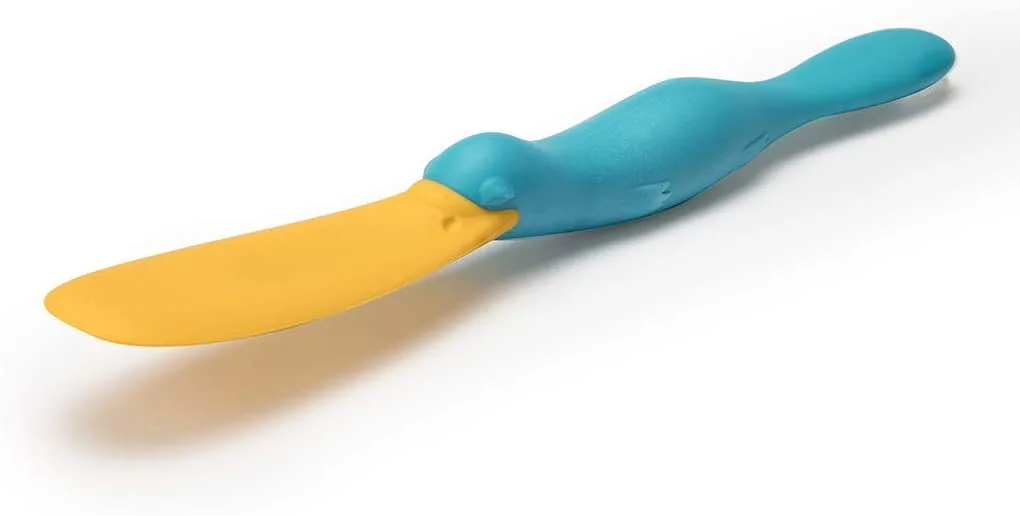 Nobody likes to waste food. This adorable platypus jar scraper helps you get every last bit of food from tall jars and cans! It's equal parts adorable and functional.
Useful Gifts for Bakers
Price: $77.14
Get it on: Amazon
I have had this Ateco 612 cake stand for years, and it has never let me down! It has a cast iron base, so it's strong and extremely durable.
It's a bit of an investment, but when you think about how many times you'll use it over its lifetime it's totally worth it. I've used mine countless times, and even made my own wedding cake on it!
I also love that is comes with a non slip mat. This helps keep your cake board in place while decorating, so that your cake doesn't shift or slide while you're frosting it.
Price: $19.99
Get it on: Amazon
This is the only item on this list that I don't have, but I desperately want! It's on my Christmas list this year.
I never feel like I have enough space in my kitchen, and this amazing gadget helps you keep the tools you use the most easily within reach.
You'll never have to dig through your drawers to find your favorite whisk again. This strip is magnetic, so any metallic kitchen utensil will stick to it, including metal spatulas and scissors!
Not only is it functional, it also looks beautiful! It's sleek, stylish, and would look great in almost any kitchen.
Price: $599.00
Get it on: Amazon
If you don't already have a stand mixer and you feel like splurging a bit, I HIGHLY recommend getting a 5 Qt Artisan stand mixer.
They're the perfect size for a home baker and works wonderfully to make bread, batter, frosting, and even pasta!
The 5 Qt mixer is slightly more expensive than the Classic 4.5 Qt KitchenAid but it has higher wattage and the mixing bowl comes with a handle. It's definitely worth spending a bit more to have the additional capacity and mixing power.
I've had my pink Kitchen Aid for 6 years now and she still runs like a dream. It's the kitchen tool I use the most and it's paid for itself time and time again.
Price: $16.95
Get it on: Amazon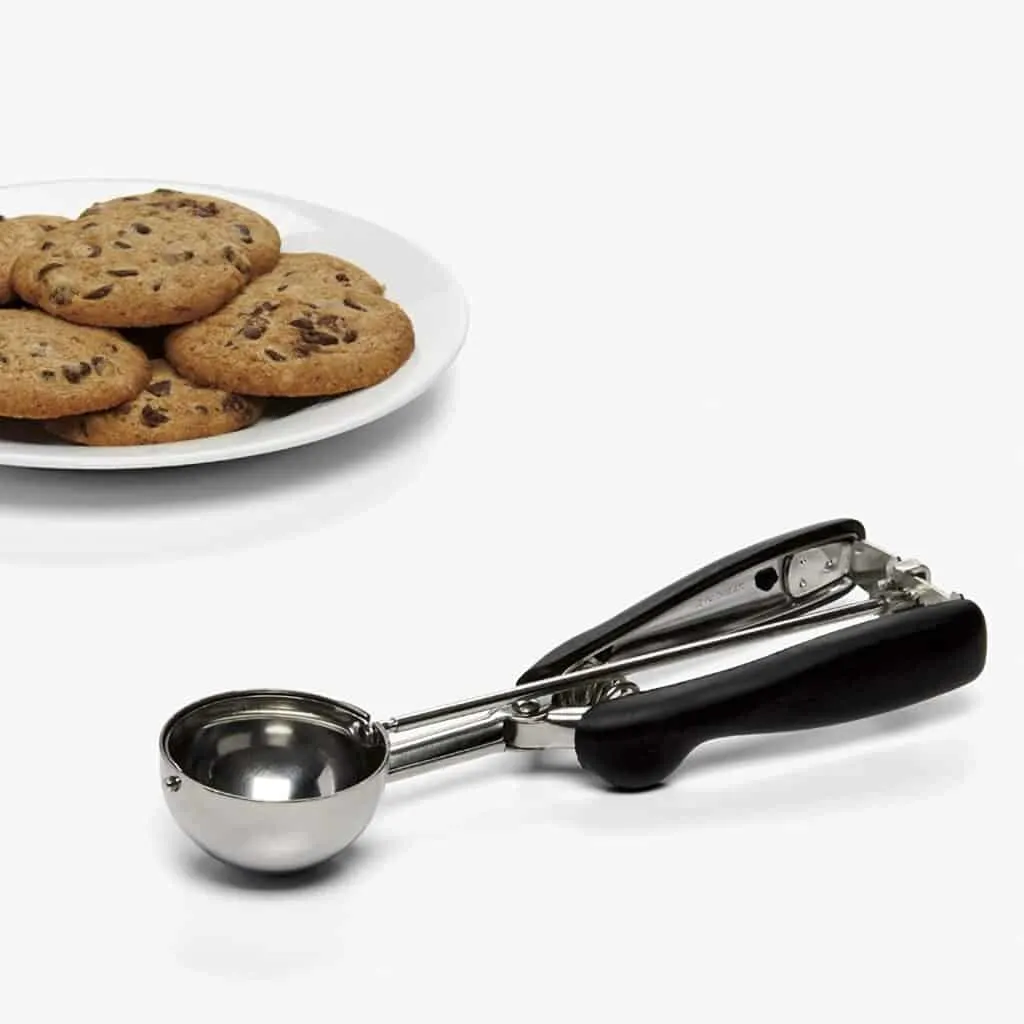 Cookie scoops are a surprisingly versatile tool. They are a must for any baker out there!!
While they work fantastically for actually scooping cookie dough to make uniform sized cookies, they also can be used in tons of different ways.
I use mine primarily to fill cupcake pans. The large cookie scoop is great for filling standard sized cupcake liners, while the smallest scoop is perfect for mini cupcakes.
If you dip these in warm water, they also make great ice cream scoops! They can also be used as a melon ballers.
I've even seen bakers use these to add frosting between their cake layers. It helps ensure you have a uniform amount of frosting between your cake layers.
You get the point, you can use these in a million different ways!
Price: $16.89
Get it on: Amazon
While stand mixers are amazing, they do tend to miss the bottom and sides of the bowl when mixing.
This means you frequently need to stop and scrape the sides of your bowl with a rubber spatula. That's where this amazing attachment comes in. It has a spatula built right into it!
It allows your mixer to do a much better job mixing batter and frosting. While you can still make batters with the traditional paddle attachment that comes with your stand mixer, this attachment makes life so much better.
Price: $12.98
Get it on: Amazon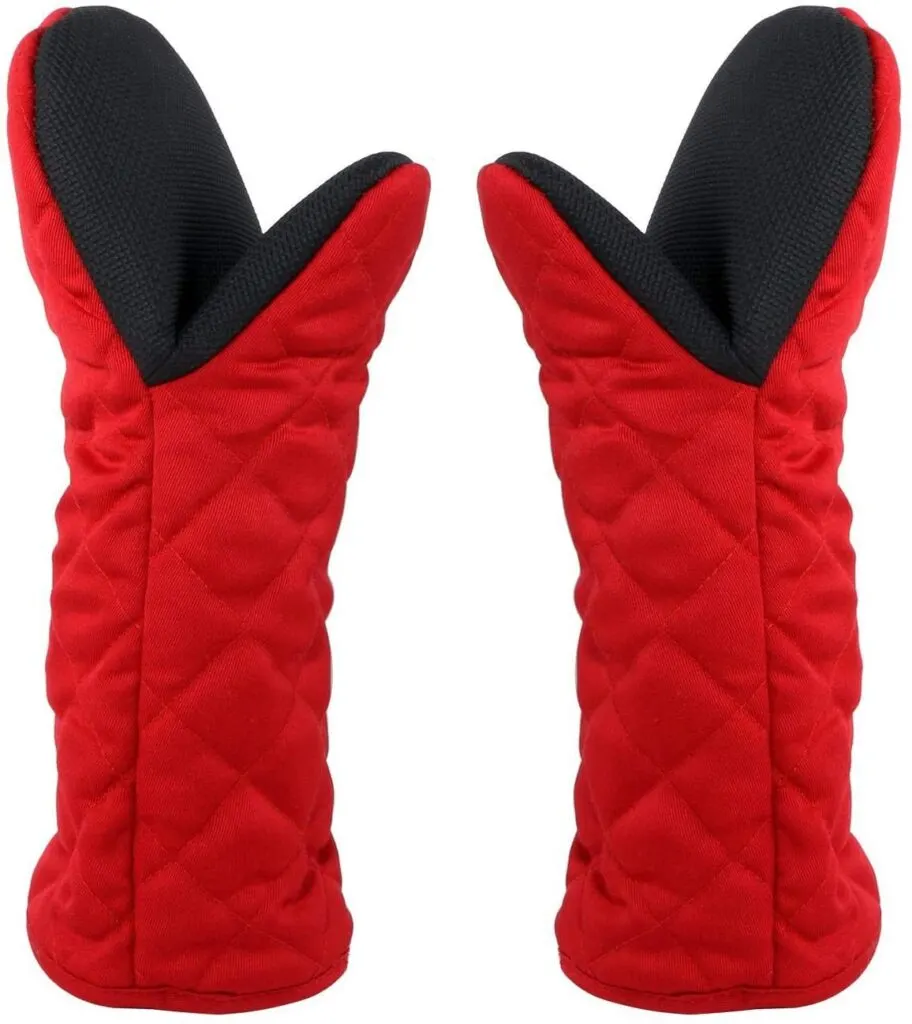 If you know any serious baker, they likely have some scars on their forearms. When you work around a hot oven all day, there's a high chance you'll accidentally hit your arm on an oven rack, even if you have oven mitts on.
My dad noticed the marks on my arm and immediately ordered me these long oven mitts. They're so long, they basically go up to your elbows. Ever since I got these, I haven't had another burn.
They're a super thoughtful and functional gift. They come in 5 different colors (including purple, which is my favorite!) and have a non-slip silicone grip.
I've had mine for four years now, and they're still going strong (thanks Dad).
Price: $12.98
Get it on: Amazon
Baking really is a science and many recipes require precise measurements.
Using a digital scale is the best way to measure any ingredient, especially when it comes to dry ingredients like flour.
It ensures you have exact amount of each ingredient you need, which can make a big difference in how a recipe bakes up.
Digital scales are used by home bakers and pastry chefs alike. I use mine every time I bake.
Price: $23.99
Get it on: Amazon
If you're spending hours creating a beautiful baked good, you want to get a beautiful slice! Having a sharp knife is an absolutely necessity.
While having a sharp iridescent knife isn't totally necessary, it sure is cool!
I use these knives in my cake videos all the time and people comment about them.
Price: $21.99
Get it on: Amazon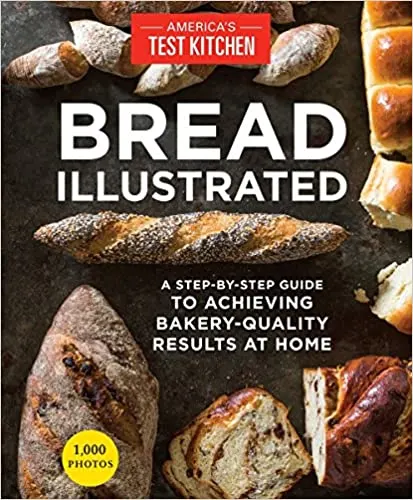 This amazing book breaks down the often intimidating art and science of bread baking, making it easy for anyone to create foolproof, bakery-quality breads at home.
Price: regularly $120, but $102 if you use the code CHELSWEETS15 to get 15% off
Get it on: Sweetapolita.com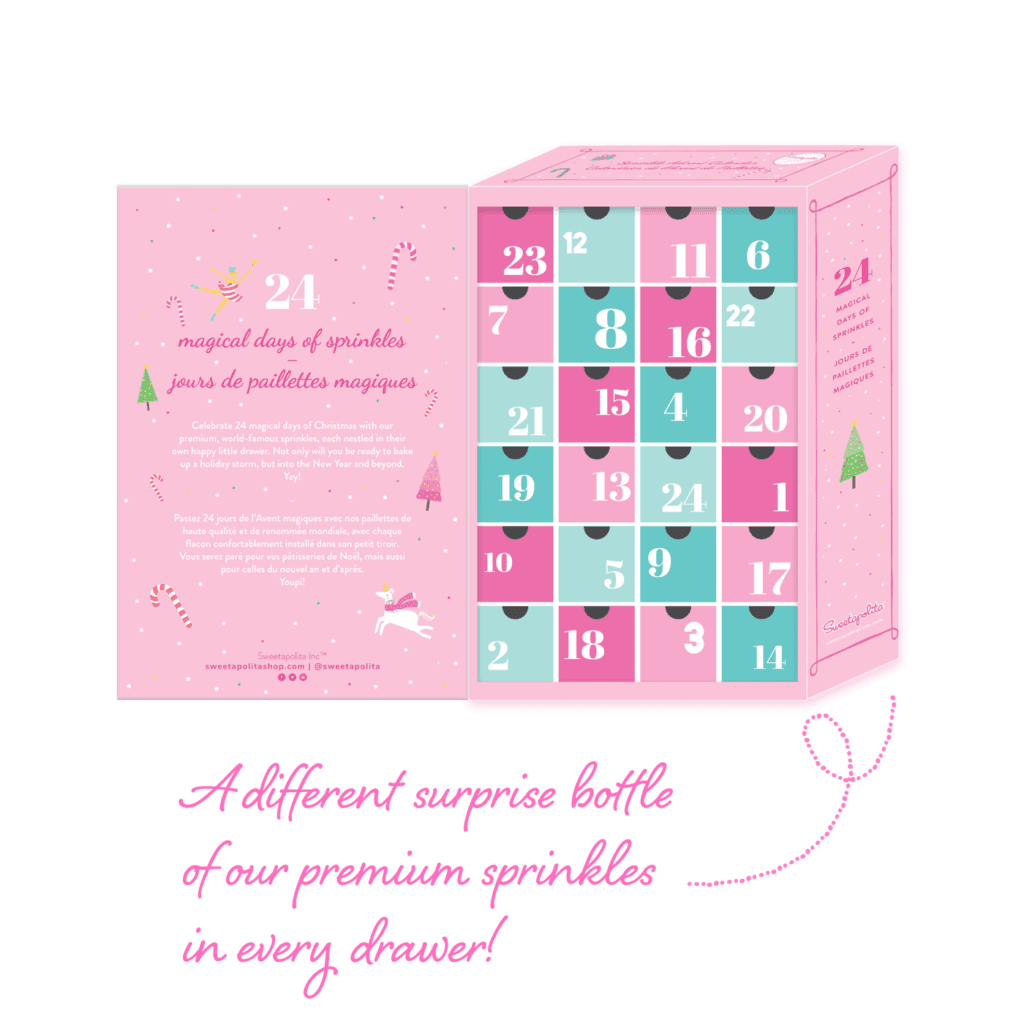 If you (or someone you know) love sprinkles, this is the ultimate gift! I mean, a new bottle of sprinkles, EVERYDAY?! Think of all the amazing cakes they could be used on!!
This is such a fun, entertaining gift! The only thing is you may have to give this as an early Christmas gift, so that someone can start enjoying it at the beginning of December.
Price: $59.99
Get it on: Amazon
Pastry boards are something that the average homemaker probably doesn't need.
This is a gift that a more advanced baker would love! To be honest, I never really temper chocolate, but I do play around with pastry dough.
Rolling out pastry dough on marble is a dream compared to working on a floured countertop!!
Chilled marble boards are ideal for keeping dough from sticking, which allows you to add less flour as you roll out or laminate dough. They also do a great job cooling down chocolate that's being tempered.
Price: $33.30
Get it on: Amazon
I originally bought this bundt pan on Amazon because it had over 1,100 5-star reviews. I heavily rely on ratings and reviews whenever I buy something online, and I figured this pan had to be pretty great.
The reviews were right. This bundt pan is made with cast aluminum, which is super durable and easy to clean. It cooks evenly and quickly, and creates stunning cakes!
If bundt cakes are in your baking repertoire, you need this pan in your life.
Price: $42.56
Get it on: Amazon
When you put so much time into making a cake, it's fun to have beautiful cake stands to display them on!
I have a few different cake stands that don't spin and are solely for photographing cakes. This is one of them!
These cake stands really help highlight the beauty of a cake and are real show stoppers at parties and holiday gatherings.
Price: $9.95
Get it on: Amazon
So many desserts are elevated with a delicate dusting of cocoa powder or powdered sugar. But most conventional sifters are a bit too large for dusting smaller desserts!
I love this little duster because it gives you a ton of control around the amount of powdered sugar you add and where it falls.
You kind of feel like a baking fairy every time you get to use it. I always get a big smile on my face when I use mine, which is why I think it's a wonderful gift idea.
Price: $9.99 on sale
Get it on: Amazon
My last baking gift idea is these reusable cake testers! These testers are made of stainless steel, which makes them durable and easy to clean.
They also allow you to be a bit more eco-friendly in the kitchen. With these, you can stop using single-use toothpicks or disposable cake testers.
They also are just so stinking cute. As an added bonus, they'd easily stick to that magnetic bar I shared above 🙂
Let Me Know Your Thoughts
I'd love to hear what you think of this list of gifts for bakers.
If there are any other tools or gadgets you love to use in the kitchen that I didn't include, I'd love to hear about them.
Or if you've received a great baking-related gift, please share it in the comments section below.