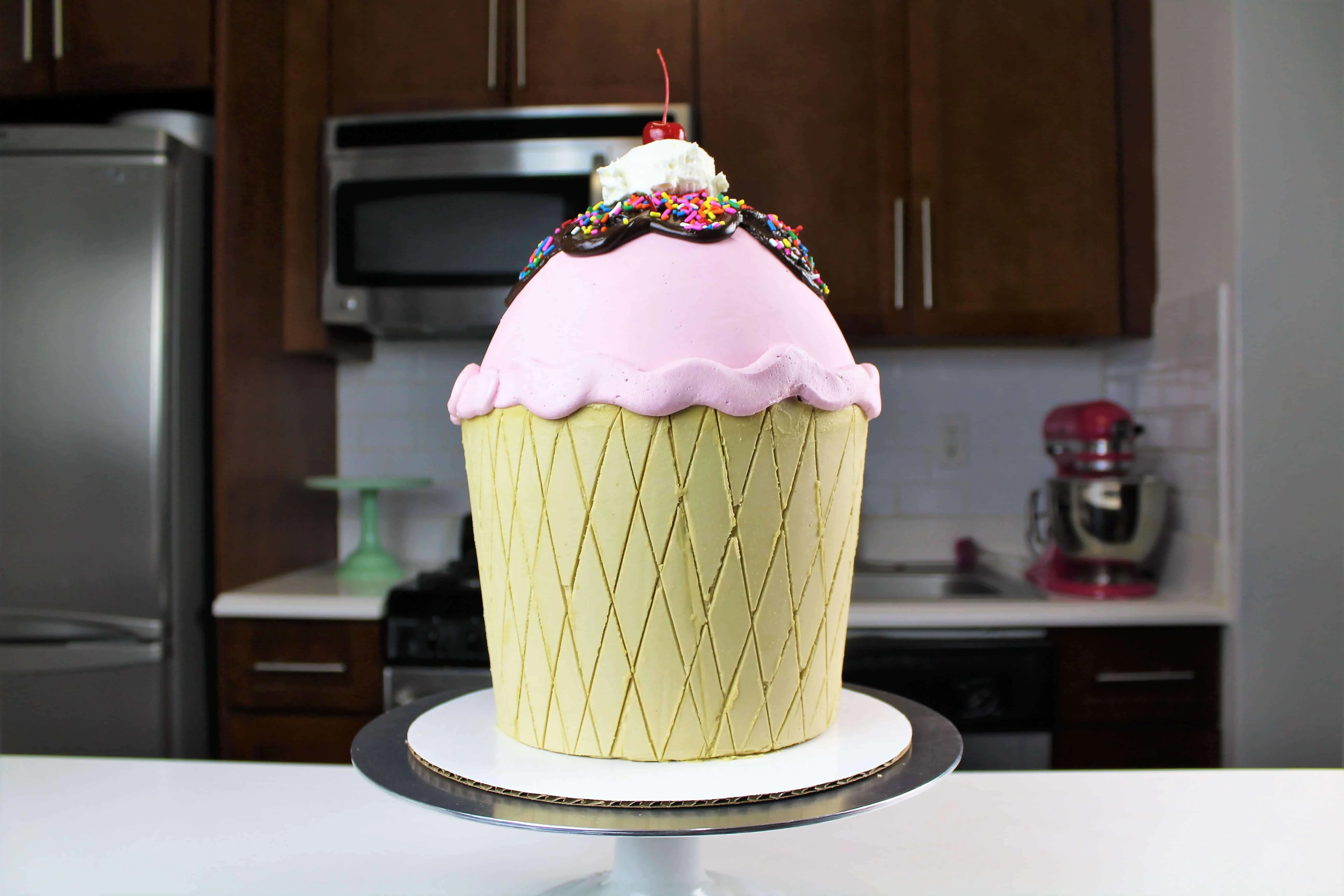 This month, Cosmopolitan asked me to make a giant ice cream cone cake. I could not have been more excited, especially since ice cream is actually my favorite dessert!! This cake ended up being quite a bit larger than planned, but you could easily half the recipe and make a smaller version of this cake. Another fun idea would be to hollow out the center of the cake, and fill it with softened ice cream. I used my favorite vanilla layer cake (bakes perfectly flat, no need to level the layers!), and a strawberry and chocolate peanut butter buttercream to decorate. I also topped the cake with some chocolate ganache, and sprinkles. The recipes I used can be found below:
Vanilla Cake layers:
4 3/4 cups flour
4 1/2 cups granulated sugar
3 1/2 tsp baking powder
1 1/2 tsp salt
1 1/2 cups unsalted butter (3 sticks), room temperature
3 tsp. vanilla extract
1 1/2 cup egg whites (about 11 large egg whites – I use carton egg whites to avoid wasting yolks)
2 1/4 cups buttermilk, room temperature
1/8 cup vegetable oil
pink gel food coloring
Frosting Recipe:
8 sticks (4 cups) unsalted butter, room temperature
16 cups powdered sugar
1 tsp salt
1/4 cup heavy cream
3 tsp vanilla
1 cup peanut butter
1/2 cup cocoa powder
1/2 cup strawberry puree reduction
pink gel food coloring
Additional Decorations:
chocolate ganache
sprinkles
a cherry
Instructions:
Preheat oven to 350°F. Grease and line three 8" round pans, and one 7″ round pan. Also grease and line one 8″ dome pan.
Mix together all dry ingredients (flour, baking powder, sugar, and salt) in a stand mixer with a paddle until fully combined.
Mix chunks of room-temperature butter slowly into the dry mix, on a low speed. Continue to mix until no large chunks of butter remain, and the mixture becomes crumbly.
Pour in egg whites, and mix on low until just incorporated. Mix in the buttermilk in two installments, on a low speed. Add in vanilla and oil, and mix at a low speed until fully incorporated. Scrape down the sides of the bowl with a spatula, then beat on medium high for about 30 seconds.
Place 1/3 of batter into a separate bowl, and color a light shade of pink with gel food coloring. Pour pink batter into dome shaped pan. Divide remaining, uncolored batter evenly between the prepared round cake pans. Bake round pans for 35 minutes, or until a skewer comes out clean. Bake the domed pan for 1 hour and 30 minutes, or until a skewer comes out clean.
Allow to cool for 10 minutes, then run an offset spatula around perimeter of the pan to separate the cake from the pan. Place cake layers on a rack to finish cooling.
While the layers bake and cool, prepare the buttercream.
Beat the butter on high for 30 seconds with a paddle attachment, until smooth. Slowly add in the powdered sugar, 1 cup at a time. Alternate with small splashes of cream. Once fully mixed, add in the vanilla and salt, and beat on medium low until the ingredients are fully incorporated, and the desired consistency is reached. If the frosting is too thick, add in cream (1 teaspoon at a time). If the frosting is too thin, add in more powdered sugar (quarter of a cup at a time).
Place 1/3 of the frosting into a separate bowl. Mix in the strawberry puree, and a drop of pink gel food coloring. Set aside. Mix peanut butter and cocoa powder into remaining frosting, to create a light brown shade of frosting.
NOTE: When making frosting for a cake, it is important to mix the buttercream on low at the end of the process for a couple minutes, to get out any extra air that might have be incorporated during the mixing process. This will make it easier to get super smooth sides on your cake!
To assemble the cake, stack and frost the round cake layers with the chocolate peanut butter buttercream. Placing the 7 inch cake layer on top. Using a serrated knife, trim at angle from the top of the cake down to the base, to taper the sides.x
Once trimmed, apply a thin crumb coat and chill the cake for the fridge or freezer until firm. Apply a second layer of the chocolate peanut butter frosting, and smooth with a bench scraper. Clean bench scraper, and warm blade with dipping it in extremely warm water. Use the warmed edge to score the frosting with diagonal lines, 1 cm apart, in the pattern of a cone.
Chill cake in fridge until firm, then flip the cake over using an additional cake round. Cover and smooth the new top of the cake with buttercream.
Trim the browned edges from the pink cake dome, then apply a crumb coat with the strawberry buttercream.
Chill, then apply a second, thicker layer of frosting. Smooth with a piece of acetate sheet or a flexible bowl scraper. Chill again, until frosting is firm. Once the frosting is fully chilled, spread some chocolate ganache on top of the dome, add sprinkles, and top with a cherry.
Once both cake layers are chilled, gently place the pink dome on top of the cone.
Place additional pink frosting into a piping bag, and pipe a boarder around the the based on the pink dome.
And that's it! This cake is very large, and can feed 25-30 people. It would be perfect for a summertime party, or a large birthday party 🙂