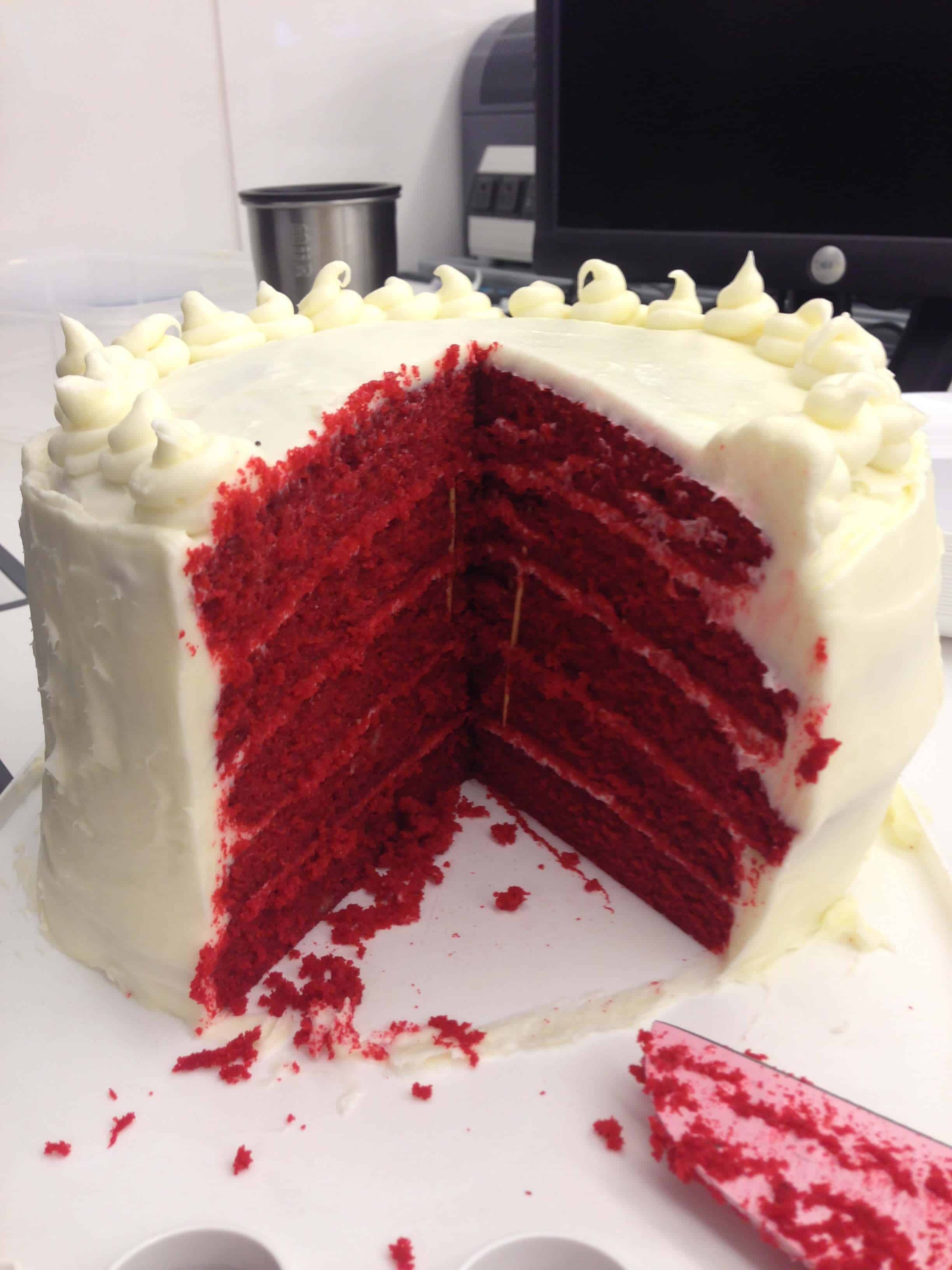 Another birthday at work called for another homemade birthday cake!
But not just any cake. The birthday girl requested Red Velvet…so I did a lot of research, merged a couple recipes, threw in a little coffee (sounds weird, but it's delicious!) and was finally happy with the texture and taste of my red velvet cake layers!
This makes one massive cake. I used one batch of batter to make 5, 8-inch cake layers. They
RED VELVET CAKE:
2 cups cake flour
2 cups all-purpose flour
2 3/4 cups granulated white sugar
3 tablespoons unsweetened cocoa powder (not Dutch process)
2 teaspoons baking soda
1/2 tsp baking powder
1 1/2 teaspoon salt
3 large eggs, at room temperature
2 3/4 cups vegetable or canola oil
1 1/2 cup buttermilk
3 tablespoons red food coloring
3 teaspoons vanilla extract
3 teaspoons white vinegar
1 1/2 Tablespoon instant coffee, dissolved in 1 Tbsp boiling water
CREAM CHEESE FROSTING:
4 1/2 cups powdered sugar, sifted lightly to remove any lumps
2 (8-ounce) packages cream cheese, at room temperature
1 3/4 cup unsalted butter, at room temperature
1 tablespoon vanilla extract
1/2 tsp salt
1 Tbsp heavy cream (or whipping cream)
Red Velvet Cake Batter
Preheat oven to 325 F.
Grease and line 4 or 5 8-inch pans. In a medium bowl, whisk together all purpose flour, cake flour, baking soda, baking powder, cocoa powder and salt. Set aside.
In a large bowl, combine the sugar, vegetable oil, eggs, buttermilk, vanilla and red food coloring. Stir in the coffee, and white vinegar.
Combine the wet ingredients with the dry ingredients a little at time, mixing after each addition, until just combined.
Divide the batter evenly between the prepared pans. If you don't have that many pans, you can always divide the batter between five bowls, and let it sit at room temperature until you can bake the next round of cake layers. Each pan or bowl should have about 1 1/2 cups of batter.
Bake in the middle rack for 20-25 minutes, or until a toothpick comes out clean. Keep a close eye on the cakes, you don't want them to over bake! It will continue to cook as it cools.
You can bake two pans at a time to speed up this process.
Let the layers cool in the pan for about five minutes, then remove them from the pans onto a wire rack to finish cooling.
Slide a knife or offset spatula around the inside of the pans to loosen the cake from the pan.
Cream Cheese Frosting
While the cakes cool, make the frosting.
Combine the softened butter, cream cheese, in the a large bowl. Mix together using a stand mixer or hand mixer, until fully combined and smooth.
Add in the vanilla extract, and salt, and mix on a low speed to incorporate the ingredients.
Gradually add in the powdered sugar, mixing on a low speed to prevent powdered sugar explosions!! Mix until the frosting is smooth.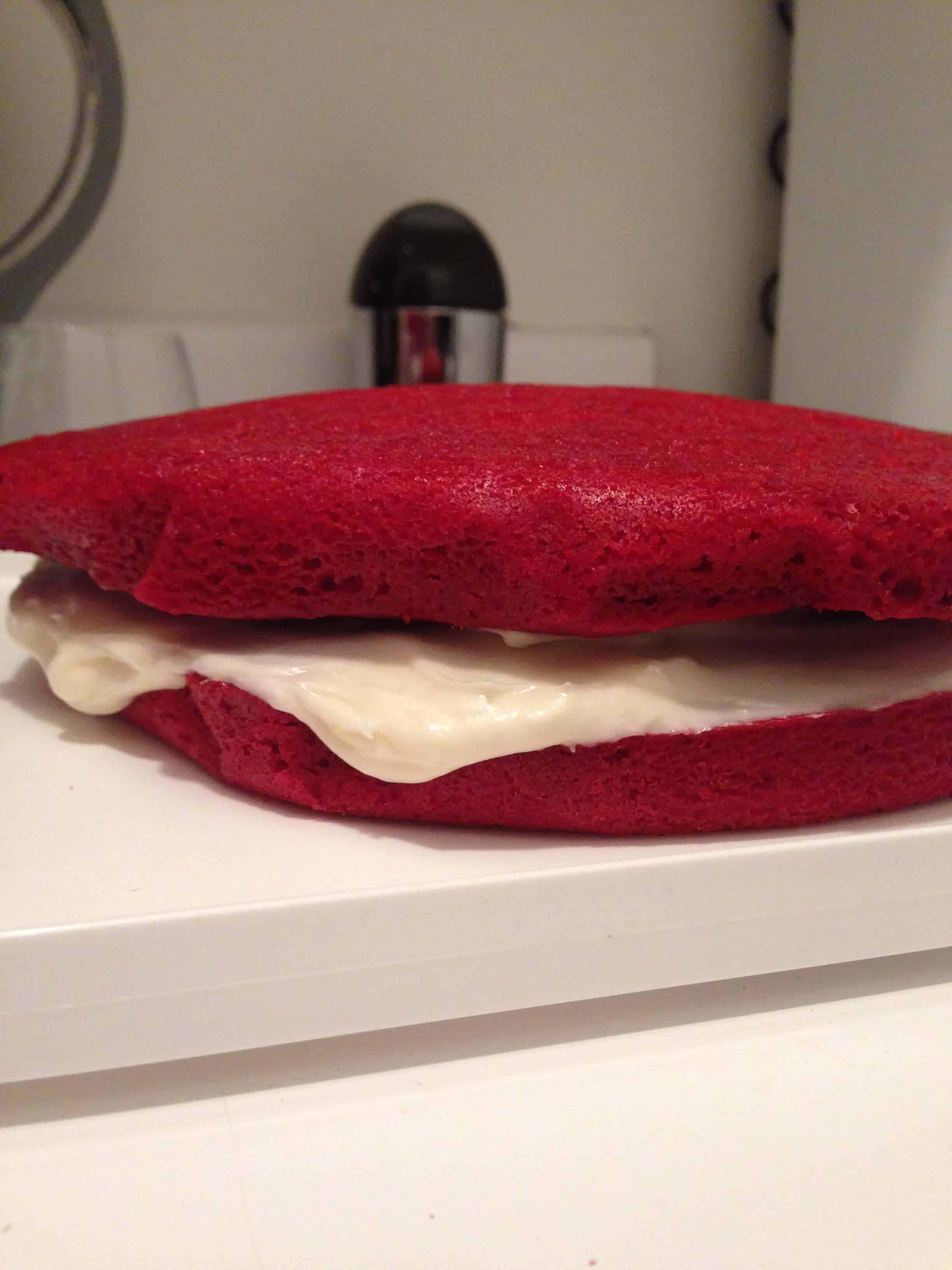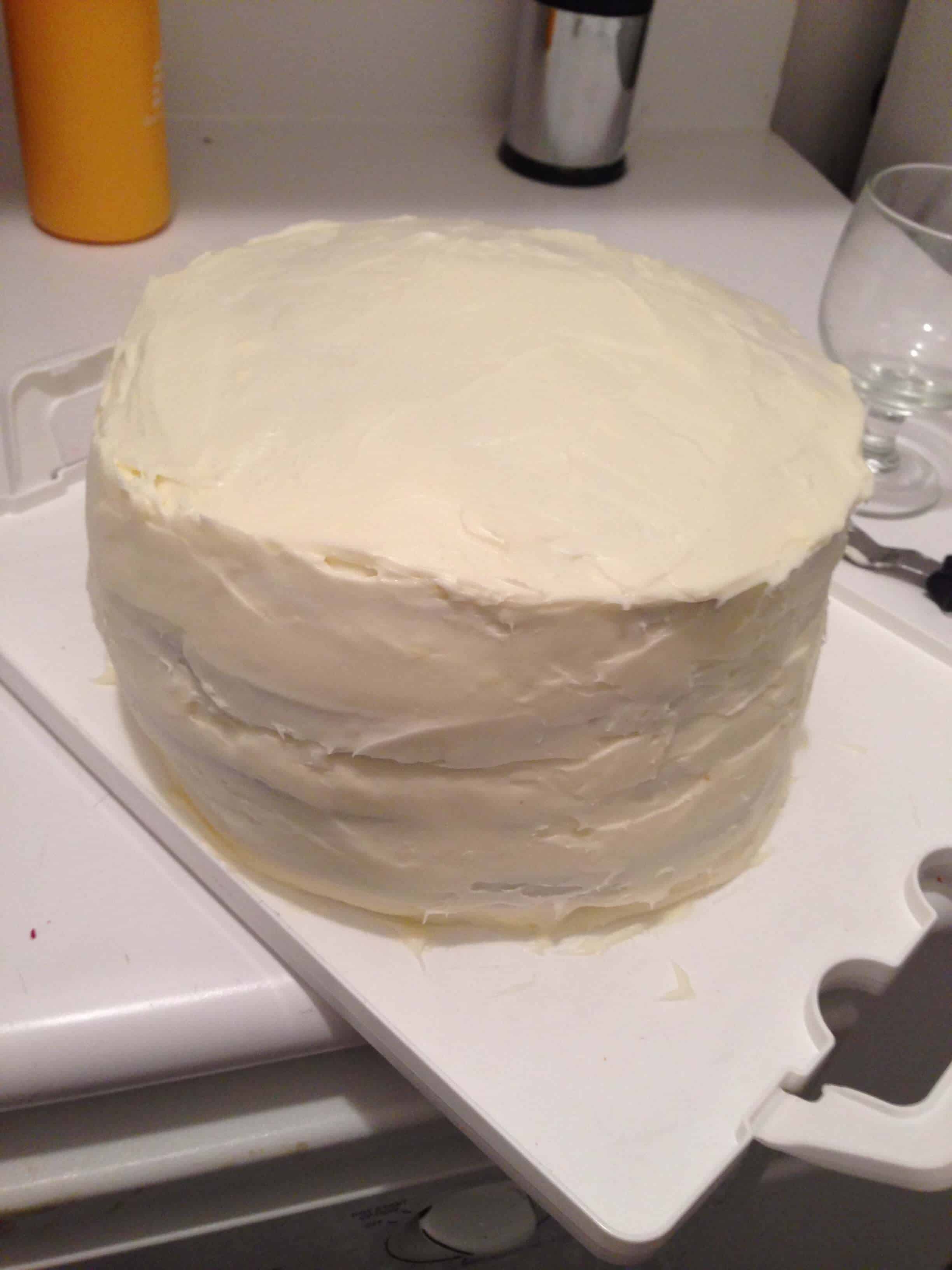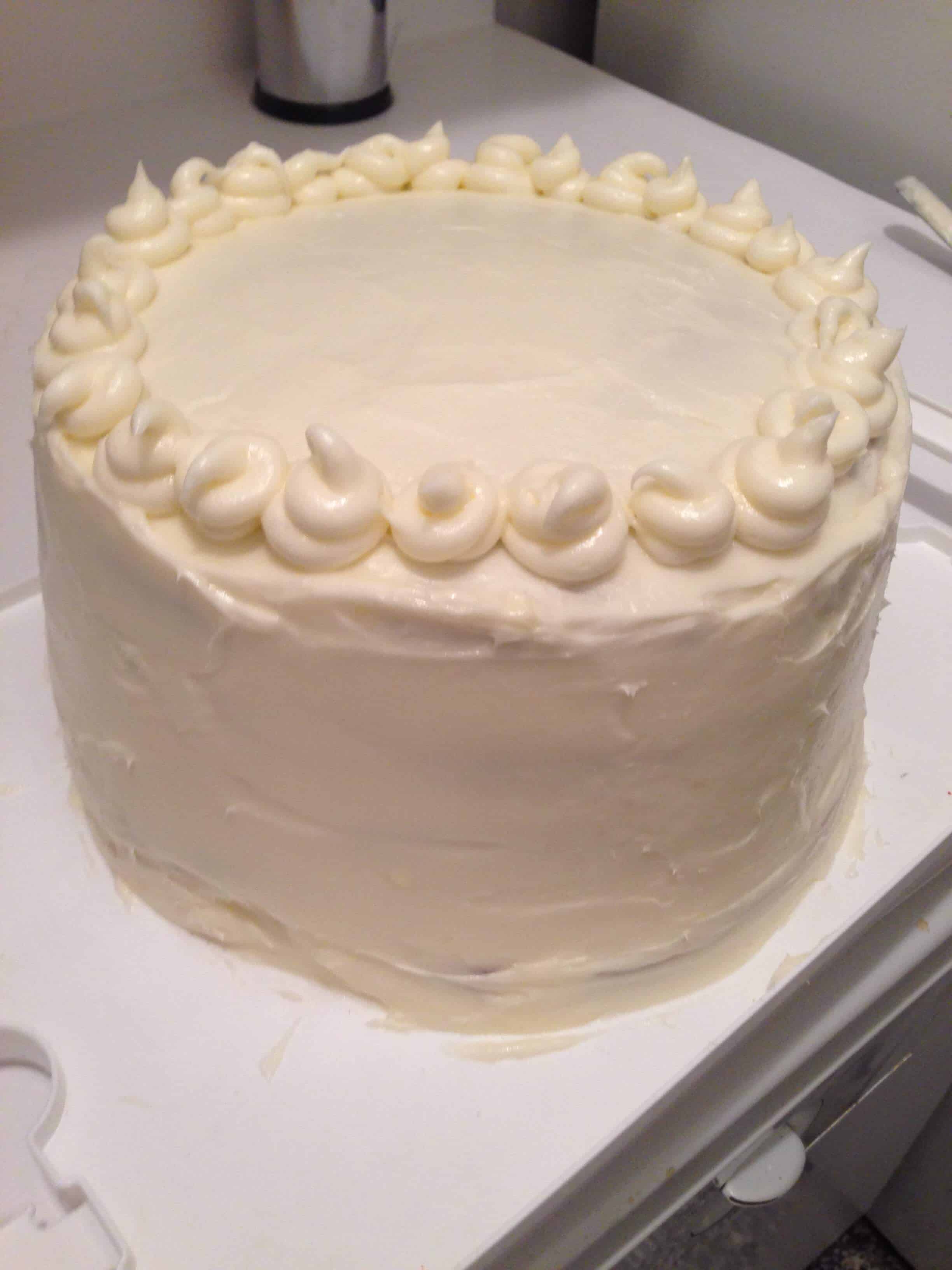 Frost the cake with cream cheese frosting when the cakes have cooled completely.
Lightly frost each layer, and then cover the entire exterior of the cake.
Make sure to alternate the layers top up, top down, to help the cake remain level.
Cover the cake in a thin layer of frosting, and then chill it in the freezer for 10 minutes to allow it to firm up.
Use the remaining frosting to add a second, thicker layer of frosting. Decorate as desired, then enjoy!
This is the moistest red velvet recipe I've ever made.
I was pleasantly surprised by the balance in this cake. It's not overly sweet, and each ingredient is able to shine.
The frosting is also subtle, and I love that you get a bit of it in each bite since this cake has so many thin layers. This will now be my go-to red velvet recipe 😀