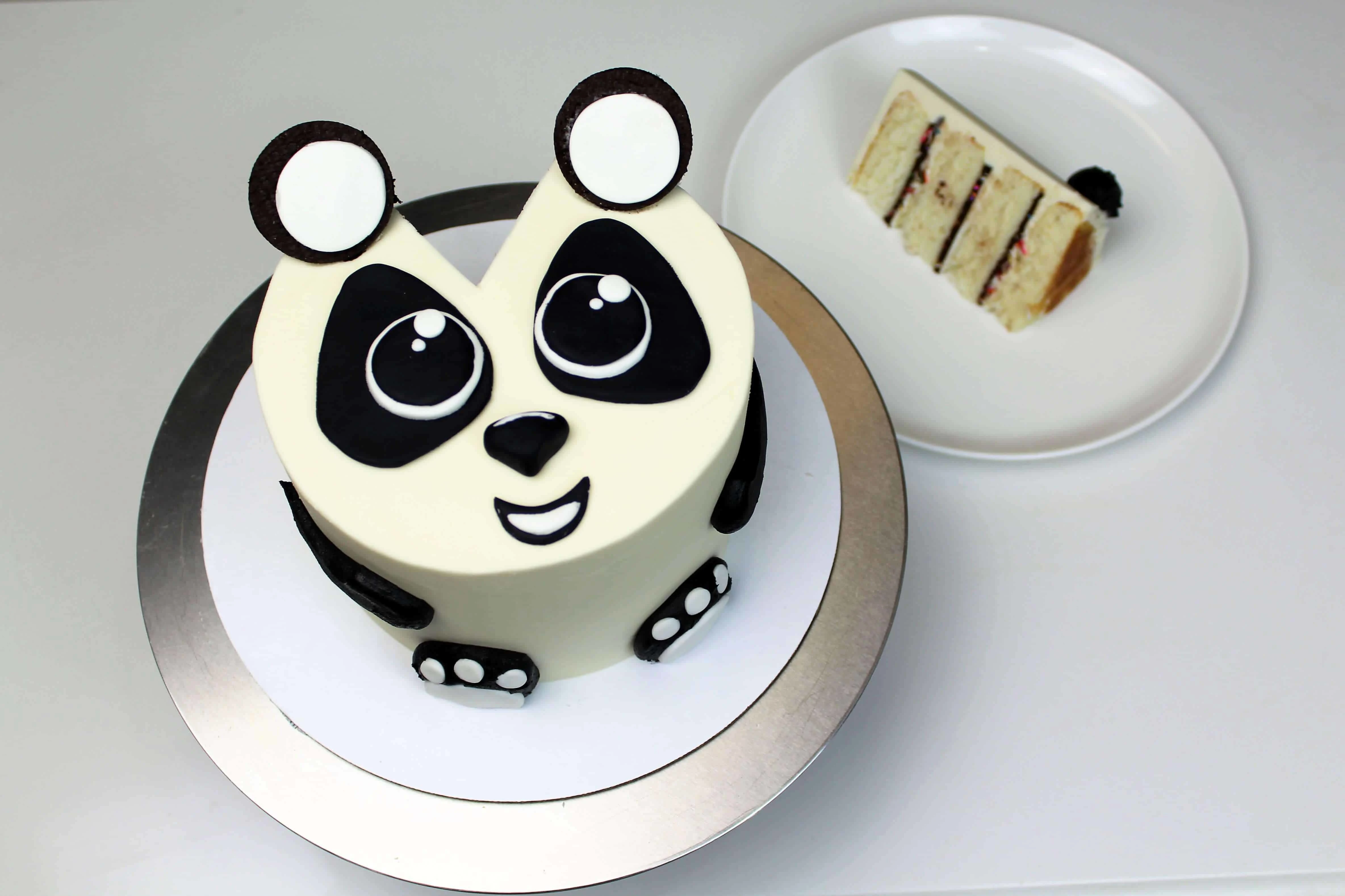 My last addition to my animal cake series is a panda! I wanted to do something black and white, and decided to make vanilla cake layers, filling with vanilla buttercream, chocolate ganache, and sprinkles. I used some fondant accents to make her face, and colored some chocolate buttercream black to make the limbs and tail! The recipes can be found below, and the full YouTube Tutorial can be seen here.
Vanilla Cake Batter:
1 1/2 cup flour
1 1/2 cups granulated sugar
1 3/4 tsp baking powder
1/2 tsp salt
1/2 cup unsalted butter (1 stick), room temperature
2 tsp. vanilla extract
1/2 cup egg whites (about 3 large egg whites)
3/4 cups buttermilk, room temperature
2 tsp. vegetable oil
1/2 cup chocolate ganache (optional for filling – equal parts chocolate and heavy cream)
1/2 cup sprinkles (optional for filling)
Vanilla Buttercream:
4 sticks (2 cups) unsalted butter, room temperature
8 cups powdered sugar
1/2 tsp salt
3 Tbsp. heavy cream
2 tsp vanilla
Fondant Accents:
white fondant
black fondant
1 Oreo
parchment paper
Instructions:
Preheat oven to 350°F. Grease and line four 6? round pans.
Mix together all dry ingredients (flour, baking powder, sugar, and salt) in a stand mixer with a paddle until fully combined.Mix chunks of butter slowly into the dry mix on a low speed. Continue to mix until no chunks of butter remain, and the mixture becomes crumbly. In a separate bowl, combine all wet ingredients (vanilla extract, egg whites, buttermilk, and vegetable oil), and whisk to combine. On low speed, add 1/3 of the liquid ingredients to the dry/butter mixture. Mix until fully incorporated, scraping down the sides of the bowl as needed.Mix in the remaining wet ingredients in two installments, on a medium-high speed until fully incorporated.
Divide evenly between the prepared cake pans. Bake for 25 minutes, or until a skewer comes out clean. Allow to cool for 10 minutes, then run an offset spatula around perimeter of the pan to separate the cake from the pan. Place cake layers on a rack to finish cooling. Once fully cooled, place layers in freezer (frozen layers are much easier to frost!)
While the layers bake, prepare the frosting. Beat the butter on high for 30 seconds with a paddle attachment, until smooth. Slowly add in the powdered sugar, 1 cup at a time. Alternate with cream, adding 1 tablespoon at a time. Once fully mixed, add in the vanilla and salt, and beat on medium low until the ingredients are fully incorporated, and the desired consistency is reached. If the frosting is too thick, add in cream (1 teaspoon at a time). If the frosting is too thin, add in more powdered sugar (quarter of a cup at a time).
Next, make the fondant accents for the face. Roll out the white fondant and black fondant to 1/4 inch thickness. Cut out two avocado shaped pieces for the around the panda's eyes, then cut out four circles (2 white, and 2 slightly smaller black) for the panda's eyes. For the ears, twist open the Oreo and remove the filling. Use two fondant circles to be the inner part of the ears, and secure them to the Oreo using a small dab of buttercream.
For the limbs and tail, take 1 cup of the prepared vanilla buttercream and add 1/4 cup cocoa powder, and a teaspoon of heavy cream. Add in a few squirts of black gel food coloring, and mix until combined. Place into a piping bag, cut to have a 1 inch opening. Place prepared fondant onto parchment paper to allow it to firm.
To assemble the cake, remove cake layers from freezer. Frost each cake layer with buttercream, adding ganache and sprinkles on top of the buttercream. Repeat with all cake layers, then apply a crumb coat. Freeze cake for 5 minutes to allow the crumb coat to set, then use remaining frosting to add a second layer of frosting. Smooth with a bench scrapper. Secure fondant accents to the top of the cake using buttercream, and pipe on arms, feet, and tail.