These oven-dried strawberries are a delicious and healthy snack! They're a wonderful treat and are vegan, gluten free and paleo.
By baking these strawberry slices low and slow, they become concentrated with amazing strawberry flavor!
This makes them an amazing topping for yogurt, oatmeal or even ice cream.
How To Make Oven-Dried Strawberries
The first step to making these is to wash and cut your fresh strawberries.
It's important that your strawberries are cut uniformly or else they won't bake evenly and can either burn or end up being underbaked.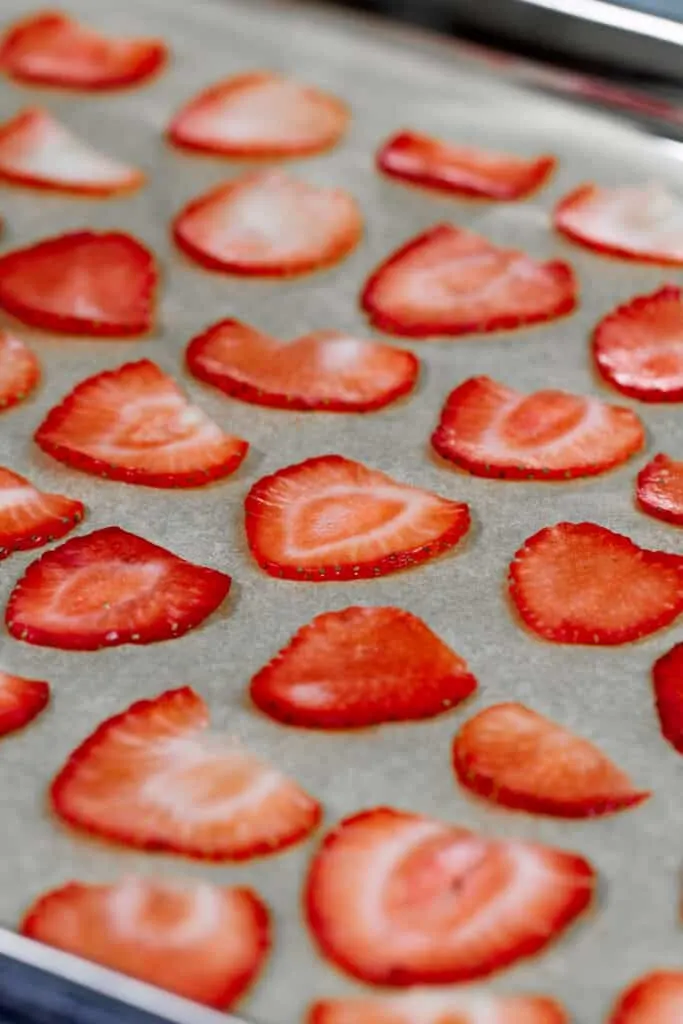 My knife skills are quite lackluster, so I prefer to use a mandoline to make sure my strawberries are all the same thickness.
It also makes the cutting process so much faster and easier!
Once your strawberries are cut, it's time to bake them! This is a slow but low-maintenance process.
It takes in total about 2 1/2 hours with one flip break at the 2 hour mark.
After the strawberries are baked and cooled, you can store them at room temperature in an airtight container.
I love to keep them in mason jars on my counter. They keep for up to 2 months.
Can I Use Frozen Strawberries?
I highly recommend using fresh strawberries in this recipe.
With that in mind, you can't use frozen strawberries to make thinly sliced dried strawberries. They're just too difficult to cut thinly once they thaw.
You could bake thawed strawberry halves to make thicker dried strawberries with a chewy texture. However, they'd take a lot longer to bake!
What Type of Pan Should I Use To Make Oven-Dried Strawberries?
You can use just about any flat pan to bake dried strawberries. I love using large baking sheets and line them with either parchment paper or a silicone mat.
I find that baking the dried strawberries on a silicone mat reduces any potential browning and makes them much easier to peel and flip.
Parchment paper works fine too, but the strawberries tend to stick to it a bit more once they're baked.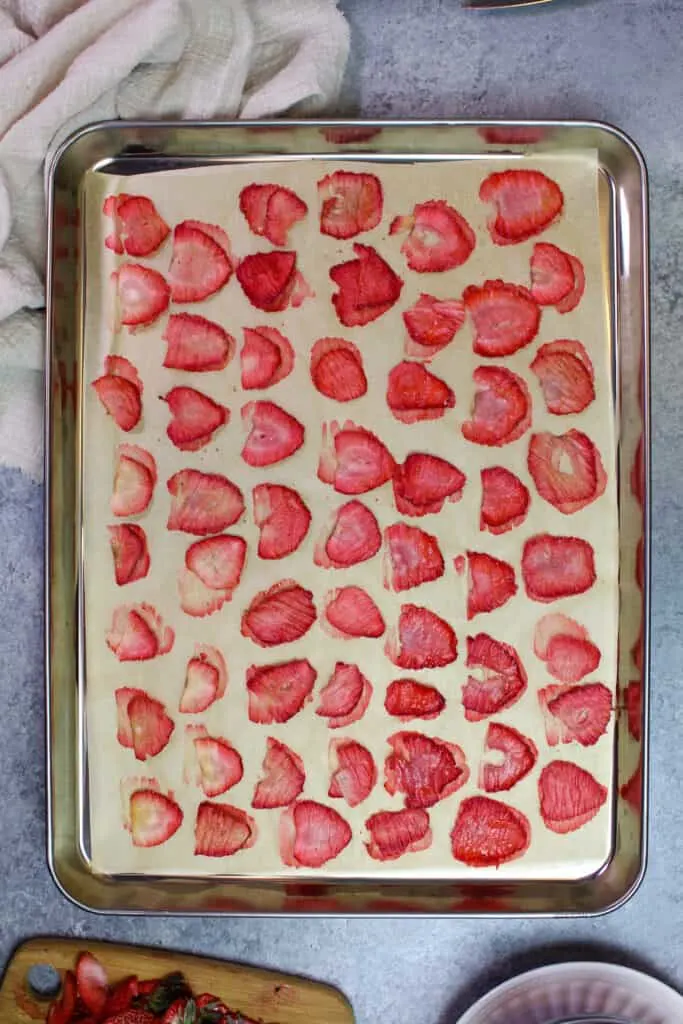 Let Me Know What You Think!
If you try this recipe for dried strawberries, I'd love to hear what think of it!
Please leave a rating and let me know your thoughts by sharing a comment.
Other Posts You Might Like:
Yield: 2
Dried Strawberries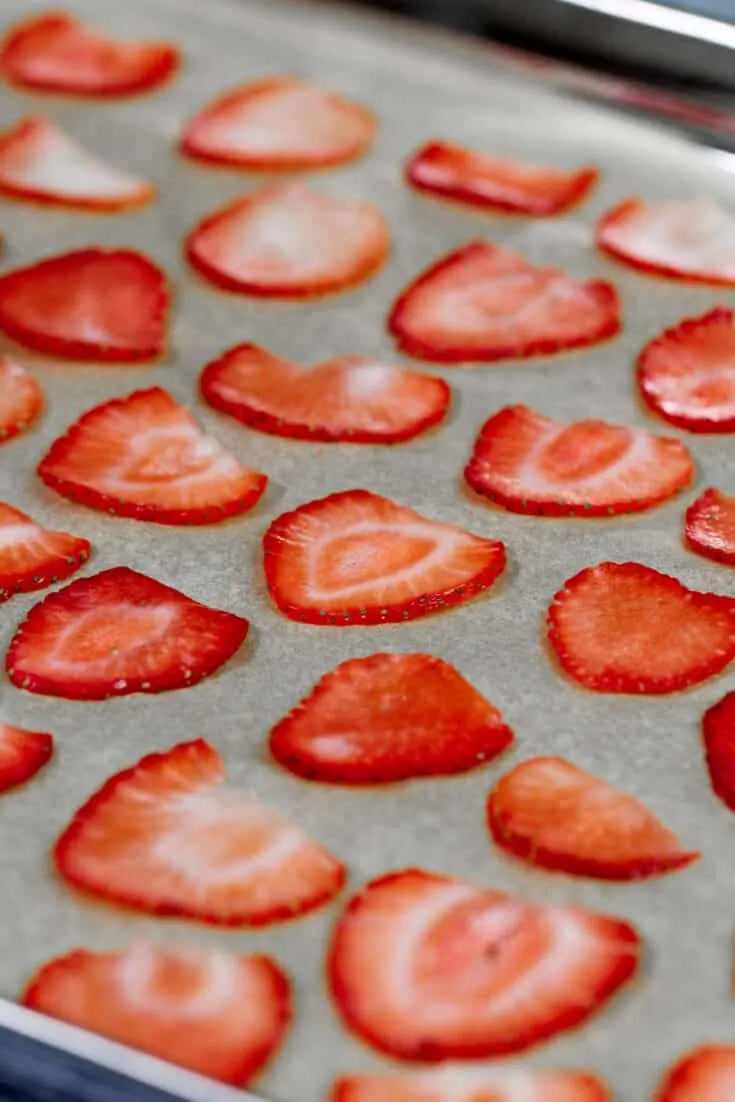 These oven-dried strawberries are a delicious and healthy snack! They're a wonderful treat and are vegan, gluten free and paleo!!
Cook Time
2 hours
30 minutes
Total Time
2 hours
40 minutes
Ingredients
Dried Strawberries
1 lb fresh strawberries, washed and hulled (450 grams)
Instructions
Dried Strawberries
Preheat oven to 200 degrees F / 90 degrees C and line two large baking sheets with parchment paper or a silicone mat.
Cut strawberries into uniformly thick slices, about 1/8 inch thick. I like to use a mandoline but you can also cut them hand if you have good knife skills.
Place the strawberries on parchment or silicone baking liner, spacing them out about 1 cm from each other.
Bake for about 2 hours, until the tops of the strawberries are dry to the touch.
Peel and flip the strawberry slices, then bake for another 30-60 minutes until the strawberries are fully dried.
Remove the pans from the oven, then let the dried strawberries cool full on the pan. Store in an airtight container at room temperature.
Notes
Yield: This recipe makes about 2/3 cup of dried strawberries.
Storage: Dried strawberries can be stored in an airtight container for up to 2 months at room temperature.
Nutrition Information
Yield
2
Serving Size
1
Amount Per Serving
Calories

73
Total Fat

1g
Saturated Fat

0g
Trans Fat

0g
Unsaturated Fat

0g
Cholesterol

0mg
Sodium

2mg
Carbohydrates

17g
Fiber

5g
Sugar

11g
Protein

2g