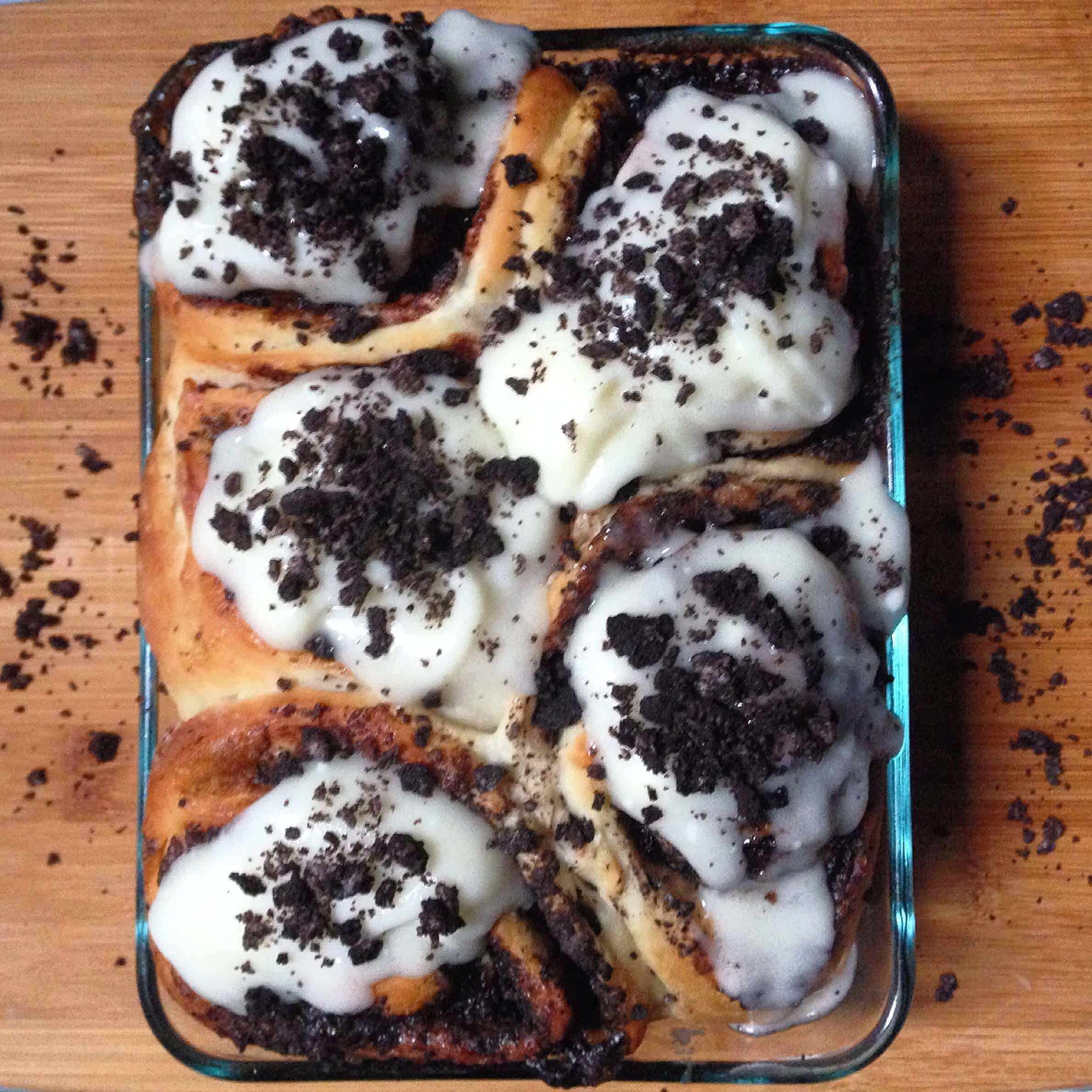 In the world of brunch, cinnamon rolls are like a blank canvas. They beg to be flavored, filled, and transformed into something more. I've wanted to make chocolate sweet rolls for quite a while, and today was the day this idea finally materialized. These chocolate Oreo cinnamon rolls are the perfect brunch for all the chocolate lovers out there 😀
Sweet Dough
3 1/2 – 4 cups all-purpose flour
1 Tablespoon active dry yeast
1/2 cup sugar
1 teaspoon salt
1 cup milk
1/4 cup butter, at room temperature
1 egg, at room temperature
Chocolate Oreo Filling
12 oreos, crushed
1/2 cup brown sugar
2 Tablespoons cinnamon
1/2 cup butter, melted
1/4 cup unsweetened cocoa
Cream Cheese Frosting:
4 oz. cream cheese, at room temperature
1/2 cup softened butter
1 teaspoon vanilla extract
1/2 tsp. vanilla
1/2 tsp. salt
2 Tbsp. cream
2 1/2 cups powdered sugar
In a small bowl, combine 2 tablespoons lukewarm water with a teaspoon of sugar and the yeast. Let this proof for about five minutes to make sure your yeast is still good. In a large mixer bowl, combine 2 cups of flour, yeast mixture, remaining sugar, and salt. Heat milk at a low power until it is lukewarm. Add the warm milk, 1/4 cup butter, and egg to the flour mixture and mix with hands until ingredients are combined. Continue to add the remaining flour, 1/2 cup at a time until the dough begins to leave the sides of the bowl. Place the dough on a lightly floured surface and knead until it is smooth and elastic (about 10 minutes). Rinse out mixing bowl and spray with cooking spray and place dough back into the bowl, turning once to bring greased side of dough up. Cover and let rise in a warm place until the dough has doubled in size (about an hour).
Roll dough into a large rectangle, until it is about 1/2 of a cm thick. Melt the butter and spread over the entire dough rectangle. Stir together the cocoa, brown sugar, cinnamon, and crushed oreos. Sprinkle this mixture evenly over the melted butter, leaving one inch of dough at the top of the rectangle uncovered. Roll up the dough horizontally from the far side. Roll dough into a tight roll. Cut dough log into 8 equal pieces (you can cut it into more pieces if you want smaller cinnamon rolls), and place in a greased pan, leaving about half an inch between each roll. Cover with greased plastic wrap, and let them rise again (about 30 mins). Bake at 350 for 30-35 minutes, or until rolls are golden brown and the centers seem firm. While the rolls are cooking, prepare the frosting.
To make the frosting, whip cream cheese and butter together. Alternate installments of cream and powdered sugar, and stir in the salt and vanilla. Mix until all ingredients are fully incorporated. Spoon over the warm cinnamon rolls, and sprinkle any left over oreo crumbs over the top of each roll. Serve warm