I rarely step outside of the realm of cakes, but my office was hosting a cookie challenge and I couldn't resist whipping something up!
I rarely work with royal icing, but knew I could tackle these marbled royal icing sugar cookies. The design is stunning yet pretty simple to make!
I also love my oatmeal lace cookie recipe, but thought that this might impress the cookie judges more 🙂
There is no baking blog I trust more than Sally's Baking Addiction (every recipe she shares is MAGIC!), so I used her sugar cookie recipe as the base for these.
Just like always, the recipe delivered! The cookies were soft, chewy, and most importantly they kept their shape! They didn't spread at all, and had nice clean edges.
I swapped out some of the vanilla and almond extract with maple extract to mix things up, but other than that I followed Sally's recipe to a T.
The icing was a whole different story. I've never made royal icing before, so this was definitely a learn-as-you-go experience.
I didn't want to deal with a double boiler and fresh egg whites, so I decided to try a recipe by Wilton, and added some maple extract into the frosting.
Making the base frosting isn't too difficult. The hard part is getting this base to flooding consistency so you can dip the cookies into it.
I found that the figure 8 test is the best way to ensure you have the right consistency (thank you Serious Eats for the tip!!!). If the figure 8 disappears in exactly 8 seconds, the icing is ready to use as a cookie glaze (more details below!).
And then there's the design! I'd seen marbled sugar cookies on Instagram, and when I saw these beauties by Sana Sodawala (@sugarbase_) pop up on my explore page, I was totally inspired!!
Below are all the recipes I used, the things I learned along the way, and a step-by-step tutorial.
3/4 cup unsalted butter, slightly softened to room temperature
3/4 cup granulated sugar
1 large egg, at room temperature
1 teaspoons vanilla extract
1 1/2 teaspoons maple extract
2 and 1/4 cups all-purpose flour
1/2 teaspoon baking powder
1/4 teaspoon salt
Royal Icing (adapted from Wilton)
3 tbsp meringue powder
4 cups powdered sugar
5-6 Tbsp water, room temp
2 tsp. maple extract
additional water to bring to flooding consistency (I believe I used around 4 1/2 Tbsp – but this can vary!)
Step 1. Make the Sugar Cookies
Begin by making the sugar cookie dough. In a large bowl using a handheld or stand mixer fitted with the paddle attachment, beat the butter until smooth.
Add the sugar and beat on high speed until light and fluffy (at least 2 minutes). Scrape down the sides and bottom of the bowl as needed.
Add the egg, vanilla, and maple extract and beat on high until fully combine, about 2 minutes. Scrape down the sides and bottom of the bowl as needed.
Mix in the baking powder and salt. On a low speed, add about half of the flour, beating just until combined.
Add the rest of the flour and continue mixing until the dough has just barely come together. If the dough still seems too soft, you can add 1 Tablespoon more flour until it is a better consistency for rolling.
Divide the dough into 2 equal parts. Lightly flour the parchment paper and your rolling pin, then roll each portion out onto a piece of parchment to about 1/4? thickness.
Stack the pieces (with parchment paper) onto a baking sheet and refrigerate for at least 1 hour. Chilling is what allows the cookies to keep their shape, so this step is EXTREMELY IMPORTANT.
Once chilled, preheat oven to 350°F. Line 3 large baking sheets with parchment paper or a silicone baking mat (silicone baking mats work best!).
The number of batches you bake will depend on how large/small you cut your cookies. Remove one of the dough sheets from the refrigerator and using a cookie cutter, cut in shapes.
Transfer the cut cookie dough to the prepared baking sheet. Re-roll the remaining dough and continue cutting until all is used. Chill the cut out shapes for another 10 minutes, then pop the trays into the oven.
Bake for 8-10 minutes (varies based on size and thickness of cookie), until the edges just begin to lightly brown.
Rotate the baking sheets halfway through bake time, to ensure they're evenly cooked.
Allow cookies to cool on baking sheet for 5 minutes, then transfer to a wire rack to cool completely before icing (at least 1 hour).
Step 2. Make the Royal Icing
While the cookies cool, make the royal icing.
Place confectioners' sugar and meringue powder in the bowl of a stand mixer fitted with a paddle attachment, and combine with short, slow pulses.
Add in the water and maple extract, and mix on a medium speed until stiff peaks form (takes about 5 minutes).
Next, add in water 1 Tbsp at a time until flooding consistency is reached. I had to add about 4 1/2 Tbsp of water, but I also think I was a bit heavy handed adding in the powdered sugar.
Testing Consistency: the Figure 8 Test
To test the consistency, use the Figure 8 test!! Lift up your spoon or spatula, and create a figure 8 with the runoff frosting.
If the figure 8 disappears in exactly 8 seconds, the icing is ready to use as a cookie glaze.
If it melts away faster, thicken by adding a spoonful of powdered sugar. Or if it takes longer than 8 seconds to disappear, thin by adding a few drops of cream.
Repeat this test, making adjustments as you go, until the figure 8 takes exactly 8 seconds to disappear.
To prevent crusting, place saran wrap directly on top of the royal icing. This is very important!!
If you leave the frosting exposed to air for too long, it will crust and form a chunky top layer! Be sure keep frosting covered until right before you plan to use it.
Step 3. Marbling the Royal Icing
Once you're ready to frost the cooled cookies, color 1/2 cup of the royal icing bright green, and place into a piping bag.
Color another 1/2 of frosting a deep green, and place in a separate piping bag.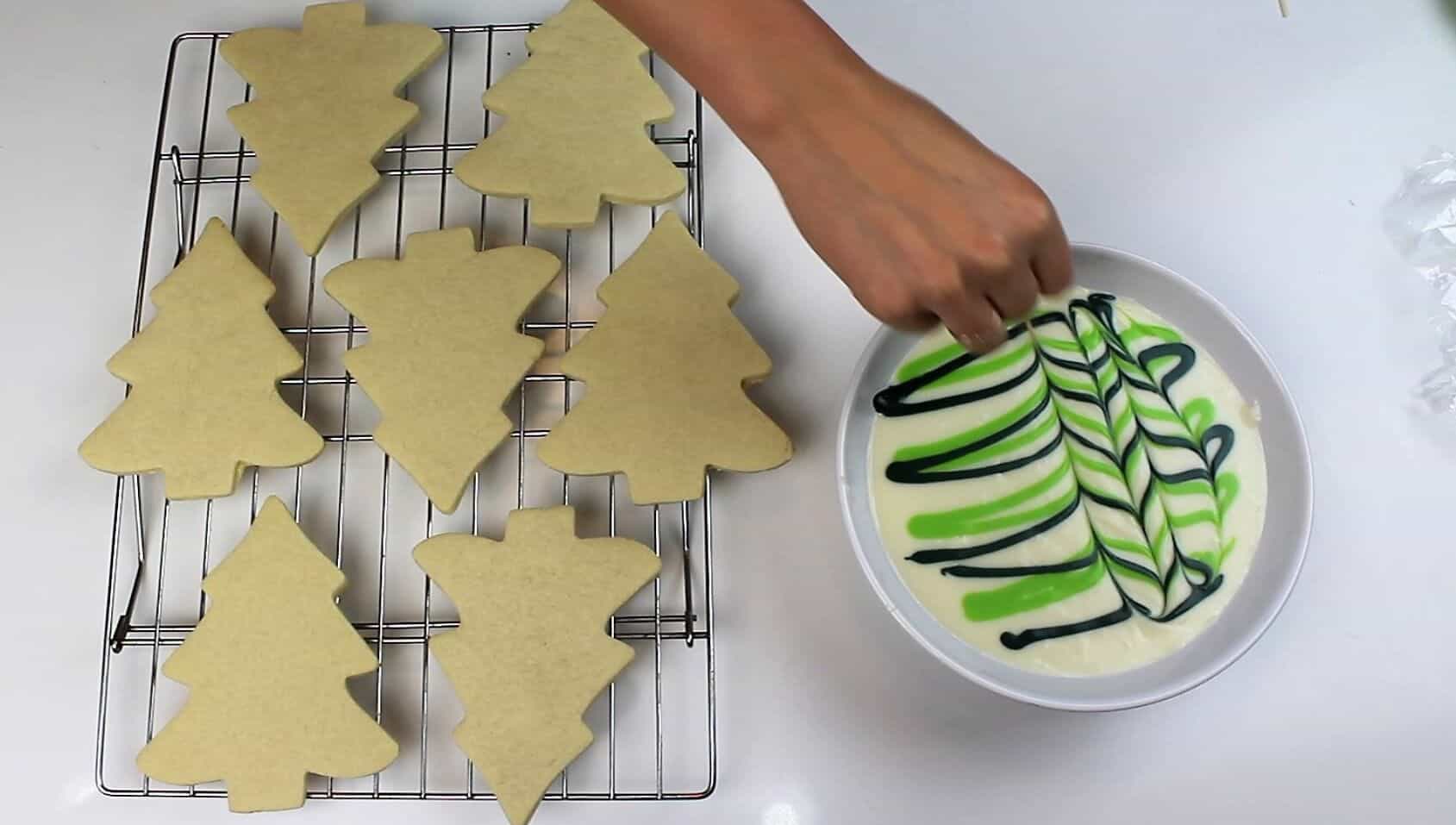 Cut the tips of both piping bags to create a small opening (1/4 of an inch).
Drizzle both green frosting over the uncolored icing. Use a toothpick to drag lines through the colors to create a swirled pattern. This pattern will create that beautiful marbled royal icing sugar cookies!
Step 4. Dunk Those Sugar Cookies!!
Then dunk cookies in to the glaze, one at a time. Be sure to cover the entire surface of the cookie.
Allow some of the frosting to run off before carefully flipping the cookie frosting side up, and placing onto a wire rack to dry.
This part can get a bit messy, so be sure to have paper towels or a hand towel nearby.
After each cookie, drizzle and swirl a bit more of the green icing, to ensure every cookie is nice and colorful.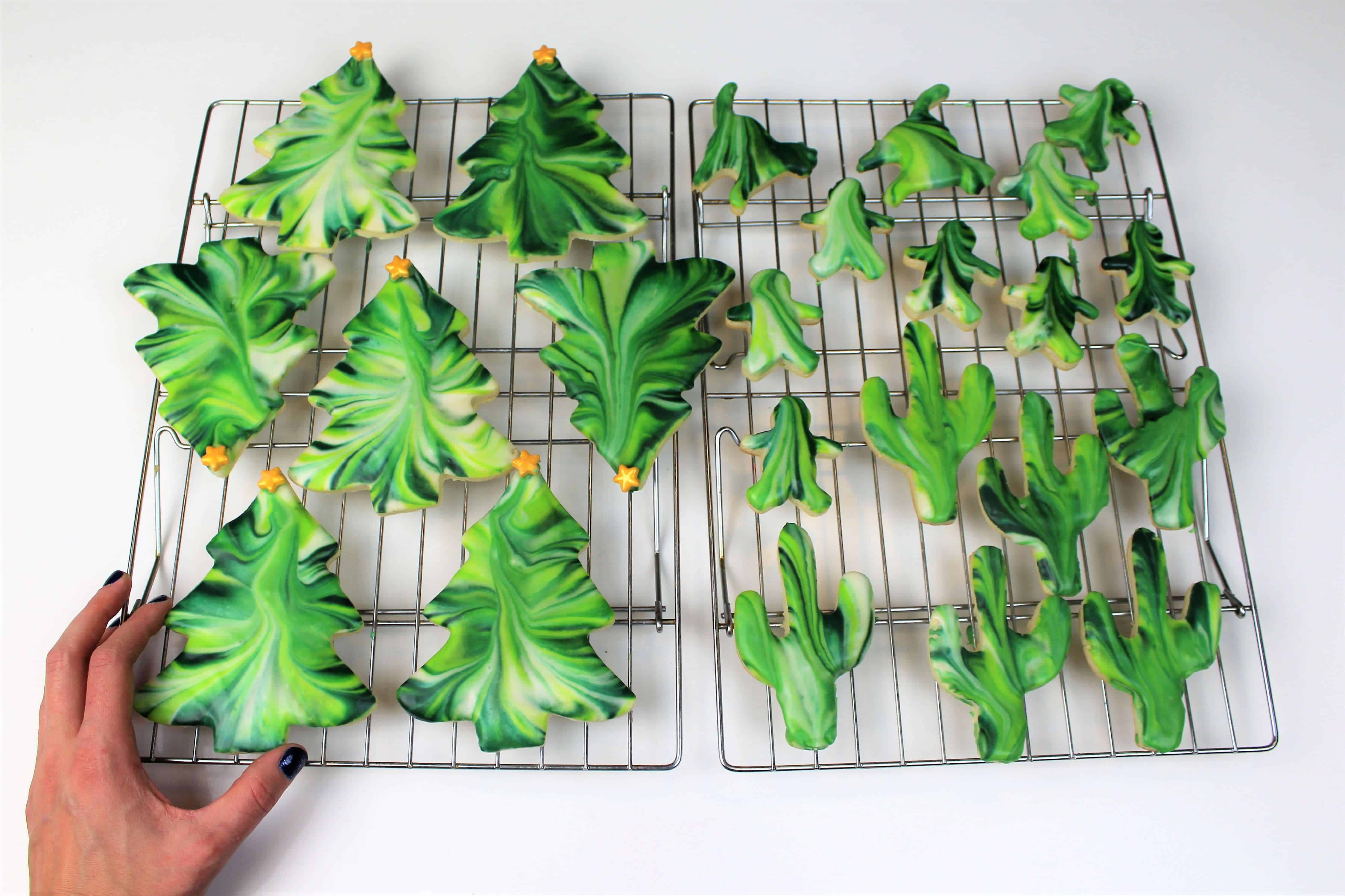 Allow the cookies to dry for at least 3 hours. The frosting should be firm to the touch, but I was still too scared to stack them on top of each other!! I placed them in a large, flat box, to bring into work.
I used a variety of cookie cutters (I have a ton of cookie cutters I've never used, and I wanted to break them in :P), and also made some cacti, a couple cats, and mini gingerbread shaped men.
Let Me Know What You Think!
If you try this technique for marbled royal icing sugar cookies, I'd love to hear what think of it! Please leave a rating, and let me know your thoughts by sharing a comment ?