I've always loved my favorite chocolate chip cookie recipe, and was pretty convinced that it couldn't get any better. But one fateful day, as I decorated a cake with an assortment of chopped up candy bars, I realized that the road didn't have to end there. As I pulled a fresh batch of these chocolate chip cookies out of the oven, I went crazy and covered them with pretty much every possible candy. The end result? Everything you could ever want in a cookie.
Salted, Browned Butter Cookie Dough (Adapted from Ambitious Kitchen)
2 sticks (1 cup) unsalted butter
2 1/4 cup all-purpose flour
1 1/4 teaspoons baking soda
1 1/4 cup packed dark brown sugar
1/4 cup granulated sugar
1 large egg plus 1 egg yolk
1 1/2 teaspoons vanilla extract
2 tablespoon plain greek yogurt
1/2 cup milk chocolate chips
1/2 cup dark chocolate chips
Assorted candy bars; cut into 1 cm thick pieces (Reeses, butterfingers, snickers, caramel squares, pretzels, Oreos, let your imagination run wild :P)
Coarse sea salt for sprinkling
Servings: 15 Cookies
Prep Time: 15 minutes
Chill Time: At least 2 hours
Bake time:10-12 minutes
Begin by browning the butter. Melt butter in a saucepan over medium heat, until it begins to foam. Make sure you whisk consistently during this process. After a couple of minutes, the butter will begin to brown on the bottom of the saucepan; continue to whisk and remove from heat as soon as the butter begins to brown and give off a nutty aroma. Immediately transfer the butter to a bowl to prevent burning, and let it cool.
With an electric mixer, mix the butter and sugars. Beat in the egg, yolk, vanilla, and yogurt until combined. Add the flour, baking soda, and salt, and beat on low-speed just until combined. Gently fold in all of the chocolate chips.
Chill your dough overnight, or AT LEAST 2 hours. This allows the dough to absorb the flavor of the brown butter, and results in a chewier, thicker cookie. Trust me, don't skip this step!!!
Once the dough has chilled, preheat the oven to 350 degrees. Form cookie dough balls with about 2 tablespoons of cookie dough, and slightly flatten then with your palms. Bake cookies for 10-12 minutes, until golden brown. While the cookies bake, cut up your favorite candy bars, cookies, etc. into 1 cm thick pieces.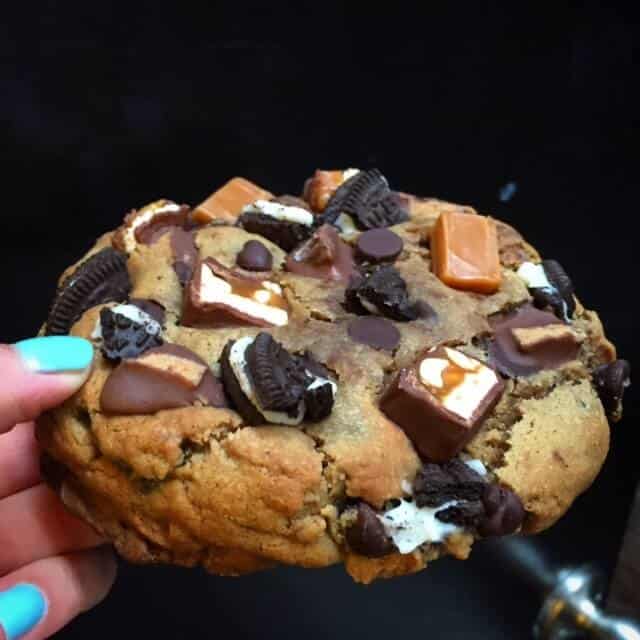 Once the cookies are done, remove them from oven, and allow the cookies to cool on the pan for ten minutes. While the cookies are still hot from the oven, press the candy pieces onto the top of the cookies firmly. Move cookies to a wire rack to cool completely.