I have been waiting to make this recipe for tender braised short ribs for quite a while, but it is a meal that should be eaten in good company.
A friend was coming over for dinner and realized it was the perfect opportunity to finally make this dish 🙂
I started the prep work for this meal in the morning, and started by getting my ingredients:
4 pounds beef short ribs
1 tsp salt
1/2 tsp pepper
1 Tbsp olive oil
2 large onions, chopped
2 cloves garlic, minced
1 cup red wine
2/3 cup ketchup
3 Tbsp soy sauce
2 Tbsp Worcestershire sauce
2 Tbsp brown sugar
2 sprigs fresh thyme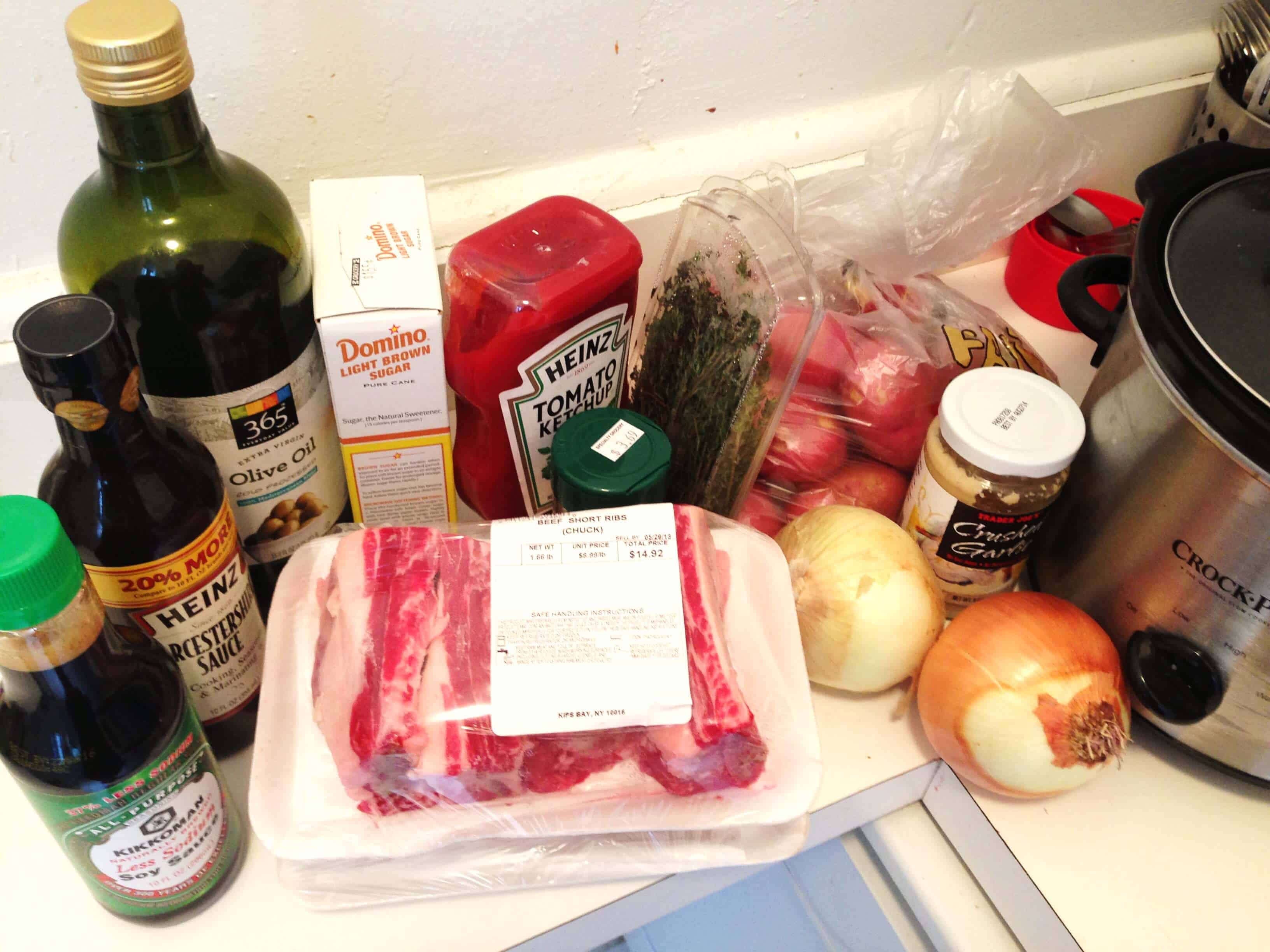 I started by sprinkling a generous amount of salt and pepper over ribs.
In large pan on medium-high heat, I then browned the ribs on all sides and removed them from the pan (keeping the drippings in the pan).
Next I saute the onions in same pan until they were translucent, and added the garlic.
I let this cook for another minute, then placed the ribs in my crockpot, covering them with the onion/garlic mixture.
I whisked together the wine, ketchup, soy sauce, Worcestershire sauce, and dark brown sugar, and poured it over the meat.
The last step was to add fresh thyme sprigs on top of meat.
I let this cook in my crock pot on low for 7-8 hours and served it over a mashed potatoes. They're the perfect starchy base to soak up all those delicious juices.
With that in mind, I like to ladle a bit of the sauce the meat is cooked in over the top of the meat to act like a gravy.
Robert and Jonathan helped me taste test the mashed potatoes.
Everyone gave it their stamp of approval 🙂 We finished off our meal with gratineed pineapples. Food always tastes best in good company!