SEA SALT. CARAMEL. CHOCOLATE. PEANUTS. Those are the key components to anything delicious in life, and also to this wonderful salty and sweet birthday cake 😛 I made it for coworker's birthday, and would like to thank my friend Stan for the creative direction behind this cake! Although making your own salted caramel sauce is option, I highly recommend it!! The ingredients include:
Chocolate Cake Batter:
3 cups (12.75 oz) all-purpose flour
3 cups (1 lb. 5 oz) granulated sugar
1 1/2 cups (4.5 oz) unsweetened Dutch-process cocoa powder
1 tablespoon baking soda
1 1/2 teaspoons baking powder
1 1/2 teaspoons salt
4 large eggs
1 1/2 cups buttermilk
1 1/2 cups warm water
1/2 cup plus 2 tablespoons vegetable oil
2 teaspoons vanilla extract
Salted Caramel Sauce:
1/2 cup sugar
1/2 cup heavy cream
6 Tbsp Butter
1 tsp sea salt
Salted Caramel Buttercream:
1 cup butter (2 sticks), room temperature
1/2 cup peanut butter
1/3 cup salted caramel sauce
6 cups powdered sugar
1 tsp vanilla
1 tsp. salt
2 Tbsp. heavy cream
Garnish:
8 fun sized snickers, chopped
Sea salt
Peanuts
Chocolate Chunks
Begin by preheating oven to 350ºF. Grease four 9-inch round cake pans, and dust with flour, tapping off excess. Combine flour, granulated sugar, cocoa, baking soda, baking powder, and salt into the bowl of a mixer. Mix on low. Add eggs, buttermilk, 1 1/2 cups warm water, oil, and vanilla. Beat on medium speed until smooth and completely combined. Divide batter evenly among pans. Bake until cakes are set and a toothpick inserted into the center of each comes out clean, about 35 minutes. Let cool in pans set on a wire rack for 15 minutes. Turn out cakes onto racks, and let cool completely.
While the cupcakes bake, prepare the salted caramel sauce. Pour the sugar into a large, heavy-bottomed pot, and whisk until completely melted. The sugar will clump in the beginning, but don't worry…it will melt completely with time. Allow the sugar to cook until it turns a beautiful amber color, and has a nutty aroma. I don't have a candy thermometer, so I go completely by visual cues. At this point, remove the mixture from the heat. Whisk in the butter, then the cream. The mixture will bubble up, so be careful during this stage (I burned my finger!). The last step is to stir in the salt. Let the caramel cool to room temperature.You can store any leftover caramel in a mason jar. It will last in your fridge for about two weeks.
Once the caramel has cooled, prepare the salted caramel buttercream. Whip the butter in a large bowl with an electric mixer, until it is fluffy. Slowly incorporate the powdered sugar, adding it in multiple installments. As the frosting thickens, add caramel, salt, and vanilla. Continue to mix, and add cream until desired consistency is reached.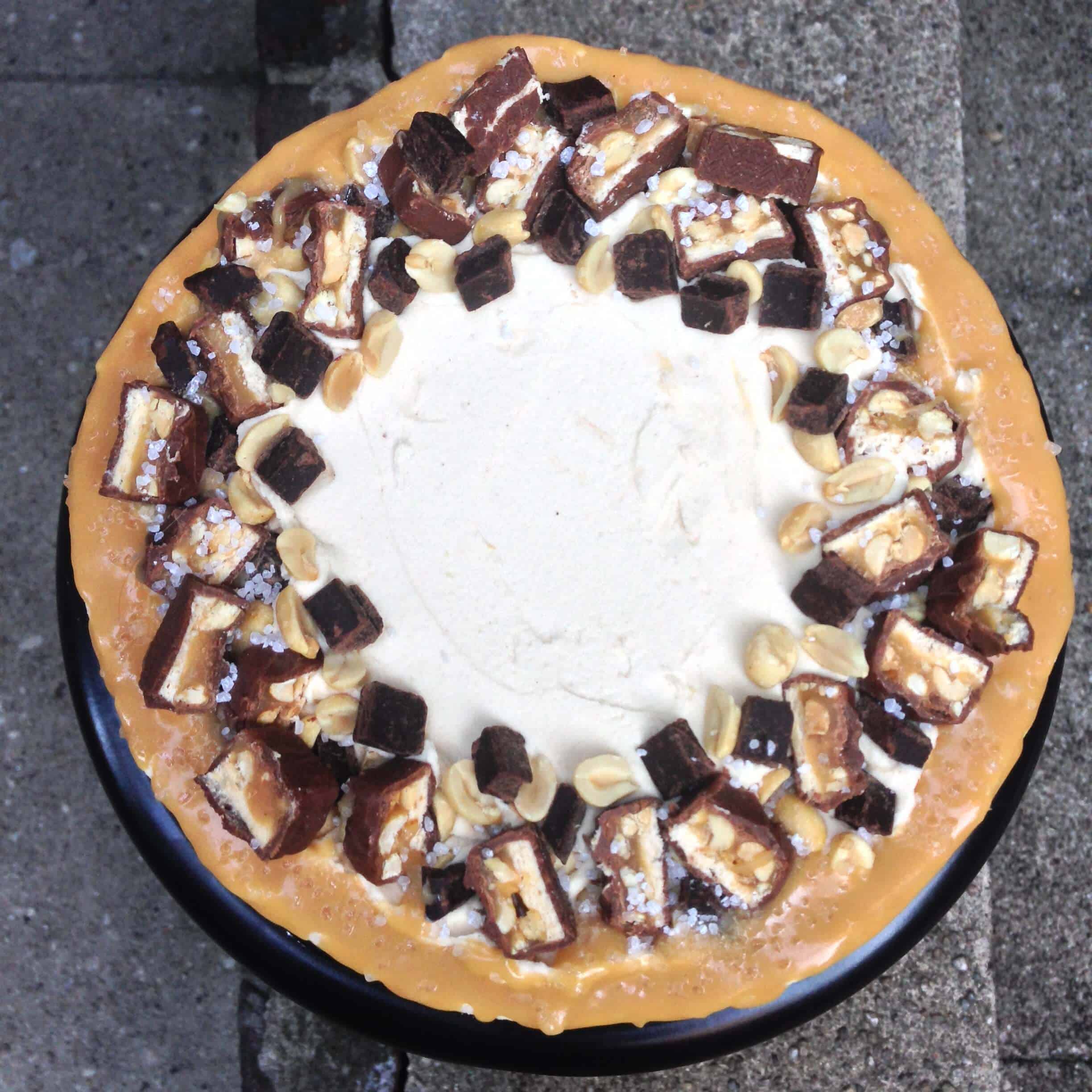 Frost each layer of cake with a thick slather of salted caramel buttercream, a drizzle of salted caramel, salted peanuts, and chocolate chunks. Stack the layers, and apply a thin crumb coat. Refrigerate the cake for 30 minutes, then apply another coat of buttercream. Drizzle warmed caramel over the edges of the cake, and make rim around the top of the with chopped snickers, peanuts, chocolate chunks, and sea salt.