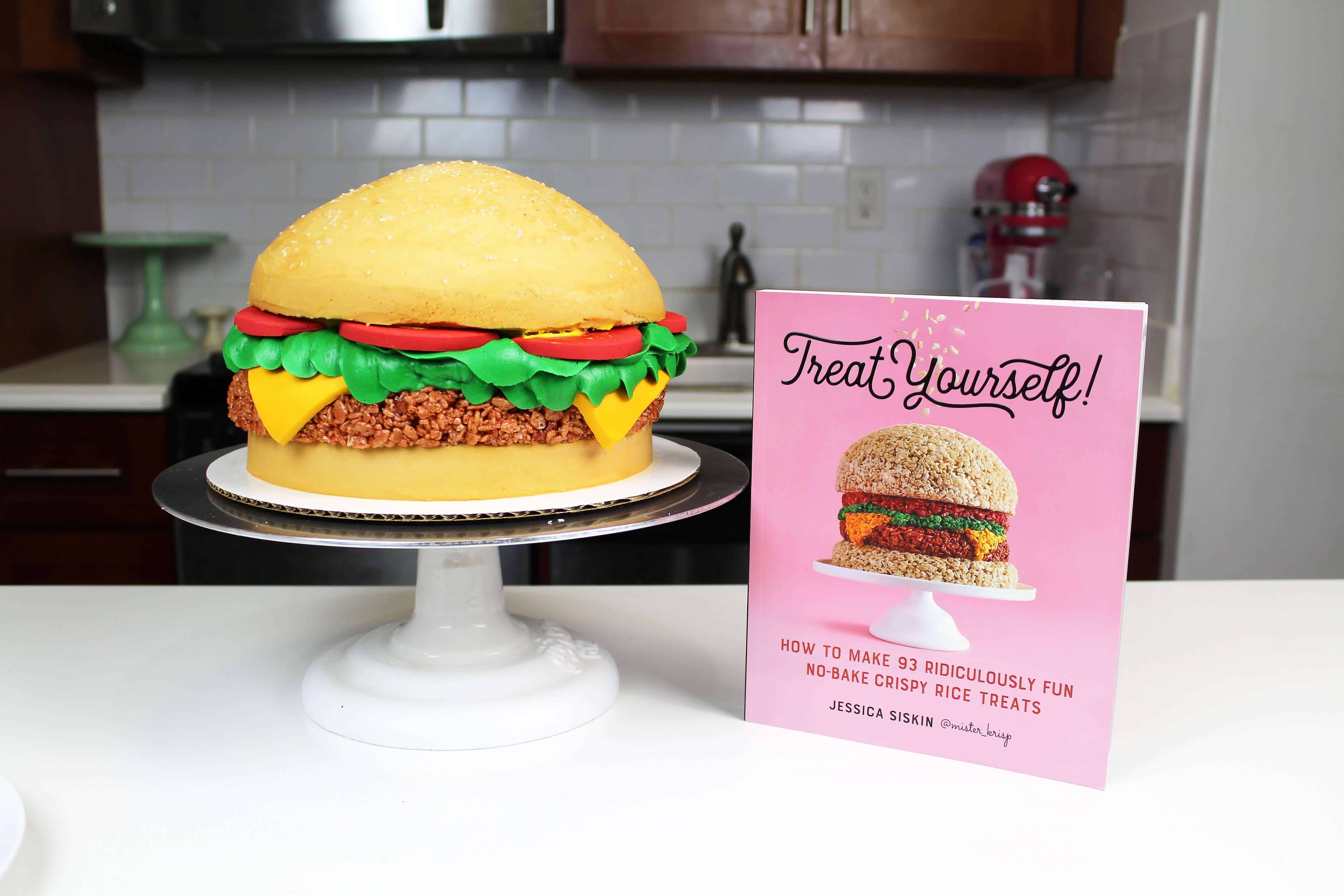 @Mister_Krisp and I made this rice krispie burger cake to celebrate the launch of her book, Treat Yourself! You can order a copy of it here: https://www.amazon.com/Treat-Yourself-Ridiculously-No-Bake-Crispy/dp/0761189807
Treat Yourself! is the perfect answer for any cook, crafty food lover, or creative parent looking to make crowd-pleasing and personalized treats for birthdays, holidays, school events, and virtually every other occasion. With no baking required, these playful, visually dazzling sweets are simple enough for anyone to whip up.
The full recipe can be found below:
Burger Buns:
2 1/2 cups (324g) all purpose flour
2 cups (424g) sugar
3 tsp baking powder
1 tsp salt
1 cup (240ml) buttermilk
1/2 cup (120ml) vegetable oil
3 tsp vanilla extract
2 large egg
1 cup (240ml) water
Rice Krispie Burger Patty:
2 Tbsp butter
3 cups mini marshmallows
4 cups rice krispies
Vanilla American Buttercream Frosting:
4 sticks (2 cup) unsalted butter, room temperature
8 cups powdered sugar
1/2 tsp salt
2 Tbsp. heavy cream
2 tsp vanilla
Additional Decorations:
8 half circle cutouts of red fondant (tomatoes)
4 large yellow triangles of fondant (cheese)
white sesame seeds (optional)
Instructions:
Preheat oven to 350°F (175°C) and grease and line 2 8 inch round baking pans.
Begin by making the burger buns. Add the flour, sugar, baking powder and salt to a large mixer bowl and gently mix. Add the buttermilk, and gently stir until just combined. Next, add in the water, vanilla, and vegetable oil, and mix until the batter comes together. Next, mix in the eggs (one at a time) until well combined.
Pour into lined pans, and bake for roughly 30 minutes, until a toothpick comes out clean. Let layers cool in pan for 10 minutes, then place in freezer to cool fully.
To make the rice krispie burger patty, melt 2 tbsp butter. Add 3 cups mini marshmallows and stir until coated and 75% melted, add brown food coloring. Turn off burner and add 4 cups Rice Krispies, stir until coated and pour the mixture into greased 7? cake ring, press to edges.
While the cake and krispie layers cool, prepare the vanilla frosting. Beat the butter on medium speed for 30 seconds with a paddle attachment, until smooth. Slowly add in the powdered sugar, 1 cup at a time. Add the heavy cream half way through. Once fully mixed, add in the vanilla and salt, and beat on medium low until the ingredients are fully incorporated, and the desired consistency is reached. If the frosting is too thick, add in cream (1 teaspoon at a time). If the frosting is too thin, add in more powdered sugar (quarter of a cup at a time).
Color 2/3 of the frosting tan using a couple drops of brown and yellow food coloring. Divide the remaining frosting between three bowls , coloring one green (lettuce), one red (ketchup), and one yellow (mustard).
To assemble the cake, first trim one cake layer to make it;s shape resemble a dome. Place the bottom cake but on a cake round, and place the top bun onto a flat surface. Smooth the tan frosting onto the two cake layers using an offset spatula, and an acetate sheet. Sprinkle sesame seeds onto to top, rounded bun.
Place the burger patty onto the bottom bun, then drape the yellow fondant triangles over the sides of the patty. Place green frosting into a piping bag with petal tip (Wilton 402), and pipe ruffles around the perimeter of the patty.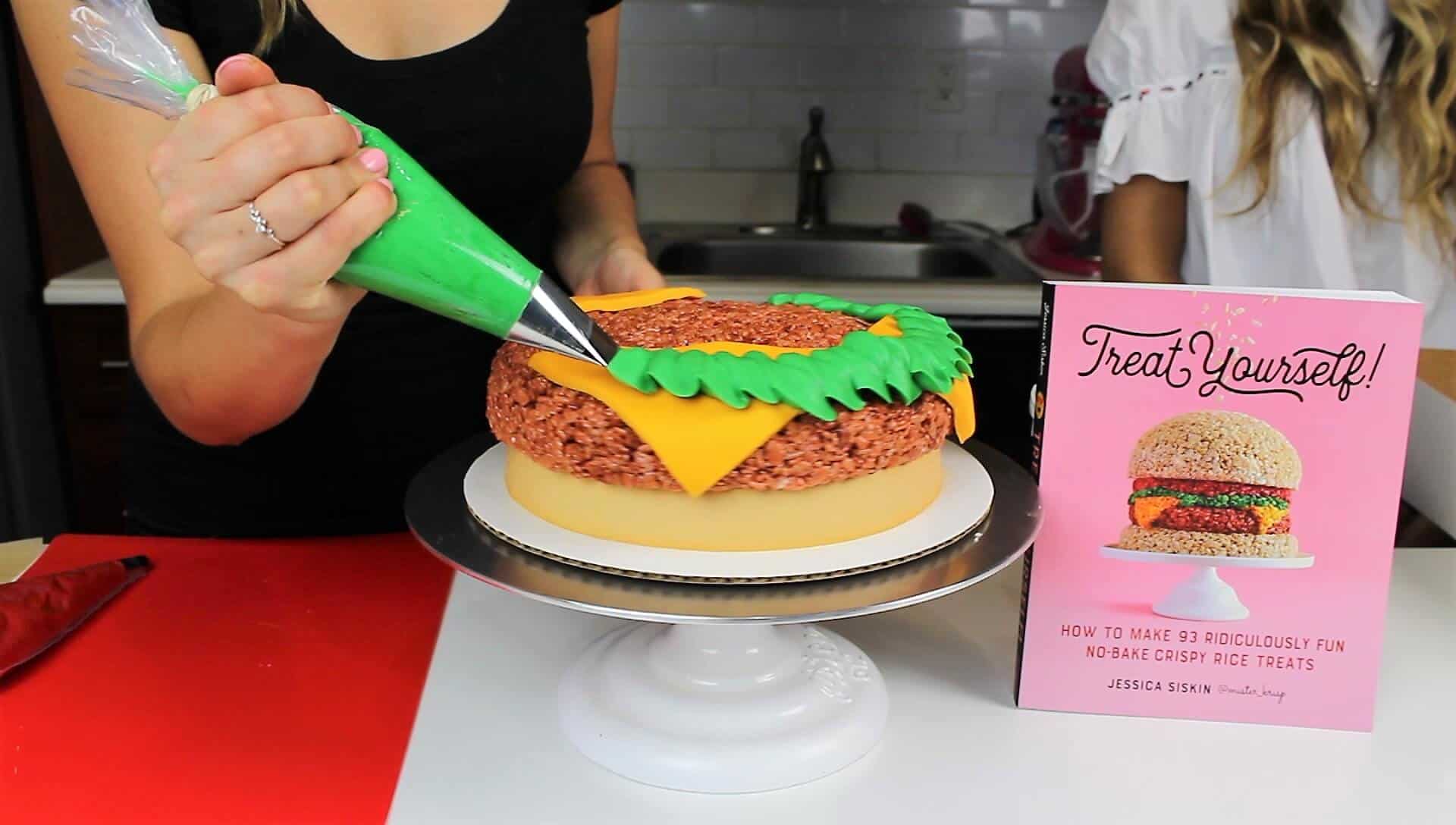 Place red fondant semicircles on top of the lettuce, and fill the center with the red and yellow buttercream. Gently lift the top burger bun up using a larger offset spatula, and place on top of the cake.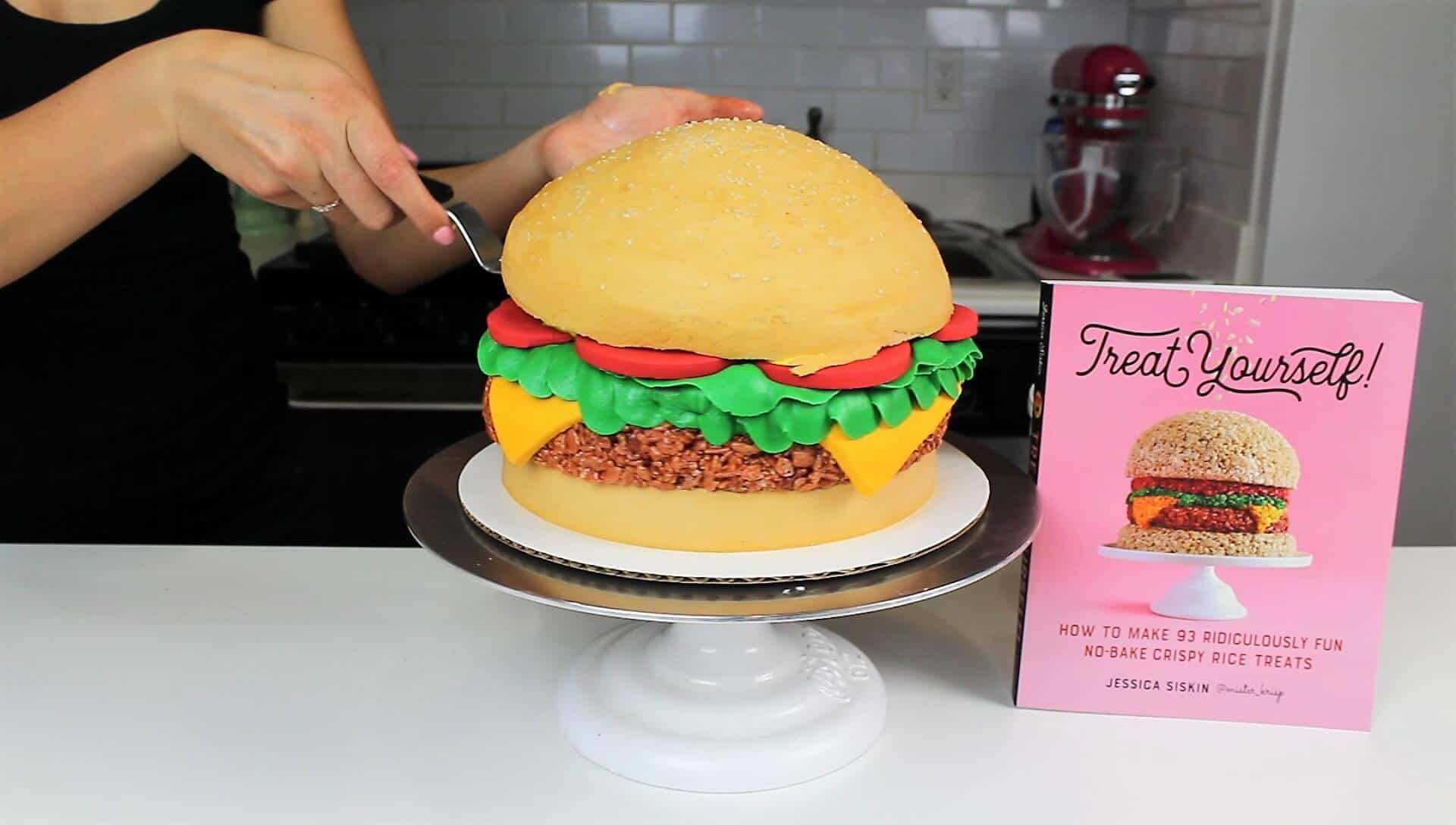 Then it's time to slice in and enjoy!! I'm always amazed at how delicious cake and rice krispies are together!!