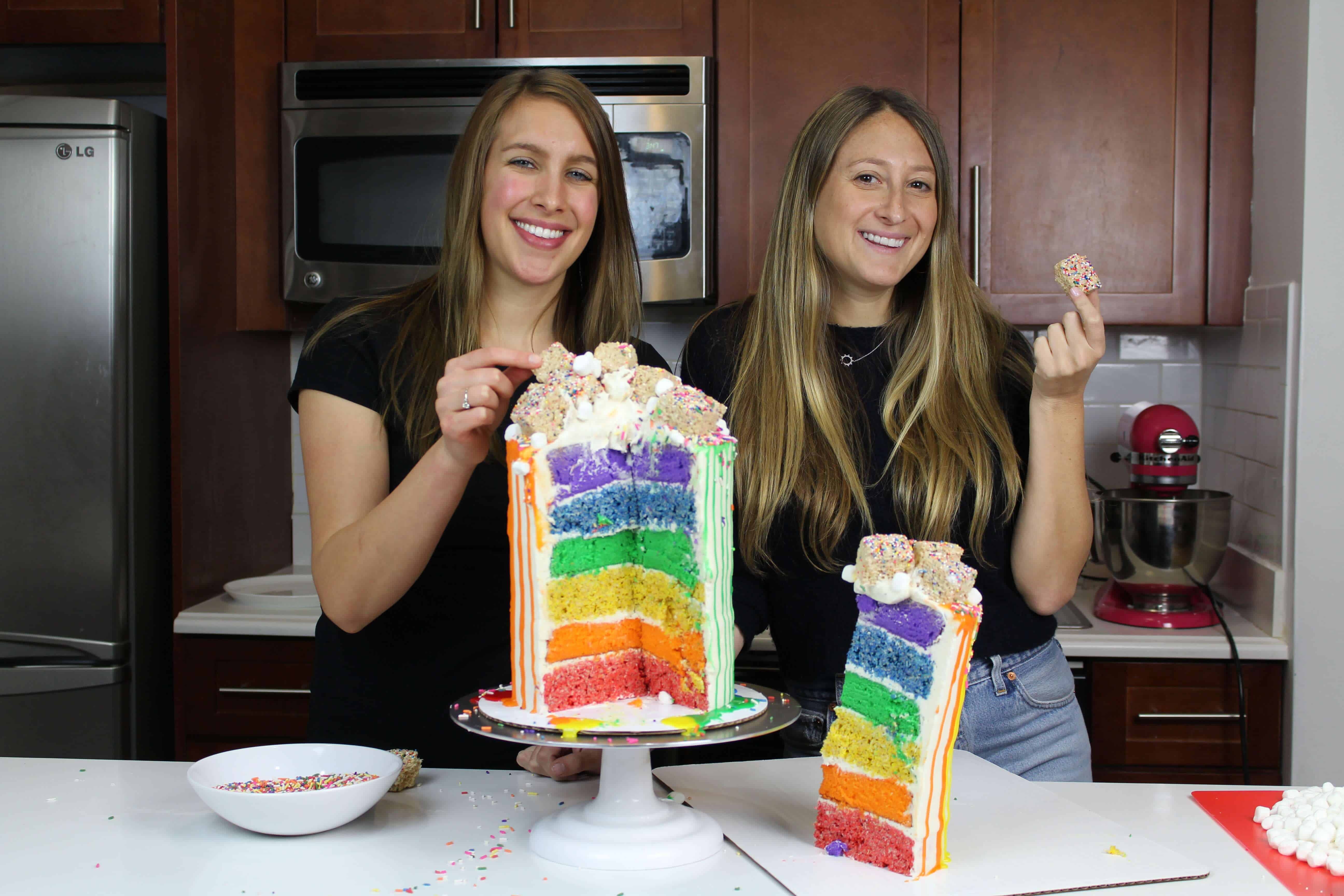 This past weekend I had the pleasure of having Jessica Siskin in the Chelsweets kitchen! Jessica is also know on instagram as @mister_krisp, and an absolute genius when it comes to rice krispies treats!! She makes custom treats, and has made pretty much everything you can imagine.
Misterkrisp has partnered with Rice Krispies this holiday season to encourage people to make their own Rice Krispies Treats at home and share them on social media. For every post of a treat using the hashtag #Treats4Toys, Rice Krispies will donate a toy to Toys for Tots to bring some joy to a child in need this holiday season. Check out
www.RiceKrispies.com/Treats4Toys
for more info!
The recipes we used to make this cake can be found below:
Rice Krispie Rounds:
For each layer (substitute different color food coloring each time- red, yellow, and blue)
Melt 2 tbsp butter. Add 3 cups mini marshmallows and stir until coated and 75% melted, add food coloring. Turn off burner and add 4 cups Rice Krispies, stir until coated and pour the mixture into greased 7″ cake ring, press to edges.
Sprinkled Rice Krispies Squares:
Melt 2 tbsp butter. Add 3 cups mini marshmallows and stir until coated and 75% melted
Turn off burner and add 4 cups Rice Krispies and then 1/2 cup sprinkles, stir until coated and pour the mixture onto parchment sheet, mold into square shape and press additional sprinkles onto top surface. Wait 2 hours and cut into small (approx 1.5″) squares.
Vanilla Cake Ingredients (coloring the three layers orange, green, and purple):
3 1/4 cup flour
3 cups granulated sugar
2 1/2 tsp baking powder
1 tsp salt
1 cup unsalted butter (2 sticks), room temperature
3 tsp. vanilla extract
1 cup egg whites (about 7 large egg whites)
1 1/2 cups buttermilk, room temperature
1/8 cup vegetable oil
Marshmallow Buttercream:
6 sticks (2 cups) unsalted butter, room temperature
12 cups powdered sugar
1 tsp salt
1/2 heavy cream
3 tsp vanilla
1 cup marshmallow fluff
Instructions:
The Rice Krispies parts of this cake were prepped the day before to help simplify the process! If you also plan to do this, store them in an airtight container at room temperature.
To make the cake layers, preheat oven to 350°F. Grease and line three 7" round pans. Mix together all dry ingredients (flour, baking powder, sugar, and salt) in a stand mixer with a paddle until fully combined.Mix chunks of butter slowly into the dry mix on a low speed. Continue to mix until no chunks of butter remain, and the mixture becomes crumbly.
In a separate bowl, combine all wet ingredients (vanilla extract, egg whites, buttermilk, and vegetable oil), and whisk to combine.On low speed, add 1/3 of the liquid ingredients to the dry/butter mixture. Mix until fully incorporated, scraping down the sides of the bowl as needed.
Mix in the remaining wet ingredients in two installments, on a medium-high speed until fully incorporated.
Divide evenly into three bowls, and color one batter orange, one batter green, and one purple with gel food coloring. The pour the batters into the three prepared cake pans. Bake for about 40 minutes, or until a skewer comes out clean. Allow to cool for 10 minutes, then run an offset spatula around perimeter of the pan to separate the cake from the pan. Place cake layers on a rack to finish cooling.
While the cake layers bake and cool, prepare the marshmallow frosting!
Beat the butter on high for 30 seconds, until smooth. Slowly add in the powdered sugar, 1 cup at a time. Alternate with small splashes of cream. Once fully mixed, add in the marshmallow fluff, vanilla, and salt, and beat on medium low until the ingredients are fully incorporated, and the desired consistency is reached. If the frosting is too thick, add in cream (1 teaspoon at a time). If the frosting is too thin, add in more powdered sugar (quarter of a cup at a time).
NOTE: If you are making frosting for a cake, it is important to mix the buttercream on low at the end of the process for a couple minutes, to get out any extra air that might have be incorporated during the mixing process. This will make it easier to get super smooth sides on your cake!
Once you've made all your layers, it's time to assemble the cake!! Stack them in rainbow order (ROYGBV), alternating layers of rice krispies and cake! I applied a thick, fluffy layer of frosting between each layers. I then applied a crumb coat and let the cake chill in the freezer for about 10 minutes. I used some of my remaining buttercream to add a second coat of frosting, and smoothed with a cake bench. I then applied colorful ganache drips, and we began to decorate the top of the cake! We made a large swirl of buttercream in the center of the cake, and stacked the krispies squares in a pyramid on top of the cake. We filled in any gaps with mini marshmallows and sprinkles! The cake ended up being insanely tall, but that made it all the more fun to cut and eat 🙂 The rice krispies / cake combination turned out being surprisingly delicious! I loved the variety of textures!!