This month I made an ombre, pink ruffle, confetti cake!! Try saying that ten times fast 😛 This cake was for Cosmopolitan, and the full video of it can be seen here. The YouTube tutorial can also be seen here.
I used my go to vanilla cake batter and american buttercream recipe, and filled the center with my favorite sprinkles!! I used a combination of sprinkles from Neon Yolk, Fancy Sprinkles, and Bakery Bling.
Vanilla Cake Ingredients:
3 1/4 cup flour
3 cups granulated sugar
2 1/2 tsp baking powder
1 tsp salt
1 cup unsalted butter (2 sticks), room temperature
3 tsp. vanilla extract
1 cup egg whites (about 7 large egg whites)
1 1/2 cups buttermilk, room temperature
1/8 cup vegetable oil
American Buttercream Ingredients:
6 sticks (2 cups) unsalted butter, room temperature
12 cups powdered sugar
1 tsp salt
5 Tbsp. heavy cream
3 tsp vanilla
Instructions:
Preheat oven to 350°F. Grease and line four 7" round pans.
Mix together all dry ingredients (flour, baking powder, sugar, and salt) in a stand mixer with a paddle until fully combined.
Mix chunks of room-temperature butter slowly into the dry mix, on a low speed. Continue to mix until no large chunks of butter remain, and the mixture becomes crumbly.
Pour in egg whites, and mix on low until just incorporated. Mix in the buttermilk in two installments, on a low speed. Add in vanilla and oil, and mix at a low speed until fully incorporated. Scrape down the sides of the bowl with a spatula, then beat on medium high for about 30 seconds. Evenly divide that batter between four bowls, and color in deepening shades of pink with gel good coloring, from light pink to dark pink.
Pour one color of batter into each prepared cake pan. Bake for 35-40 minutes, or until a skewer comes out clean. Allow to cool for 10 minutes, then run an offset spatula around perimeter of the pan to separate the cake from the pan. Place cake layers on a rack to finish cooling.
While the cakes cool, prepare the frosting! Beat the butter on high for 30 seconds, until smooth. Slowly add in the powdered sugar, 1 cup at a time. Alternate with small splashes of cream. Once fully mixed, add in the vanilla and salt, and beat on medium low until the ingredients are fully incorporated, and the desired consistency is reached. If the frosting is too thick, add in cream (1 teaspoon at a time). If the frosting is too thin, add in more powdered sugar (quarter of a cup at a time).
Once the cake layers have cooled, use a 2.5 inch circle cookie cutter to cut out the center of the two cake layers you plan to put as the 2nd and 3rd layer of your cake. Use your darkest, uncut cake layer for the base. Frosting with buttercream, then stack and frost both cut cake layers on top.
Fill the center fully with sprinkles, then top with the lightest pink, non-cut cake layer. Apply a thin layer of frosting (crumb coat), and place in freezer to chill for 5 minutes. Once fully chilled and firm to the touch, apply a second layer of buttercream, and smooth with a bench scraper.
Divide remaining frosting into four bowls, and color in the same ombre pink colors as your cake layers. Using a wilton 104 tip with the widest part of the tip closest to the cake, pipe ombre ruffles around the entire cake. Start at the base with the darkest pink, and work up to the top of the cake, using the lightest pink frosting at the top of the cake.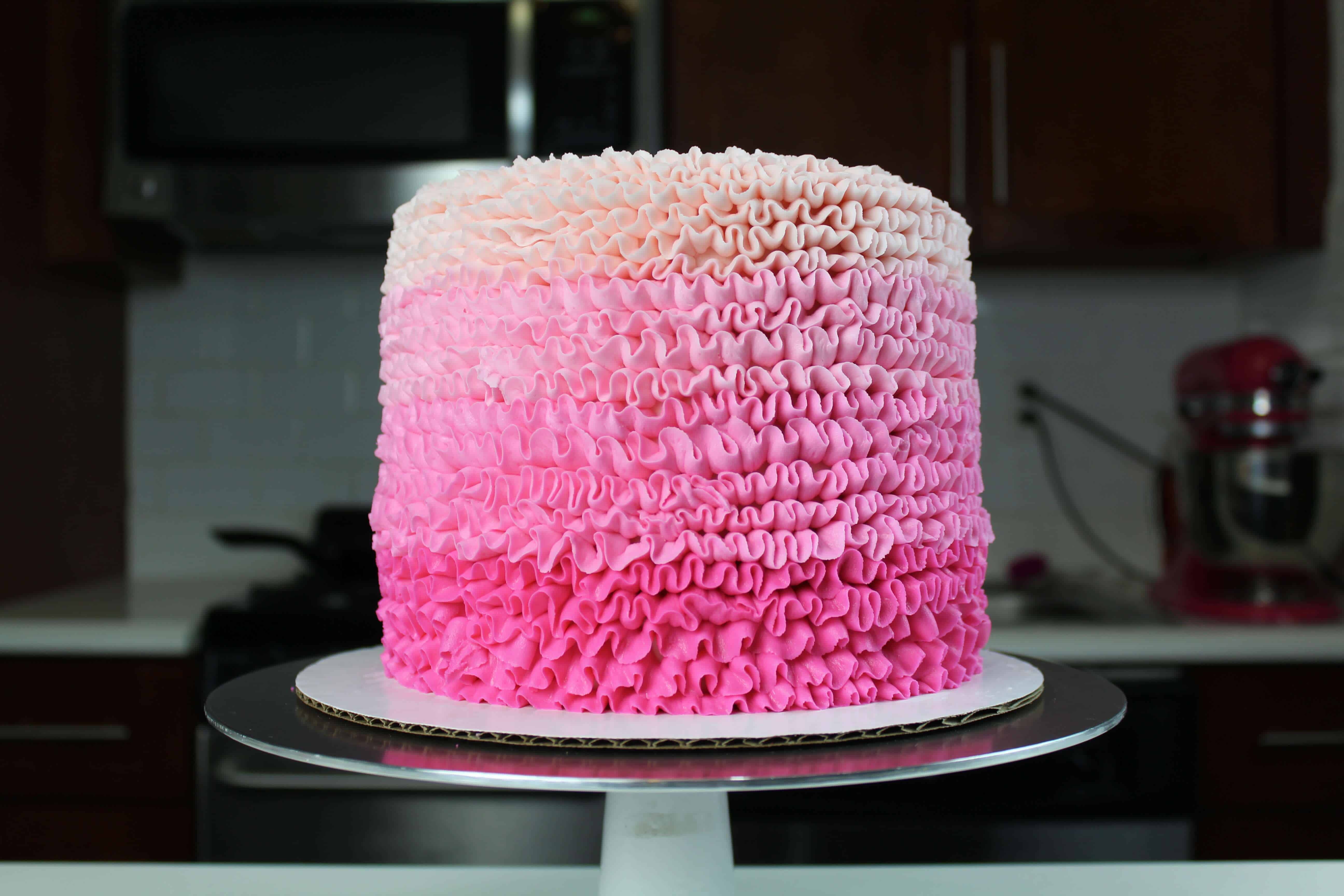 And TAH DAH!! Now gather everyone around, and cut into the cake!! It's quite a show, and also may cover you counter with sprinkles 😛