One of my closest friends just got engaged, and I couldn't resist making a cake for their engagement party!! Since this was a winter engagement, and they plan to get married next winter, I wanted to make something fit for the season! This engagement cake is made with their favorite flavors; it has funfetti cake layers, edible cookie dough, and vanilla buttercream. It is decorated with brush strokes of edible gold paint, and topped with fresh, seasonal flowers. The recipe can be found below:
1 batch vanilla cake recipe + 2/3 cup rainbow sprinkles
2-3 bouquets of organic, edible seasonable flowers, trimmed with stems wrapped with floral tape
Instructions:
Preheat oven to 350°F. Grease and line four 7" (for taller layers) or 8? round pans.
Begin by making the funfetti cake layers. Mix together all dry ingredients (flour, baking powder, sugar, and salt) in a stand mixer with a paddle until fully combined.
Mix chunks of room-temperature butter slowly into the dry mix, on a low speed. Continue to mix until no large chunks of butter remain, and the mixture becomes crumbly.
Pour in egg whites, and mix on low until just incorporated. Mix in the buttermilk in two installments, on a low speed. Add in vanilla and oil, and mix at a low speed until fully incorporated. Scrape down the sides of the bowl with a spatula, then beat on medium speed for about 30 seconds. Using a spatula, carefully fold in sprinkles.
Divide evenly between the prepared cake pans. Bake for 35-37 minutes if using 8 inch pans, or 37-38 minutes for 7 inch cake pans (or until a skewer comes out clean). Allow to cool for 10 minutes, then run an offset spatula around perimeter of the pan to separate the cake from the pan. Place cake layers on a rack to finish cooling, or in the freezer to accelerate the process. Once chilled, level the layers using a serrated knife.
While the layers bake and cool, make the edible cookie dough disks. Place butter and brown sugar into bowl, and beat on medium speed using a hand mixer or the paddle attachment of a stand mixer. Once the butter and brown sugar are creamed together, mix in the salt, heavy cream, and vanilla. Next mix in the flour, one cup at a time. With a spatula, gently fold in both types of chocolate chips, and sprinkles.
The dough should be sturdy enough to shape with your hands. If it still seems too tacky, add in more flour, 1/4 cup at a time. If your dough seems too firm, add in more heavy cream, 1 Tbsp. at a time. Cover a cake pan with saran wrap, and then mold 4 disks of edible cookie dough. Wrap the disks fully, and chill in the fridge.
Next, prepare the vanilla buttercream frosting. Beat the butter on a medium speed for 30 seconds with a paddle attachment, until smooth. Slowly add in the powdered sugar, 1 cup at a time. Alternate with small splashes of cream. Once fully mixed, add in the vanilla and salt, and beat on low until the ingredients are fully incorporated, and the desired consistency is reached. If the frosting is too thick, add in cream (1 teaspoon at a time). If the frosting is too thin, add in more powdered sugar (quarter of a cup at a time).
Stack and frost layers, adding a disk of edible cookie dough between each cake layers. Cover the cake in a thin crumb coat, and chill in the freezer or fridge for about 5 minutes. Once the crumb coat is firm to the touch, add a second layer of frosting. Smooth using a bench scraper. You can see a full tutorial on how to frost a cake with smooth sides here. I chose to add a very thin second layer of frosting, to make give this cake a semi naked look.
Place the cake in the fridge for about 30 minutes, to allow the buttercream to crust. Once the frosting is somewhat dry to the touch, remove from the fridge. Use remaining frosting to create a 1 inch dome in the center of the cake.
Next, add the flowers to the top of the cake. If possible, it's best to use organic, edible flowers! I'm no flower expert, but usually try to pick a few different bouquets of flowers that I think would look good together at my local flower shop, and then google whether the flowers are edible. You can also see a detailed list of edible flowers here. Make sure that flowers have been trimmed to have about 1-2 inch stems, and that stems have been wrapped with floral tape. Floral tape stops any fluid from leaching out of the flowers and into the frosting and cake (which can give the cake a bitter taste).
Carefully insert the stem of the flowers into the additional frosting. Start with the largest flowers, and then fill in with smaller flowers or foliage.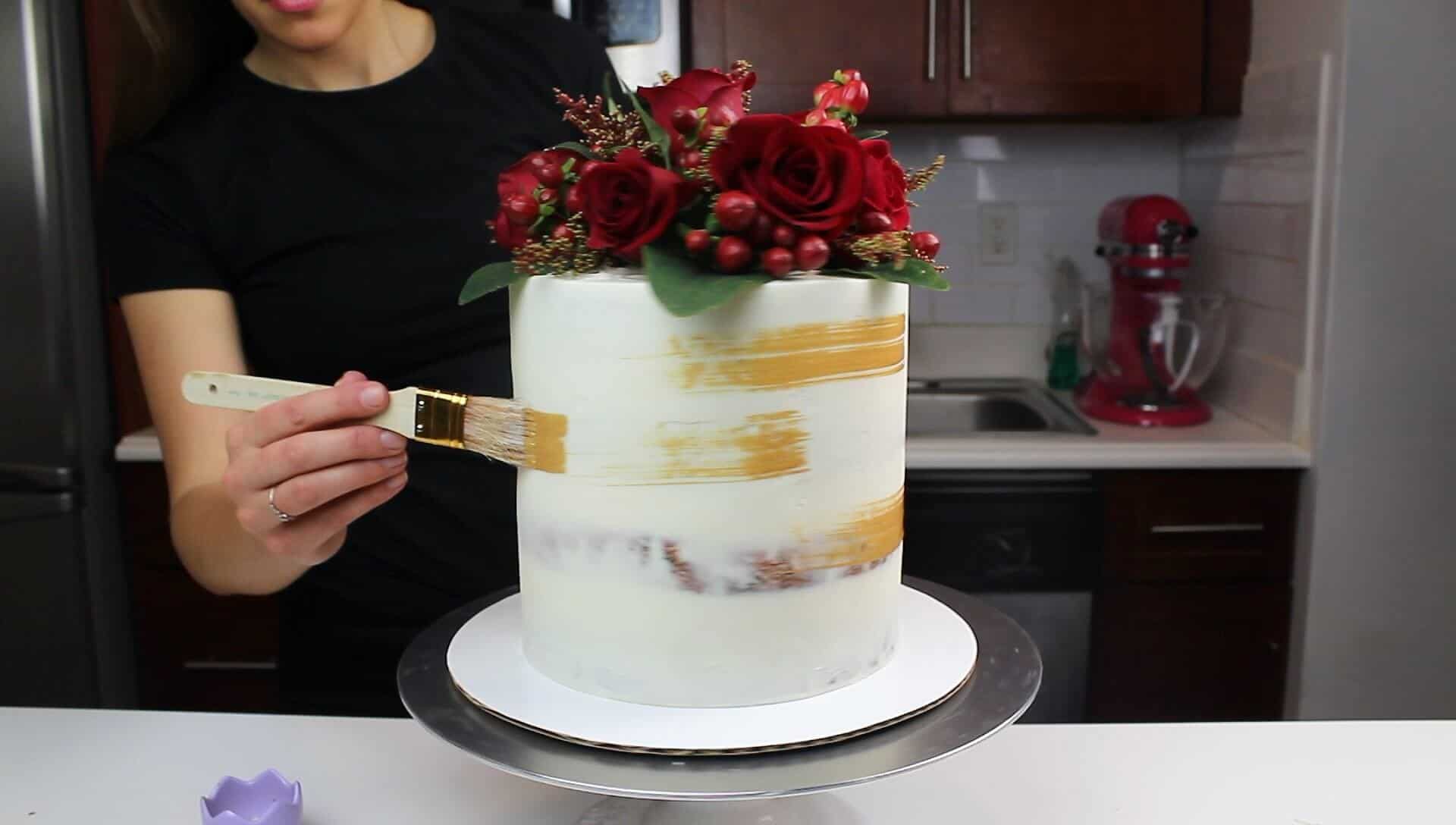 Once the flowers are arranged on top of the cake, use a sterile paint brush and edible gold paint to create gold brush strokes. I also brushed some gold onto some of the foliage on top of the cake.
Sadly I don't have any photos of the cut into cake, but here is what the final product looked like before I took it to the engagement party 🙂