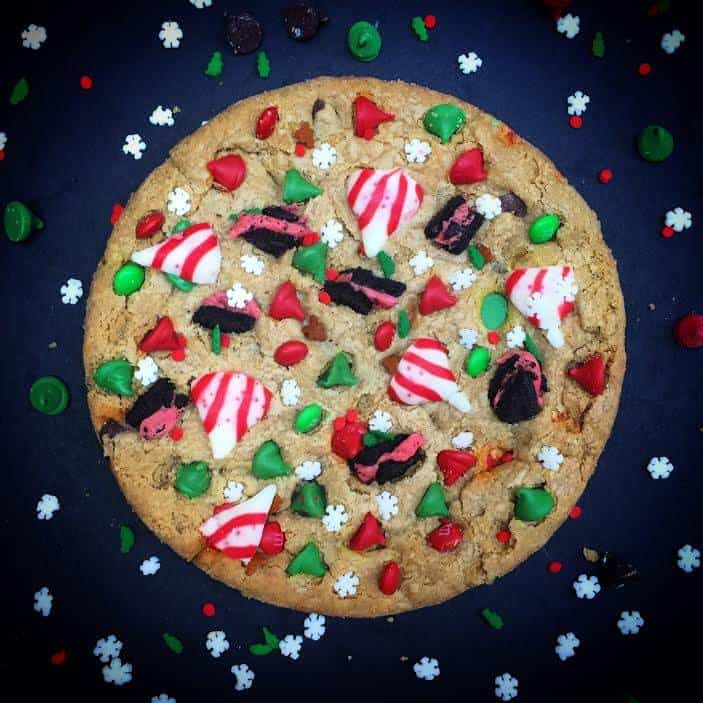 Happy Holidays! Now that it's finally December, I figured it's time to make some giant Christmas Cookies. For the cookie base, I used my favorite browned butter, chocolate chip cookie recipe. I mixed in some Christmas chocolate chips (had no ideas these existed until a week ago!), a couple handfuls of Christmas M&Ms, and snowflake and gingerbread man sprinkles, and the cookies were transformed into festive Christmas cookies!! I'm positive Santa would approve 😛
Cookie Dough Ingredients:
2 sticks (1 cup) unsalted butter
2 1/4 cup all-purpose flour
1 1/4 teaspoons baking soda
1 1/4 cup packed dark brown sugar
1/4 cup granulated sugar
1 large egg plus 1 egg yolk
1 1/2 teaspoons vanilla extract
2 tablespoon plain greek yogurt
1 cup Christmas chocolate chips
1/2 cup Christmas M&Ms
Holiday sprinkles (I used snowflake and gingerbread man sprinkles)
6 chopped up peppermint Oreos
Peppermint kisses (for decoration)
Servings: 8 Giant Cookies (or 20 regular sized cookies)
Prep Time: 15 minutes
Chill Time: At least 2 hours
Bake time: 9-10 minutes
Begin by browning the butter. Melt butter in a saucepan over medium heat, until it begins to foam. Make sure you whisk consistently during this process. After a couple of minutes, the butter will begin to brown on the bottom of the saucepan; continue to whisk and remove from heat as soon as the butter begins to brown and give off a nutty aroma. Immediately transfer the butter to a bowl to prevent burning, and let it cool.
With an electric mixer, mix the butter and sugars. Beat in the egg, yolk, vanilla, and yogurt until combined. Add the flour, baking soda, and salt, and beat on low-speed just until combined. Gently fold in all holiday mix-ins using a spatula. I used some Christmas colored chocolate chips, Christmas M&Ms, holiday sprinkles, chopped peppermint Oreos, and peppermint kisses 🙂 Make sure you don't add in more than two cups of mix-ins, or else the dough will be overloaded!
Chill your dough overnight, or AT LEAST 2 hours. This allows the dough to absorb the flavor of the brown butter, and results in a chewier, thicker cookie. Trust me, don't skip this step!!!
The following morning, preheat the oven to 350 degrees. For giant cookies, form cookie dough balls with about 3 tablespoons of cookie dough. Place the cookie dough balls onto a greased cookie sheet about 4 inches apart, and gently flatten the dough with your hand. Bake the cookies for 15-18 minutes, until the edges just begin to brown.
If you want to make regular sized cookies, use 1 1/2 tablespoons of dough, and place cookie dough balls 2 inches apart. Bake for 9-10 minutes.
I made a few giant cookies, and a dozen normal sized cookies.
Let the cookies cool on a wire wrack. After they've been out of the oven for about 10 minutes, press a few additional chocolate chips and peppermint kisses onto the tops of the cookies. Once the cookies are fully cooled, they can be stored in an airtight container for up to a week.