Since it's finally spring, I decided to make a super easy rabbit cake! It's so easy to make, I actually making it as part of my live stream for the Food Network, which can be seen here! This cake is covered in coconut buttercream, and shredded coconut, so you don't have to worry about frosting your cake perfectly smooth. This cake is a perfect way to celebrate spring, or could even be a fun Easter dessert! It also is perfect for anyone who loves rabbits! The recipe can be found below.
Vanilla Cake Ingredients:
3 1/4 cup flour
3 cups granulated sugar
2 1/2 tsp baking powder
1 tsp salt
1 cup unsalted butter (2 sticks), room temperature
3 tsp. vanilla extract
1 cup egg whites (about 7 large egg whites)
1 1/2 cups buttermilk, room temperature
1/8 cup vegetable oil
American Buttercream Ingredients:
4 sticks (2 cups) unsalted butter, room temperature
8 cups powdered sugar
1/2 tsp salt
2 Tbsp. heavy cream
1 tsp vanilla
1 tsp coconut extract
Decorations:
pink fondant
white fondant
black fondant
skewers (for ears)
shredded coconut
Instructions:
Preheat oven to 350°F. Grease and line four 8" round pans.
Mix together all dry ingredients (flour, baking powder, sugar, and salt) in a stand mixer with a paddle until fully combined.
Mix chunks of room-temperature butter slowly into the dry mix, on a low speed. Continue to mix until no large chunks of butter remain, and the mixture becomes crumbly.
Pour in egg whites, and mix on low until just incorporated. Mix in the buttermilk in two installments, on a low speed. Add in vanilla and oil, and mix at a low speed until fully incorporated. Scrape down the sides of the bowl with a spatula, then beat on medium high for about 30 seconds.
Divide evenly between the prepared cake pans. Bake for 35 minutes, or until a skewer comes out clean. Allow to cool for 10 minutes, then run an offset spatula around perimeter of the pan to separate the cake from the pan. Place cake layers on a rack to finish cooling.
While the cake layers bake and cool, prepare the coconut buttercream. Beat the butter on high for 30 seconds, until smooth. Slowly add in the powdered sugar, 1 cup at a time. Alternate with small splashes of cream. Once fully mixed, add in the vanilla, coconut extract, and salt, and beat on medium low until the ingredients are fully incorporated, and the desired consistency is reached. Mix the buttercream on low at the end of the process for a couple minutes, to get out any extra air that might have be incorporated during the mixing process. This will make it easier to get smooth sides on your cake.
If the frosting is too thick, add in cream (1 teaspoon at a time). If the frosting is too thin, add in more powdered sugar (quarter of a cup at a time).
To assemble the cake, stack cake layers and apply an even layer of coconut buttercream between each layer. I also chose to sprinkle some toasted coconut between the layers. Once stacked, I applied a thin crumb coat to the cake, and chilled the cake in the freezer for 5 minutes to allow the crumb coat to firm up. I then applied a thicker, second layer of buttercream, and covered the cake in shredded coconut. I put some left over buttercream in a pipping bag, and added a tail and cheeks to the cake. I then added fondant ears, eyes, mouth, whiskers, and a nose to the top of the cake. I made these the night before to allow them to firm up before placing them on the cake.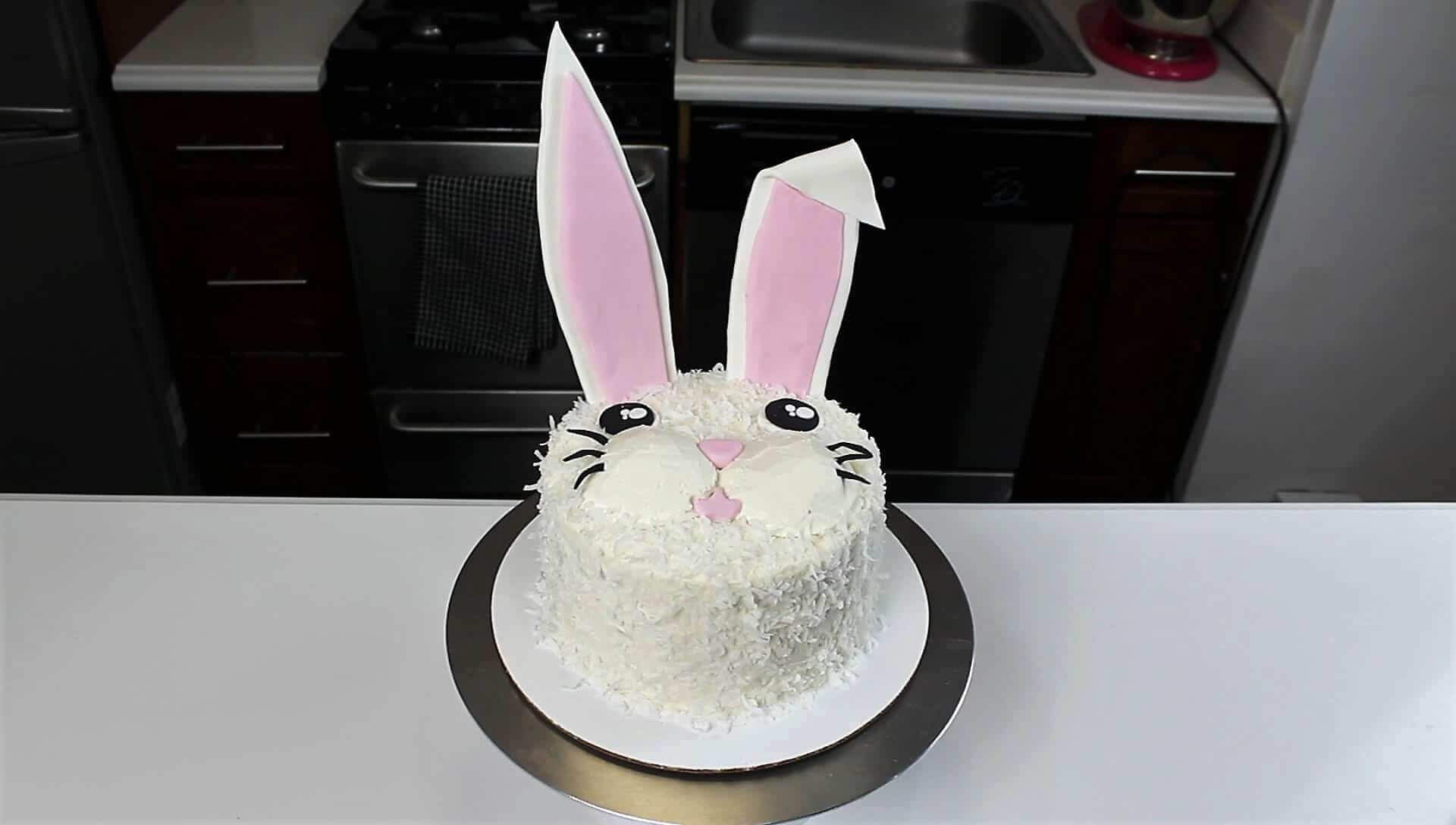 You can easily simplify the face of the rabbit, but I got a bit carried away making giant ears and big eyes 🙂