When my coworker said she'd like a classic carrot cake for her birthday, I was elated. Classic carrot cake has all the mix-ins, including pineapple, coconut, and pecans. I used my favorite moist carrot cake recipe as a base recipe, and went a little wild decorating.
What Makes This Carrot Cake So Delicious?
There are three ingredients in this recipe that make it super moist. The first is the massive amount of carrots this recipe uses!
It uses an entire pound of shredded carrots. The water from all the carrots turns into steam as the cake batter bakes, which creates an amazing texture.
I am a maniac and shred them by hand on a microplane grater, but I highly recommend shredding them with a food processor or a KitchenAid attachment.
This cake recipe also uses oil as the fat instead of butter. This adds moisture to the recipe. It also allows you to mix the carrot cake batter by hand, without a stand mixer.
The final ingredient that makes this classic carrot cake so moist is buttermilk!
Classic Carrot Cake:
2 cups all-purpose flour
2 cups granulated sugar
2 tsp baking soda
1/2 tsp salt
2 teaspoons ground cinnamon
3 large eggs
2 cups sugar
3/4 cup canola oil
3/4 cup buttermilk
2 tsp vanilla extract
2 cups finely grated carrot
8 oz. or 1 cup crushed pineapple, drained
1 cup shredded coconut
1 cup chopped pecans or walnuts
Cream Cheese Buttercream Frosting:
4 oz. cream cheese, softened
1.5 cups (3 sticks) unsalted butter, softened
8 cups powdered sugar
2 tsp. vanilla
1/2 tsp salt
2 Tbsp heavy cream
Step 1: Make the Carrot Cake Base
Begin by lining and lightly greasing three eight-inch, round, cake pans. Set the pans aside. Stir together flour, baking soda, salt, and cinnamon.
Mix in the eggs, sugar, oil, buttermilk, and vanilla at a medium speed, until fully incorporated. Fold in the carrots, pineapple, coconut, and walnuts. Pour the batter evenly between the prepared cake pans.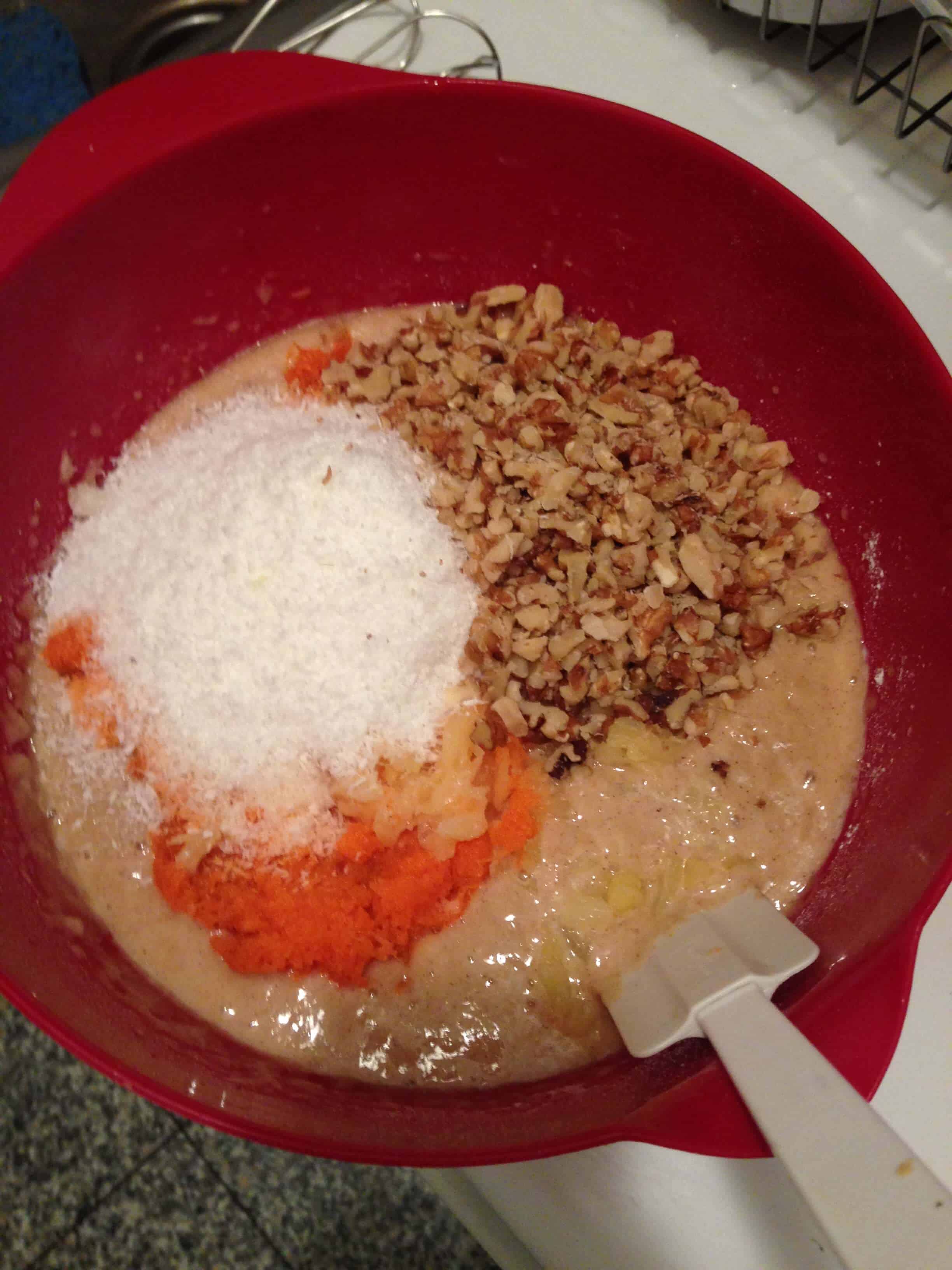 Bake at 350° for 25 to 30 minutes or until a wooden pick inserted in center comes out clean.
Cool in pans on wire racks 15 minutes. Remove from pans, and cool completely on wire racks.
Step 2: Make the Cream Cheese Frosting
While the cakes are cooling, prepare the frosting. Cream together the butter and cream cheese, then slowly ix in the powdered sugar in several installments, on a low speed.
When all the powdered sugar is incorporated, add in the salt, vanilla, and heavy cream. Mix at a low speed until fully combined.
Step 3: Assembling this Classic Carrot Cake
Once the cakes have cooled, spread the cream cheese frosting between layers and on top and sides of cake.
Place the cake in the fridge to allow the frosting to firm up, and use a vegetable peeler to create ribbons from a large carrot.
Using uniform slices of carrot, create a bow on top of the cake. If desired, you can also add side "ribbons" to the cake to complete the look.
Tips for Making the Best Classic Carrot Cake
Use a microplane grater to shred your carrots into super fine pieces! It's a bit of extra work, but it gives the cake an amazing texture.
Chill your cake layers in the freezer for about 20 minutes before assembling the cake, to make it easier to stack and frost.
Mix your cake batter just until the ingredients are incorporated; this will ensure your cake layers are tender and fluffy.
Be sure to properly measure your flour (spoon into the cup measure then level) or use a kitchen scale to measure your dry ingredients.
Use a serrated knife to level your cake layers once they're fully cooled, to make it easier to assemble and frost your cake.
Making This Classic Carrot Cake in Advance and Storage Tips
Make your cake layers in advance and freeze them. It breaks the process up and make it more approachable.
Make your frosting ahead of time too, or save any leftover frosting! It can be stored in an airtight container in the fridge for up to a month, or in the freezer for up to 3 months. Be sure to give it a good stir once it thaws to get the consistency nice and smooth again.
A frosted cake can last in the fridge for up to a week, or in the freezer for up to a month. The buttercream locks in all the moisture, keeping the cake fresh and delicious!
If you cut into the cake and have leftovers, use any remaining frosting to cover the cut section to keep it moist and store in the fridge for up to a week.
Let Me Know What You Think!
If you try my classic carrot cake recipe, I'd love to hear what think of it! Please let me know your thoughts by sharing a comment ?
Also please tag me @chelsweets, and use the #chelsweets on social media so that I can see your amazing creations!
Other Recipes You Might Like: