For a livestream with food network, I decided to make a funfetti cookie dough cake! I've shared my go to vanilla cake batter (which I added chocolate chips to), and my edible cookie dough recipe, but needed to share my funfetti chocolate chip cookie recipe! These cookies are soft, chewy, and oh so colorful! This recipe is a modification of Pinch of Yum's Chocolate Chip Cookie Recipe.
Funfetti Chocolate Chip Cookie Dough:
3/4 cup melted butter (just above room temp)
1/2 cup granulated sugar
1/2 light brown sugar
1 egg, room temperature
1/2 tsp salt
1/2 tsp baking soda
1 1/2 cups all purpose flour
1/2 cup dark chocolate chips
1/2 cup white chocolate chips
1/2 cup sprinkles
1 1/2 tsp vanilla
Preheat oven to 350 degrees Fahrenheit. Cream together butter and both sugars, using a paddle attachment or hand mixer. Mix in the salt, baking soda and vanilla on a low speed. Mix in the egg, just until combined. Add the flour in two installments, mixing on low until the dough comes together. Gently fold in chocolate chips and sprinkles with a spatula.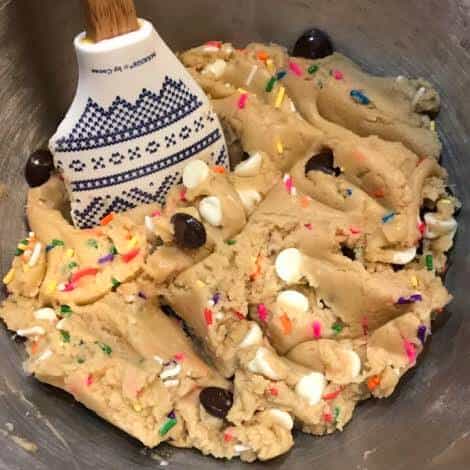 Allow the dough to chill in fridge for about 15 minutes. Scoop and shape 1 inch balls of cookie , and gently press onto a lined cookie sheet (I used a silicon baking mat!). Bake for roughly 12 minutes, until the edges are just beginning to brown. Remove and allow to cool for 10 minutes before transferring from baking sheet. And ENJOY!!