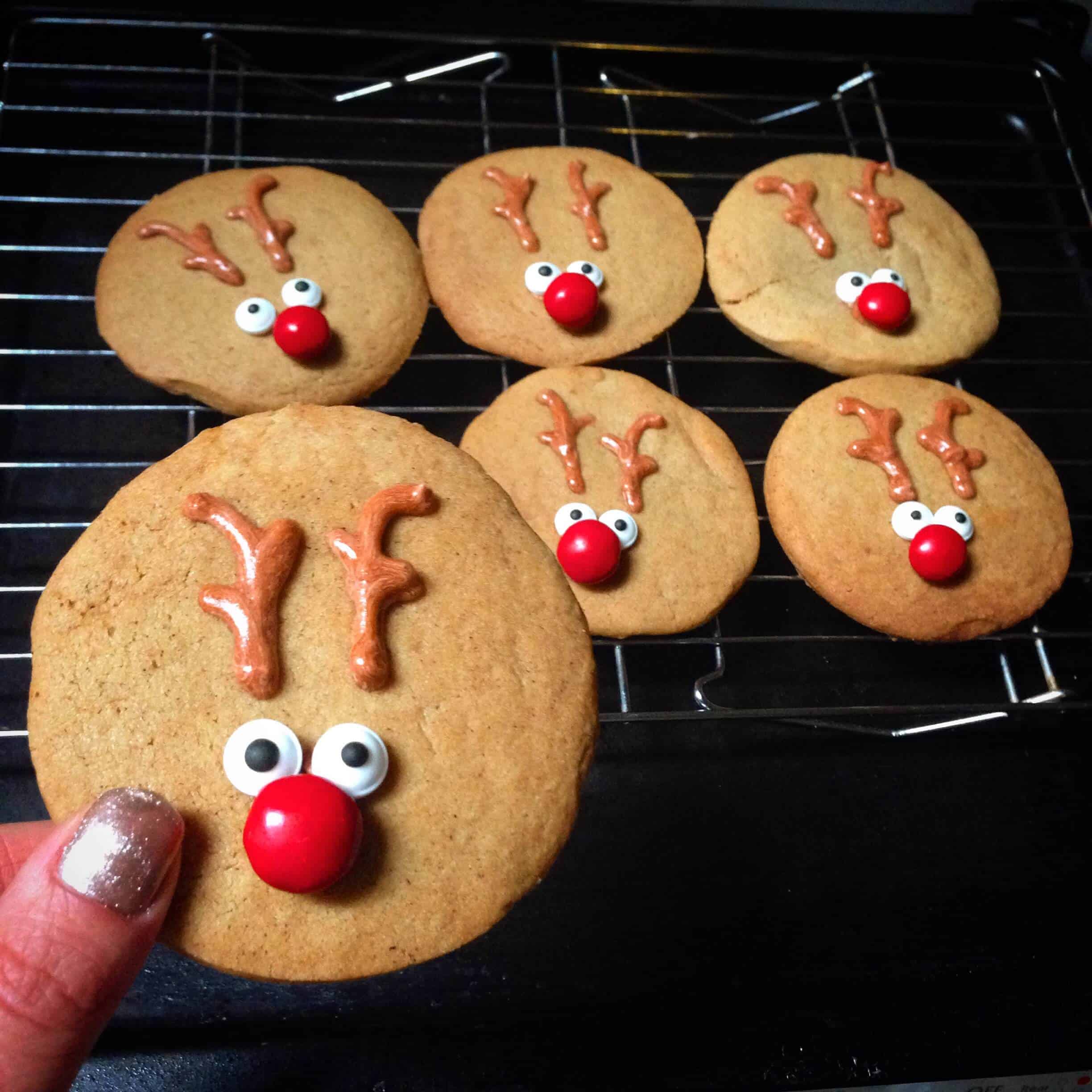 I am constantly falling in love with recipes from Sally's Baking Addiction, including these brown sugar cookies. I decided to frost on some reindeer faces to make them a bit more festive.
2 cups all-purpose flour
1 teaspoon baking soda
1 and 1/2 teaspoons cornstarch
1 teaspoon ground cinnamon
1/4 teaspoon salt
3/4 cup unsalted butter, melted
1 and 1/4 cups dark brown sugar
1 large egg, room temperature
2 teaspoons vanilla extract
1/3 cup granulated sugar, for rolling
brown frosting, for decoration
Red candies (m&ms, red hots, etc.)
candy eye balls (or black and white frosting)
Toss together the all dry ingredients (flour, baking soda, cornstarch, cinnamon, and salt) in a large bowl. Set aside.
Whisk the melted butter and brown sugar together, until no lumps remain. Whisk in the egg and vanilla. Pour the wet ingredients into the dry ingredients, and mix together with a large spoon or rubber spatula. The dough will be very soft, yet thick. Cover the dough and chill for 2 hours, or up to 3 days. Chilling is mandatory.
Take the dough out of the refrigerator and allow to slightly soften at room temperature for 10 minutes.
Preheat the oven to 325F degrees. Line two large baking sheets with parchment paper or silicone baking mats. Set aside.
Roll dough out to be about 3/4 of a centimeter thick, and cut out circles. I used a mason jar lid as my cookie cutter 😛 Bake for about 9 minutes. Remove from the oven, and allow to cool on the baking sheet for ten minutes before transferring to a wire rack to cool completely. Add brown frosting antlers, and attach eyes and candy nose using small drops of frosting.
Cookies stay soft and fresh for 7 whole days at room temperature. Cookies may be frozen up to 3 months. Rolled cookie dough may be frozen up to three months and baked in their frozen state for 13 minutes.