I worked on a white chocolate raspberry cake last week, and did quite a bit of experimenting with raspberry frosting.
While the frosting I made for that cake was actually a white chocolate raspberry frosting, I decided to use what I learned to create this raspberry frosting recipe!
While you might think adding raspberries into buttercream frosting shouldn't be that hard, you might be surprised. I wanted this frosting to be packed with real raspberry flavor, but needed to make sure I didn't throw off the consistency of the frosting.
I wanted a smooth, sturdy frosting that was stiff enough to frost a layer cake and pipe swirls on cupcakes.
The Secret Ingredient: Raspberry Powder
This year I discovered raspberry powder. Raspberry powder is made from real, freeze-dried raspberries.
It adds tons of real fruit flavor into the frosting, without throwing off the consistency! Raspberry powder also gives the buttercream a beautiful pink color naturally.
It creates a stable, pipeable frosting that can be used on cakes (like my white chocolate raspberry cake) and cupcakes alike.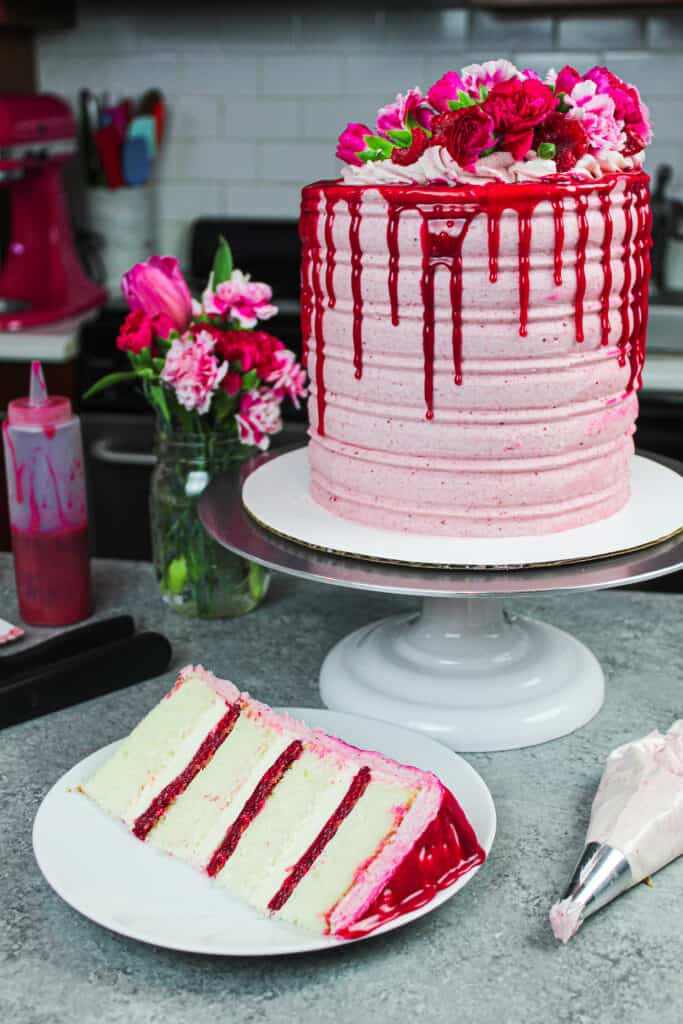 In my opinion, it's by far and away the best way to make raspberry frosting.
I order my raspberry powder on amazon, and some health food stores carry it.
You can also find freeze dried raspberries at most grocery stores, and pulverize them into a powder using a food processor.
The Finishing Touch: Lemon Juice
One last ingredient in this frosting might surprise you. It's a bit of fresh lemon juice.
When my Mom makes her famous homemade raspberry jam, she always adds lemon juice.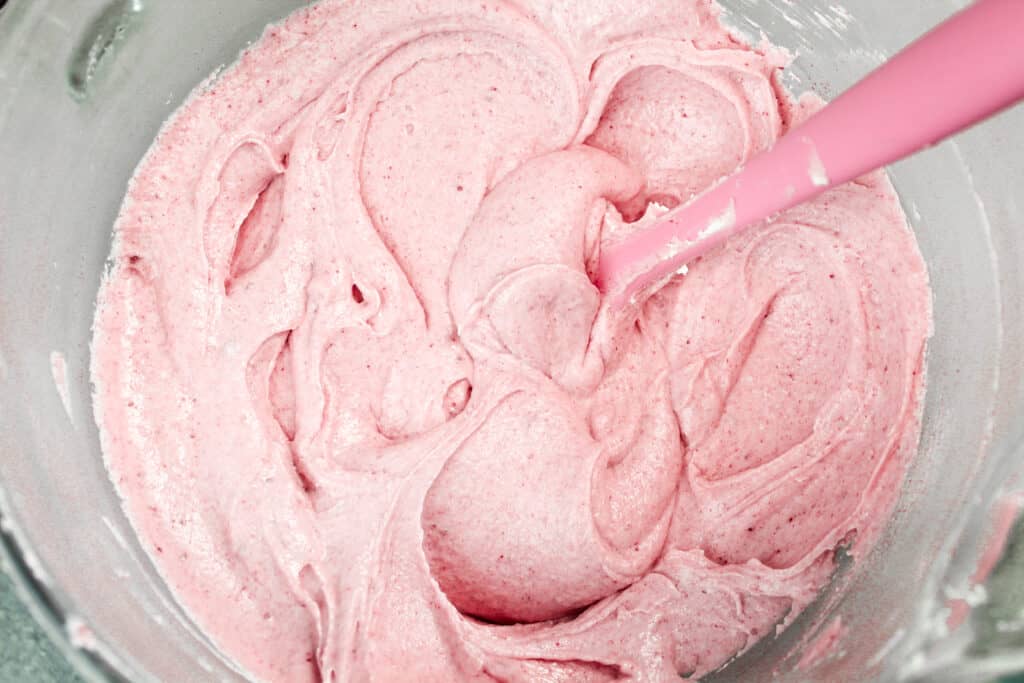 This is usually done to help the jam set, or as a safe canning practice.
But I swear, the lemon juice adds to the flavor of the jam too!! I decided to try this out in my raspberry buttercream. The citrus really helps brighten the flavor of the frosting, and enhances the flavor of the raspberries.
Making This Frosting in Advance
One last thing to note about this recipe!!
While your frosting might be silky smooth right after you make it (especially if you use a paddle attachment), the frosting will develop air bubbles over time as it sits.
The raspberry powder almost acts as a sponge, and soaks up all the moisture in the frosting.
I let mine sit out for several hours, and found the consistency had completely changed.
I was able to revive it by stirring it with a rubber spatula for several minutes, and by adding in a couple more tablespoons of heavy cream.
If you chose to make this frosting ahead of time, be sure to give it a good stir, and potentially add in a touch more heavy cream to get it back to that silky smooth consistency.
Tips for Making the Best Raspberry Frosting
Use a paddle attachment if you plan to add this frosting to a cake, to make super smooth frosting that's easy to smooth
If the frosting is too thick, add in additional cream (1 Tbsp at a time)
If the frosting is too thin, add in more powdered sugar (quarter of a cup at a time).
Make sure your butter is at room temperature to give your frosting the right consistency
Use raspberry powder to really pack your raspberry buttercream with flavor!
Making This Raspberry Frosting in Advance and Storage Tips:
Make your frosting ahead of time, or save any leftover frosting! It can be stored in an airtight container in the fridge for up to a month, or in the freezer for up to 3 months.
Be sure to give it a good stir once it thaws to get the consistency nice and smooth again.
A frosted cake can last in the fridge for up to a week, or in the freezer for up to a month. The buttercream locks in all the moisture, keeping the cake fresh and delicious!
If you cut into the cake and have leftovers, use any remaining frosting to cover the cut section to keep it moist and store in the fridge for up to a week.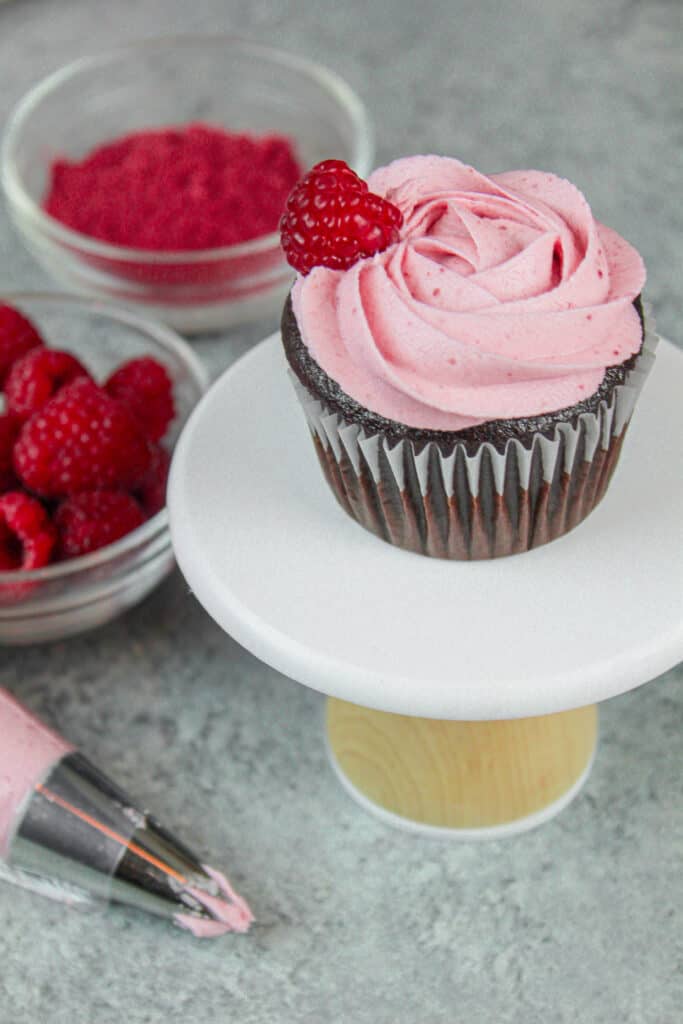 Let Me Know What You Think!
If you try this raspberry frosting recipe, please tag me @chelsweets, and use the #chelsweets so that I can see your baking!
Don't forget to also leave a rating, and let me know your thoughts in the comments section.
Yield: 6 cups
Raspberry Frosting
This raspberry frosting is packed with real raspberry flavor! It's perfect for piping on cupcakes, smoothing on cakes, or with cookies!
Ingredients
2 cups unsalted butter, room temperature (434 grams; 1 lb box)
1/2 tsp salt (3 grams)
1 tsp vanilla extract (4 grams)
7 cups powdered sugar (907 grams; 2 lb bag)
2/3 cup heavy cream (or heavy whipping cream) (150 grams)
1 Tbsp freshly squeezed lemon juice; about 1/2 small lemon (12 grams) - optional
Instructions
Beat the butter on a medium speed for 30 seconds with a paddle attachment, until smooth.
Mix in the salt and vanilla extract on a low speed
Slowly add in the powdered sugar, 1 cup at a time. Alternate with small splashes of cream.
Mix in the freeze dried raspberry powder and freshly squeezed lemon juice (optional) on a low speed.
Beat on low until the ingredients are fully incorporated, and the desired consistency is reached. 
If the frosting is too thick, add in additional cream (1 Tbsp at a time). If the frosting is too thin, add in more powdered sugar (quarter of a cup at a time).
Notes
If you are making frosting for a cake, it is important to mix the buttercream on the lowest speed at the end of the process for a couple minutes, to get out any extra air that might have be incorporated during the mixing process.
You can also stir the frosting in a bowl with a rubber spatula, pushing it from side to side, to get rid of any air bubbles. This will make it easier to get super smooth sides on your cake.
If you have extra buttercream you don't use, it can be stored in the fridge for up to 2 weeks, or kept in the freezer for up to a month.
This frosting can also be made in advance.
I usually make 1 1/2 batches of frosting to stack and frost a seven or eight inch layer cake.
One batch of frosting is enough to frost 2-3 dozen cupcakes (depending on how big of swirls you make).
Nutrition Information
Yield
6 cups
Serving Size
1
Amount Per Serving
Calories

1142
Total Fat

71g
Saturated Fat

44g
Trans Fat

0g
Unsaturated Fat

23g
Cholesterol

193mg
Sodium

213mg
Carbohydrates

131g
Fiber

1g
Sugar

127g
Protein

2g
Other Recipes You Might Like: