We've all seen the melted ice cream cake trend across social media (which I'm pretty sure is the brain child of the amazing Katherine Sabbath), and I love the idea!
To put a fun spin on this concept, I decided to make a cake with melting popsicles. In my mind, the most iconic popsicle is the orange creamsicle. They just screams summer to me!
I grew up eating these each summer, and am a sucker for them to this day. Clearly this popsicle cake would have to be an orange creamsicle drip cake.
I've made a ton of drip cakes with colorful white chocolate ganache drips in the past.
Just this summer, I've made a red wine drip cake, a matcha drip cake, and even a pink candy drip cake! I was ready to try something different.
Orange Creamsicle Drips
This time I wanted to mix things up. I chose to make the drips on this cake with my easy mirror glaze recipe!
It made this cake a bit more exciting, and a bit scary. I had a hard time sleeping the night before making this cake, because I wasn't sure the concept would work.
Doing anything for the first time is a bit nerve wracking. But I stayed true to the idea, and was convinced a mirror glaze would be an awesome medium for drips.
Mirror glaze drips turned out to be much easier to make than I expected. I used the spoon technique to add then to a chilled cake. As long as the mirror glaze cool a bit, it works like a dream.
To know whether your mirror glaze is the right temperature, I recommend making a test drip.
Make a single drip on your cake, and let it sit for a couple minutes. See how far it ran down the cake, and how thick the drip is.
Adjust as needed. If the drips are too short, heat up the mirror glaze for a few seconds in the microwave.
If the drip seems too thin / translucent, let it cool a bit longer.
The Orange Creamsicle Cakesicles
Once I nailed the mirror glaze drips, I had to start thinking about the orange creamsicles that would decorate the top of the cake!
These were going to be the star of the show, and I wanted them to be perfect!
They needed look like the orange creamsicles we know and love. Getting the shape right was imperative. I figured the easiest way to do this would be to use a silicone mold, and make some cakesicles.
Cakesicles are exactly what they sound like. They're like cake pops, but bigger and better!!
I saved the tops of my leveled cake layers, and mixed them with buttercream to make the filling of my cakesicles.
Next, I firmly packed my popsicle molds with this mixture. I was able to make about 6 cakesicles. I found this silicone mold on amazon, and it worked great. To make life easier, I ordered two of them so that I could make all of the cakesicles at once.
I inserted the wooden popsicle sticks into the cakesicles, then froze them for about 20 minutes.
Once they were fully chilled, I dipped them in melted white chocolate, and set them aside to firm up.
The white chocolate makes the orange mirror glaze really pop, and helps the cakesicles keep their shape at room temperature.
The final step was to dip the cakesicles twice into my orange mirror glaze.
The color of the creamsicles wasn't bright enough (in my opinion) after the first dip. I found letting the first layer set, then dipping a second time gave them the bright, shiny look I was after.
The Orange Creamsicle Ganache Filling
Now that I'd tackled the decoration of the cake, I needed to figure out how to get that orange creamsicle flavor into the cake.
I did some experimenting with fresh orange zest, orange extract, and even orange starbursts.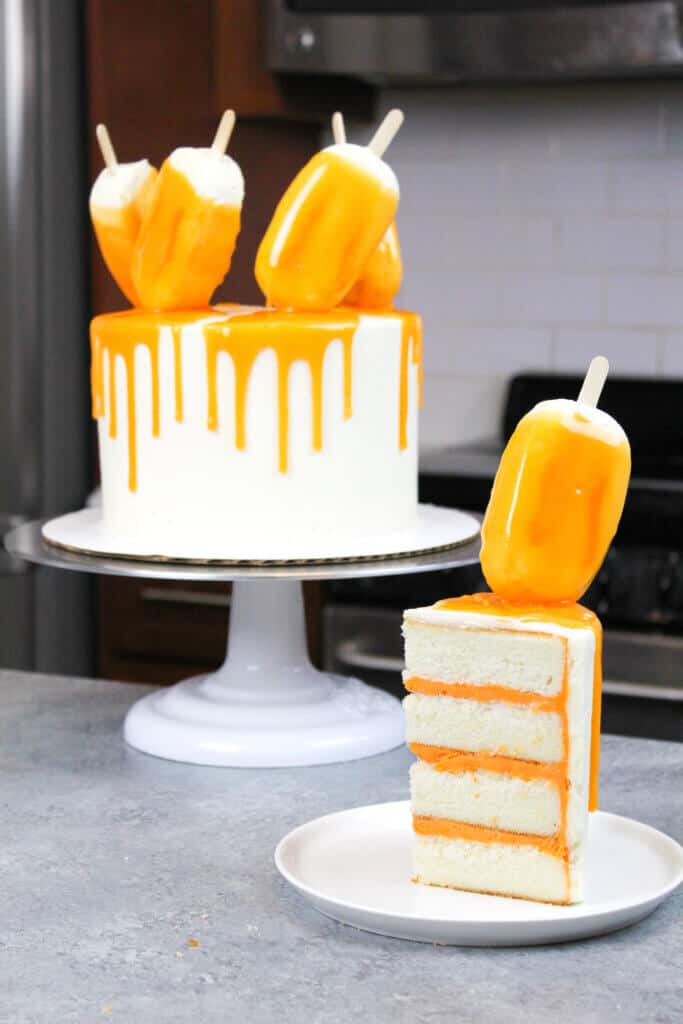 Orange extract created the best creamsicle flavor in white chocolate ganache. I was surprised but pleased that a simple extract worked best.
It kept things simple, because all you have to do is add a couple teaspoons into the ganache as you make it.
Cutting the Cake / Actually Eating It
Now that I had spent hours creating this epic orange creamsicle cake, it was time to cut in. I had my orange knife all ready to go, but I was terrified to cut this cake on camera.
It is definitely intimidating to cut. Between the cakesicles delicately balancing on top, and a mirror glaze coating, I had no idea how the cut would go.
However, it's nothing that a sharp, warm knife can't handle. Run your knife under hot water, then dry it with a dish towel.
I recommend removing the creamsicle from the section you plan to slice before you cut. It makes pulling out the first slice a lot less stressful.
I didn't do that, and it made life a lot harder!!
Once I finally got to taste the cake, I was surprised by how much I enjoyed the orange creamsicle cakesicles. They were irresistable! I took an initial bite for this photo, then wasn't able to stop myself from devouring the entire thing!!
Let Me Know What You Think
Nothing makes me happier than when I get emails or DMs with photos of your amazing creations. Please don't hesitate to reach out to me with your triumphs, or questions <3
If you try this orange creamsicle cake recipe, please tag me @chelsweets. Also use the #chelsweets so that I can see what your baking!
Yield: 24
Orange Creamsicle Cake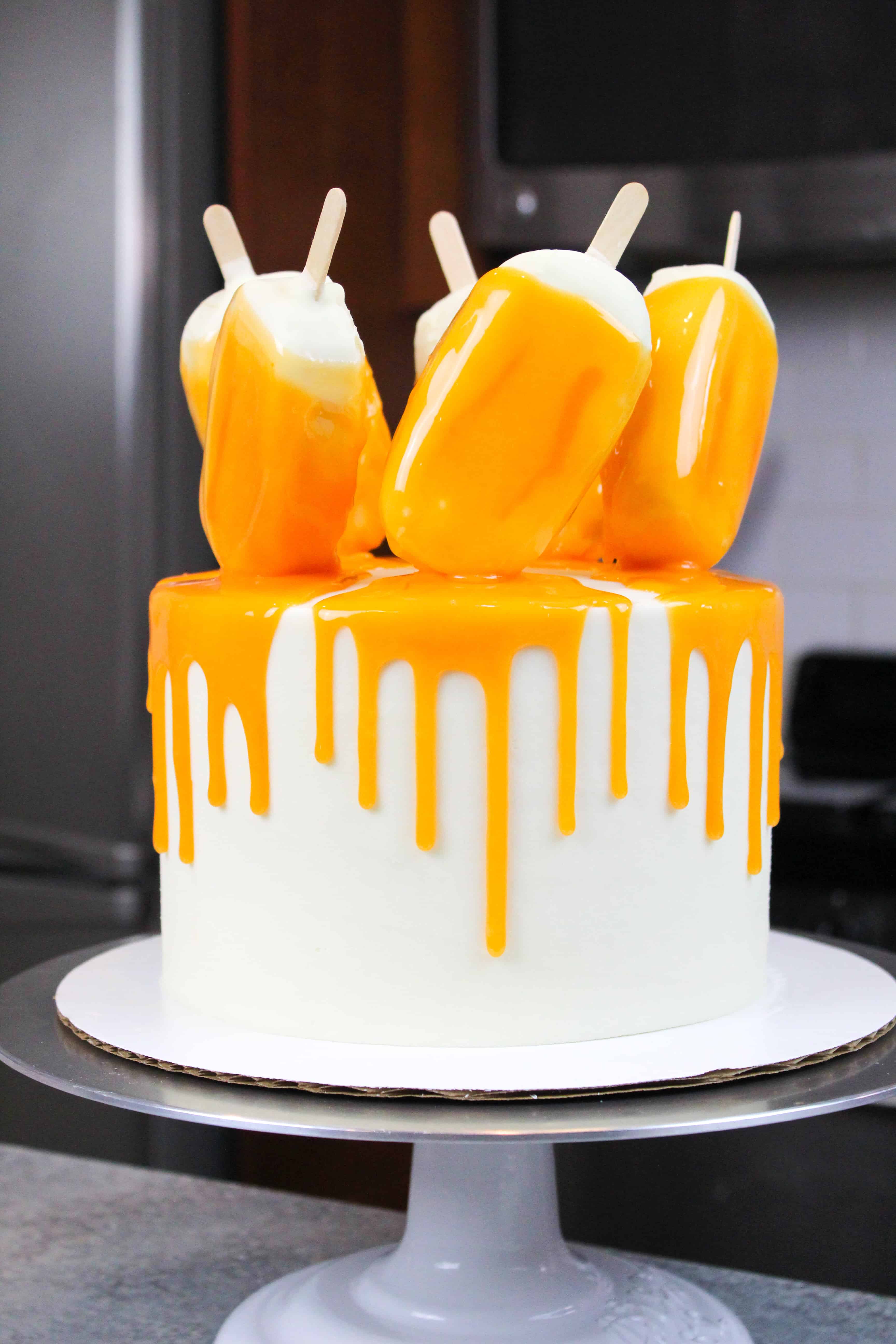 This orange creamsicle cake recipe is made from scratch, and tastes like summer! Its made with vanilla cake layers, orange creamsicle ganache, and creamsicle cake pop toppers!
Additional Time
30 minutes
Total Time
2 hours
5 minutes
Ingredients
Vanilla Cake
3 cups all-purpose flour (390 grams)
3 cups granulated sugar (600 grams)
2 1/2 tsp baking powder (10 grams)
1 tsp salt (6 grams)
1 cup unsalted butter, room temperature (226 grams) - 2 sticks
2 tsp. vanilla extract (8 grams)
1 cup pasteurized egg whites from a carton (or about 7 egg whites) (235 grams)
1 1/2 cups sour cream, room temperature (345 grams)
1/8 cup vegetable oil (28 grams)
Orange Creamsicle Ganache Filling
750 grams white chocolate (about 2 bags of white chocolate chips)
250 grams heavy cream (1 and 1/8 cup)
1 Tbsp orange extract (18 grams)
orange gel food coloring
Orange Buttercream Frosting
1 1/2 cups unsalted butter, room temperature (339 grams)
6 cups powdered sugar (750 grams)
1/2 tsp salt (3 grams)
2 Tbsp heavy cream (or whipping cream) (28 grams)
1 1/2 tsp vanilla extract (9 grams)
1 1/2 tsp orange extract (9 grams)
Orange Mirror Glaze
1 1/2 cups granulated sugar (300 grams)
3/4 cup water, room temp (237 grams)
2/3 cup sweetened condensed milk (200 grams)
2 cups miniature white chocolate chip (350 grams)
2 Tbsp unflavored gelatin (18 grams), bloomed in 1/4 cup of additional water
Orange Cakesicles
4 cake tops (from leveled vanilla cake layers above)
2/3 cup orange buttercream (made in recipe above)
1 1/2 cups melted white chocolate
wooden popsicle sticks
Instructions
Vanilla Cake Layers:
Preheat oven to 350°F. Line four 7 inch pans or three 8 inch round pans with parchment rounds, and grease with non-stick cooking spray.
Mix together all dry ingredients (flour, baking powder, sugar, and salt) in a stand mixer with a paddle attachment until fully combined.
Mix chunks of room-temperature butter slowly into the dry mix, on a low speed. Continue to mix until no large chunks of butter remain, and the mixture becomes crumbly.
Pour in egg whites, and mix on low until just incorporated. Mix in the sour cream on a low speed.
Add in vanilla and oil, and mix at a low speed until fully incorporated. Scrape down the sides of the bowl with a spatula, then beat on low speed for about 15 seconds (the key is to mix until the ingredients are JUST incorporated, so that the batter isn't over mixed). 
Divide batter evenly between the prepared cake pans.
Bake for 34-35 minutes, or until a toothpick comes out clean. Allow the pans to cool for 10 minutes, then run an offset spatula around perimeter of the pan to separate the cake from the pan.
Place cake layers into the freezer for 45 minutes, to accelerate the cooling process. Once the layers are fully cooled, carefully flip the pans and remove the layers from the pans.
Use a serrated knife to level the tops of the layers.
Place cake tops in a bowl, and set aside for the cakesicles.
Orange Creamsicle Ganache:
Place the white chocolate in a heat-proof bowl, and set aside.
Heat heavy cream in a heat-proof bowl in the microwave for 45 seconds to 1 minute, until gently bubbling.
If you don't have a microwave or prefer to use the stove top, you can heat the cream over a medium heat in a pan until it begins to simmer. Remove from heat.
Gently pour the heavy cream over the white chocolate, making sure they are covered with cream. Allow mixture to sit for 1-2 minutes.
Stir slowly until the cream and chocolate are fully combined, and ganache is silky smooth.
Mix in the orange extract and orange gel food coloring, and pour into a shallow pan to allow it cool.
Cover with plastic wrap and set aside for about 20 minutes, until the ganache has thickened to a peanut butter like consistency.
Orange Buttercream Frosting:
While the cake layers bake and cool, make the orange buttercream frosting.
Beat the butter on a medium speed for 30 seconds with a paddle attachment, until smooth. Slowly add in the powdered sugar, 1 cup at a time. Alternate with small splashes of cream.
Once fully mixed, add in the vanilla extract, orange extract, and salt, and beat on low until the ingredients are fully incorporated, and the desired consistency is reached. 
If the frosting is too thick, add in additional cream (1 teaspoon at a time). If the frosting is too thin, add in more powdered sugar (quarter of a cup at a time).
Orange Mirror Glaze:
Begin by mixing the gelatin in a bowl with 1/4 cup of water. Set aside to let it bloom while you begin the glaze.
Pour 1 1/2 cups of granulated sugar, 3/4 cup of water, and 2/3 cup sweetened condensed milk in a heat proof bowl.
Heat for 1 minute on high power in the microwave.
Remove the mixture, and stir to incorporate the ingredients.
Pour in the bloomed gelatin, and stir until it's fully dissolved. 
Melt the white chocolate chips in microwave by heating it in 30 second intervals, stirring between each interval.
Once the white chocolate is fully melted, pour the chocolate into the warm gelatin mixture.
Carefully whisk mixture until fully combined.
Add a couple squirts of orange gel food coloring, and mix until evenly colored.
Orange Cakesicles:
In a large bowl, mix together the vanilla cake tops (reserved from the vanilla cake layers) and about 2/3 cup of orange buttercream.
Press the mixture into the popsicle mold to make six cakesicles.
Insert wooden sticks into the cakesicles.
Place the molds into the freezer for 20 minutes.
Remove cakesicles from mold.
Dip each frozen cakesicle in melted white chocolate, and set on parchment paper to harden.
Dip white chocolate covered cakesicles into the orange mirror glaze twice, then place on a wire rack to set.
Carefully make a hole into the bottom of each cakesicle with a sharp skewer, to make them easier to place onto the cake.
Cake Assembly:
Stack and frost cake layers on a greaseproof cake board, using a dab of frosting to help stick the first cake layer to the board.
Add an even layer of orange creamsicle ganache between each cake layer.
Apply a thin coat of ganache around the cake, to fully cover the cake layers. Smooth using a bench scraper, then chill the cake in the fridge (20 minutes) or freezer (5 minutes) until the frosting is firm to the touch.
Add a thick layer of frosting to the cake, and smooth using a bench scraper.
Insert 5 bamboo skewers around the top of the cake, to hold up the cakesicles.
Chill the cake in the freezer for 10 minutes.
Add mirror glaze around each skewer with a spoon, allowing the glaze to flow over the edge of the cake to create drips.
Carefully add the orange creamsicle cakesicles onto of each skewer, lining up the precut hole at the bottom of each cakesicle.
Notes
One batch of cake batter makes about 1800 grams, so when I'm making a cake with four layer, I add 450 grams of batter into each pan.
Nutrition Information
Yield
24
Serving Size
1
Amount Per Serving
Calories

951
Total Fat

48g
Saturated Fat

28g
Trans Fat

0g
Unsaturated Fat

17g
Cholesterol

96mg
Sodium

318mg
Carbohydrates

125g
Fiber

1g
Sugar

110g
Protein

8g