Ice cream cakes were a favorite in my house growing up. I think they're still my sister's favorite type of cake, and I love them too. However, I found myself avoiding them as I began to bake.
I was concerned about the ice cream melting, and decorating them seemed like a nightmare.
This past month I finally broke out of my comfort zone, and made my first ice cream cake.
Mind you, the ice cream is store bought. Making the cake layers and is already enough work, and I gave myself a pass when it came to the ice cream.
Since it's summer, I chose to make a pink lemonade ice cream cake. Not only is it an awesome flavor combination, it also gives you a gorgeous color palette to work with.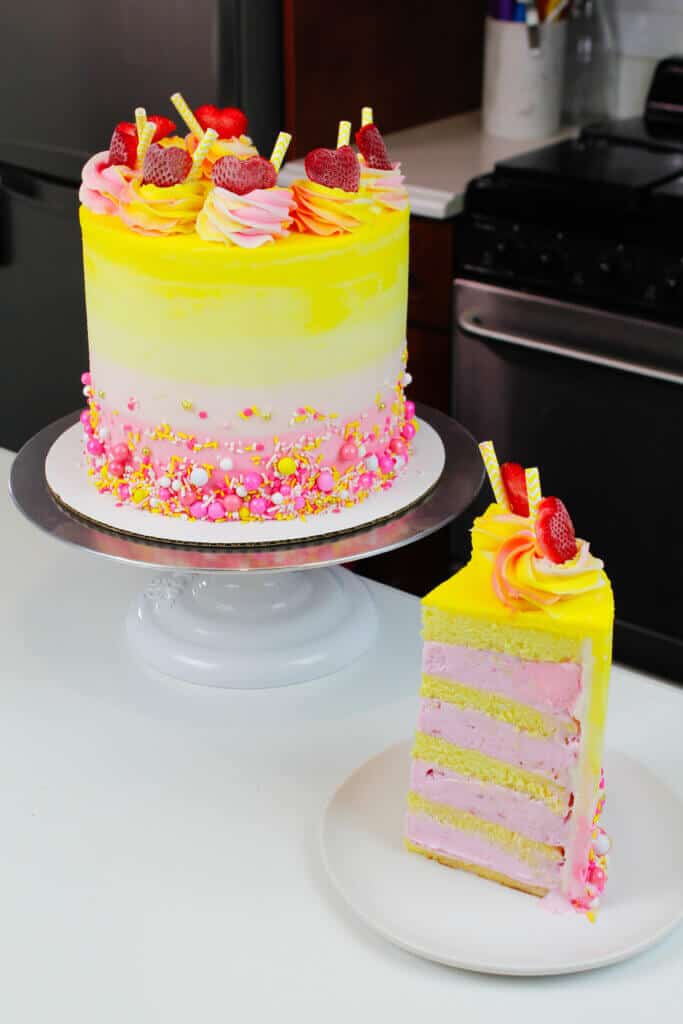 Step 1: The Lemon Cake Layers
There were two ways this cake could've gone. Lemon cake layers with strawberry ice cream, or strawberry cake layers with lemon sorbet (lemon ice cream is super hard to find at the grocery store!).
I still have yet to perfect a strawberry cake recipe (it's a work in progress), so this decision was easy for me. I also was really set on using actual ice cream. Sorbet simply wouldn't do for this cake!
As you can tell from the pictures, this cake is made with lemon cake layers. I really wanted the flavors in this cake to pop, so I added fresh lemon juice, and loads of lemon zest into the cake batter.
In my opinion, it's the zest that really gives the cake layers that lemony flavor and smell….so I added TONS of it! I also added some yellow gel food coloring, to make the flavor of these cake layer super evident.
Step 2: The Strawberry Ice Cream Layers
To incorporate the ice cream into this cake, I decided to make ice cream discs. There are two major benefits to going this route.
The first benefit is that the cake is a breeze to assemble. Instead of carefully smoothing frosting between each layer, you simply plop down a frozen ice cream disc! It doesn't get much easier than that.
The second benefit is that these can easily be made in advance! You can shape them up to a week ahead of time.
However, making the ice cream discs does take a bit of work. I found that following the below process was the easier way to make them:
Line the same size of pan used for your cake layers (or 1 inch smaller if you have one on hand) with plastic wrap.
Fill the pan with a few large scoops of softened ice cream, and flatten using the back of a large spoon or a small offset spatula.
Add more if needed, until you have a disk that is a similar height to your cake layers.
Pop the cake pan into the freezer for about 15 minutes (or until the top is firm), then fold over the overhanging plastic wrap to cover the ice cream disc.
Repeat to make however many layers you need! I used 5 torted cake layers, so I made 4 ice cream discs.
I used the same size of cake pans, and my ice cream layers ended up actually being slightly larger than my cake layers! As cake layers cool, they constrict a bit as they pull away from the sides of the pan.
I also trimmed away the caramelization, which also made them a bit smaller. The cake will be much easier to assemble and frost if you make the disks a bit smaller than your cake layers.
Step 3: Decorating This Ice Cream Cake
Now that we've sorted out the cake innards, it's time to discuss the decoration! Most ice cream cakes are frosted with whipped cream.
Whipped cream is easy to cut when it's frozen, so it's a prime candidate for ice cream cakes.
Knowing this, I STILL decided to frost this cake in buttercream. Why? I asked myself the same question when it came time to cut this cake (more to come on that below).
You can decorate a cake with whipped cream, but it can't be colored as easily or well, and it is harder to decorate with. I wanted this cake to have a cohesive look with the rest of my cakes, so I was a (fool-hearted) rebel and frosted this cake with pink and yellow buttercream.
These cake layers are colored with gel food coloring to get these colors, and added in lots of lemon zest.
I don't really regret it though, because I love the way the cake turned out! The gradient is gorgeous, and the swirls on top were so much easier to make with buttercream.
The pretty sprinkle boarder combined with the yellow chevron straws and strawberry hearts really brought the look of this cake to the next level. It looks so cheerful and summery, which is exactly what I was going for.
Step 4: Cutting the Cake / Actually Eating It
Now that hours of time and effort have been invested into making and decorating this pink lemonade ice cream cake, it's time to think about actually eating it.
I popped the cake into the freezer for about 20 minutes after I was done making it, to allow it set.
If I had taken the cake out and cut it with a warm knife at this point, I think everything would have been great.
But silly me, I wanted to take copious amounts of photos of the cake before I cut it. This meant the cake sat under massive, hot lights for about 15 minutes.
I thought everything was peachy keen at this point. The cake was sweating a bit, but it seemed to be holding up just fine.
Unfortunately, I didn't realize that the 20 minutes in the freezer had only frozen the external layer of buttercream!
The ice cream was actually melting on the inside, despite the fact that the buttercream looked fine on the outside.
When I cut in, I had a small explosion of melted strawberry ice cream. I was able to save the cake by throwing it into the freezer and patching it up a bit, but it was quite the experience.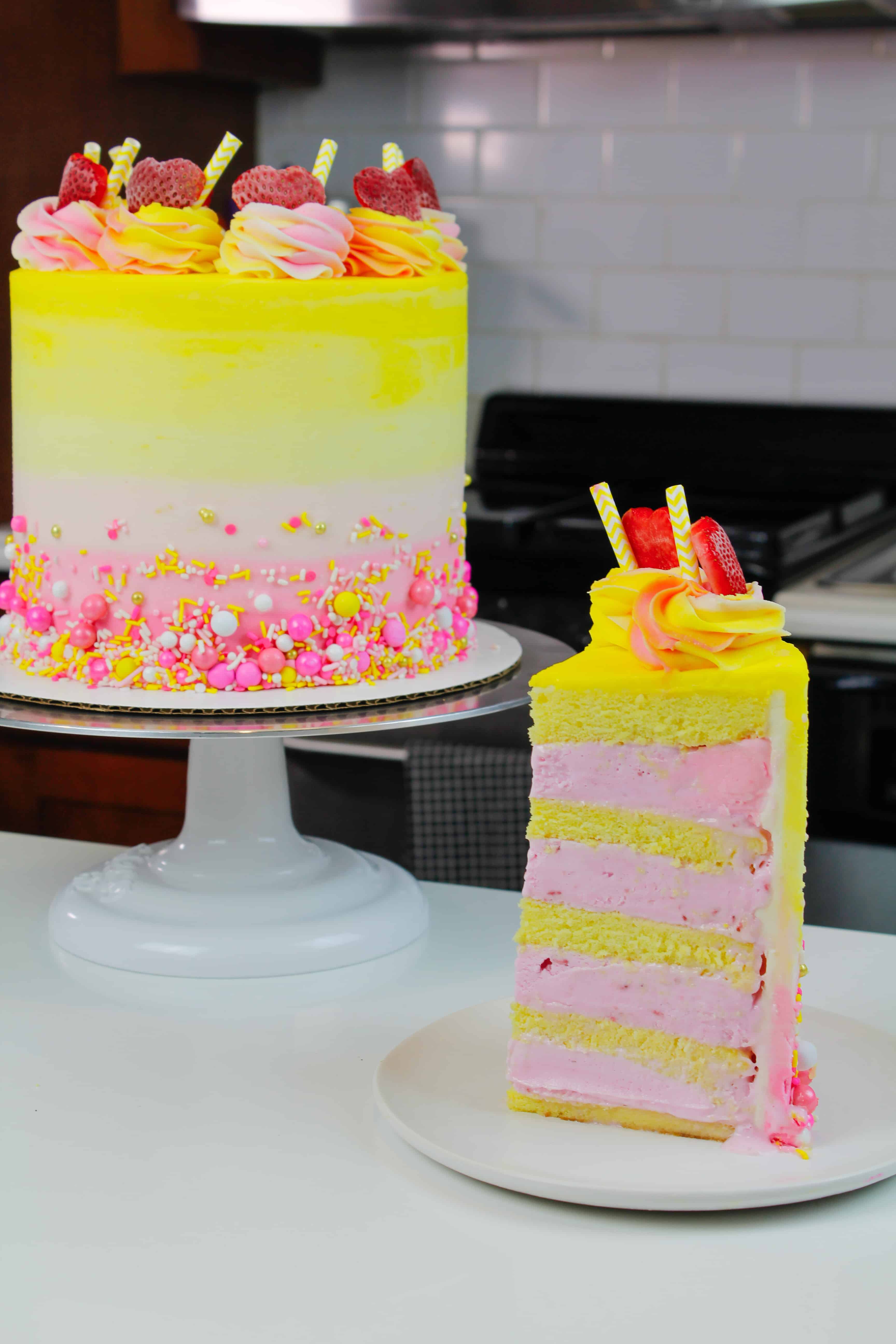 Lesson learned. Don't let an ice cream cake sit out for too long before you try to cut into it.
Also, run a sharp knife under super-hot water (and dry it) before cutting the cake, to make life easier. This helps the knife glide through the cake, as it cuts/melts through the frozen buttercream and ice cream.
Let Me Know What You Think!
Nothing makes me happier than when I get emails or DMs with photos of your amazing creations. Please don't hesitate to reach out to me with your triumphs, or questions <3
If you try this Pink Lemonade Ice Cream Cake recipe, please tag me @chelsweets. Also use the #chelsweets so that I can see what your baking!
Yield: 24 servings
Pink Lemonade Ice Cream Cake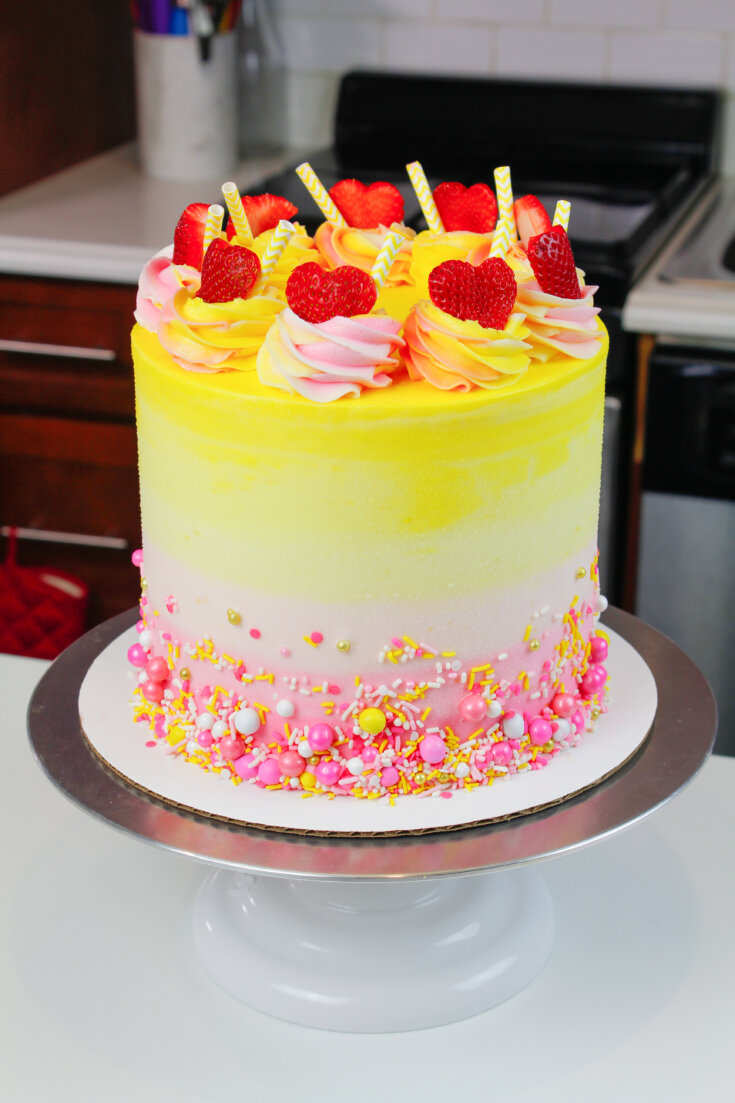 This pink lemonade ice cream cake is made with layers of moist lemon cake and strawberry ice cream, and is just as refreshing as a glass of pink lemonade!
Additional Time
20 minutes
Total Time
1 hour
10 minutes
Ingredients
Lemon Cake
3 1/4 cup all-purpose flour (390 grams)
3 cups granulated sugar (600 grams)
2 1/2 tsp baking powder (10 grams)
1 tsp salt (6 grams)
1 cup unsalted butter, room temperature (226 grams) - 2 sticks
2 tsp. vanilla extract (8 grams)
1 cup pasteurized egg whites from a carton (or about 7 egg whites) (235 grams)
1 1/2 cups buttermilk, room temperature (345 grams)
1/8 cup vegetable oil (28 grams)
zest of 2 large lemons
2 Tbsp fresh lemon juice (juice of 1 lemon)
yellow gel food coloring (if desired)
Strawberry Ice Cream Layers
2 containers (48 oz. each) of strawberry ice cream
plastic wrap
Lemon Buttercream Frosting
1 cup unsalted butter, room temperature (226 grams)
4 cups powdered sugar (500 grams)
1/4 tsp salt (2 grams)
1 Tbsp heavy cream (or whipping cream) (14 grams)
1 tsp vanilla extract (6 grams)
zest of 1 large lemon
yellow and pink gel food coloring
Decorations
Yellow and pink sprinkle blend
1 pint strawberries
yellow paper straws
Instructions
Lemon Cake Layers:
Preheat oven to 350°F. Line four 7 inch pans round pans with parchment rounds, and grease with non-stick cooking spray.
Mix together all dry ingredients (flour, baking powder, sugar, and salt) in a stand mixer with a paddle attachment until fully combined.
Mix chunks of room-temperature butter slowly into the dry mix, on a low speed. Continue to mix until no large chunks of butter remain, and the mixture becomes crumbly.
Pour in egg whites, and mix on low until just incorporated. Mix in the buttermilk in two installments, on a low speed.
Add in vanilla, lemon zest, lemon juice, and oil, and mix at a low speed until fully incorporated. Scrape down the sides of the bowl with a spatula, then beat on low speed for about 15 seconds (the key is to mix until the ingredients are JUST incorporated, so that the batter isn't over mixed). 
If desired, add in a squirt of yellow gel food coloring. Mix the color in by hand using a rubber spatula, scraping the sides and bottom of the bowl part way through. Mix until the batter is evenly colored.
Divide batter evenly between the prepared cake pans (about 450 grams per pan). I like to use a digital kitchen scale to weigh my pans, to make sure the layers are the same height.
Bake for 34-35 minutes, or until a toothpick comes out clean. Allow the pans to cool for 10 minutes, then run an offset spatula around perimeter of the pan to separate the cake from the pan.
Place cake layers into the freezer for 45 minutes, to accelerate the cooling process. Once the layers are fully cooled, carefully flip the pans and remove the layers from the pans.
Use a serrated knife to level the tops of the layers, and then frost as desired.
Lemon Buttercream Frosting:
While the cake layers bake and cool, make the vanilla buttercream frosting.
Beat the butter on a medium speed for 30 seconds with a paddle attachment, until smooth. Slowly add in the powdered sugar, 1 cup at a time. Alternate with small splashes of cream.
Once fully mixed, add in the vanilla, lemon zest and salt, and beat on low until the ingredients are fully incorporated, and the desired consistency is reached. 
If the frosting is too thick, add in additional cream (1 teaspoon at a time). If the frosting is too thin, add more powdered sugar (quarter of a cup at a time).
Divide the frosting in half, and color one half 3 shades of yellow with gel food coloring. Color the remaining half 3 deepening shades of pink. Place each color of frosting into a piping bag.
Ice Cream Cake Layers:
Line the same size of pan used for your cake layers (or 1 inch smaller if you have one on hand) with plastic wrap.
Fill the pan with a few large scoops of softened ice cream, and flatten using the back of a large spoon or a small offset spatula.
Add more if needed, until you have a disk that is a similar height to your cake layers.
Repeat until three discs are made.
Pop the cake pan into the freezer for about 30 minutes, or
until the ice cream layers are fully frozen.
Pink Lemonade Ice Cream Cake Assembly
Stack alternating layers of cake and frozen ice cream disks on a greaseproof cake board. Be sure to work relatively quickly, so that the ice cream layers don't melt.
Apply a thin coat of frosting around the cake, to fully cover the cake and ice cream layers. Quickly smooth using a bench scraper, then chill the cake freezer (10 minutes) until the frosting is firm to the touch.
Add a second, thicker layer of frosting to the cake, creating an ombre gradient of pinks and yellows.
Add the darkest color of pink frosting to the base of the cake. Continue up the cake with the lighter shades of pink frosting, and transition to the lightest shade of yellow. Transition through the deepening shades of yellow up the cake
Smooth using a bench scraper.
Add sprinkle blend around the base of the cake.
Place the remaining frosting into a large piping bag fitted with a Wilton 1M.
Pipe large swirls on top of the cake, and top with sliced strawberries and paper straws.
Notes
One batch of cake batter makes about 1800 grams, so when I'm making a cake with four layer, I add 450 grams of batter into each pan.
Once the layers have fully cooled, I sometimes like to trim the caramelized bits from the sides of the layers using a serrated knife.
These cake layers and ice cream disks can be made in advance. Learn more about how far in advance they can be made, and how to properly wrap them in my post on how to make cake layers ahead of time.
Nutrition Information
Yield
24 slices
Serving Size
1
Amount Per Serving
Calories

429
Total Fat

18g
Saturated Fat

11g
Trans Fat

0g
Unsaturated Fat

6g
Cholesterol

45mg
Sodium

242mg
Carbohydrates

64g
Net Carbohydrates

0g
Fiber

1g
Sugar

45g
Sugar Alcohols

0g
Protein

4g