I've made checkerboard cakes in the past, by cutting out rings of colorful cake layers and reassembling them to create a pattern.
And it was fun, I loved trying the technique with different colors, and even different cake recipes.
However, this time around I wanted to try something new.
Since I am a huge fan of frosting, I had a crazy idea pop into my mind…what if I made a checkerboard pattern by alternating cake layers and frosting??
I kid you not, just as I was falling asleep one night, and the idea popped into my mind (luckily, it was a Friday night). The next morning, I set to work!!
Does this mean that half of this cake is frosting?? Yes, yes it does 🙂
It's made with two layers (a half batch) of my go-to chocolate layer cake recipe, and 2 batches of my American buttercream recipe.
I began by using circle cutters to cut each cake layer into 4 pieces. I make my cake layers in advance, and freeze them overnight.
I let them thaw for about 20 minutes, and then use the circle cutters while the layers are still slightly chilled and firm.
If you aren't freezing your layers, be sure they are completed cooled before you cut into them.
Be sure to wipe off the circle cutter after each layer, to ensure a clean cut on the next layer.
Once my layers were cut, I placed my frosting into large piping bags, cut to have a 1-inch opening.
I place the largest and 2nd smallest cake pieces onto my great proof cake board, and filled in the openings full with buttercream. It should resemble a bulls eye.
Use the remaining bits of cake layer, and place on top of the areas filled with frosting. By alternating cake layers and frosting, you are creating the checkerboard pattern.
Repeat with the second cake layer, until all the cake rings have been used.
I found the second layer was a bit harder to create, since the outer ring is pure frosting! Smooth the sides of the cake using a bench scrapper.
Chill the cake in the freezer for about 5 minutes after you've added the second cake/frosting layer, to help it keep its shape.
It's really important that your buttercream is relatively stiff, so that it isn't seeping over the sides as you pipe it.
Use a bench scraper to smooth the sides of the cake, and create an edge at the top of the cake. Place the cake back into freezer for a few minutes, to allow the frosting to firm up.
Once the frosting is firm to the touch, cover the cake with a second layer of frosting.
Add a bit of cocoa powder and a splash of heavy cream to my remaining frosting, to create some contrast between the outside of the cake, and all the frosting hidden on the inside.
Once the cake is covered, use a large offset spatula to create horizontal lines around the cake.
Begin at the base, and slowly moved the spatula up the cake while spinning your cake stand. Follow the lined pattern that is being created, until you reached the top of the cake.
Pipe some additional dollops of frosting in a ring around the top of the cake, and garnish with mini and regular chocolate chips.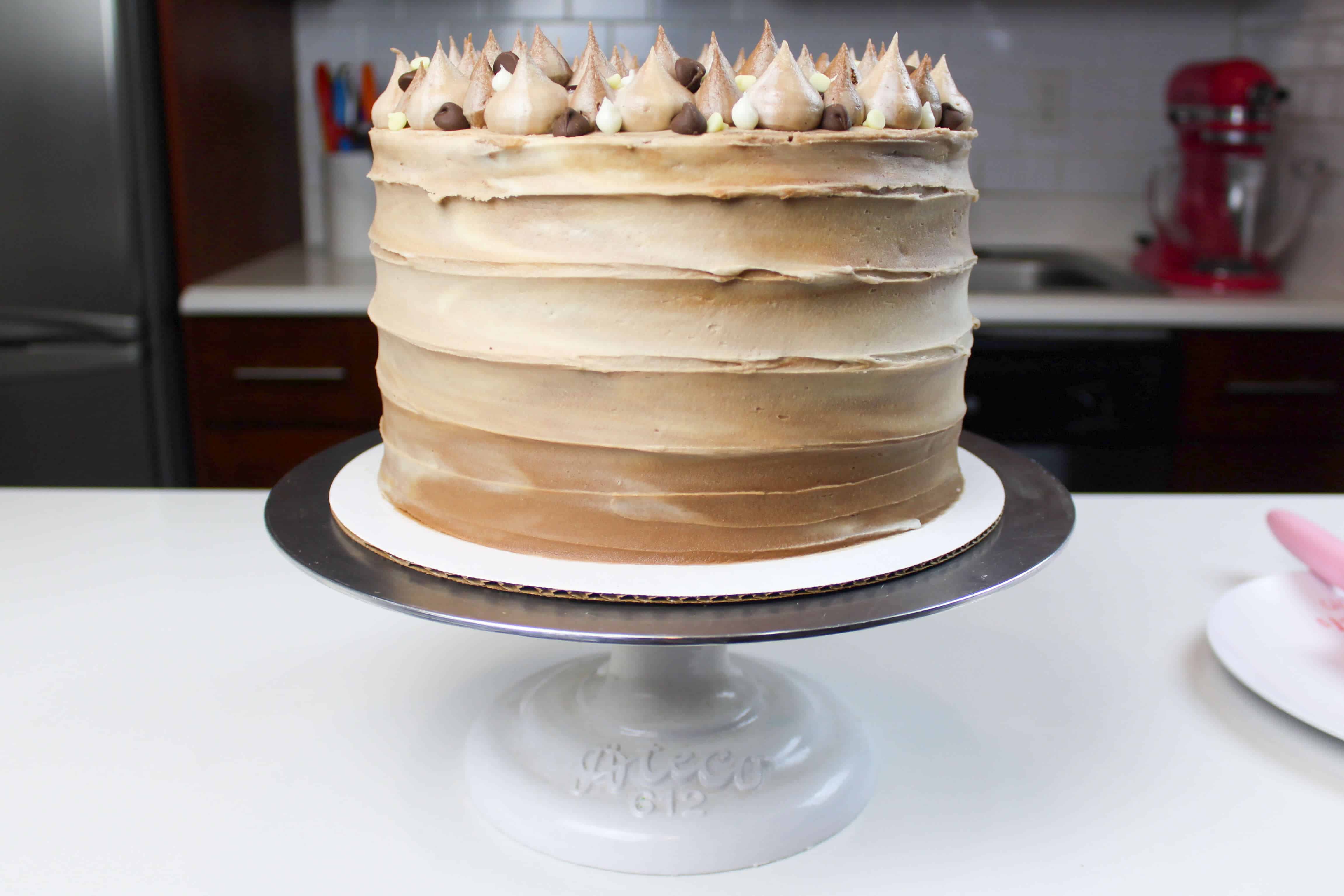 Then cut into this frosting filled cake and reveal the amazing checkerboard pattern!
I recommend using a very large, sharp knife. Heat up the knife by running it under warm water, and drying with a towel. This will help you get nice, clean slices, especially if the cake is slightly chilled.
I won't lie,  I was so nervous to cut into this cake!! While I really did think the concept would work, I've never made a cake quite like this before!
I literally squealed with excitement as I pulled out the first slice.
It turned out exactly how I hoped it would!!
Big blocks of vanilla buttercream, perfectly separated by chocolate cake squares.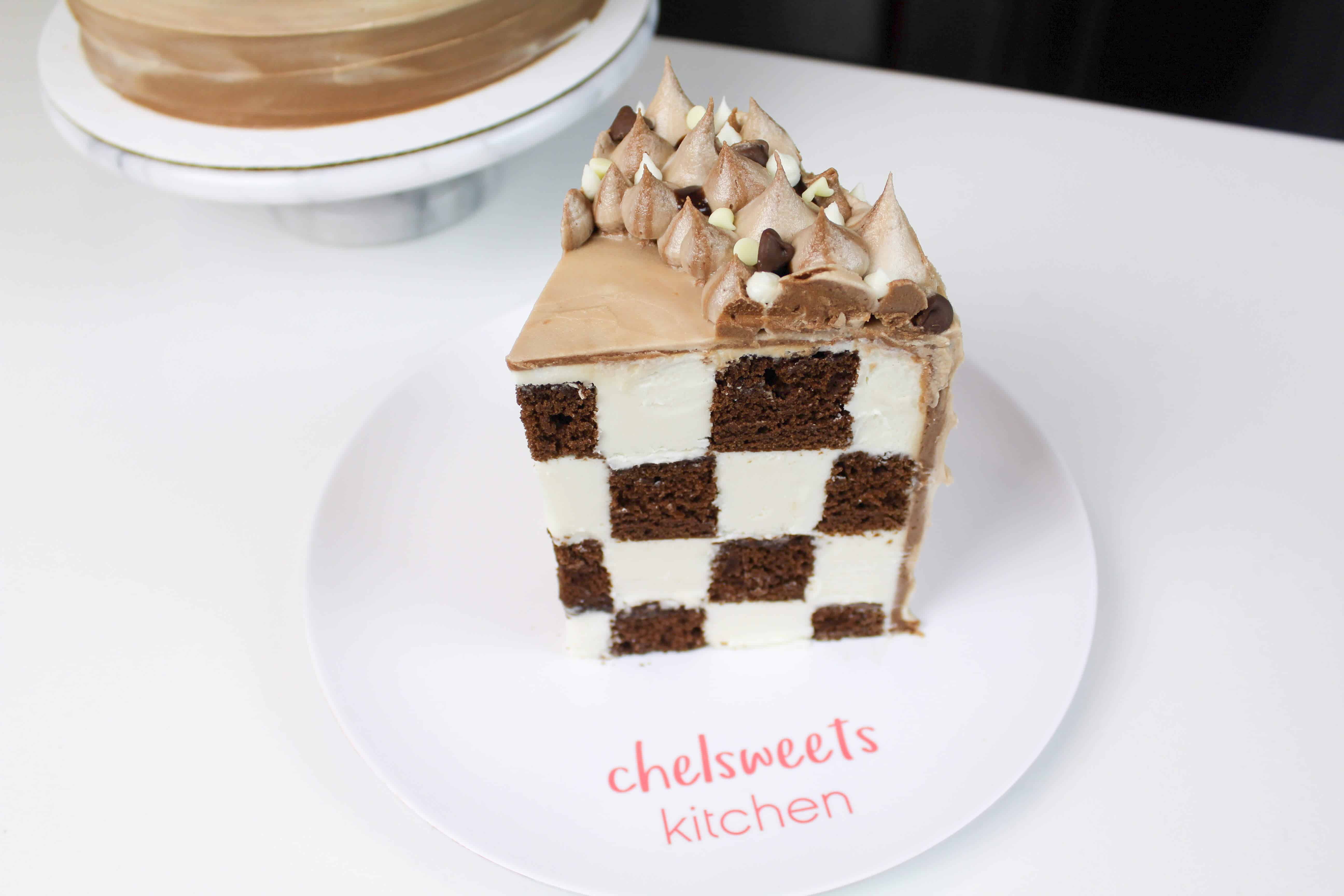 Like always, I cut a massive first slice, to make it easier to cut the remaining slices, and so that I get a great view of the inside of the cake.
I was beaming with excited when I started photographing the sliced cake.
My chocolate layer cake recipe and double batch buttercream recipe can be found below.
Small Batch Chocolate Layer Cake Recipe
This is a half batch of my go-to chocolate layer cake recipe! It's perfect for make two 7 or 8-inch cake layers, or three 6-inch cake layers.
Ingredients
1.5

cups

all-purpose flour

1.25

cups

granulated sugar

0.5

tsp

salt

0.75

tsp

baking powder

0.5

tsp

baking soda

2

large eggs

room temp

0.5

cups

unsalted butter

room temp (1 stick)

0.5

cups

hot water

0.5

cups

buttermilk

room temp

0.5

cups

baking cocoa

(I like to use black cocoa)
Instructions
Instructions
Begin by preheating the oven to 350 degrees Fahrenheit. Line four 7 inch or 8 inch pans with parchment rounds, and spray with non-stick spray.

Add the sugar and butter into the bowl of a stand mixer, and whisk on high for 1 minute. The mixture should become light in color.

Add in the eggs, one at a time. Then add baking soda, baking powder, and salt. Mix on high for another minute.

In a separate bowl, combine the cup of hot water, and cup of buttermilk. Pour in the cup of black cocoa, and whisk until no clumps remain.

Next, add 1/2 cup of flour into the butter /egg mixture. Scrape the sides of the bowl with a spatula, to ensure the flour is fully incorporated.

Pour in half of the buttermilk / cocoa mixture, and gently pulse the mixture to incorporate the liquid (if you don't, you'll end up splattering the cocoa mixture all over you kitchen!

Mix in another 1/2 cup of flour, at a medium speed. Pour in the remaining buttermilk / cocoa mixture, and again gently pulse, then mix on low until fully combined.

Add in the last 1/2 cup of flour, and mix on low until the flour is incorporated. Mix on high for 30 additional seconds, to incorporate a bit more air into the batter.


Evenly divide between the four prepared pans. I like to use a kitchen scale to ensure each pan has exactly the same amount of batter.

Bake according to the size of pan. For 7 inch layers, bake for 35-37 minutes. For 8 inch layers, bake for 32-33 minutes, or until a skewer comes out clean.

Allow layers to cool in the pans for about 10 minutes, then run an offset spatula around the edge of the pans to help separate the layers from the pans.

Place the pans in the freezer for about 45 minutes, to accelerate the cooling process. Once the layers are fully cooled, carefully flip the pans and remove the layers.

Use a serrate knife to level the tops of the layers, and then frost as desired.
Recipe Notes
I chose to use black cocoa (I love the taste and color it creates), but if you don't have any on hand, you can use regular baking cocoa.
Double Batch Vanilla Buttercream Recipe
This is a double batch of my favorite vanilla buttercream! It's great for larger cakes, small 2-tiered cakes, or cakes with a lot of frosting decorations (buttercream rosettes, buttercream ruffles, etc.)

Servings
1
tiered cake (8 inch and 6 inch tiers)
Ingredients
4

cups

unsalted butter, room temperature

(868 grams)

16

cups

powdered sugar

(1,814 grams)

1

tsp

salt

(6 grams)

1/3

cup

heavy cream (or whipping cream)

(60 grams)

2

Tbsp

vanilla extract

(24 grams)
Instructions
Instructions
Beat the butter on a medium speed for 30 seconds with a paddle attachment, until smooth. Slowly add in the powdered sugar, 1 cup at a time. Alternate with small splashes of cream.

Once fully mixed, add in the vanilla and salt, and beat on low until the ingredients are fully incorporated, and the desired consistency is reached.

If the frosting is too thick, add in additional cream (1 teaspoon at a time). If the frosting is too thin, add in more powdered sugar (quarter of a cup at a time).
Recipe Notes
If you are making frosting for a cake, it is important to mix the buttercream on low at the end of the process for a couple minutes, to get out any extra air that might have be incorporated during the mixing process. This will make it easier to get super smooth sides on your cake!