I've made some smash cakes in the past, but wanted to make a slightly larger smash cake this time! This cake is made with 7 inch cake rounds, and really would be great for a child's birthday at any age! Or for any adults who enjoy monsters 😛 This cake is made with a moist banana cake layers, and frosted with a cream cheese buttercream. The full recipe and tutorial can be found below:
Banana Cake Batter
1 1/2 cups sugar
1 cup unsalted butter, room temperature
1/2 tsp vanilla extract
3/4 cup buttermilk
1 tbsp vegetable oil
4 large eggs, room temperature
2 1/2 cups all-purpose flour
2 tsp baking powder
1/2 tsp baking soda
1/2 tsp salt
1 cup mashed bananas (3 medium sized bananas)
Cream Cheese Buttercream Frosting
6 sticks or 3 cups (650 grams) unsalted butter, room temperature
8 oz cream cheese (230g), room temperature
16 cups (1814 grams) powdered sugar
1 tsp (36 grams) salt
2 Tbsp. (30 grams) heavy cream
2 tsp (8 grams) vanilla
Blue and orange colored gel food coloring
Additional Decorations:
black and white fondant
grass tip (I used a wilton 233)
2 pieces of dried spaghetti or 2 tooth pics (to secure the monster horns)
Preheat oven to 350 degrees. Line and grease 3 7 inch pans, and 1 6 inch pan.
Cream together the butter and sugar on medium high speed for 2 minutes, until the butter becomes lighter in color and is fluffy. Mix in the eggs one at a time, then add the oil, vanilla  and buttermilk. Add in the mashed bananas and on a low speed, until just incorporated. Combine the dry ingredients in a separate bowl, then add into the wet ingredients in 3 phases. Divide batter evenly between two bowls, and color one blue with gel food coloring. Alternate spoons of white and blue batter into the pans, then swirl the colors together using an offset spatula or butter knife. You can see a full tutorial on how to make swirled cake layers here.
Bake layers for about 26 minutes. Once removed from the oven, carefully run a small offset spatula around the perimeter of the pan, to separate the layers. Let these cool for about 10 minutes, then carefully remove them from the pans and place in the freezer for about 45 minutes (accelerates the cooling process).
While the layers bake and cool, prepare the buttercream frosting. Beat the butter and cream cheese on a medium speed for 30 seconds with a paddle attachment, until smooth. Slowly add in the powdered sugar, 1 cup at a time. Alternate with small splashes of cream. Once fully mixed, add in the vanilla and salt, and beat on low until the ingredients are fully incorporated, and the desired consistency is reached. If the frosting is too thick, add in cream (1 teaspoon at a time). If the frosting is too thin, add in more powdered sugar (quarter of a cup at a time).To watch a full tutorial on how I make my frosting, you can click here.
Color 1/2 the frosting a deep shade of blue, color 1/4 a light shade of blue, and 1/4  orange. Place into piping bags with a 1.5 cm opening (I simply cut the tips of the bags).
Stack and frost layers. Pipe rings on top of each cake layer, starting at the perimeter of the cake layer, working your way into the center. Be sure to follow the same color pattern (blue, light blue, orange), but alternate which color you start frosting with each layer.
Place the 6 inch cake layer on top of the 7 in layers. Use a serrated knife to trim the edges of the 6 inch layer, to created a dome shaped top. Cover the cake in a thin crumb coat, and chill in the freezer or fridge for about 5 minutes. Place remaining blue and orange frosting into two piping bags with a grass tip.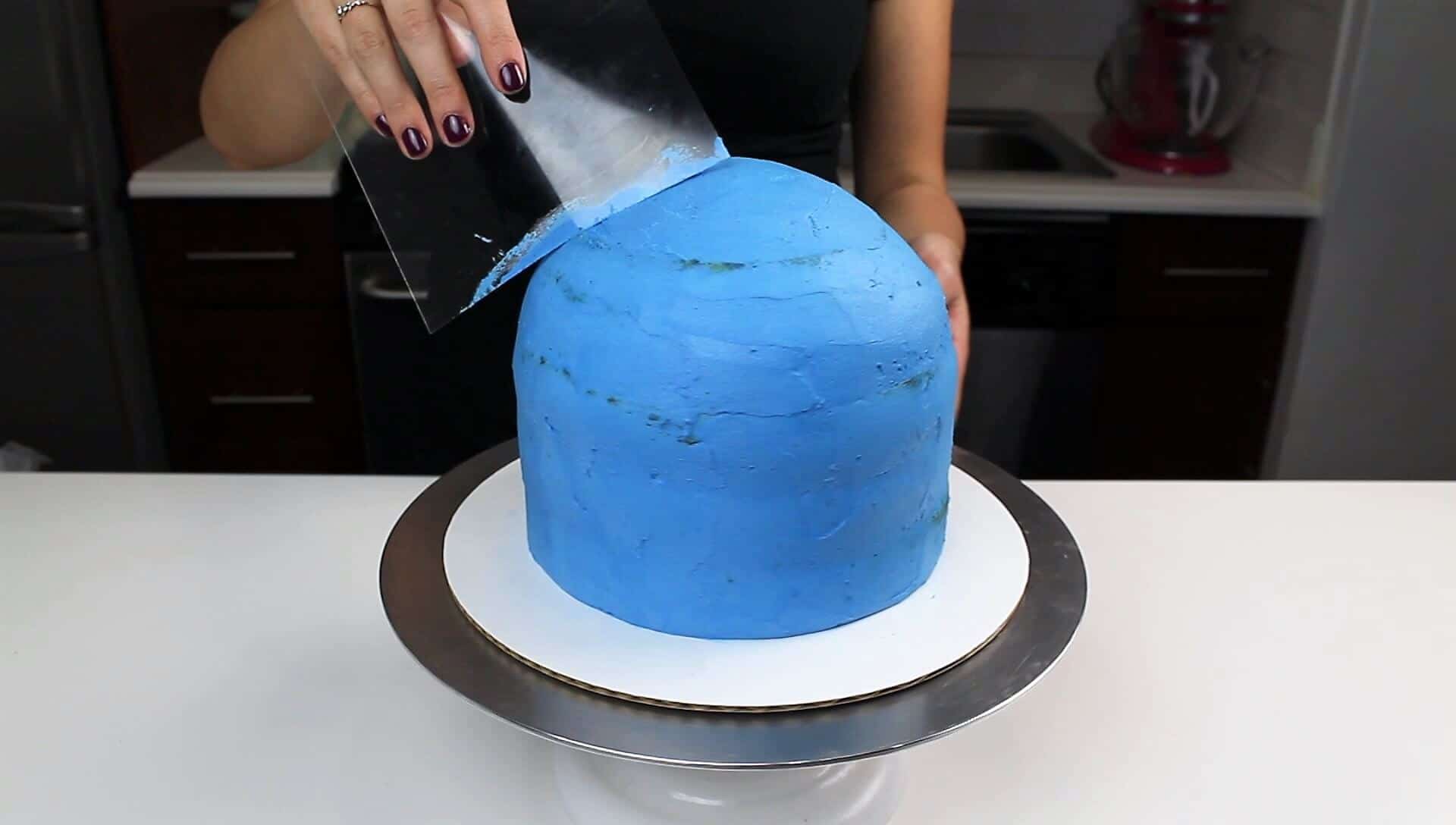 While the crumb coat chills, make the fondant facial features. You can get creative here and make however many eyes you want (I went with two, but have done one and three in the past). Make a mouth and horns, and insert either toothpicks or dry pieces of spaghetti into the horns. Set aside on parchment paper.
Once the crumb coat is firm to the touch, pipe on the second layer of frosting to look like fur! I added orange fur spots first, then the fondant facial features. I filled in the remaining open space with blue frosting fur.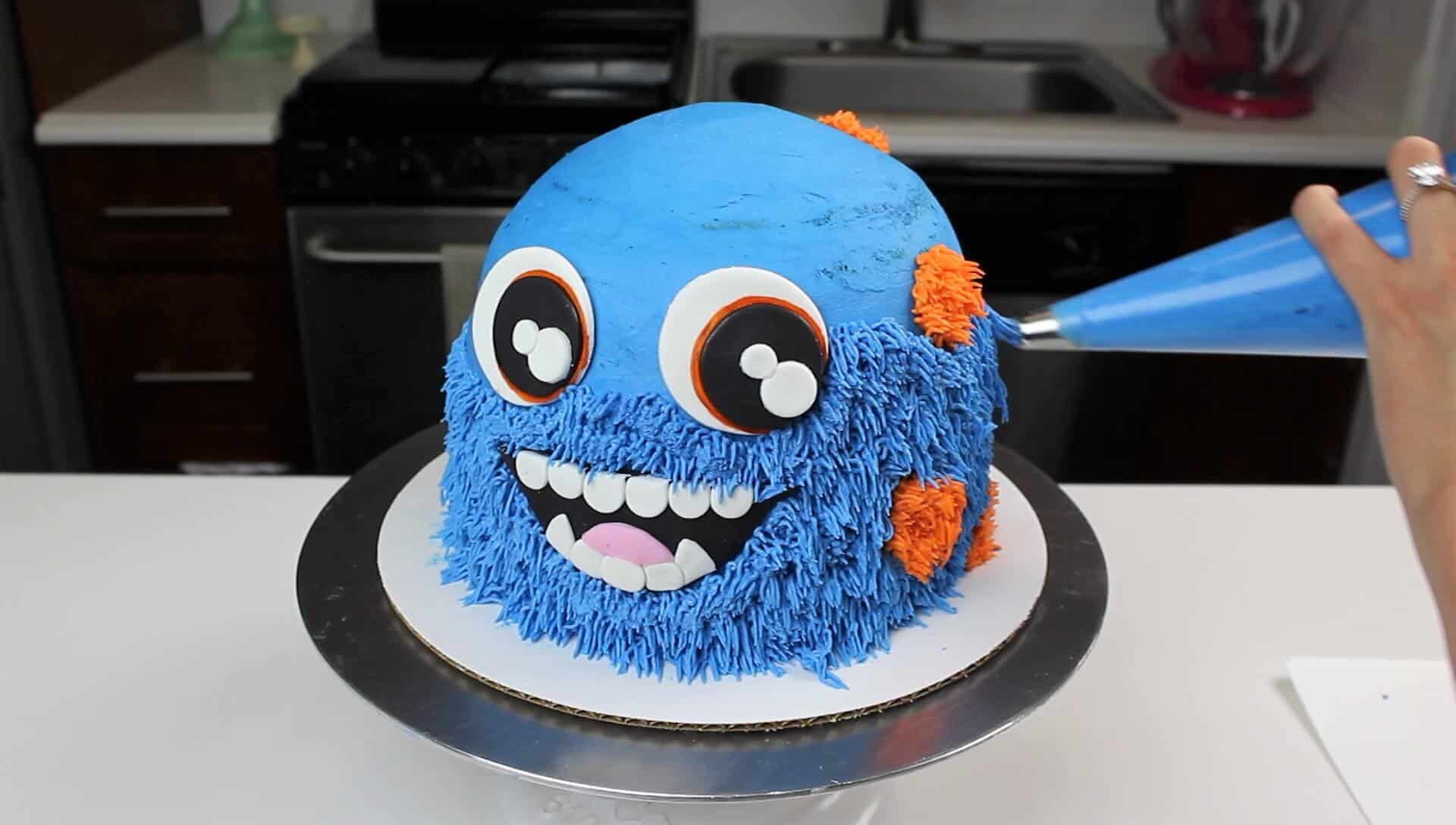 Wrap the frosting bags with paper towels or a thin towel to help limit the amount of heat your hands transfer to the frosting. Once all the fur is on, add the horns. Then cut in to see the swirled layers and fun striped frosting patter!
I really enjoyed making this little monster! If you want to use natural food coloring, you can try using India Tree food coloring (you can buy online or at whole foods). It's not as vibrant as the Americolor gel food coloring I used here, but it does add color in a natural way.