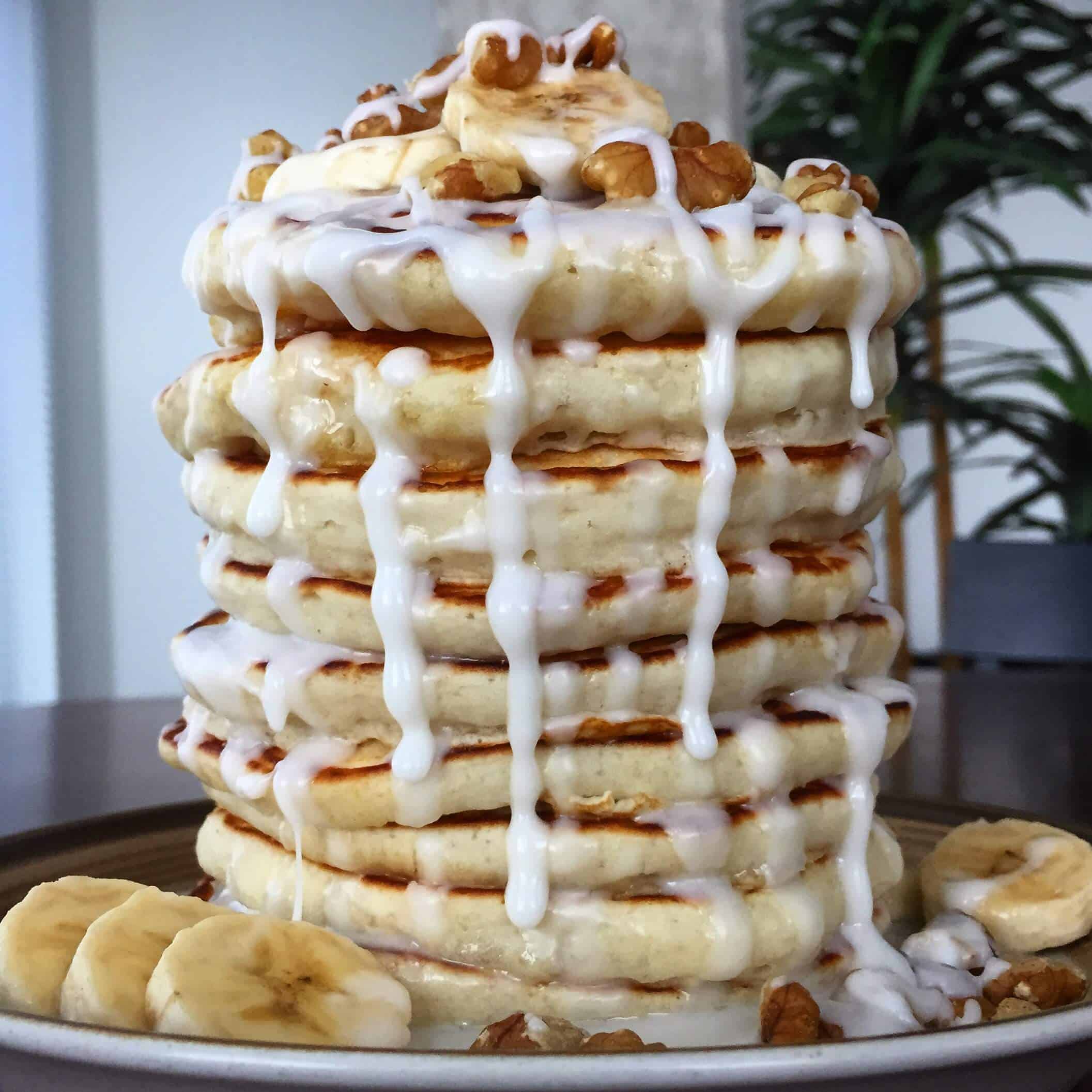 I found myself stuck inside during a thunderstorm this weekend, and decided to pass the time my favorite way…baking! I was home in Seattle for the weekend, so I didn't have much baking equipment to work with. I decided to make pancakes, which isn't really baking, but is close enough. I wanted to make an epic stack, and thought that these banana bread pancakes would do the trick. All you really need to do is add a bunch of mashed up bananas, some cinnamon, and a little brown sugar into your favorite pancake recipe. The recipe I used is below:
Pancake Batter:
2 cups all-purpose flour
1 tsp baking powder
1/2 tsp baking soda
1/2 tsp salt
1/2 tsp ground cinnamon
3/4 cup buttermilk
1/4 cup sour cream
3 Tbsp granulated sugar
3 Tbsp packed brown sugar
1 1/2 cups mashed overripe bananas (4 small bananas)
1 large egg
1/2 tsp vanilla
4 Tbsp unsalted butter, room temperature
1 cup chopped walnuts (optional)
Cream Cheese Glaze
4 oz cream cheese, room temperature
4 Tbsp butter, room temperature
1 1/2 cups powdered sugar
4 Tbsp cream
1/2 tsp vanilla extract
1/2 tsp salt
1/2 cup walnuts (garnish)
1 banana, sliced (garnish)
Begin by heating a large, non-stick pan to medium heat. In a large mixing bowl, whisk together flour, walnuts, baking powder, baking soda, salt and cinnamon. Set aside.
In a separate mixing bowl, stir together buttermilk, sour cream, granulated sugar, brown sugar, mashed bananas, egg, vanilla and butter until combined. Pour the buttermilk mixture into flour mixture in two installments, mixing until just combined (it's ok if it's a little lumpy).
Butter or spray the griddle (and continue to throughout the process as needed), and pour about 1/3 cup of batter into the center of the pan. Spread the batter slightly outward into a round. Cook until the bottom is golden brown (normal pancake bubbles won't really appear on surface, so just keep an eye on the color of the bottom), then flip and cook the opposite side until golden brown.
While waiting to flip the pancakes, prepare the cream cheese glaze. In a mixing bowl, using an electric hand mixer or stand mixer, whip together the together cream cheese and butter at a medium speed until well combine. Add in the remaining ingredients, and mix for about 1 minute, until fully combined. Place the frosting into a frosting or zip lock bag, and cut a 1/4 inch opening. Gently drizzle the glaze over the pancakes, and top the pancakes with sliced bananas and walnuts. I opted to make one giant stack, but it'd be much more practical (and easier to eat) if you just put a few on separate plates 😛