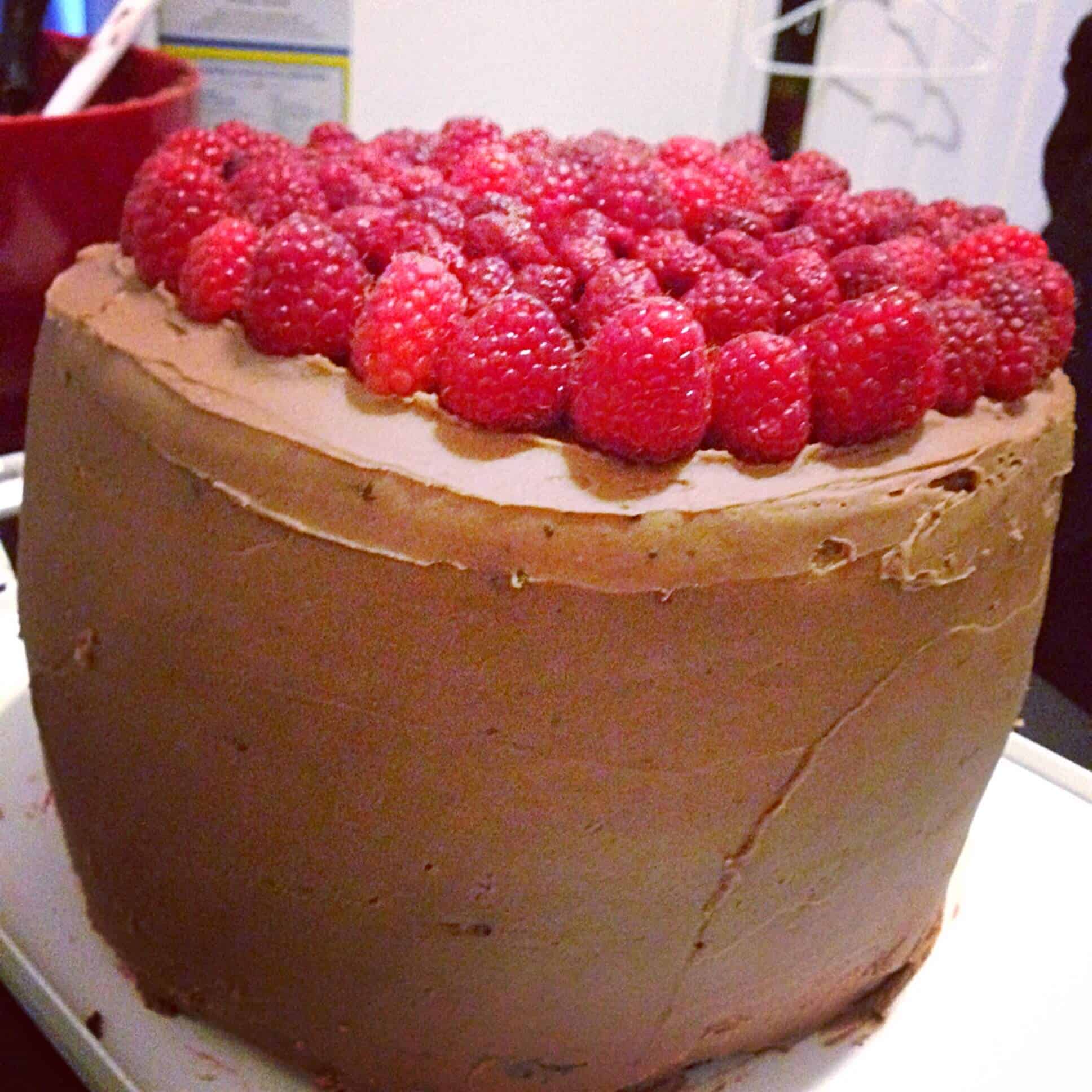 Many wonderful things happen in March…. Day Light Savings Day, St. Patrick's Day, and my good friend SIJIA'S BIRTHDAY!! SJ is near and dear to me, and I wanted to make her a birthday cake that is as wonderful as she is. This chocolate fudge cake, with a rich chocolate buttercream, and raspberry filling seemed perfect for the occasion.
Chocolate Cake
3 cups all-purpose flour
3 cups sugar
1 1/3 cup cocoa
3 teaspoons baking powder
2 teaspoons baking soda
2 teaspoon salt
1 1/2 cup milk
3/4 cup vegetable oil
3 eggs
3 teaspoons vanilla extract
1.5 cup boiling water
Chocolate Buttercream Frosting:
1½ cups butter (3 sticks), softened
1 cup cocoa
5 cups confectioner's sugar
½ cup milk
2 teaspoons vanilla extract
½ teaspoon espresso powder
Raspberry Filling:
24 oz frozen unsweetened raspberries, thawed
1/2 cup sugar
1 tsp lemon juice
2 heaping tablespoons cornstarch
Preheat oven to 350º F. Prepare two 9-inch cake pans by spraying with baking spray or buttering and lightly flouring. For the cake batter, add flour, sugar, cocoa, baking powder, baking soda, salt and espresso powder to a large bowl. Add milk, vegetable oil, eggs, and vanilla to flour mixture and mix together on medium speed until well combined. Carefully add boiling water to the cake batter. Beat on high speed for about 1 minute (to add air to the batter). Distribute cake batter evenly between the four prepared cake pans. Bake for 30-35 minutes, until a toothpick or cake tester inserted in the center comes out clean. Remove from the oven and allow to cool for about 10 minutes, remove from the pan and cool completely.
While the cake is baking, prepare the chocolate frosting. Add cocoa to a large bowl. Cream together butter and cocoa powder, until combined. Add the sugar and milk to cocoa mixture, alternating between 1 cup of sugar, and about a tablespoon of milk. After each addition has been combined, turn mixer onto a high speed for about a minute. Repeat until all sugar and milk have been added. Mix in the vanilla extract and espresso powder. If the frosting appears too dry,  add more milk until it reaches the right consistency. If it appears to wet, or does not hold its form, add more confectioner's sugar, a tablespoon at a time until it reaches the right consistency.
The last step is the raspberry filling, which will be layered on top of the chocolate buttercream between layers. Thaw the raspberries and strain juice from berries, reserve half the berries in a separate bowl.  Add enough water to the juice to get 3/4 cup of liquid. In a small saucepan, combine raspberry juice/water, sugar, lemon juice, and cornstarch.  Cook over medium heat, whisking constantly, until mixture bubbles and thickens.  Remove from heat, set aside.
To assemble the cake, alternate between cake layer, chocolate  buttercream, raspberry filling, and thawed raspberries. Repeat until you reach the top cake layer, then apply a thin crumb coat of frosting. Let the cake chill in the fridge for 30 minutes until the crumb coat is firm, then apply a thicker layer of frosting.I decided to do elegant pulls of chocolate frosting up the sides the cake, and then top the entire top of the cake with fresh raspberries and a sprinkle of powdered sugar. The end result? An elegant cake that perfectly matches the birthday girl 😀