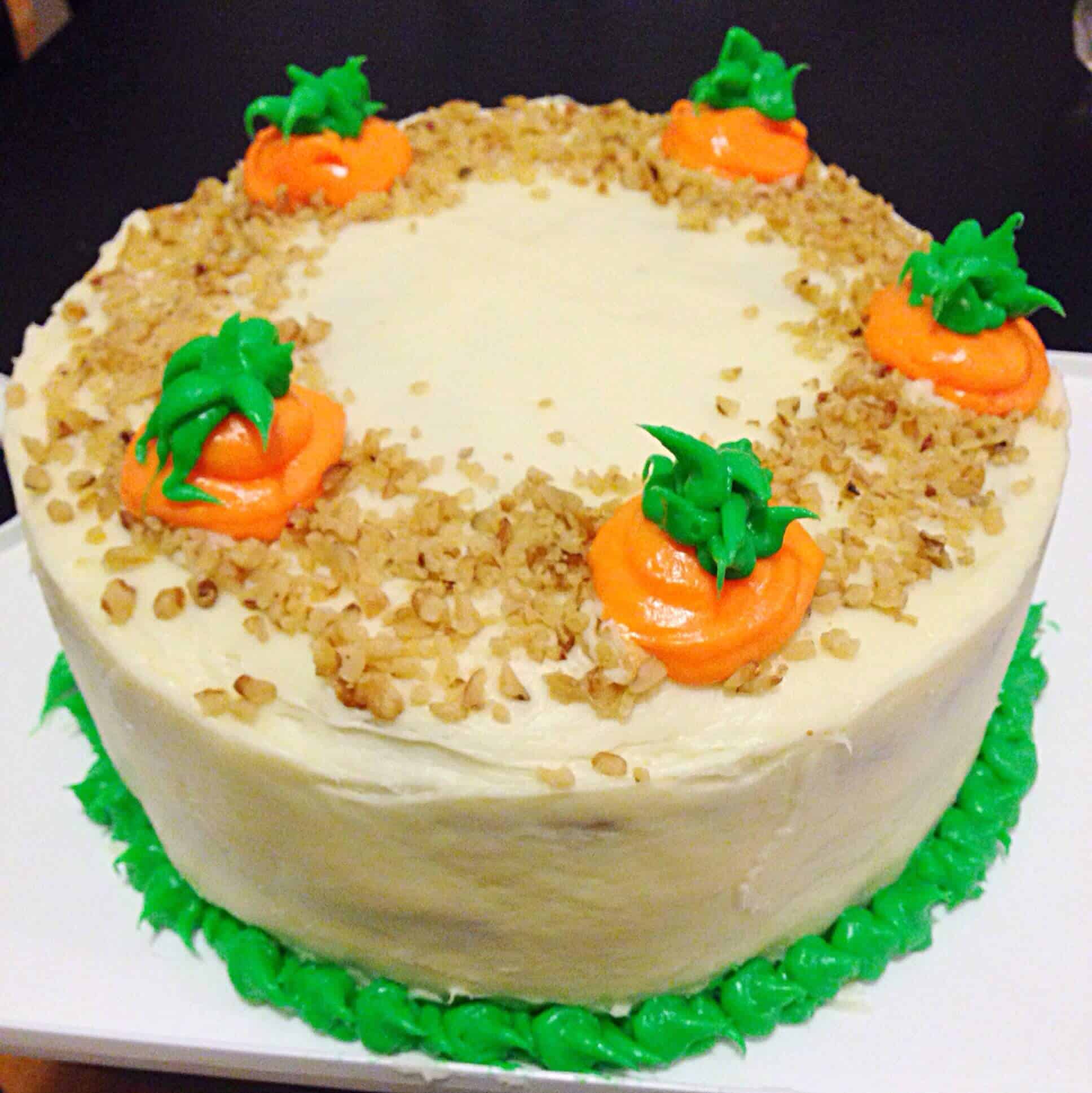 I have a go-to, traditional southern carrot cake recipe that I would stake my life on. It's moist, has great texture, and has a wonderful balance of flavors.
But there are only so many times a girl can make the same recipe in a month! This is the third request I've gotten for carrot cake, and I needed to mix things up.
I decided to spice up my favorite recipe. I experimented with a little cayenne, and made a spicy carrot cake with a bourbon maple cream cheese frosting.
Yield: 24 slices
Cayenne Carrot Cake Base:
2 1/2 cups all-purpose flour
2 teaspoons baking soda
1 teaspoon salt
3 1/2 tsp cayenne
2 tablespoons ground cinnamon
3 large eggs
2 1/4 cups sugar
3/4 cup canola oil
3/4 cup buttermilk
2 teaspoons vanilla extract
2 1/2 cups finely grated carrot
1 (12-ounce) can crushed pineapple, drained
1 1/4 cup shredded coconut
1 1/2 cups chopped pecans or walnuts
Cream Cheese Buttercream Frosting:
8 oz. cream cheese, softened
1 1/2 cups (3 sticks) unsalted butter, softened
10 cups powdered sugar
1/2 tsp. salt
2 Tbsp maple bourbon
1 Tbsp Pure Maple Syrup
Preheat oven to 350 degrees Fahrenheit. Line and lightly greasing three nine-inch, round, cake pans. Set the pans aside. Stir together flour, baking soda, salt, cayenne, and cinnamon.
Mix in the eggs, sugar, oil, buttermilk, and vanilla at a medium speed, until fully incorporated. Fold in the carrots, pineapple, coconut, and walnuts.
Pour the batter evenly between to prepare cake pans, and bake for 30 minutes, or until a wooden pick inserted in center comes out clean.
Allow the layers to cool for 10 minutes in the pan, then carefully remove them to allow them to finish cooling on a wire rack.
While the cake layers cool, prepare the cream cheese frosting. Beat the butter and cream cheese, until the mixture becomes light and fluffy (about 2 minutes), then mix in the powdered sugar in several installments on a low speed.
Add in a splash of bourbon between the powdered sugar installments. Add in maple syrup and salt last, and mix on a low speed until fully incorporated.
Once the cake layers are fully cooled, frost each layer with an even layer of frosting, and add a thin crumb coat around the cake. Chill the cake in the freezer for 10 minutes, until the crumb coat is firm to the touch. Add a second, thicker layer of frosting, and smooth using a bench scrapper. Then decorate as desired!
I opted to make a walnut dirt garden, with orange and green gel colored, frosting carrot tops.