I've seen it, heard about it, and I just HAD to try it. You know what I'm talking about….spaghetti squash!! I can't even tell you how excited I was when I picked up a spaghetti squash at whole foods. I went off of this recipe, which appealed to me because it was a lighter recipe! I did change it a bit by adding chicken and spinach:
1 medium-sized spaghetti squash
1 chicken breast
1 cup spinach
1/2 cup cut up veggies (I used some zucchini, green onions, and yellow squash I had in the fridge)
1 Tablespoon butter
3 cloves of garlic, finely minced
2 Tablespoons flour
1 1/2 cups milk
1 Tablespoon cream cheese
1 cup freshly grated Parmesan cheese
Salt and pepper to taste
Crushed red pepper flakes and fresh parsley, for garnish
First things first, I preheated my oven to 350 degrees. I then cooked my spaghetti squash by cutting it in half length-wise, placing it skin side up in a glass tray, and filling the tray with a centimeter of water. I let it cook for about 40 minutes, then pulled the squash out and let it cool.
.
Once it was cooled, I shredded the squash with a fork and began on the sauce. I cooked the chicken breast while the squash was in the oven, and put it aside as I started the sauce. I melted the butter butter in a small pot over medium-low heat. Once it was hot, I added garlic and sautéd the mixture for a couple minutes. Whisking in the flour, I cooked it for another minute while stirring until no lumps remained. I then added the cream cheese and stirred until it was smooth.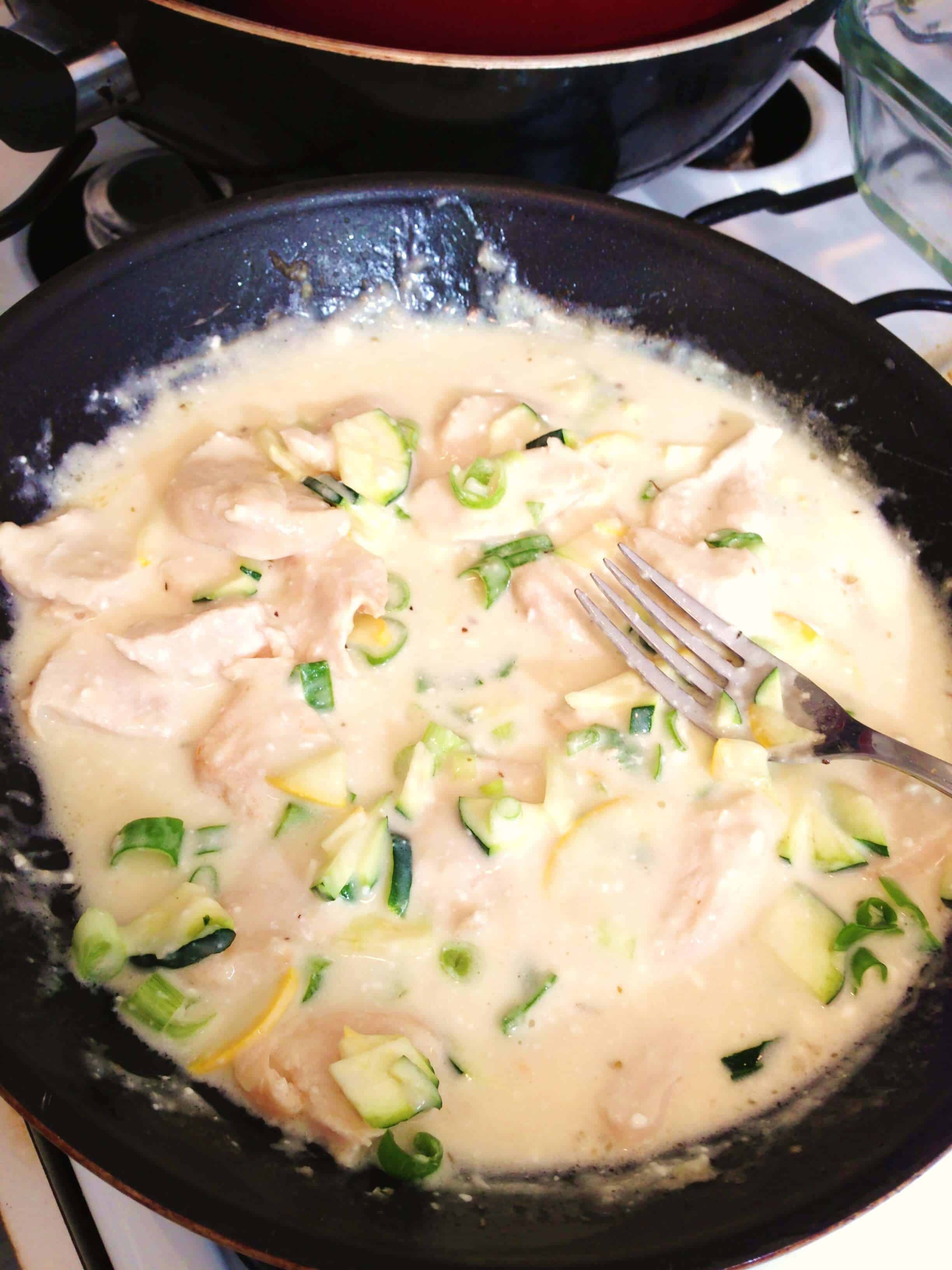 The last step was to remove the sauce from the heat, and stir in the spinach, parmesan, salt and crushed red pepper.
I then poured half of the mixture into each shredded spaghetti squash, and BAM! I could not have been happier with how this recipe turned out! It is healthy, delicious, and filling 😀